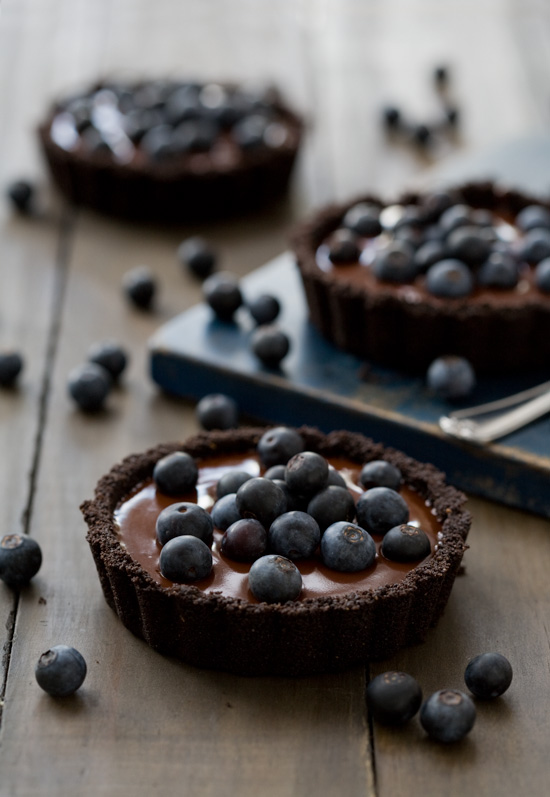 Be sure to pick up a copy of today's Tennessean, where this recipe for Blueberry Truffle Tartlets (excerpted below) is featured! And stay tuned, as I'll have new writings and recipes appearing in the Taste section every month.
This summer has bestowed upon us a beautiful bounty of blueberries. The delicate berries were in peril during the weeks of 100+ degree days, but the rains came just in time and saved the season, and for that we should all be thankful. With the season coming to a close, I thought I would give this extraordinary berry one last hurrah.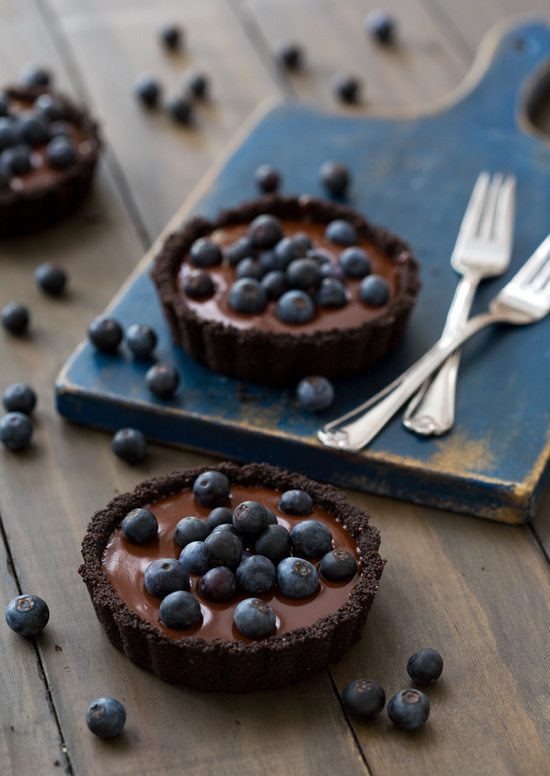 When you think of blueberries, you probably envision them sprinkled on top of yogurt, tossed with a bright fruit salad, or baked into an old fashioned pie. But blueberries and chocolate are not a common association (like, say, strawberries and chocolate are), and that is truly a shame, as the combination is as decadent as it is delicious.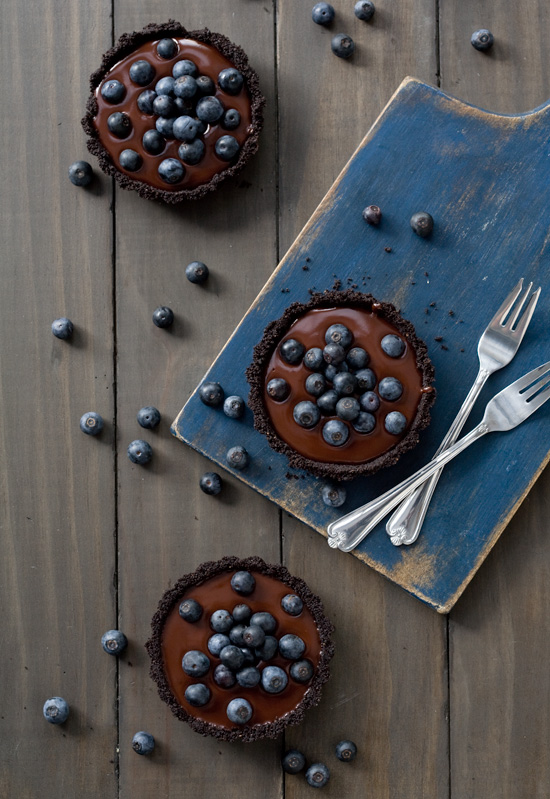 Take these ultra-rich blueberry truffle tartlets, for example. They are a true no-bake dessert, meaning you don't have to turn on your oven to prepare them. And in this heat, we all know that is a welcome change. The chocolate cookie crusts get filled with a luscious chocolate ganache filling, and are then topped with a sprinkling of fresh blueberries. The complex tartness of the blueberries pair perfectly with the ultra-rich chocolate in a surprising combination that will leave you speechless (both out of awe, and because your mouth is full with the next bite).
No-Bake Blueberry Truffle Tartlets
Ingredients:
For Crust:
1 1/2 cups chocolate wafer or oreo cookie crumbs (from about 7 ounces or 30 cookies)
6 tablespoons unsalted butter
1 ounce dark or semisweet chocolate, chopped
For Filling:
8 ounces dark or semisweet chocolate, chopped
1 1/4 cups heavy cream
1/2 teaspoon pure vanilla extract
1 pint fresh blueberries, rinsed and dried
Directions:
To prepare crust, finely chop cookies in a food processor. You should have about 1 1/2 cups of crumbs.
In a small microwave safe bowl, microwave butter together with chocolate for about 1 minute, stirring every 15 to 20 seconds, or until chocolate is melted and smooth. Add to cookie crumbs and pulse or stir until crumbs are evenly moistened.
Firmly press crumb mixture into six 3 1/2-inch tartlet pans or one 9-inch round tart pan. It can be helpful to use a flat-bottomed measuring cup (lightly buttered if necessary) or the bottom of a round drinking glass to press the crust firmly into the bottom and sides of the pan. Place crust(s) in the refrigerator for at least 30 minutes to allow the crust to set.
Meanwhile, to prepare the filling, stir chocolate and heavy cream in a small saucepan or double boiler set over low heat until melted and smooth. Take care to heat the mixture gently to avoid scalding; do not let it boil. When chocolate is fully melted, remove from heat and stir in vanilla.
Pour filling into crusts, dividing it evenly among the 6 tartlets. Refrigerate for 10 to 15 minutes to allow the filling to firm up slightly, then sprinkle blueberries on top. Refrigerate until completely set, at least 1 hour. Tartlets will keep, loosely covered in the refrigerator, for up to 5 days.
Did you make this recipe?
Let us know what you think!
Leave a Comment below or share a photo and tag me on Instagram with the hashtag #loveandoliveoil.