Soft, chewy, and lemony sugar cookies made with extra virgin olive oil instead of butter for a unique flavor and a delightful chewy texture—with a delicate crunch on the outside from the granulated sugar coating, they are, simply put, a textural delight.
The soft oil-based dough is easily mixed by hand with a spatula or wooden spoon, no electric mixer required. The simplicity is just one more reason to love these unique cookies!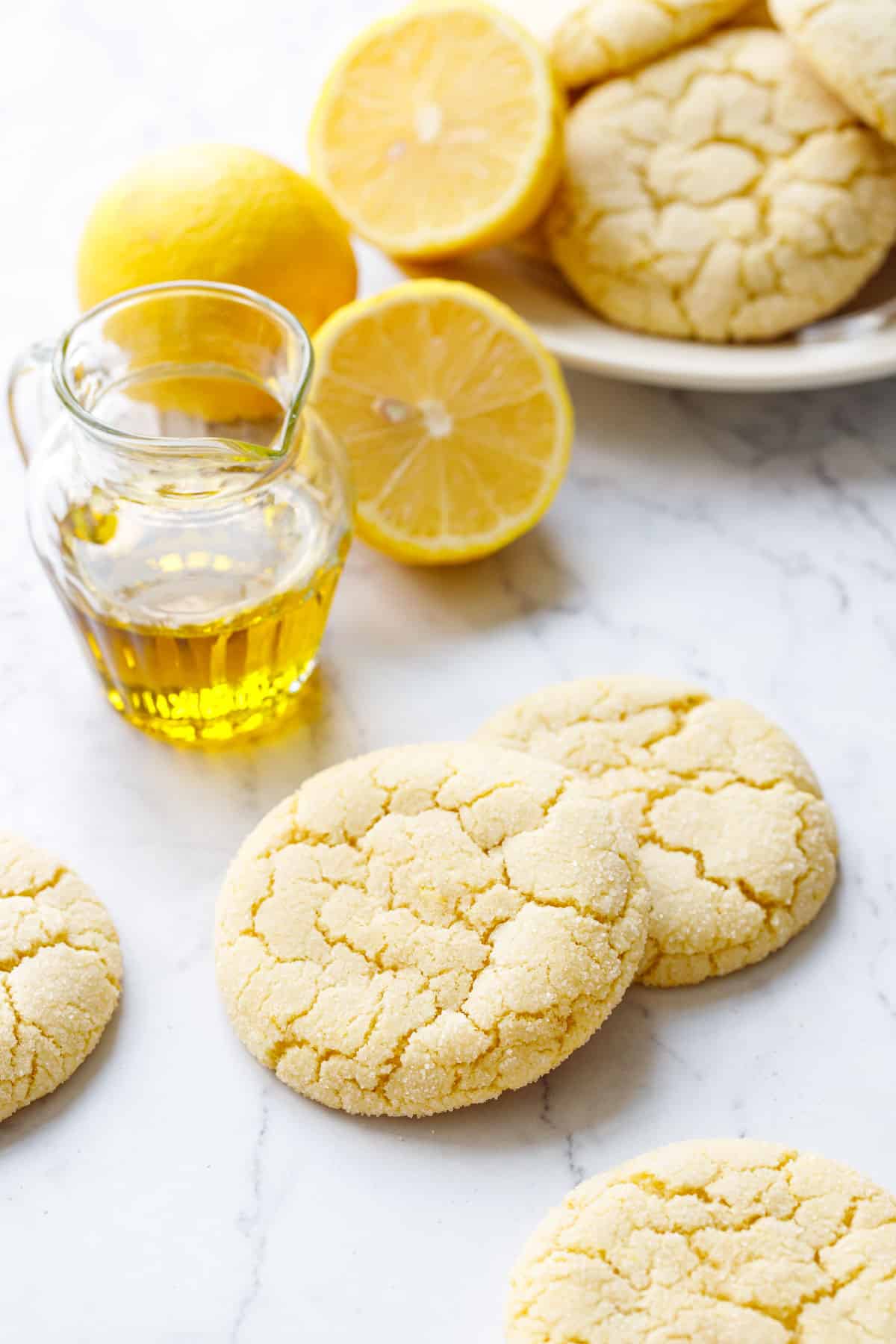 It shouldn't be surprising (based on the name of this blog) that we go through a lot of olive oil. It's our go-to oil and we couldn't live without it (well, we could, but we wouldn't be very happy about it). That said, I'll admit I often overlook it in baking projects in lieu of butter. And that's a shame, because olive oil is actually quite lovely when it comes to sweets.
That was my goal with these cookies: to show how well olive oil works for baking. The result is a soft and chewy sugar cookie straight out of your dreams. They are light in texture and incredibly buttery, surprisingly so, considering they are actually made with no butter at all, but rather, extra virgin olive oil.
You may never use butter for baking again.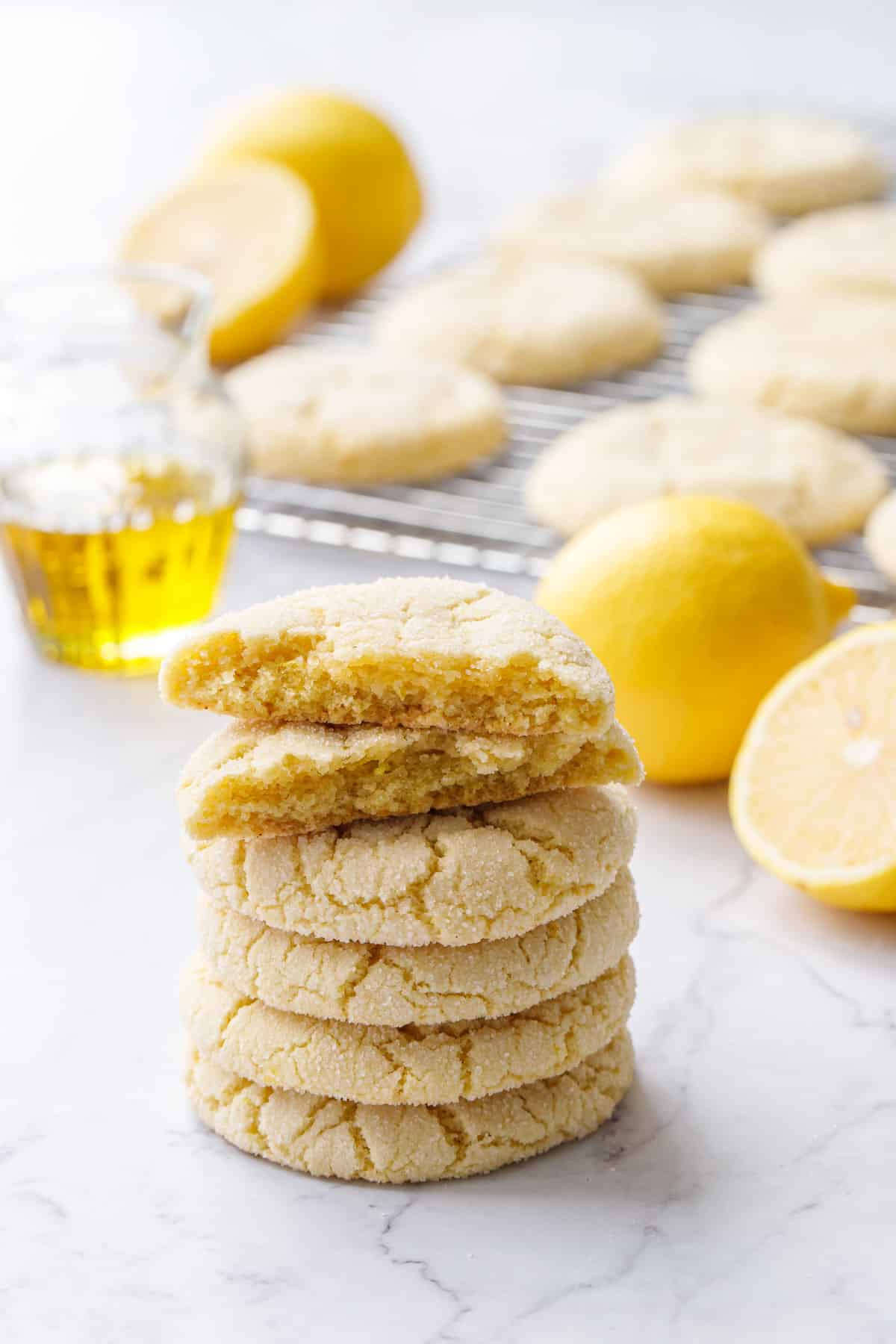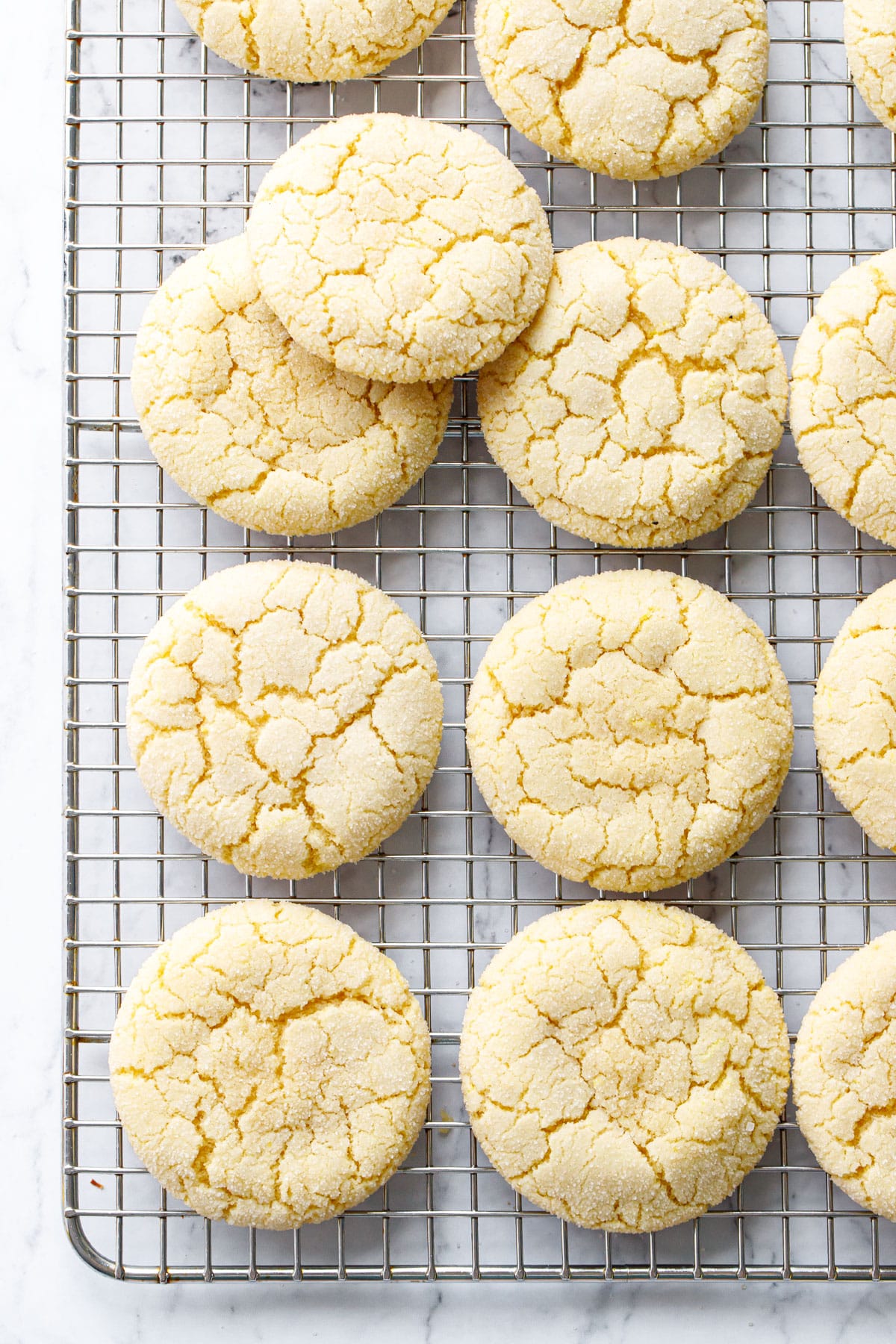 It was almost surprising how strongly the olive oil flavor came through even after baking, and how lovely that olive oil flavor was in this sweet sugar cookie.
There was no denying the presence of the olive oil in the final cookies, and it was unexpected to say the least, since olive oil is a flavor we most typically associate with savory foods.
But don't discount olive oil in desserts: when paired with sugar and lemon zest in these cookies it makes for a delicious sweet treat. Case in point, this Lemon Olive Oil Loaf Cake which is one of my favorite bakes of the year.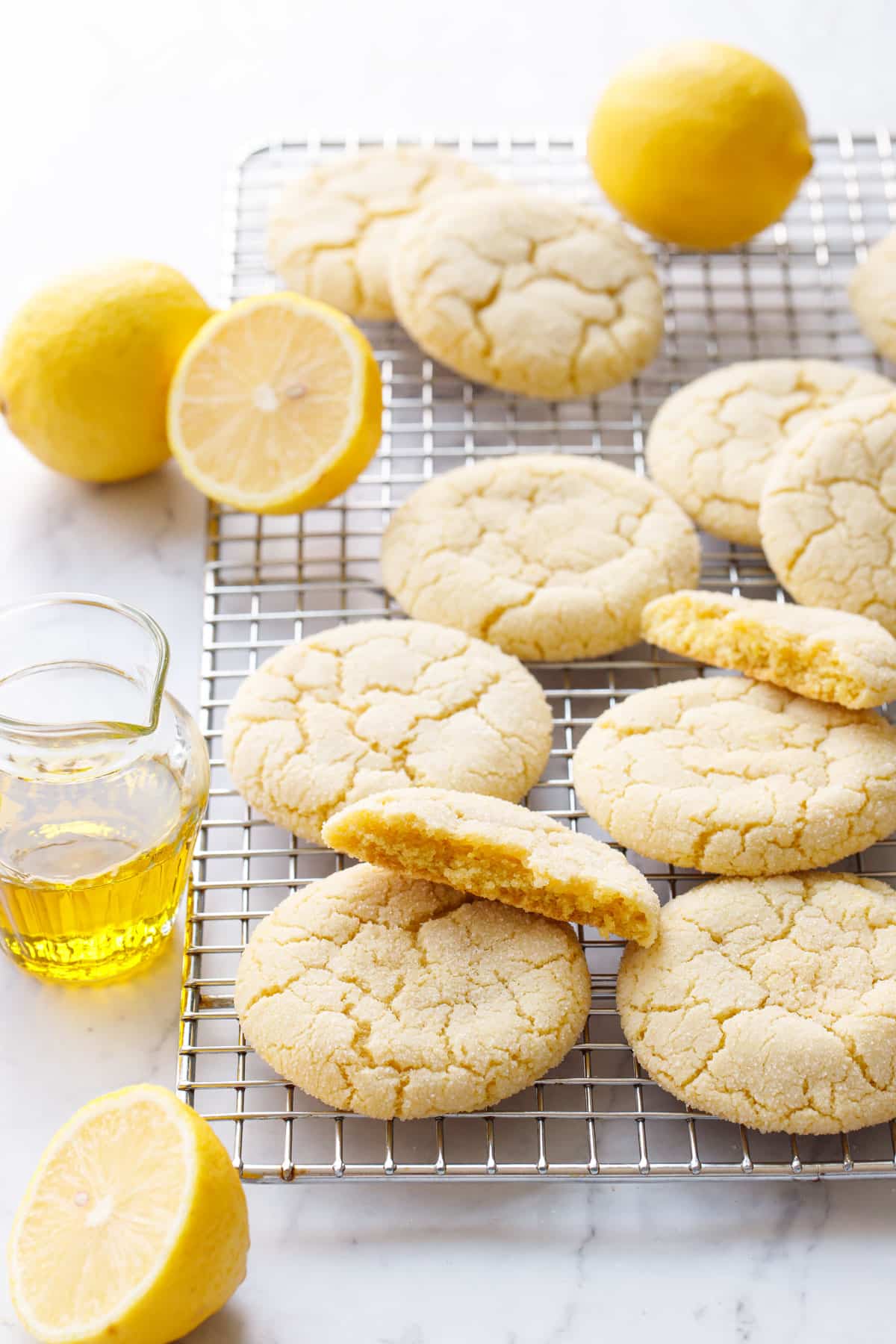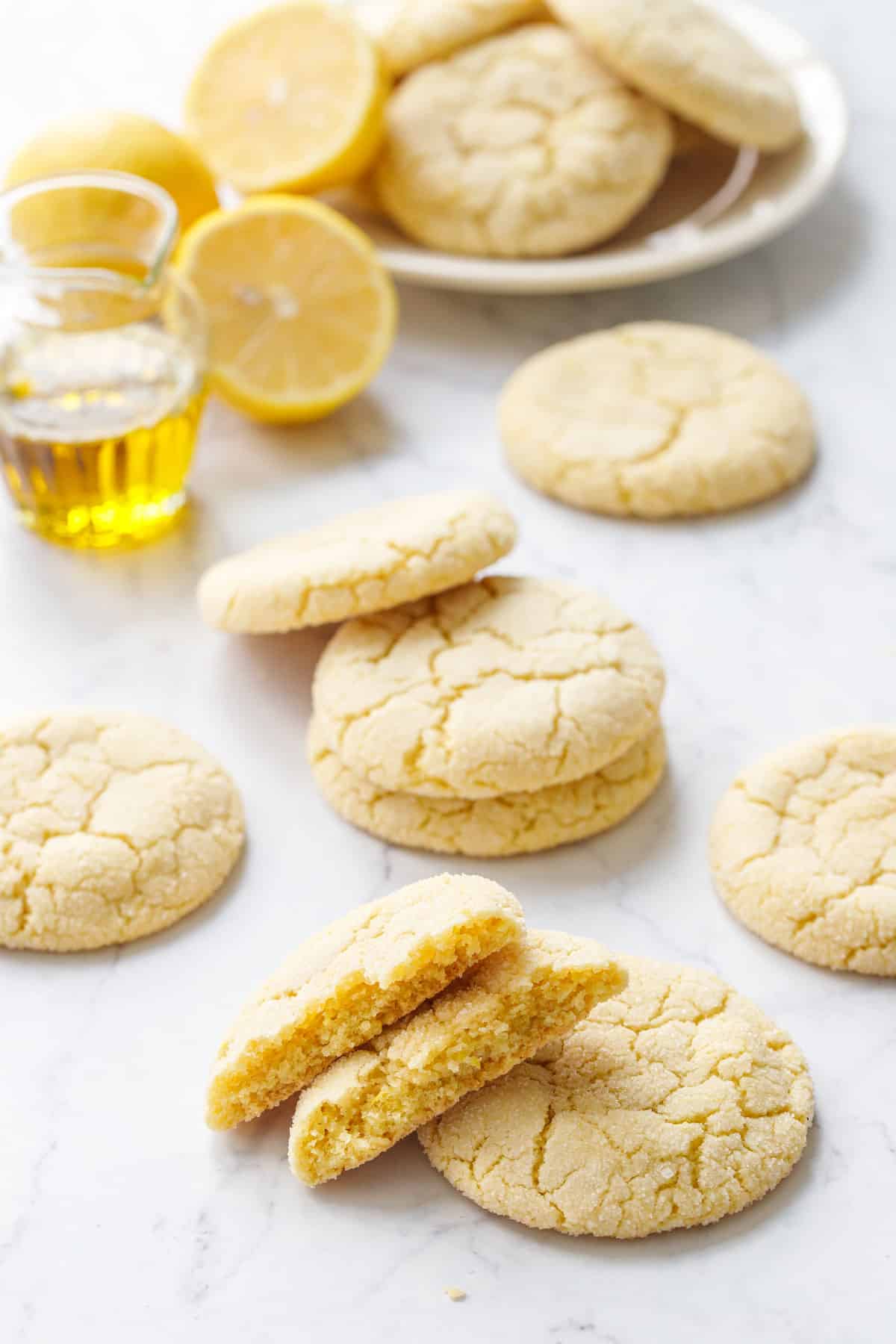 I originally shared these cookies back in 2014 as part of a partnership with an olive oil company; their Meyer Lemon Infused Olive Oil in particular produced delightful results—soft, chewy cookies with a sweet, almost candy-like lemon flavor and just a subtle hint of olive oil shining through. My neighbor (with whom I shared some of the leftovers) described them as transcendent, and rightfully so.
But lemon-infused olive oil can be a bit hard to come by (and in my experience they can often taste like floor cleaner), so I wanted to rework the recipe with regular extra virgin olive oil that still stays true to the flavor and texture of the original recipe. The result is an olive oil sugar cookie with a hearty dose of lemon zest to provide the lemon flavor, which pairs beautifully with the fruity notes of the EVOO. I personally prefer Meyer lemons, but regular lemon zest works fine here too.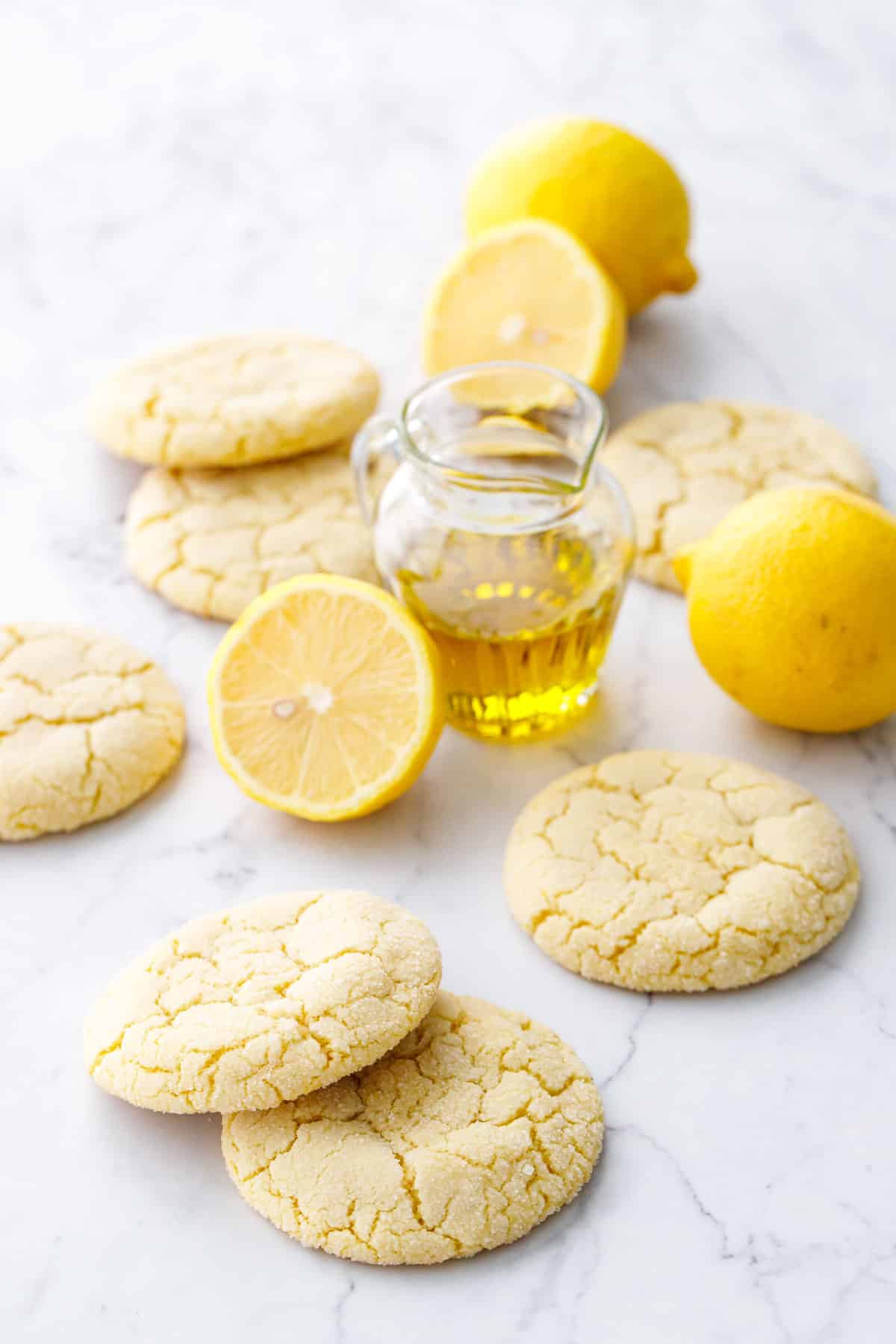 This cookie dough is incredibly easy to whip up—no electric mixer required! It's a very simple, oil-based dough made with primarily sugar, olive oil, eggs and flour.
Before you start, rub the lemon zest into the sugar, like, really massage it in there. The sharp edges of the sugar crystals will bruise the delicate lemon peel, releasing the essential oils and enhancing the lemon flavor throughout the cookie.
It's amazing how much difference a little massage makes! I pretty much always try to incorporate lemon zest this way, as it's much more flavorful than just adding it in at the end.
And if you don't already have one, a microplane grater is my favorite tool for producing a super fine lemon zest (it's great for nutmeg, parmesan cheese, and fresh ginger too!)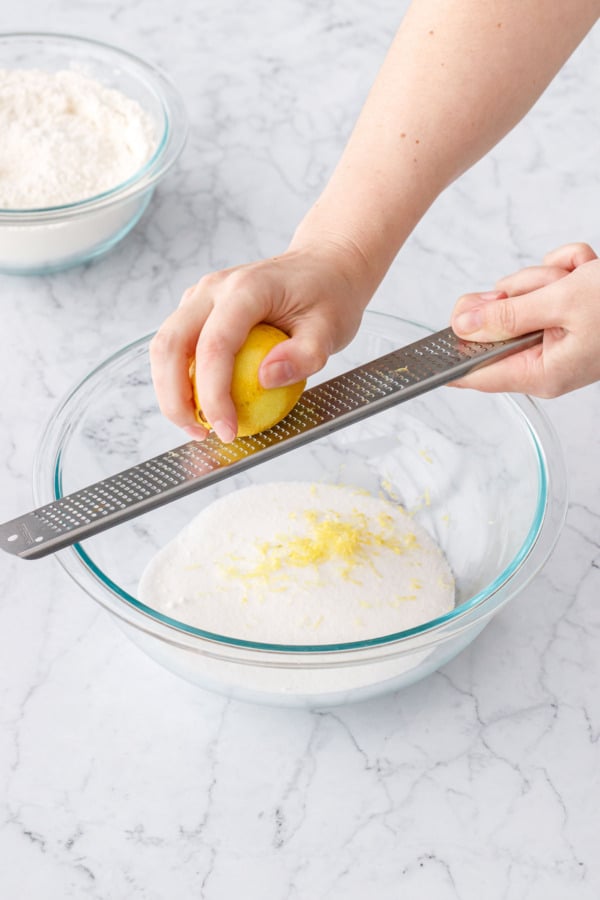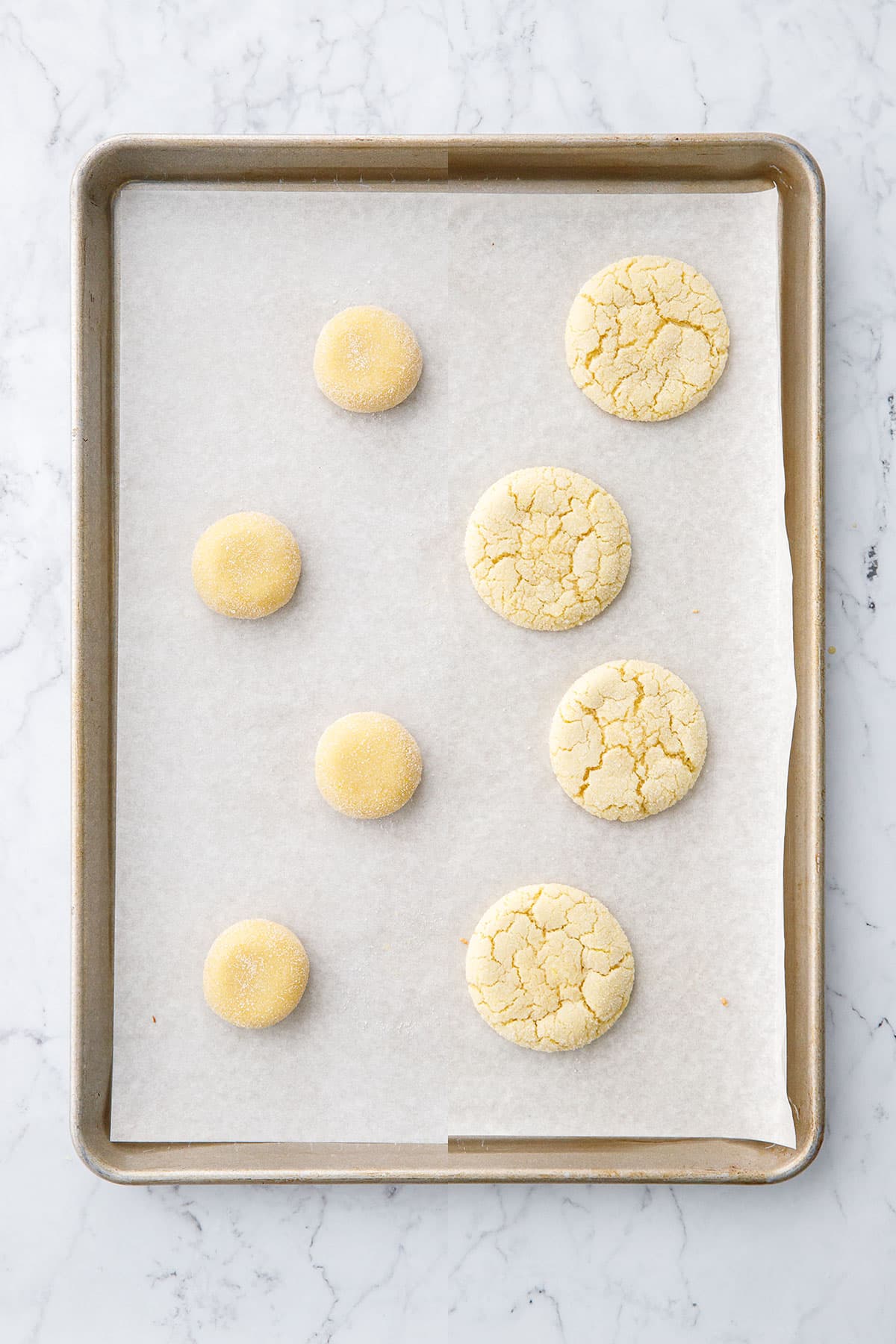 When they bake, the cookies will spread slightly and produce a lovely crackled top thanks to the oil in the dough and the granulated sugar coating. I found that flattening the cookies slightly before baking produced a more even result; otherwise the cookies had a bit more of a domed shape.
If you find your cookies aren't spreading very much, you probably have a bit too much flour in the dough (even a tablespoon extra will make a huge difference). Try flattening the balls of dough a bit more before baking. You can also try baking at a lower temperature (325 degrees F), for slightly longer; the lower temperature often helps cookies spread more I've found.
If your cookies are spreading too much, or come out of the oven slightly misshapen, take a large round cookie cutter (larger than the diameter of the cookie), and swirl it around the cookie while it's still hot. This action will tuck in the edges and give you a perfectly round cookie every time.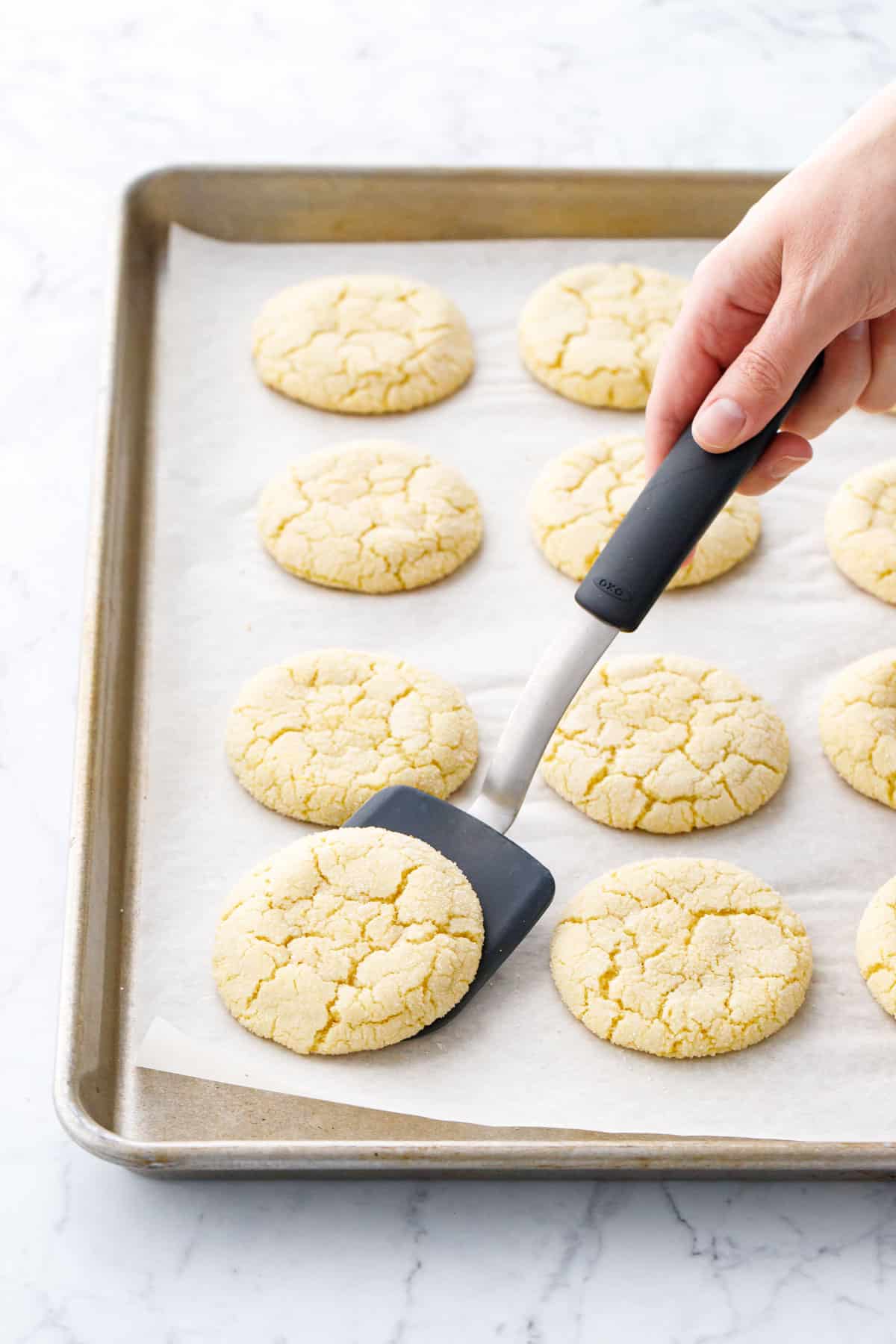 Storage
Like most sugar cookies, cookies made with all white sugar tend to dry out more quickly compared to those made with brown sugar (brown sugar having more inherent moisture than white).
The oil in this recipe helps the cookies stay softer longer (compared to butter-based cookies), however they're still best when they're fresh, within a day or two of baking.
If you need to store them longer, seal in an airtight container or bag and refrigerate for up to 5 days, or freeze for up to 2 months. I actually find that frozen cookies, once thawed, somehow end up even chewier than freshly baked cookies.
You can freeze unbaked balls of dough to bake at a later time, though the appearance of the baked cookies tends to change with frozen dough. If baking from frozen, reduce the oven to 325ºF and bake for 15 to 18 minutes instead to ensure a more even bake.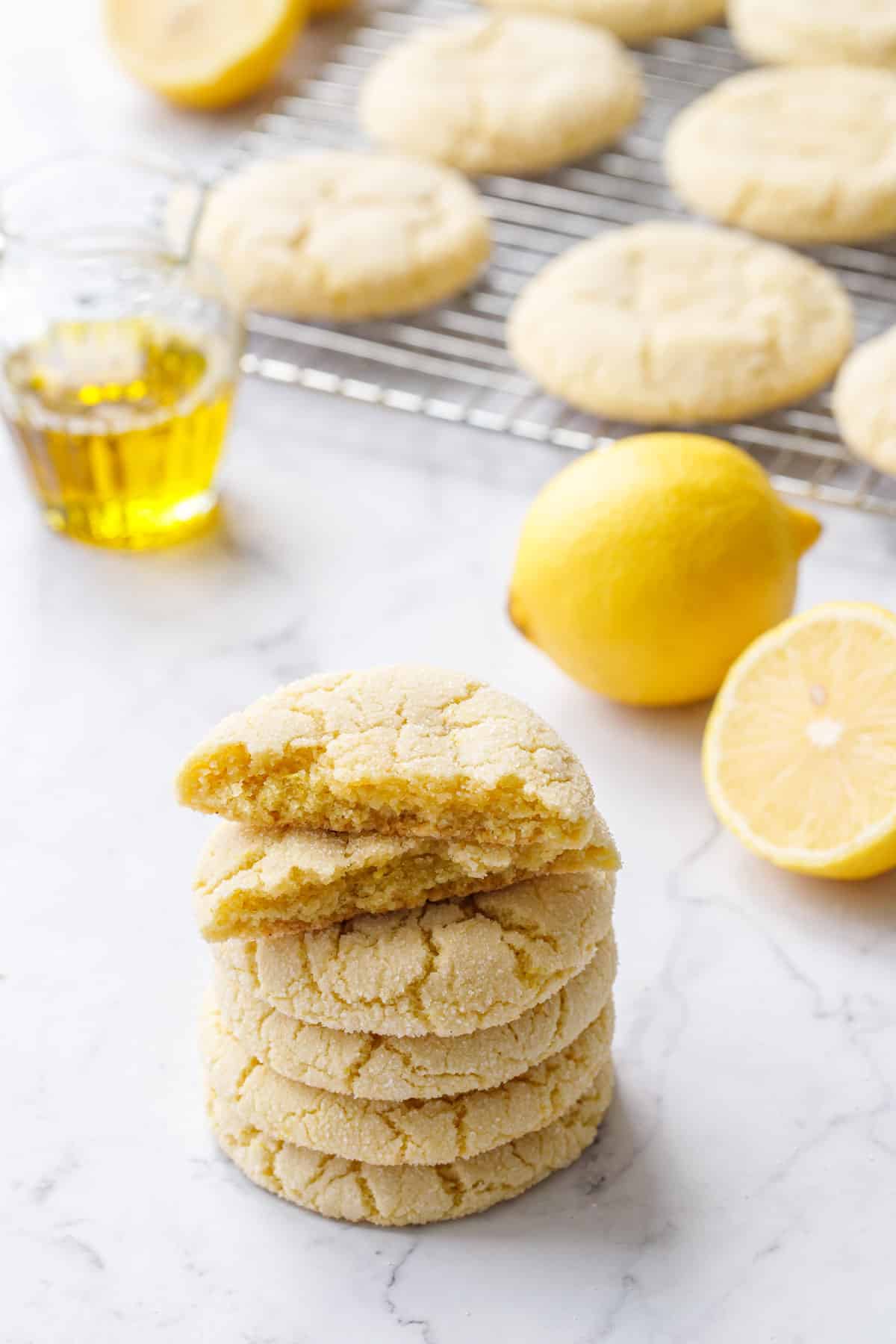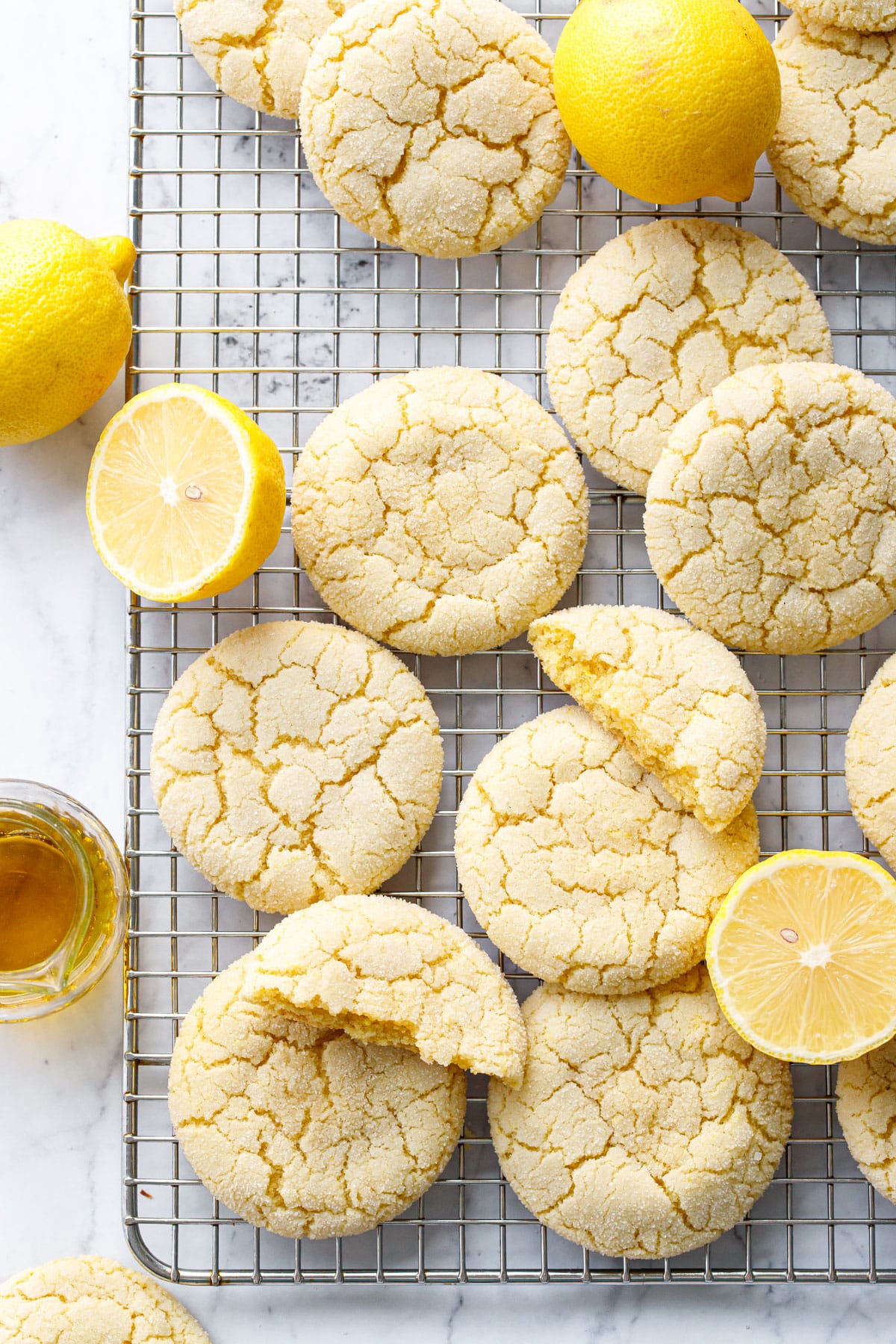 Ingredient Notes & Substitutions
In place of the extra virgin olive oil you can use an infused olive oil, like lemon or blood orange. You can also use any neutral-flavored oil, like vegetable or grapeseed, in its place.
You can't make a sugar cookie without sugar, granulated white sugar in this case. I don't recommend reducing the sugar in this recipe as it'll result in less spread, less chew, and a drier overall cookie (sugar serves many purposes in baking beyond just sweetness so it's best not to mess with it).
I used Meyer lemons for the lemon zest, which have a sweeter, more orange-like lemon flavor, but regular lemons work well too (you could also use orange zest or even lime zest for a flavorful variation).
If you want to amp up the lemon flavor even more, add 1/4 to 1/2 teaspoon lemon extract.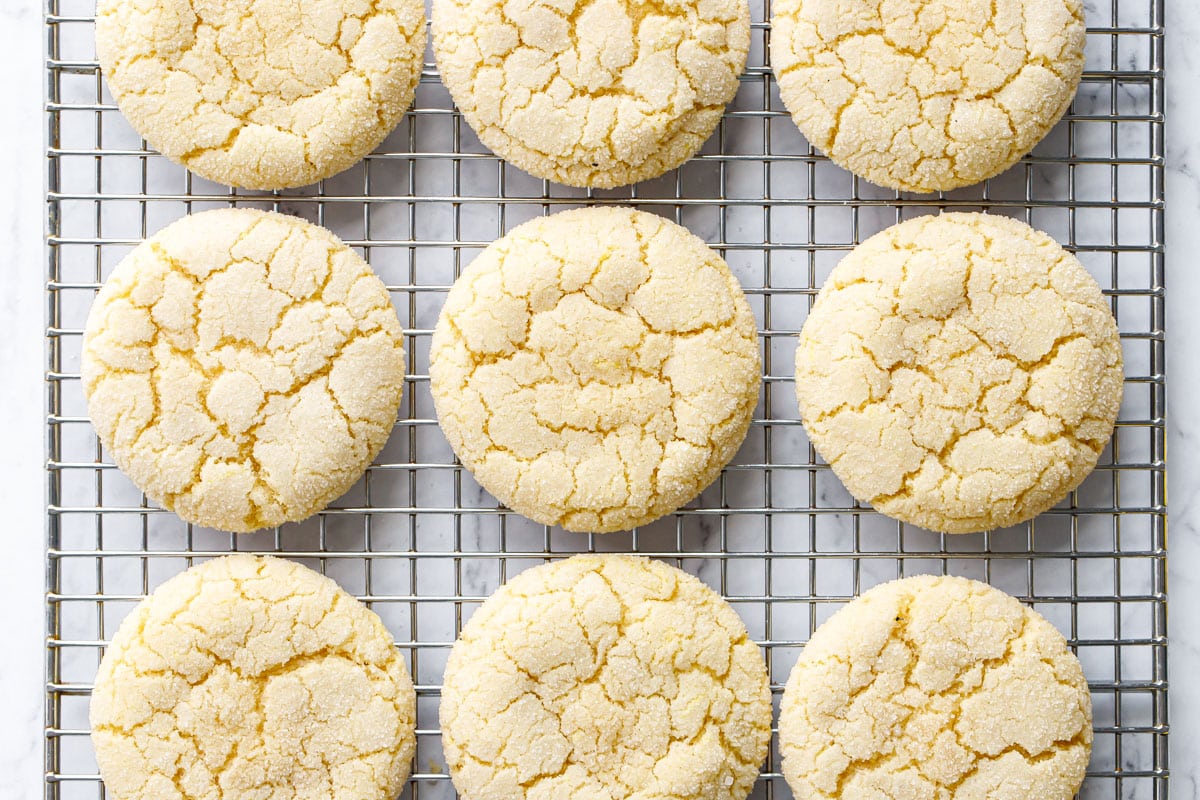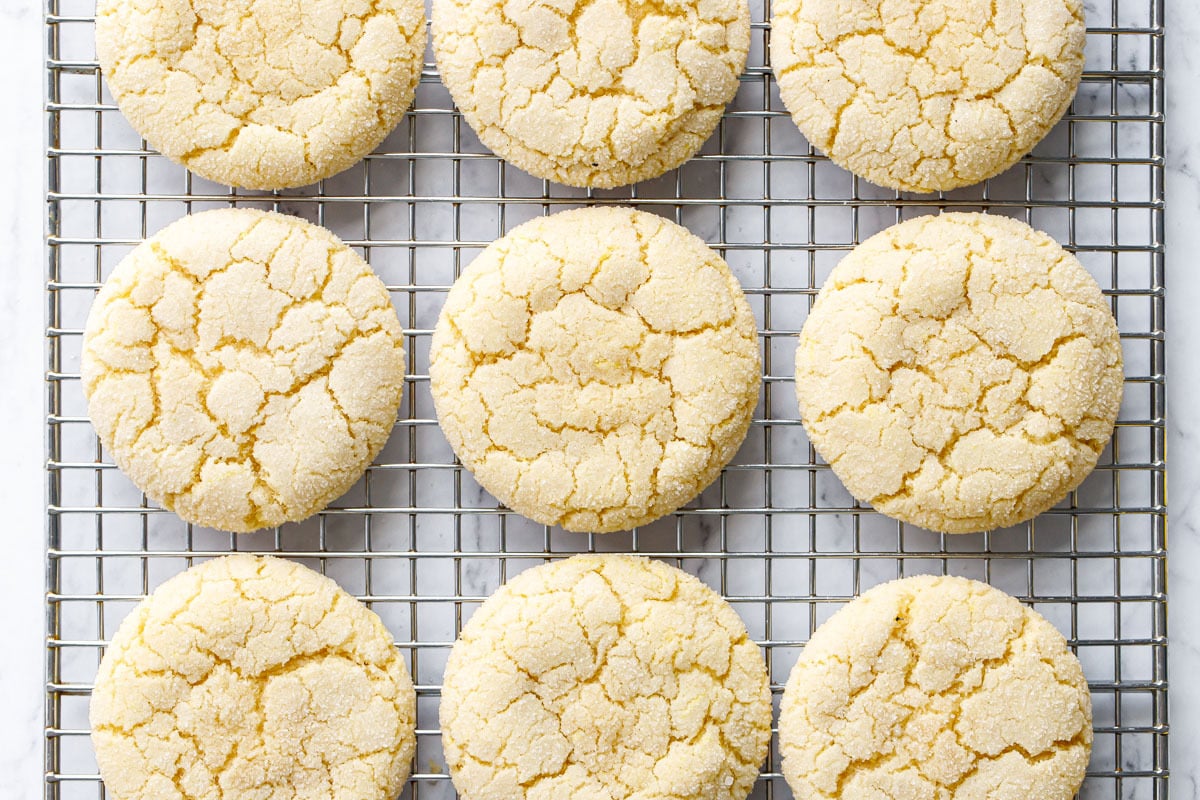 Lemon Olive Oil Sugar Cookies
Soft and chewy lemon-scented sugar cookies with an incredibly buttery flavor, considering they are made with no butter at all (rather, extra virgin olive oil).
Ingredients
2 ¼

cups

/

281

g

all-purpose flour

½

teaspoon

baking soda

½

teaspoon

baking powder

½

teaspoon

kosher salt

1 ¼

cups

/

250

g

granulated sugar

,

plus more for rolling

1

teaspoon

lemon zest

⅓

cup

/

75

g

olive oil

2

large eggs

½

teaspoon

vanilla extract
Instructions
Preheat oven to 350ºF. Line a baking sheet with parchment paper or a silicone baking mat.

In a bowl, sift together flour, baking soda, baking powder, and salt. Set aside.

In a second large bowl, combine sugar and lemon zest and rub between your fingers until fragrant.

Add olive oil and mix with a spatula until mixture forms a grainy paste. Add eggs and vanilla and stir until smooth. Fold in dry ingredients until just incorporated. You should have a fairly soft, oily dough.

Fill a small dish with more granulated sugar. Scoop dough into 1.5-tablespoon balls and roll in sugar to coat. Arrange on a nonstick or parchment-lined baking sheet, leaving 2 inches of space between cookies.

Bake for 11 to 13 minutes or until tops are puffed and crackly and edges just start to turn light golden brown. Let cool for 5 minutes before transferring to a wire rack to cool completely. Cookies are best enjoyed the day they are made, but will keep in an airtight container for up to 3 days.
All images and text ©
for Love & Olive Oil.
Did you make this recipe?
Let us know what you think! Leave a Review below or share a photo and tag me on Instagram with the hashtag #loveandoliveoil.