Doubling down on all things green with these matcha and pistachio shortbread cookie bars. A buttery, melt-in-your-mouth texture and a crunchy granulated sugar topping will have you clamoring for more.
This flavorful twist on a classic butter shortbread is a matcha made in heaven, combining two green ingredients in one brightly colored cookie that has a unique flavor that's all its own.
So you know those sound illusions where you can trick your brain into hearing a completely different word depending on what you're focusing on? (Yanny/Laurel is the one example that went viral not too long ago).
Well, this recipe is sort of like that, with a combination of matcha and pistachio (what would you call that… Mastachio? Pistacha?)
Take a bite and think matcha, and you'll taste bright and grassy matcha.
Think about pistachio and you'll definitely taste the nuttiness.
Think about nothing specific and you'll just taste pure deliciousness, sweet and salty and just plain lovely.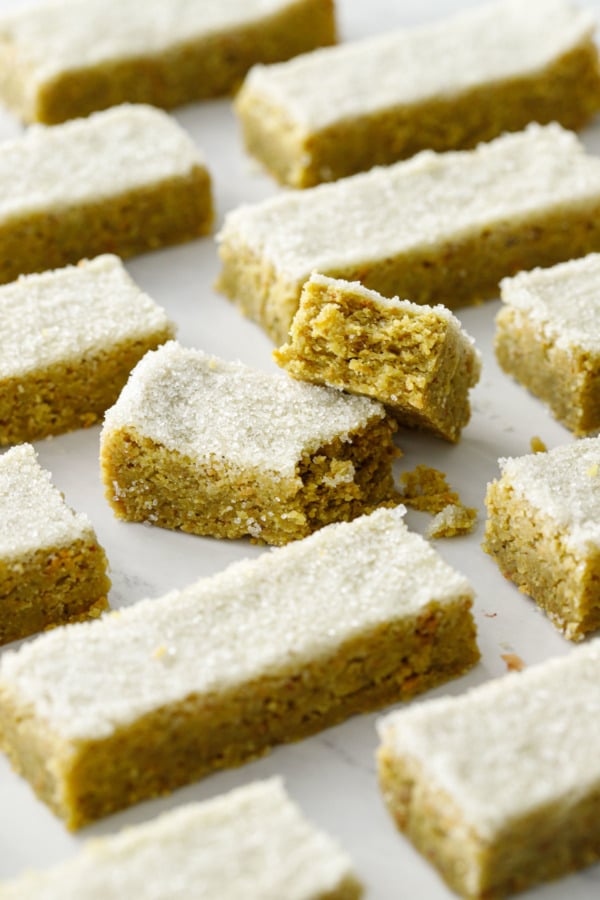 This is a more traditional shortbread than my previous shortbread recipes: the most notable difference being the lack of egg here. While the egg adds stability for sure, it's definitely not a traditional shortbread and results in a texture more like a sugar cookie. This eggless shortbread has a 'shorter' texture, short being the moniker used to describe that crumbly, melt-in-your-mouth characteristic that's so unique to shortbread.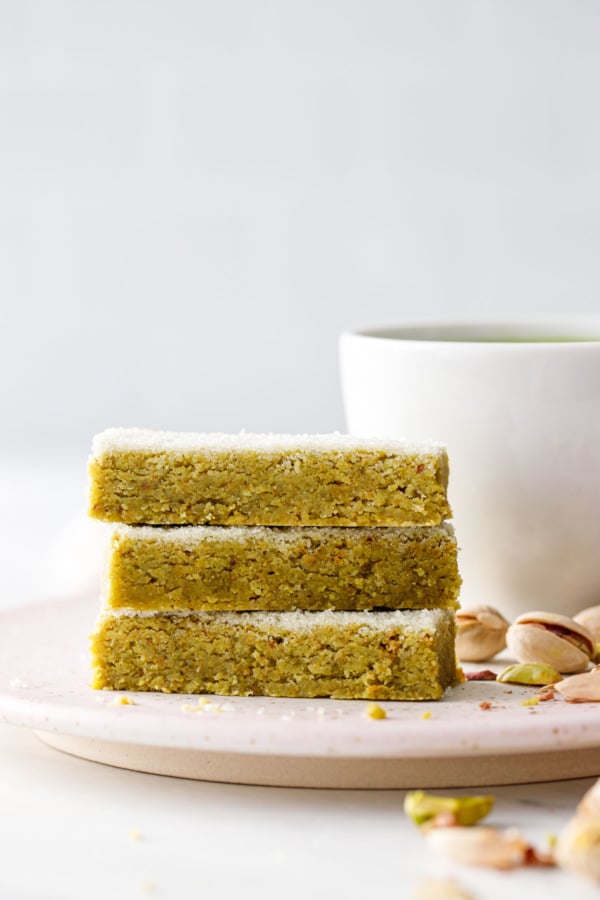 The pistachio flour and its notable lack of gluten helps make the cookie even more tender, although it is more apt to crumble especially if the cookie is overbaked. For that reason these shortbread cookies are probably not great for shipping, they're just not sturdy enough for such a journey.
In lieu of pistachio flour you can use very finely ground pistachios. I recommend lightly toasting them in a low oven to dry them out a bit, then pulse in a food processor. Just don't process it too far or you'll end up with butter instead. Add a bit of flour to help the nuts stay powdery if necessary. You could also use almond flour here too.
(I like the pistachio flour from Nuts.com, but there are plenty of other brands that will work well here too). It's not cheap, but nothing pistachio based is really. You only need 3/4 cup or about 75g here. Use what's left to make some pistachio amaretti!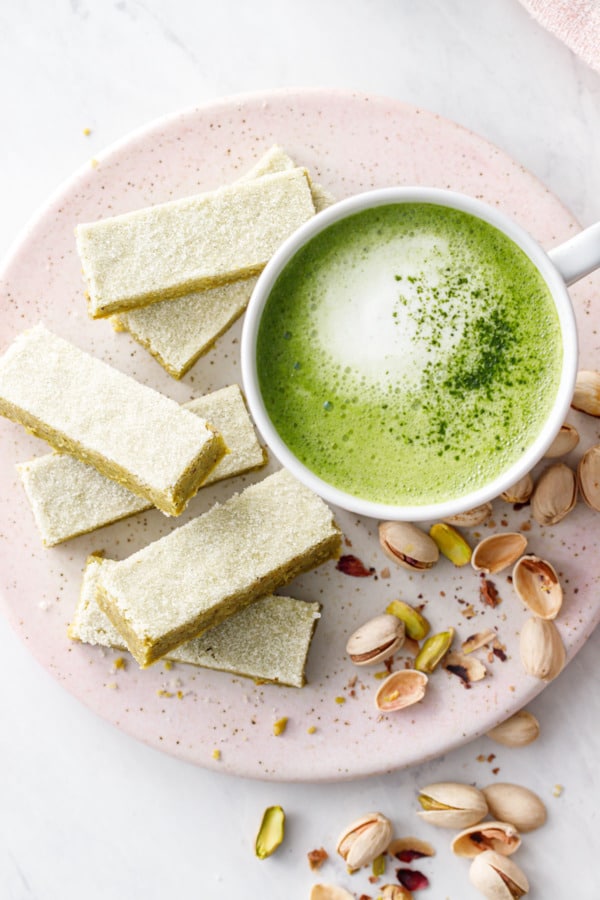 This recipe calls for softened butter, which is softer than room temperature butter.
Be sure to plan ahead and get your butter out of the fridge a good 1-2 hours before you bake. It's really hard to get evenly softened butter in the microwave (it'll usually end up soft in some parts and melted in others). The Tartine Cookbook (which I referenced when developing this recipe) recommends melting a portion of the butter on the stove, then mixing the rest of the too-cool butter into that. I haven't tried this personally but it's an interesting method.
Because it uses such soft butter, the dough can be easily mixed with a wooden spoon: no mixer necessary! When you go to mix in the salt and sugar, the butter should take on the consistency of thick mayonnaise. If it's too firm, you're going to have a really hard time incorporating the ingredients and will likely end up over-mixing your dough.


Since this recipe is a bit higher in fat than many other shortbread cookies, I do not recommend using this recipe for slice-and-bake type cookies – it will not hold its shape in the oven.
While I used an 8-inch square baking pan, this recipe can also be made in a 9-inch tart pan with removable bottom, which will make for lovely fluted edged triangles perfect for dipping in tea.
Shortbread like this one, especially green shortbread, is a bit tricky to determine when it's done. Overcook it and it might be too crumbly, undercook it and the center may be a bit greasy. Depending on your individual oven, as well as other factors like what baking pan you use (I recommend a light colored finish here), it may take more than one batch to find the sweet spot. Good news is even slightly under or over-done, this shortbread is still delicious.


Shortbread is especially fragile while it's still warm, however, this is when you want to cut it if you want nice, clean cuts.
I recommend letting the shortbread cool for about 15 minutes before dusting with granulated sugar (if desired). Then, use a thin paring knife or even a sharp-edged bench scraper to make your cuts. Whether you go with fingers, squares, or triangles is totally up to you. (I particularly enjoyed the test batch I cut into small 1-inch squares, although the bite-sized pieces were particularly dangerous as I'd pop one or two in my mouth every time I walked by it seemed.)
If you can stand it, try to let the cut shortbread cool in the pan for about an hour or so before removing the cookies (use the overhanging parchment as handles to 'lift' the slab out all in one piece). Once cooled, the shortbread will be sturdy enough to pick up and eat.
Leaving out the matcha here is totally fine if you're not a fan (hi, Mom!) Without the matcha, the cookies will just be much less green (as much as we associate the color green with pistachios, the nuts themselves are more on the brown side). Conversely… if you really really love matcha, up the matcha to 1 tablespoon for a more intense flavor.
I like adding a bit of pistachio extract to enhance the mild natural pistachio flavor (while lovely, it's a flavor that can easily be overpowered by stronger flavors like matcha… the extract helps balance that). That said, you can leave this out as well, you'll just tip the flavor scale more heavily towards the matcha.
Matcha Pistachio Shortbread
These delightfully green matcha and pistachio shortbread cookie bars have a buttery, melt-in-your-mouth texture and a crunchy granulated sugar topping. Cut them into squares, triangles, or fingers.
Ingredients:
14 tablespoons (198g) unsalted butter, softened
½ teaspoon fine sea salt
⅓ cup (70g) superfine sugar
1¼ cups all-purpose flour
¾ cup pistachio flour (75g) or finely ground pistachios
¼ cup (40g) cornstarch
2 teaspoons (4g) matcha
½ teaspoon pistachio extract (optional)
¼ cup granulated sugar, for topping
Directions:
An hour or two before you start baking, get out your butter. It needs to be very soft before you start baking.
Lightly butter an 8-by-8-inch light-colored metal baking pan (dark or non-stick finishes will brown the cookies too quickly). Line pan with parchment paper, leaving overhangs on all 4 sides (see here for parchment-lining techniques). Lightly butter the parchment.
Place softened butter in a mixing bowl. Add salt and blend with a wooden spoon until completely incorporated (you can use an electric mixer here if you like, but I find it unnecessary assuming your butter is sufficiently softened). It should be the consistency of thick mayonnaise.
Add sugar and mix well. (Note, this recipe calls for superfine sugar, which you can achieve by pulsing granulated sugar in a blender or food processor for a few seconds. The finer texture helps produce a more tender texture.)
In a bowl, whisk together flour, pistachio flour, cornstarch, and matcha until evenly incorporated. Add to butter along with pistachio extract and mix until dry ingredients are just incorporated, scraping down your bowl and scrape off your spoon often to make sure all the bits of butter are accounted for.
Dump dough into prepared baking pan, and press into an even layer. You can lightly flour your hands if necessary, or place a piece of plastic wrap or parchment down on top of the dough to help you smooth it into an even layer without it sticking to your hands.
Press a layer of plastic wrap down on top of the dough and refrigerate for 20 to 30 minutes.
While dough is chilling, preheat oven to 300 degrees F.
Bake for 45 to 50 minutes or until top is matte and edges are just barely (and I mean barely) starting to brown.
Remove from oven and place pan on a wire baking rack. Let cool for 15 minutes, then sprinkle with remaining granulated sugar. Tilt the pan to make sure the sugar evenly covers the entire surface, then dump out the excess.
While the cookies are still slightly warm, use a thin knife or a bench scraper to cut your bars, wiping off the knife with a towel between slices. This shortbread cuts more cleanly while it is warm, but then you have to let it completely cool before removing the bars from the pan (use the parchment overhangs to gently lift out the entire slab).
Cookies can be stored in an airtight container at room temperature for up to 5 days.
Did you make this recipe?
Let us know what you think!
Leave a Comment below or share a photo and tag me on Instagram with the hashtag #loveandoliveoil.