Fall in love with these autumn-inspired crumb bars featuring a ruby red fig, apple, and vanilla jam between layers of a sweet and salty oat and brown sugar crumb. They are sweet and salty, tender and crunchy, buttery and fruity, all in one delicious bite.
These rustic, messy-delicious crumb bars aren't winning any beauty pageants, but when it comes to flavor and simplicity, they'll score top marks every time. With a simple oat-based dough that's used as both the base and the crumb, and a layer of homemade fig, apple and vanilla jam sandwiched in between.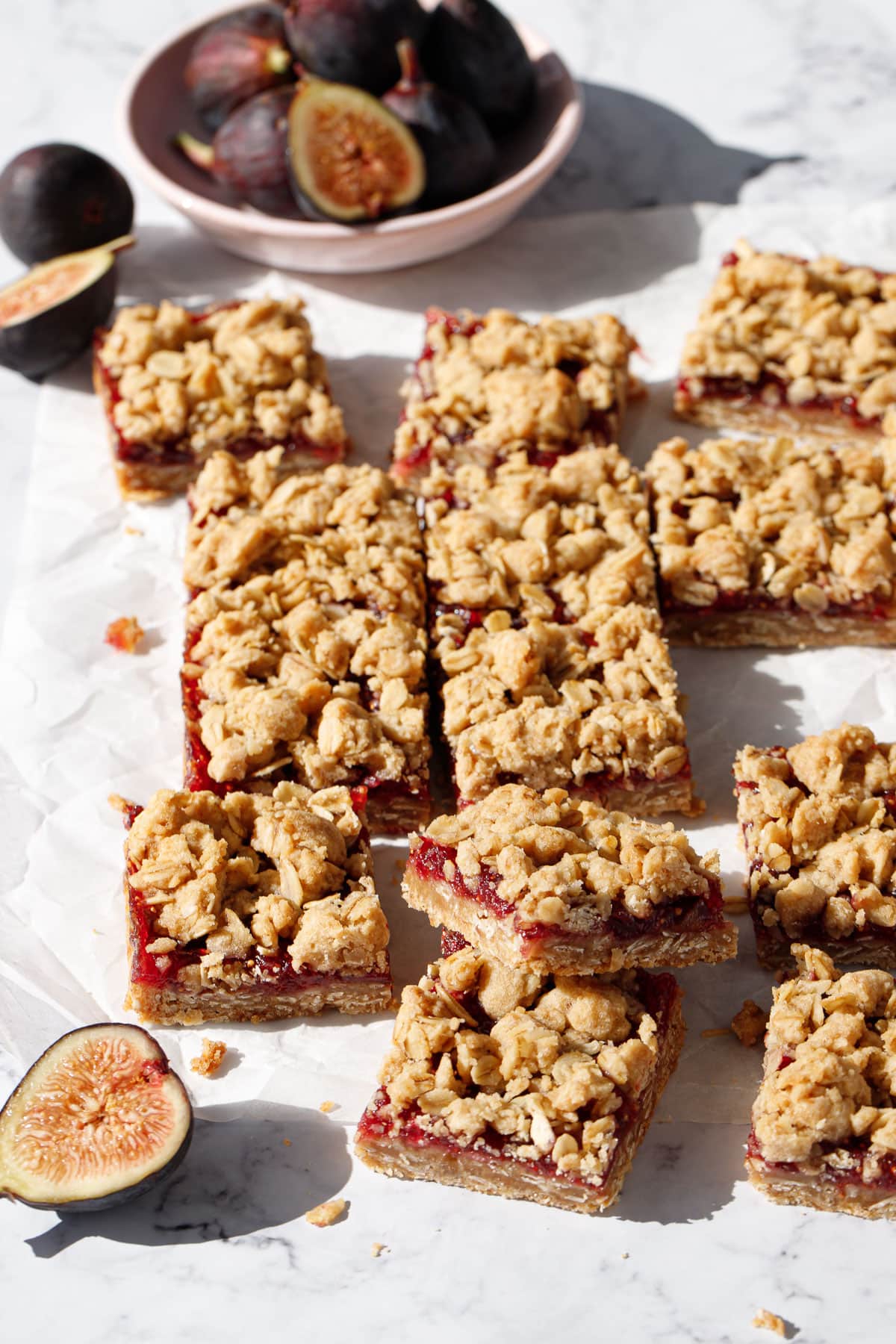 This recipe was created in partnership with Amoretti (use coupon code LOVEANDOLIVEOILFREESHIP for free shipping on your order!) All opinions expressed here are my own.
I wanted to make a fall flavored bar cookie of sorts. I knew I wanted a brown sugar and oat crumble with some sort of vanilla-infused fruit filling, but I couldn't decide if I wanted that filling to be fig or apple.
Fig and vanilla? Or apple and vanilla? Which sounds better to you? That is the million dollar question.
I ended up making a pan of each to bring to ceramics class with me, hoping to crowdsource the decision and help me make up my mind. Ultimately, my classmates liked both versions equally for different reasons (y'all were really no help at all here, lol).
In the end, I did what I often do when I can't decide: I did both, combining the fig and apple together into a single multi-fruit spread that's fruity and flavorful and fabulous for fall.
It's really the best of both worlds.
As a finishing touch, I added an ample amount of vanilla bean flavor in the form of Amoretti Natural Vanilla Bean Artisan Flavor Paste, which I used in both the jam and crumb layers. It's made from the entire vanilla bean, so it's got a lovely, well-rounded, multi-dimensional vanilla bean flavor that compliments the fall flavors of these bars beautifully. It's a great, economical alternative to whole vanilla beans or expensive vanilla paste and far more flavorful than just plain vanilla extract.
Amoretti's Artisan flavor line was originally developed for use in cold applications like ice creams, though it can be used in any recipe that calls for vanilla extract or vanilla paste. Follow the usage guidelines if you're unsure how much to use, but I found it to be pretty similar in strength to vanilla paste, and slightly more concentrated than vanilla extract. Adjust to taste as you see fit!
There's no denying the fruit is the star here, but the vanilla plays a crucial supporting role, propping up the brightness of the fruit with a sumptuous and flavorful foundation.
The hint of vanilla was exactly what this recipe needed to go from ordinary to extraordinary. Why vanilla has become associated with plain or boring, I'll never understand, as it is anything but: sweetly floral, creamy, aromatic and syrupy, it rounds out bitterness and enhances sweetness with a depth and complexity unmatched by any other flavor.
Don't let their rustic appearance fool you, these crumb bars are simply delightful.
They may not be as fancy as a Chocolate Raspberry Mousse Cake, but they are perfectly satisfying in their own right.
Crumb bars like these (also, Dulce de Leche anyone?) are one of my favorite easy-to-whip-up desserts in a pinch. Granted, this one takes a bit more effort because of the homemade jam component, but the results are well worth it.
I love how simple and unassuming the bars look, but once you take a bite you realize they are anything but. In fact I'd rank them right up there with some of my all-time favorite desserts (and that's saying something).
Sure you won't be able to eat one without crumbs going everywhere, but in my opinion the mess only adds to the appeal.
Make Ahead Bake Ahead
You know what else I love about crumb bars?
The keep beautifully, making them a perfect make-ahead dessert.
Granted they're not exactly sturdy enough for shipping across the country, but they'd be great to make a few days before a holiday party when you know you won't have time the day of.
You can also just make the jam part even further ahead of time, up to 2 weeks in fact. Bring the jam to room temperature before spreading it on the oat dough pressed into the pan.
Because I always get asked: yes, they can also be frozen! Bake as directed, let cool completely then cut into bars. You can freeze them directly in the pan, then cover or transfer to an airtight container for up to 2 months.
The jam manages to blend the unique characteristics and tastes of two very different fruits, with both flavors shining equally bright in the final jam. This isn't a fig-flavored applesauce, or an apple-fortified fig jam, but rather a true melding of the two.
I used purple Mission figs here; the deep purple skins and pink flesh produce a gorgeous ruby-hued jam. If you used brown or green figs the final jam will be just a delicious, but a bit more muted in color.
Because fig skins don't completely break down, you want to be sure to chop the figs up pretty finely to ensure there aren't any large chunks of fig skin the final jam. You can also pulse the fruit briefly in a food processor to chop it up finely (just don't fully liquify it).
Since I wanted a smooth-ish texture to my jam, without any identifiable chunks of fruit, I opted to grate the apple—the fine shreds break down easily as the jam cooks, adding flavor and natural pectin that results in a perfectly thick and sticky jam.
The recipe will yield more jam than you actually need for the bars. The extra jam can be saved for another use, it'd be lovely on a cheese board or spread on your morning toast.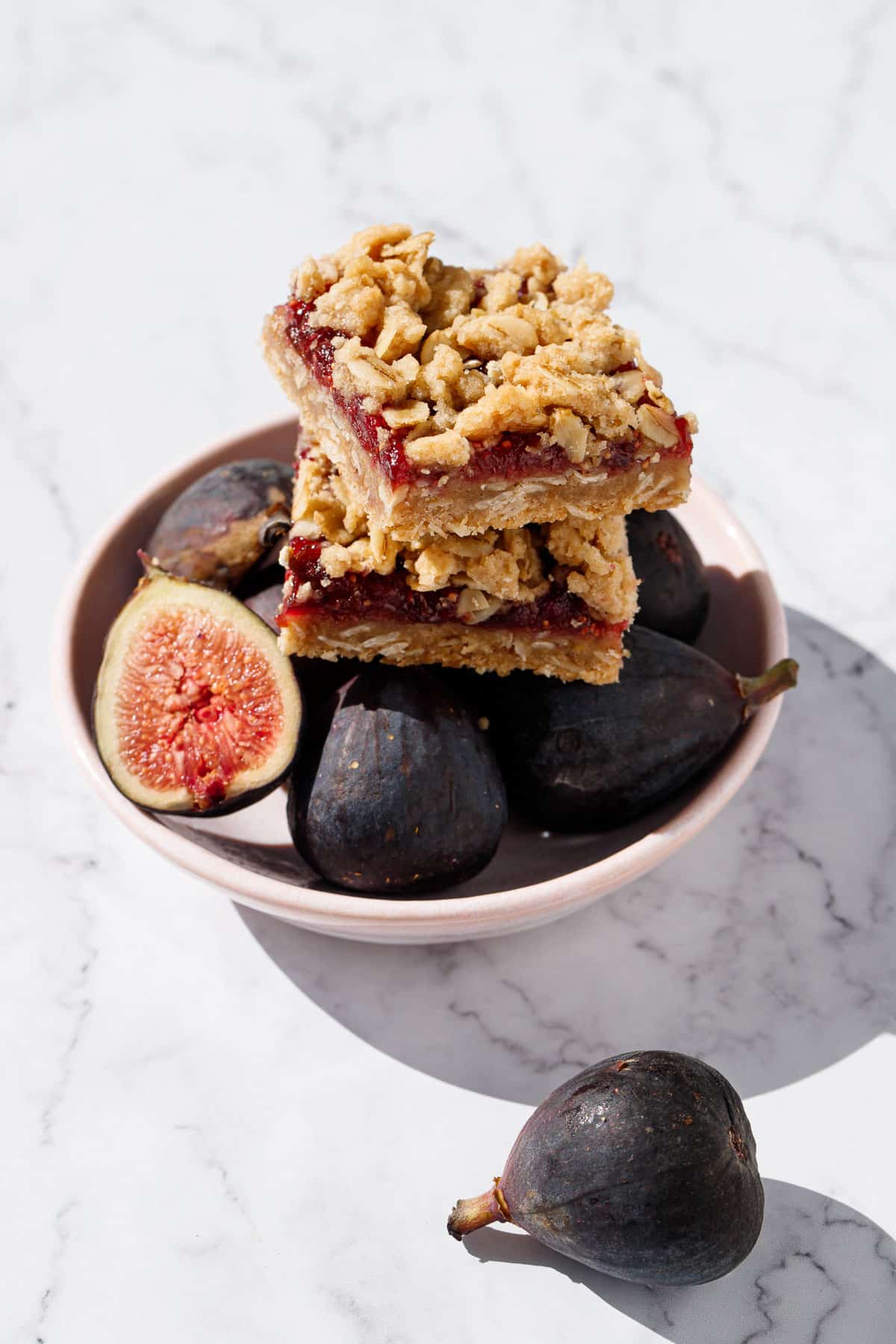 While the recipe is written for a simple homemade fig and apple jam, but if you happen to have another kind of fig jam handy (this Fig & Vanilla Jam, or even something like the Fig & Honey Jam or Tart Cherry Apple Jam from my book), feel free to use that here instead.
You can also use (gasp!) store-bought jam. I doubt you'll be able to find a fig apple jam in any store, but a plain fig jam or fig butter would work just fine here. Mix some Amoretti Natural Vanilla Bean Artisan Flavor Paste into the store-bought jam to recreate the flavor combo I've used here.
The base crumb recipe is incredibly versatile, and any jam, spread, or thick sauce will work as the layer in between; I'm thinking blueberry jam in the summer, pumpkin butter for the holidays, dulce de leche or Nutella spread for a super sweet treat, or even something like this decadent chocolate raspberry jam would be lovely indeed.
The base and crumb topping are actually the same dough, divided: about 2/3 is pressed into the bottom of the baking pan, and the rest is crumbled on top.
You want to press the bottom layer of dough firmly into the pan, compressing the oats and soft dough as much as possible, otherwise it'll be too crumbly when you cut into it (and we want crumbly [these are crumb bars after all], but just in the top layer). The base should be sturdy enough to be able to pick up a square without it collapsing in your hands.
I happen to have a plastic fondant smoother tool from way back when I took a cake decorating class, and even though I haven't done a fondant-covered cake in the last 8 years, I've kept the tool for this very reason: it's the perfect tool for pressing crumbly dough mixtures into square pans just like this one. The smooth plastic doesn't stick, and the square corner makes it easy to compress even the very edges.
Another tip? Put your empty baking pan on a scale. That way, when I tell you to use about 2/3 of the mixture in the bottom layer, you don't need to eyeball it. Two thirds of the crumb mixture is almost exactly 300g. Whatever is left (about 150g in this case) is the perfect amount for sprinkling on top so that you end up with a nice thick and crunchy crumb layer that doesn't completely cover up the gorgeous ruby red jam underneath.
Baking for a crowd? Double the recipe as written to make in a 13-by-9-inch baking pan, or quadruple and bake in a half sheet pan (13-by-18-inch).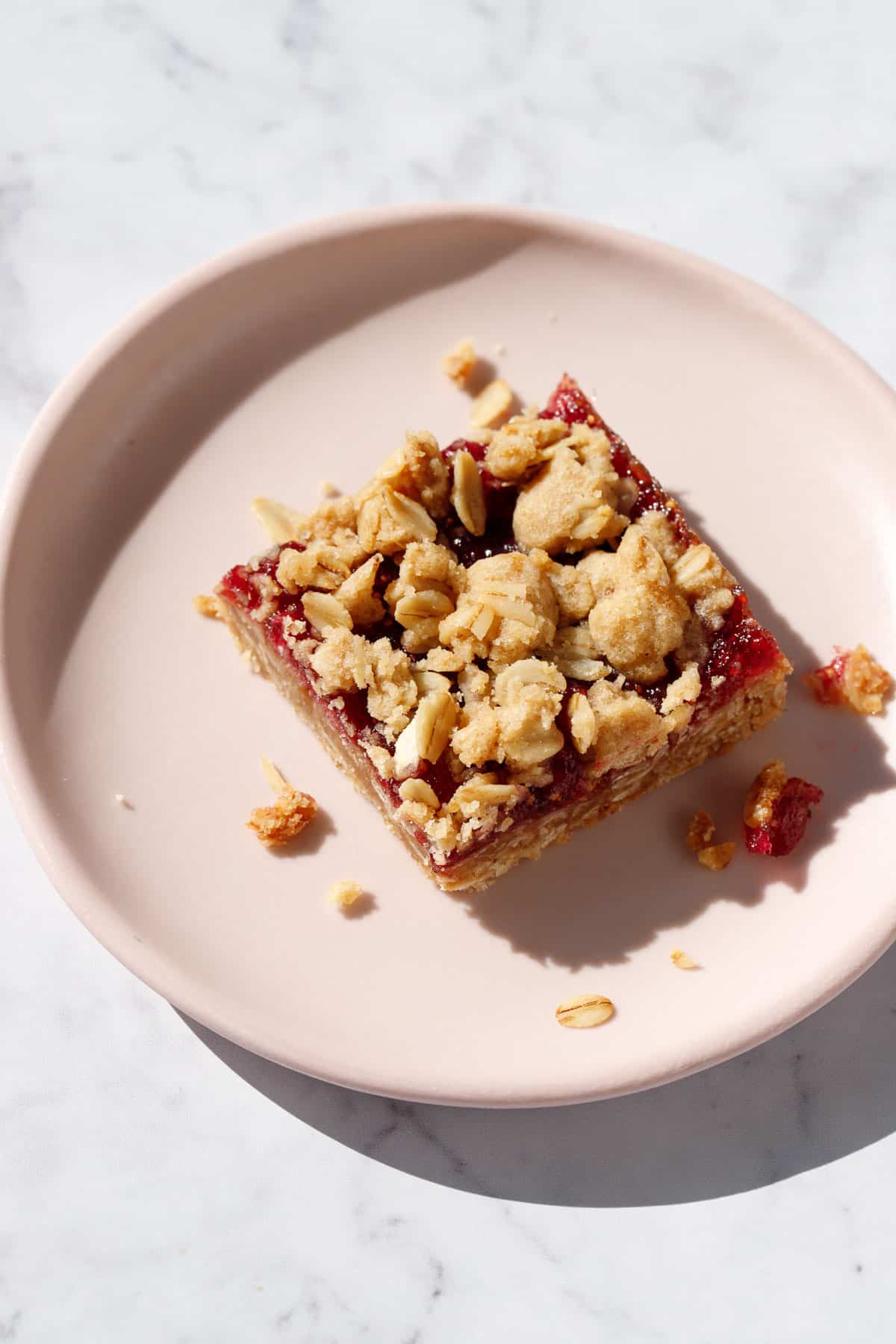 In the oven, the crumb topping doesn't visibly change much; there aren't any strong visual cues or physical checks (toothpicks, etc) to know when its done. The jam will be bubbly, if not visibly, definitely audibly, and the crumb topping will get slightly more golden brown in color (but only slightly). But it's pretty subjective, just know that it's nearly impossible to overbake this one, and even slightly underbaked the results are soft and delicious.
I found 35 to 40 minutes to be the sweet spot for me (I used a light aluminum baking pan). Slightly less time will result in softer bars, slightly more will give you an even crispier topping. If you're baking pan has a dark non-stick finish, you may want to pull them a few minutes earlier to avoid the bottoms from getting too brown.
I hesitate to call this recipe completely fool proof (just because I've seen some things that make me question humanity as a whole) but you'd be really hard-pressed to mess this one up by under or overbaking it.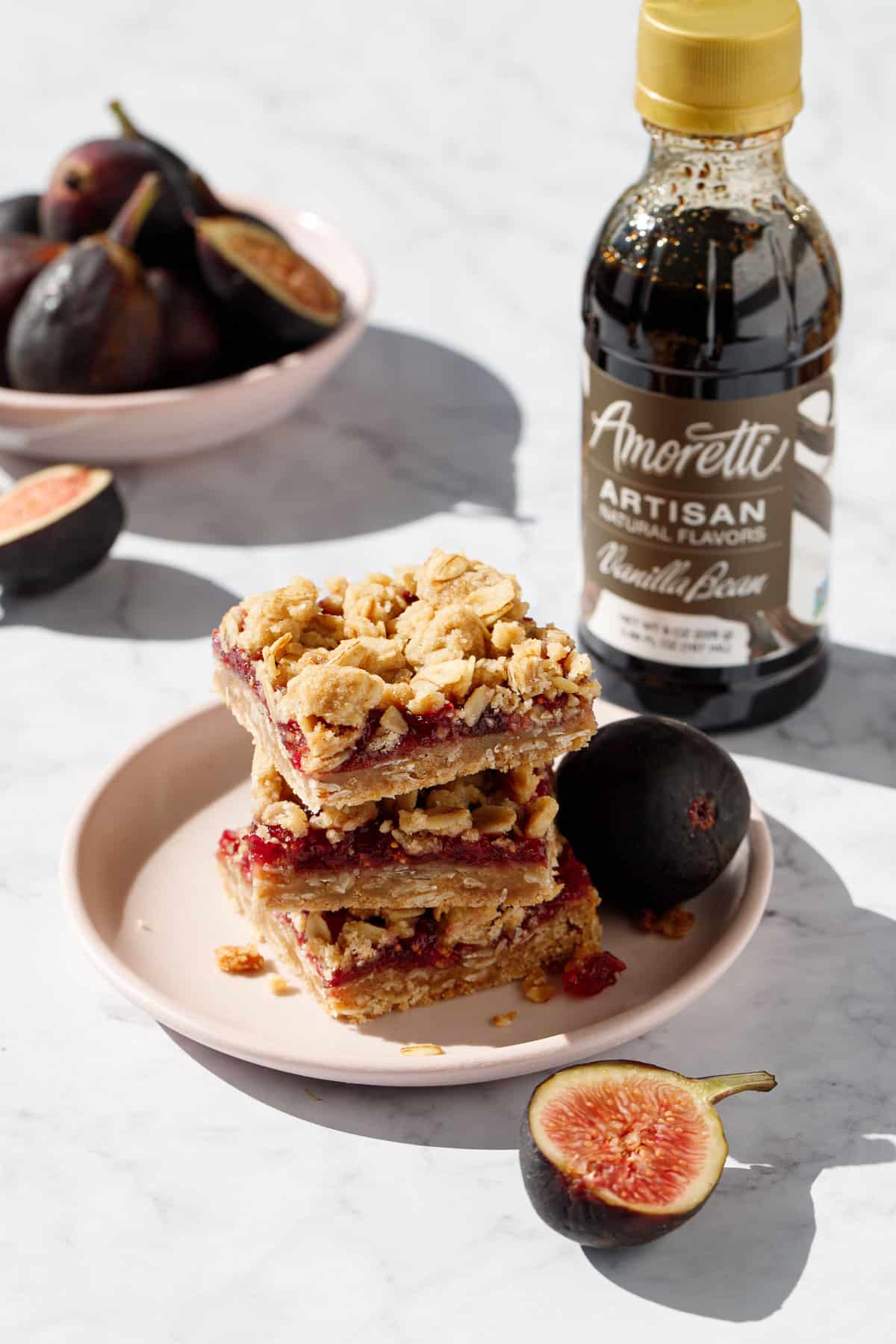 Ingredient Notes & Substitutions
Amoretti Natural Vanilla Bean Artisan Flavor Paste: This is a very unique product from Amoretti, and the recipe is written for this specifically. It's most similar to vanilla paste, which can be substituted in the same quantities as listed in the recipe. You can also use vanilla extract, though I recommend increasing the quantity slightly as vanilla extract isn't as concentrated as the Artisan flavor paste.
Use coupon code LOVEANDOLIVEOILFREESHIP at Amoretti.com for free shipping on your order!
Old-Fashioned Oats: Old fashioned or rolled oats are quite different from quick cooking or instant oats, and even more different still from steel-cut oats. Substituting a different kind of oats will change the texture of the crumb.
All-purpose flour: Since this recipe doesn't rely on the flour for any 'structure' or gluten development, I think you'd be perfectly fine substituting an all-purpose gluten free flour blend in its place.
Cinnamon & cardamom: I added just a hint of spices to the oat mixture to enhance the fall feel of the bars, but didn't want to make it too pronounced lest it overpower the subtle fruit and vanilla notes in the jam layer. Feel free to leave these out entirely if you prefer.
Fresh figs: The recipe is written for fresh figs, but frozen will work here too. I used deep purple mission figs which gave my jam a gorgeous ruby-red color, but brown or green figs would work just fine here too (the final jam will just be less vibrant).
I personally wouldn't use dried figs, but if it's not fig season and you simply must make this recipe, try using about 1/3 the weight of the fresh as called for (so 3.5oz or so) with the additional weight made up in liquid like water or apple juice. You can soak them in liquid ahead of time for a few hours to soften, then drain and proceed with the recipe as written.
Apple: I used a honeycrisp apple here, but any kind will work fine so use your favorite!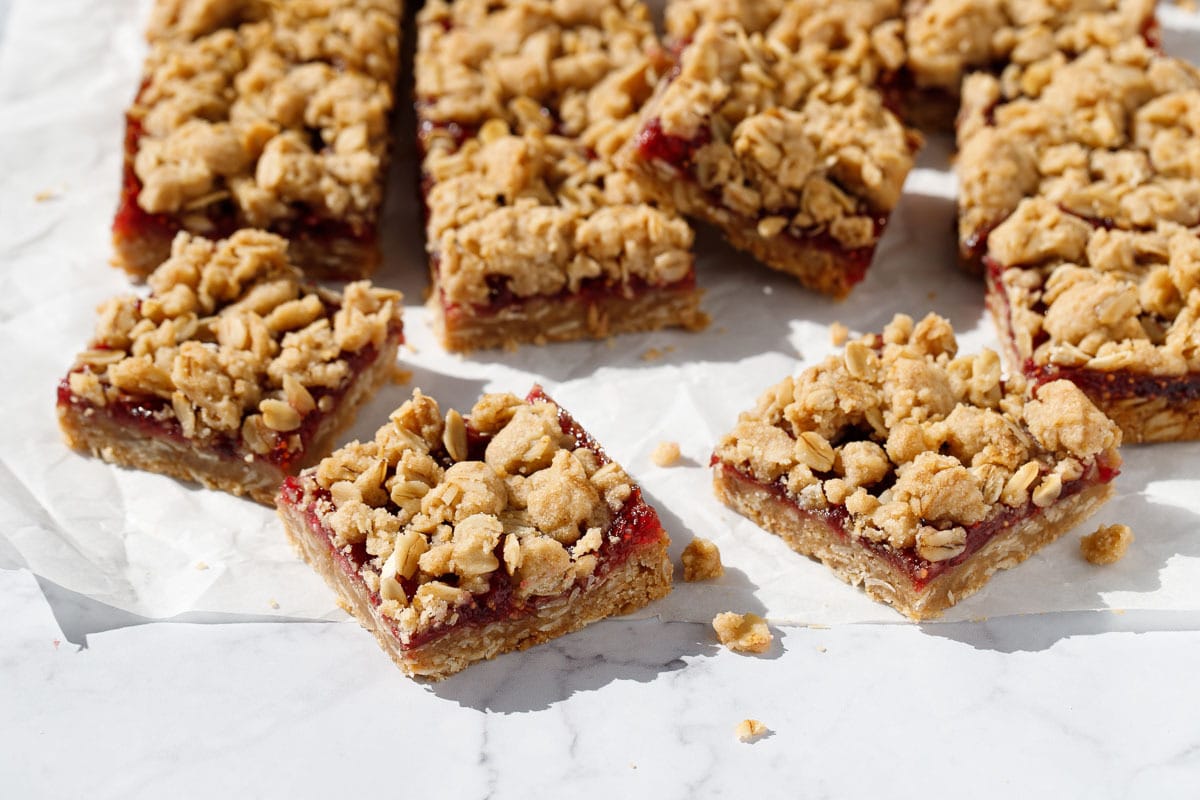 Fig, Apple & Vanilla Oat Crumb Bars
These autumn-inspired crumb bars feature a homemade fig, apple, and vanilla jam between layers of a sweet and salty oat and brown sugar crumb; they are sweet and salty, tender and crunchy, buttery and fruity, all in one delicious bite
Ingredients
For Fig & Apple Jam:
10

ounces

/

280

g

fresh figs

1

large

/

220

g

apple

½

cup

/

100

g

granulated sugar

1

tablespoon

lemon juice

1 ½

teaspoons

Amoretti Natural Vanilla Bean Artisan Flavor Paste
For Crumb Bars:
1

cup

/

125

g

all-purpose flour

½

cup

/

110

g

packed brown sugar

½

teaspoon

fine sea salt

¼

teaspoon

baking soda

¼

teaspoon

ground cinnamon

pinch

ground cardamom

½

cup

/

113

g

unsalted butter

,

cut into cubes then softened to cool room temperature

1

cup

/

100

g

old fashioned rolled oats
Instructions
To prepare fruit, cut stems off of figs. Finely chop into 1/4-inch pieces (you can also pulse briefly in a food processor until chopped). You should have about 1 ¾ cup of chopped fruit. Place into a medium saucepan.

Peel apple. Grate with a coarse cheese grater; you should have about 1 cup of grated apple.

In a medium saucepan, combine chopped fig, grated apple, sugar and lemon juice. Set over medium heat and bring to a simmer, stirring occasionally. As the fruit begins to soften, mash with the back of your spatula or use a potato masher to help break down the fruit.

Simmer for 15 to 20 minutes or until very thick. Remove from heat and stir in Natural Vanilla Bean Artisan Flavor Paste. Set aside and let cool.

You should have about 1 ¼ cups of finished jam, you'll only need ¾ cup for the final bars (the rest can be used in another recipe or just enjoy it on your morning toast as it's delightful on its own!) Jam will keep in an airtight container in the fridge for up to 2 weeks.
For Crumb Bars:
Preheat oven to 350 degrees F. Line an 8-by-8-inch square baking pan with parchment paper.

In a mixing bowl or the bowl of a stand mixer fitted with the paddle attachment, combine flour, brown sugar, salt, baking powder, cinnamon and cardamom. Mix on low speed until evenly incorporated.

Cut butter into cubes, sprinkle over top of dry ingredients. Mix on low speed until mixture forms pea-sized crumbs (you can use your hands if necessary to break up any larger chunks of butter).

Add oats and vanilla, then mix until evenly incorporated. The dough will look very crumbly, but should stick together easily when squeezed in your hand.

Dump about 2/3 of dough (300g worth) into prepared baking pan; press firmly into an even layer in the bottom of pan.

Spread ¾ cup of jam in an even layer on top, then sprinkle with remaining dough in coarse crumbles (you should still be able to see some of the jam peeking through).

Bake for 35 to 40 minutes or until jam is sputtering and crumbs on top are lightly golden brown (they won't change color significantly, gently touch the top and you should be able to tell if they're crispy or not). These bars don't have a very obvious sign of doneness, and are nearly impossible to under or overbake; cook slightly longer if you like crispier crumbs, or slightly less for a softer bar overall.

Remove from oven and let cool completely (optionally chill for a bit to make for cleaner cuts) before using the parchment paper to lift the whole block out of the baking pan, then cut into 16 square bars.

Leftover bars will keep in an airtight container at room temperature for a day or so, or in the fridge for up to a week (though they'll soften slightly the longer they sit).
Notes
*You can use store-bought fig jam or fig butter in place of the homemade fig and apple jam if you like; you'll need about 3/4 cup or 275g.
All images and text ©
for Love & Olive Oil.
Did you make this recipe?
Let us know what you think! Leave a Review below or share a photo and tag me on Instagram with the hashtag #loveandoliveoil.
Disclosure: This post was created in partnership with Amoretti. As always, all opinions written are purely our own. We're incredibly grateful for opportunities like these that allow us to continue sharing delicious recipes with you, so thank you for supporting us and the brands we love.