This moist and flavorful glazed lemon loaf is made with extra virgin olive oil and Meyer lemons for a unique flavor, moist texture and gorgeous golden yellow color.
Winter is citrus season, and Meyer lemons (a cross between lemon and mandarin oranges) are one of my favorites. This lemon loaf cake is a celebration of all things Meyer lemon, with a tender crumb infused with copious amounts of zest, a sweet lemony soaking syrup, AND a crackly lemon glaze on top.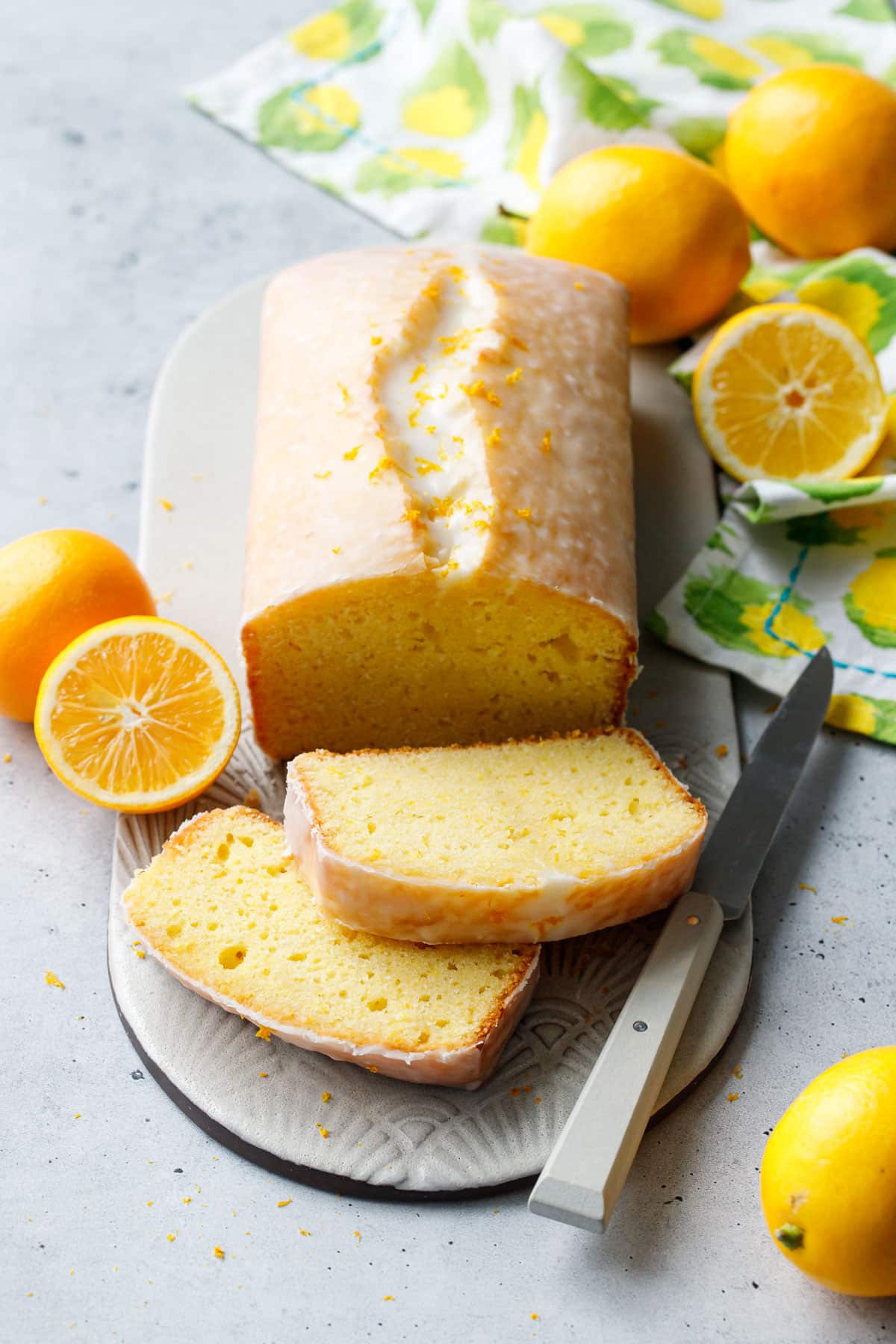 Citrus is the only redeeming part of winter, in my opinion. Sort of like peaches and tomatoes in summer (which are like a delicious consolation prize for dealing with all the darn humidity).
I wanted a beautiful, moist and lemony loaf cake with notes of extra virgin olive oil and a delicately sweet glaze. The EVOO flavor is subtle, but it does come through—you'd certainly taste the difference compared side by side to a cake made with vegetable oil.
This loaf cake falls somewhere between a pound cake and a yellow birthday cake in terms of texture, somehow buttery despite the fact that there's no butter to be found. Infused with subtle Meyer lemon flavor and hints of fruity, verdant olive oil, it really is a delightful winter cake, and easy and impressive to boot!
Whatever you do, don't skip the lemon soaking syrup or crackly lemon sugar glaze – that's *literally* the icing on the cake (the perfect sweet finish where the punchiest lemon flavor comes through!) You may be tempted to just do one or the other, but trust me when I say you won't regret the extra steps when you take your first bite of the finished cake.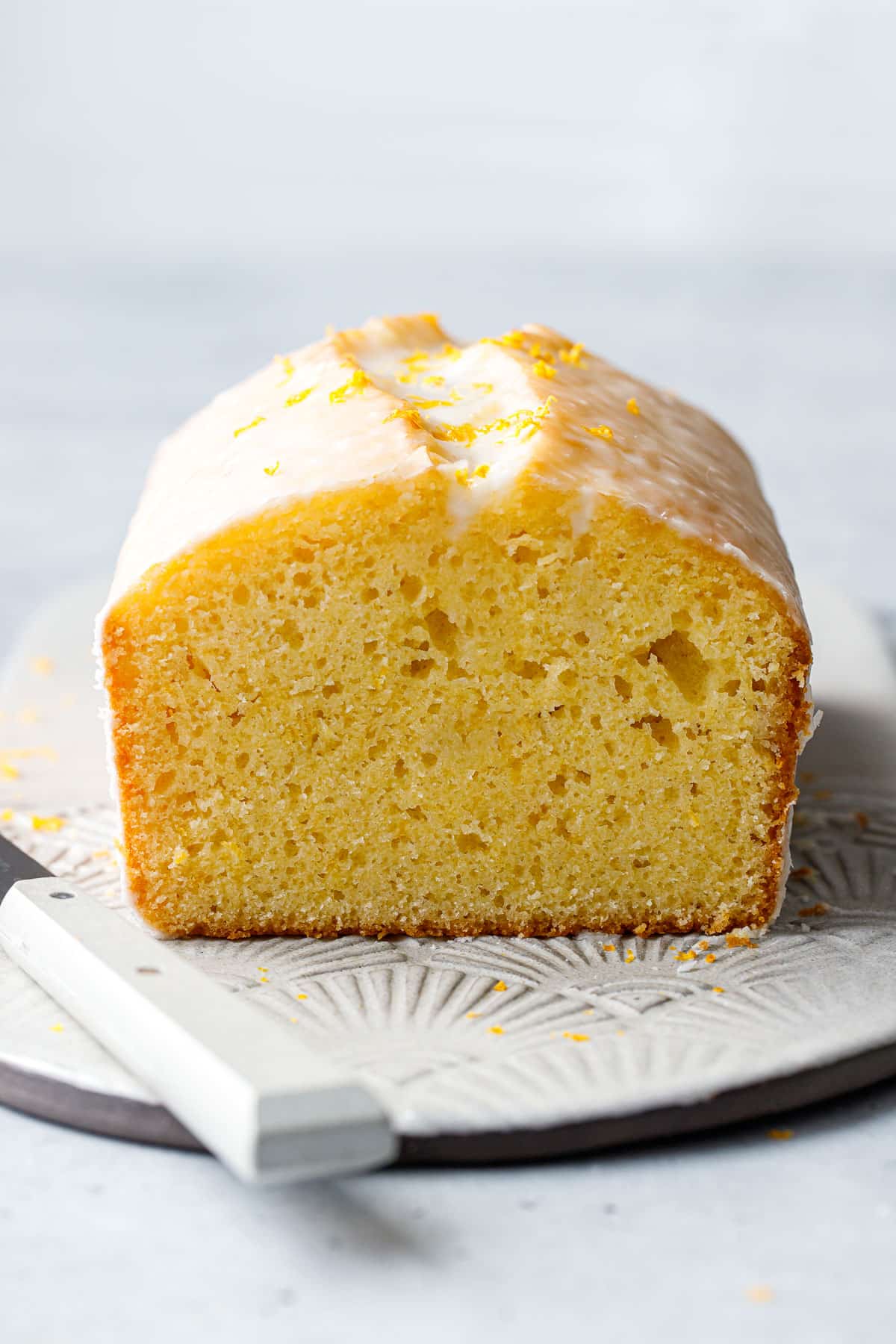 I feel like I've got chocolate cakes covered, but yellow cakes have always eluded me. For whatever reason the lack of cocoa somehow translates to a lack of flavor in many cases, especially for oil-based cake recipes. Yellow cakes made with butter taste much better, but often veer towards dry.
It's a frustrating conundrum that this particular lemon cake manages to avoid entirely, with a moist and tender crumb, ample lemon flavor, and a perfect combination of sweet and tart.
The recipe itself is a mashup of a few different lemon cakes, including Claire Saffitz's Crystalized Meyer Lemon Bundt Cake, and Matt's lemon loaf recipe (particularly the final glaze).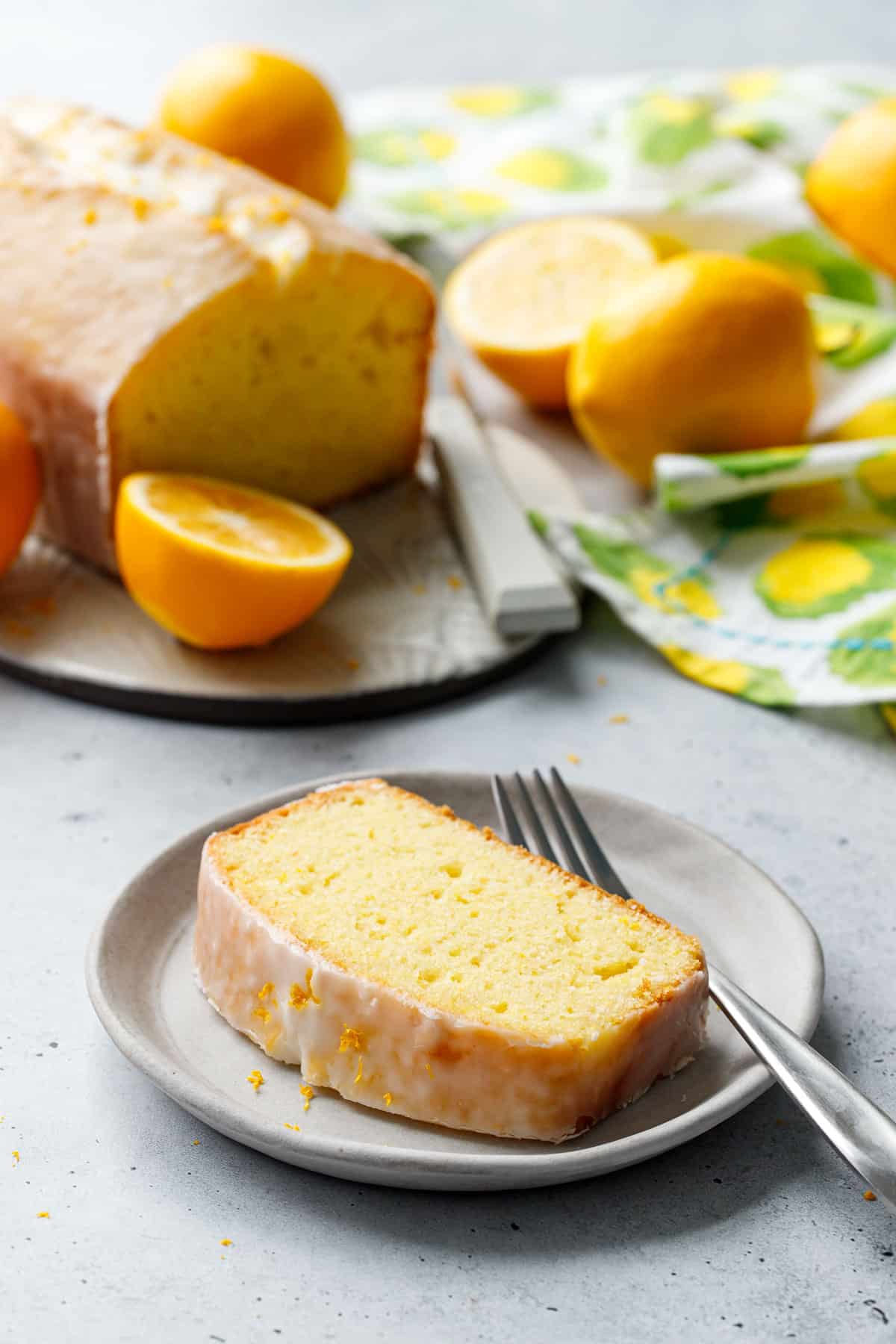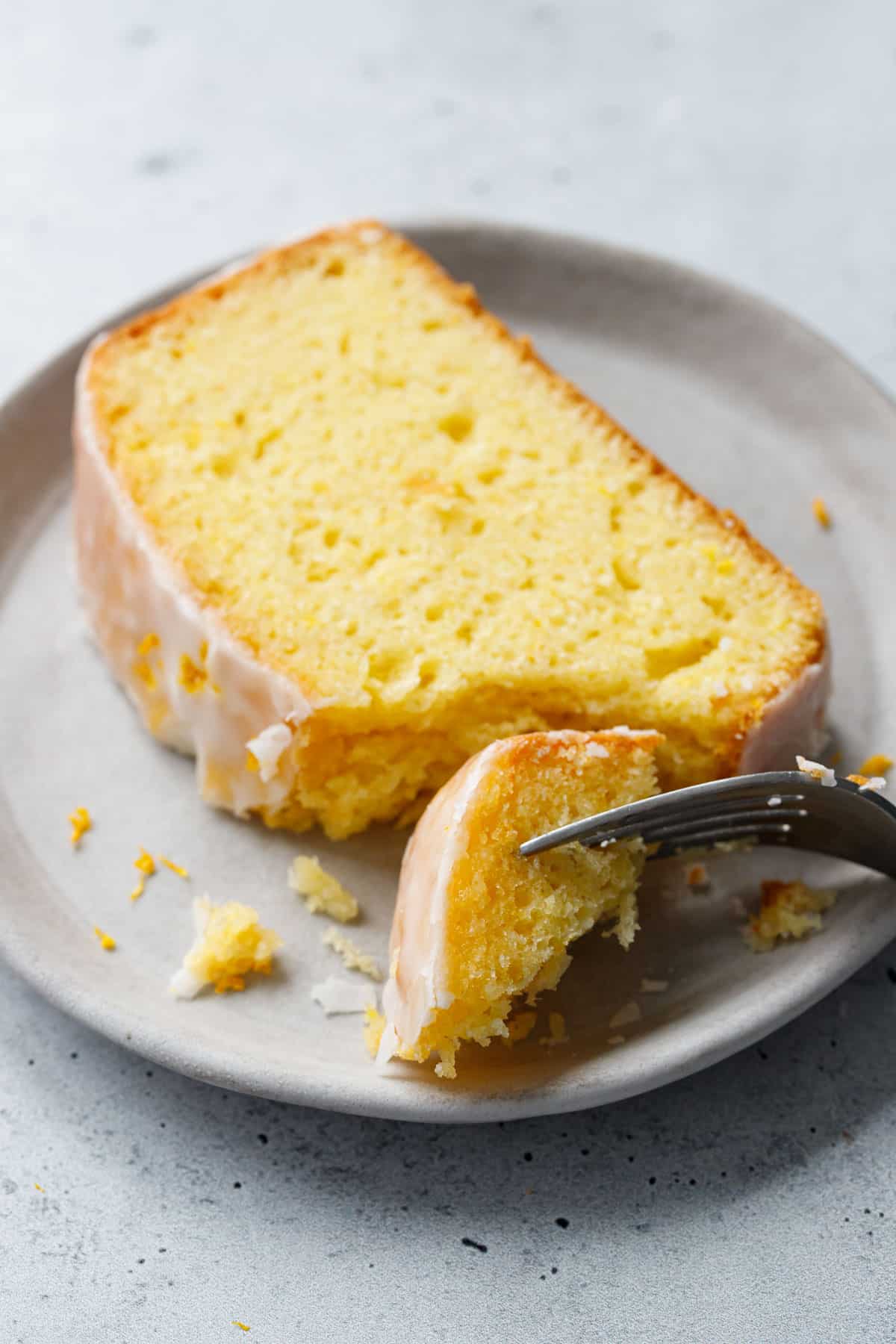 What is Meyer Lemon?
Meyer lemons are actually a hybrid cross between a lemon and a mandarin orange, with a mild, sweeter flavor, deep golden yellow color and softer skins. It mostly just tastes like a sweeter lemon, bright and vibrant, but without the extreme pucker.
You can certainly use regular lemons in this recipe, but the results will (obviously) be much more tart.
To replicate the flavor of Meyer lemons when you can't find them (they have a rather short winter growing season and can't always be found year round), you can use 75% lemon and 25% orange for both zest and juice portions of the recipe.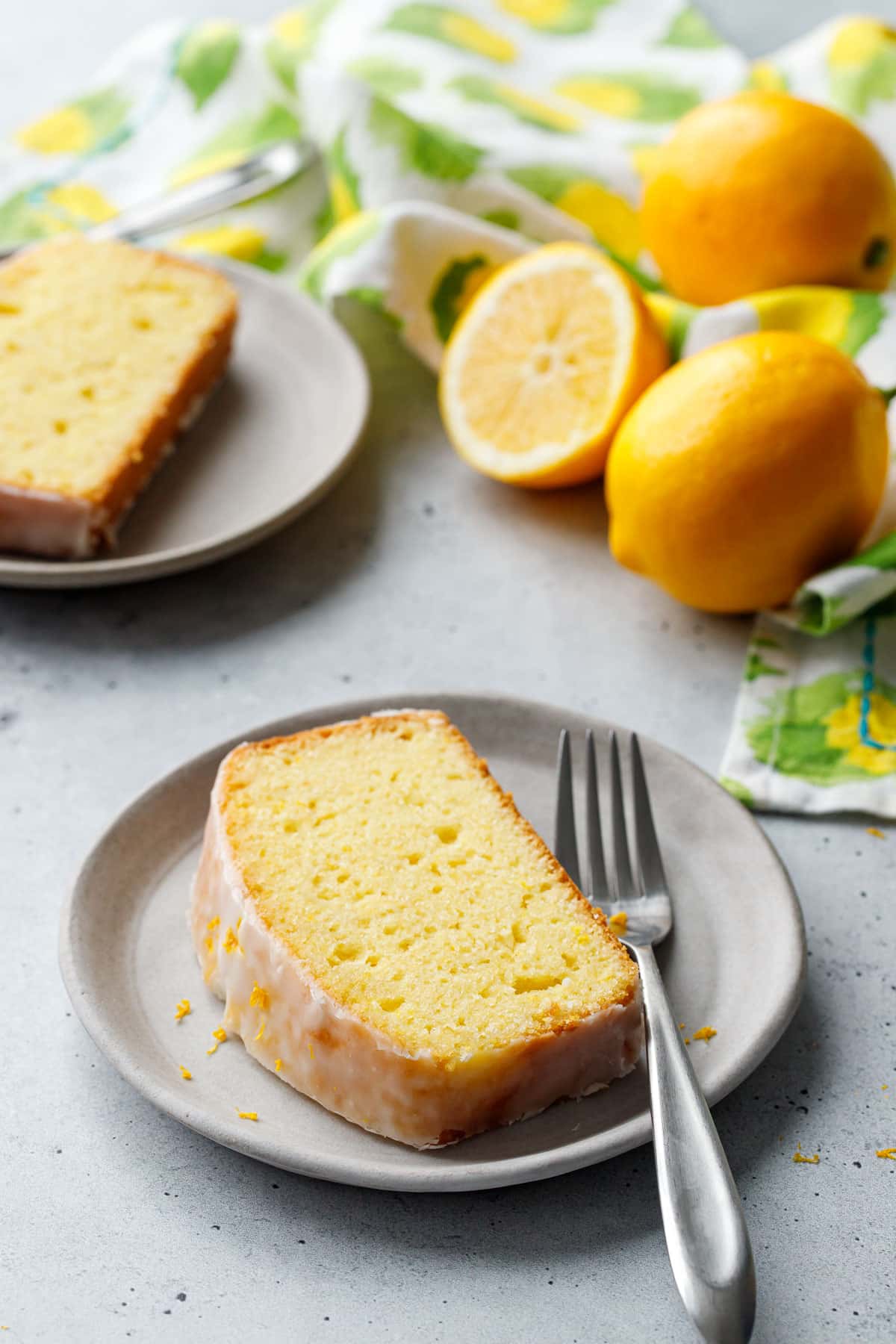 Pour the cake batter into a buttered and parchment-lined loaf pan.
Dip a bench scraper in olive oil and touch it to the surface of the batter (this will help it form a nicely defined crack in the oven).
Before baking. You can see the thin line of oil down the center.
After baking. Look at that beautiful crack!
Poke the cake all over, then pour sugar syrup over top to soak into the warm cake.
For the final finishing touch, brush the cake with a lemon sugar glaze.
You crack me up.
To get a perfectly defined, dramatic crack down the center of your loaf, a trick I've found is to add a thin strip of fat to the batter. As it bakes, this fat will melt and encourage a perfectly defined crevasse right down the middle, which is aesthetically appealing, yes, but also allows the cake to rise to its full potential.
I've seen recipes call for piping a thin strip of butter down the center, which works too, but since this recipe is oil-based, I opted for oil instead.
I first tried to drizzle a line of oil down the center of the batter, but that turned out to be far too much oil and made for a mushy spot on top with an overpowering olive oil flavor.
Instead, a bench scraper really works the best to leave a super thin, clean line of oil down the center of the cake.
To achieve this, pour some oil in a baking dish (something big enough you can dip your bench scraper into). Dip the edge of the bench scraper into the oil, coating the scraper about 1/4-inch up the sides. Then barely dip the edge of the scraper into the top of the batter, leaving a defined stripe of oil right down the middle. Repeat a second time so the stripe goes from end to end.
Testing for doneness: if you've used the oil/butter trick to achieve a well-defined crack, just be sure you don't test your cake there, as it's a tiny bit softer than the rest of the cake and may skew your results. Instead, insert your cake tester at the highest point just outside the rift, which will give you a more accurate read on doneness.
One more thing and then we'll move on: I know it's tempting to fill the crevasse full of syrup and glaze, but try to resist. Ideally the inside of the crack will get a thin layer of syrup and glaze the same thickness as the rest of the cake, otherwise it might result in a soggy spot (that, I'll grant you, does taste amazing since it's soaked through with lemon flavor, but makes the rest of the cake feel a bit underwhelming as a result).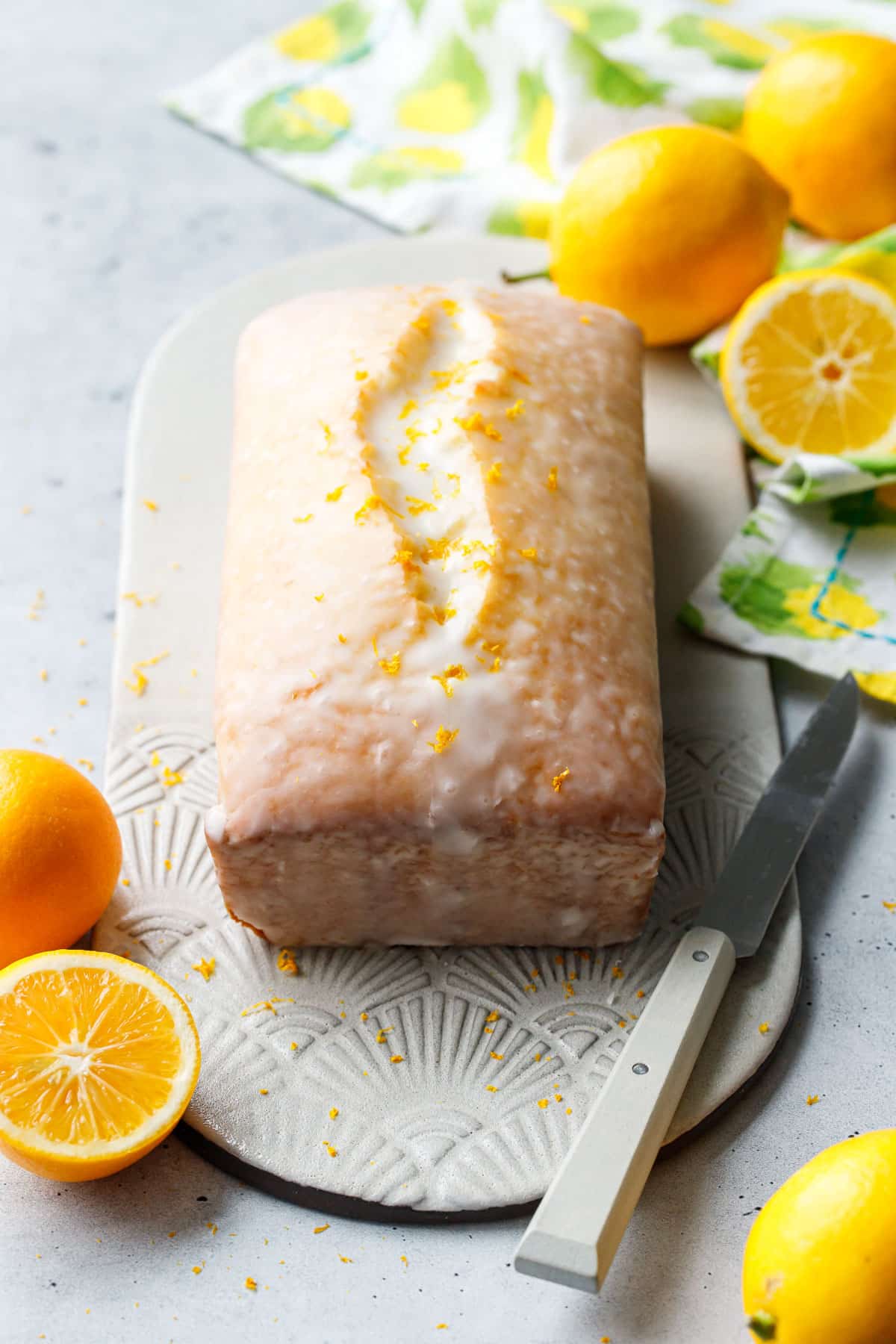 Make Ahead
I think this cake is even better when the cake is soaked with syrup and allowed to rest overnight before glazing. After soaking, wrap the still-warm cake in plastic wrap and refrigerate overnight, then glaze it the next day.
That said, you can make it all the same day—soak the warm cake with syrup then let it cool completely before glazing.
The cake itself keeps beautifully for up to a week. Wrap it tightly in plastic wrap and store in the refrigerator to keep it from drying out. You can also freeze the cake for up to a month (though I recommend freezing it unglazed, then glazing it fresh before serving).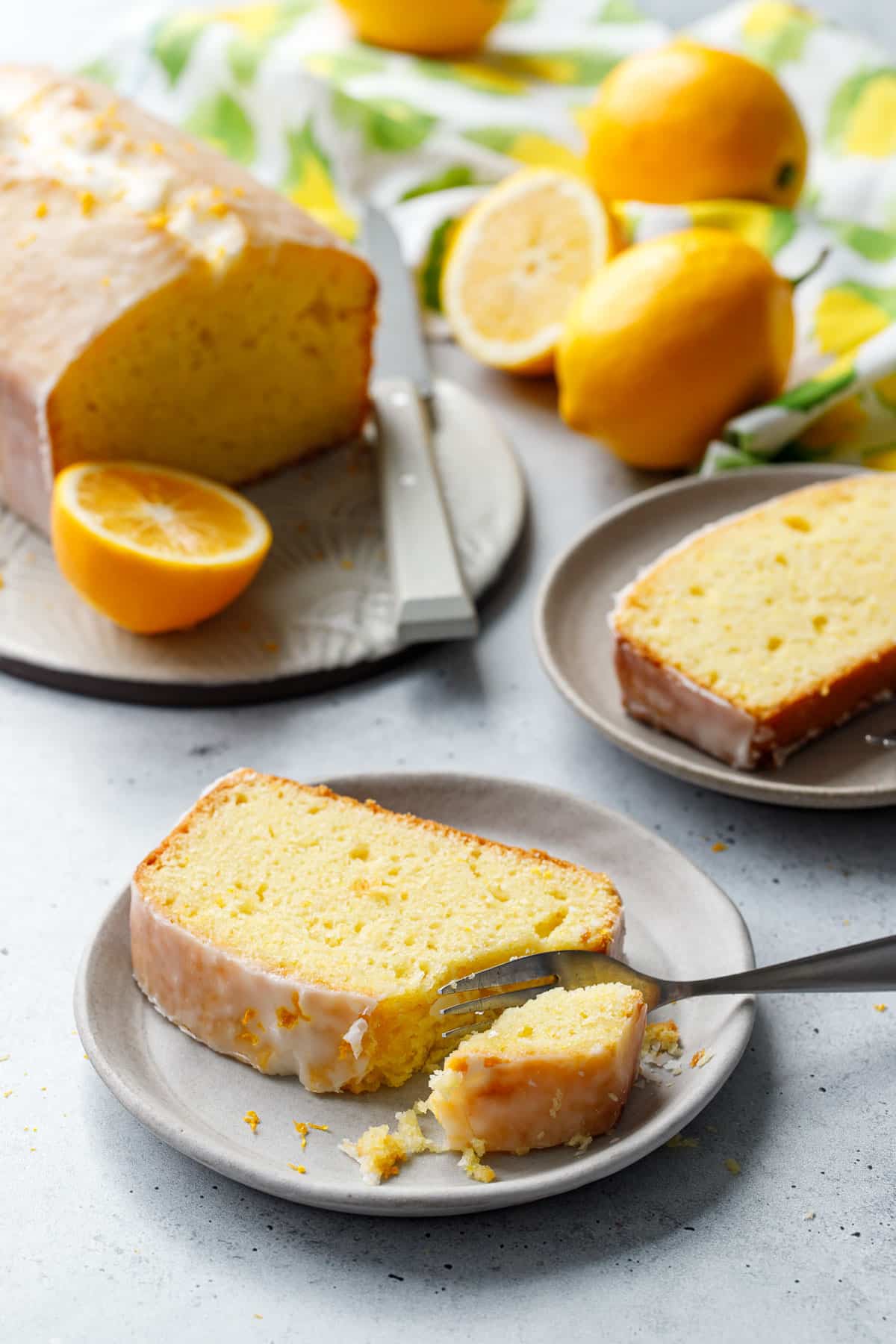 A Syrup and a Glaze?!
Indeed, this recipe has two sweet finishing layers: a lemon soaking syrup, and a lemon sugar glaze.
You may be tempted to skip one or both, but I implore you to take the extra time to do both.
The sugar soak is poured over the cake while it's still warm (and has been poked all over with a long toothpick or thin skewer for maximum soakage). The syrup permeates the cake, adding extra moisture and tart lemon flavor throughout the cake.
The lemon sugar glaze is simply powdered sugar and lemon juice, brushed on and then baked briefly in the oven to set it, resulting in a delicately crisp glaze that shatters when you bite into it.
While powdered sugar-based frostings and icings can often be overpoweringly sweet, this one is super thin and not overly sweet. In fact the only downside is that not every bite will have glaze on it, but the ones that do are perfection.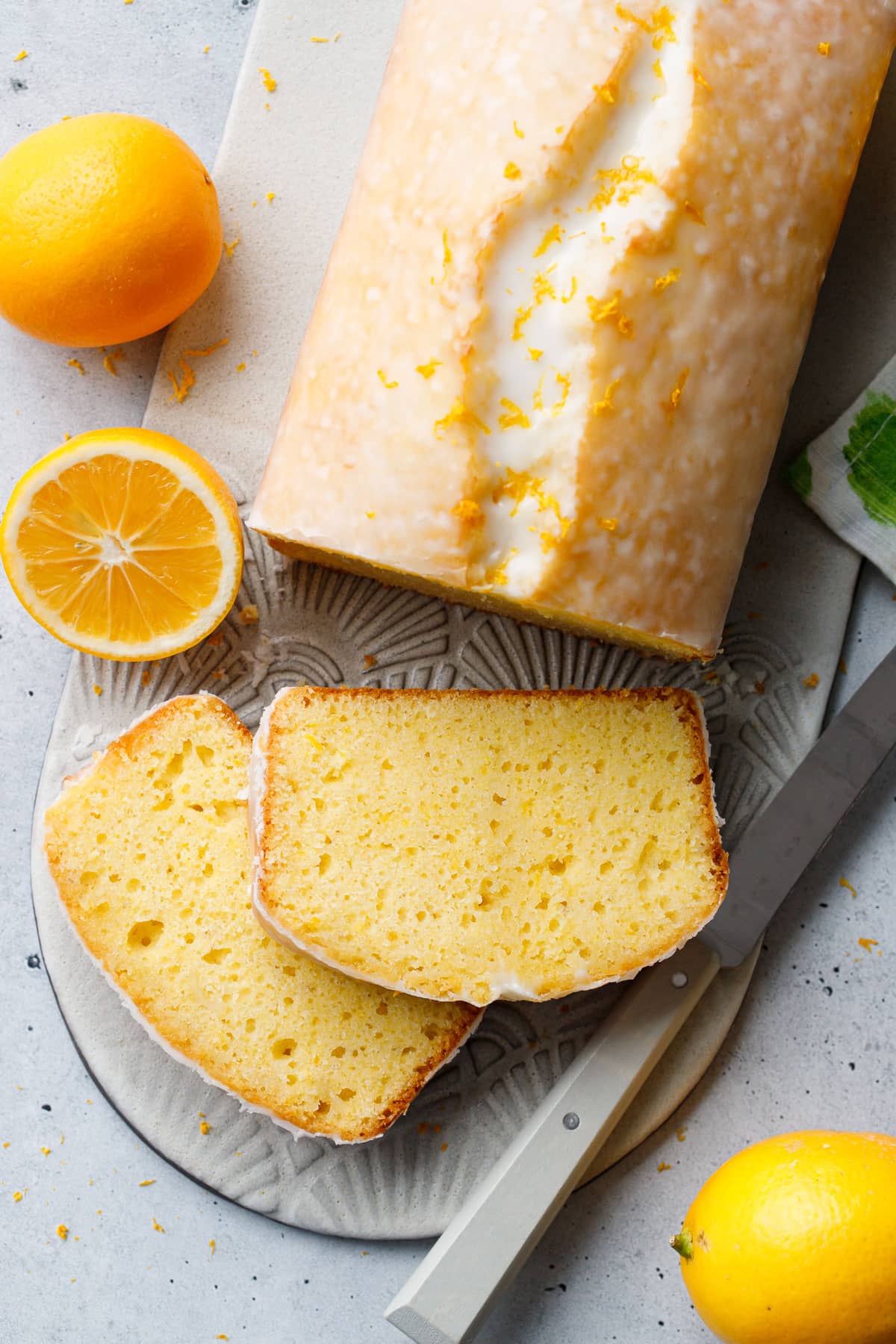 Loaf Pan Sizes
This recipe calls for an 8.5-by-4.5-inch loaf pan. I use this loaf pan, which has nice sharp corners. I always line my pans with parchment so sticking is never an issue (but always butter it regardless).
The other standard size is 9-by-5. Even though 1/2-inch doesn't seem like much, it's actually quite a bit larger (it holds about 8 cups of batter compared with 6 cups for the smaller size).
If your pan is the larger size, you'll end up with a wider, shallower loaf. You can use the same quantities for ingredients, but the cake will likely be done quicker as a result of the reduced depth. Start checking it after 40/45 minutes or so, as you definitely don't want to over-bake it.
You can also double this recipe and make it in a standard 10-cup bundt pan.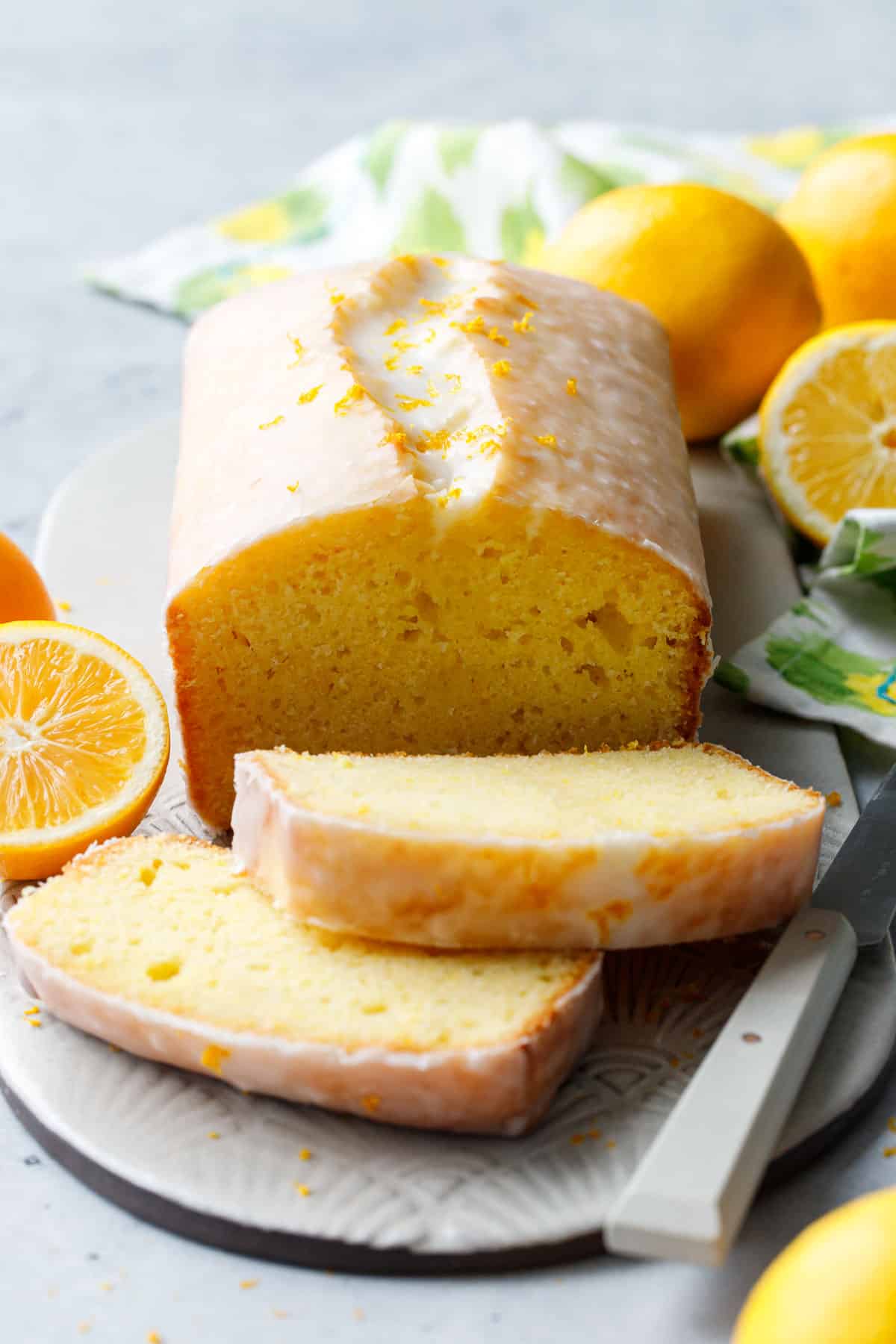 Swaps & Substitutions
Meyer Lemon: you can use regular lemons in place of the Meyers, for a much more tart lemon flavor. Or, if you want to reproduce the Meyer lemon flavor but can't find actual Meyer lemons, use approximately 75% regular lemon and 25% orange (freshly squeezed, please!), everywhere it calls for meyer lemon juice or zest. So 1/4 cup Meyer lemon juice called for in the syrup, replace with 3 tablespoons lemon juice and 1 tablespoon orange juice.
You can also swap citrus entirely, using orange (blood orange?!) or even grapefruit here (both flavors would go lovely with the olive oil, in my opinion!)
For an even punchier lemon flavor, add 1/2 teaspoon lemon extract to the cake batter.
Extra Virgin Olive Oil: Use a nice fruity olive oil, something buttery and fruity (vs sharp and peppery). Don't waste your good stuff here, something mid-range is ideal since a lot of the more complex flavors bake off in the oven. While I love the subtle flavor that extra virgin olive oil imbues in the final cake, you can certainly swap it out with any other neutral oil (like grapeseed or canola) if you want.
Heavy Cream: this adds fat and flavor as well as moisture. Whole milk will work, but the final cake won't be quite as rich and buttery. You can also use buttermilk or a mix of whole milk and sour cream for extra tang.
For a dairy-free alternative, use full fat coconut milk or a dairy free cream replacement (you want something with more fat than say, regular almond or soy milk, otherwise you risk your cake being too dry).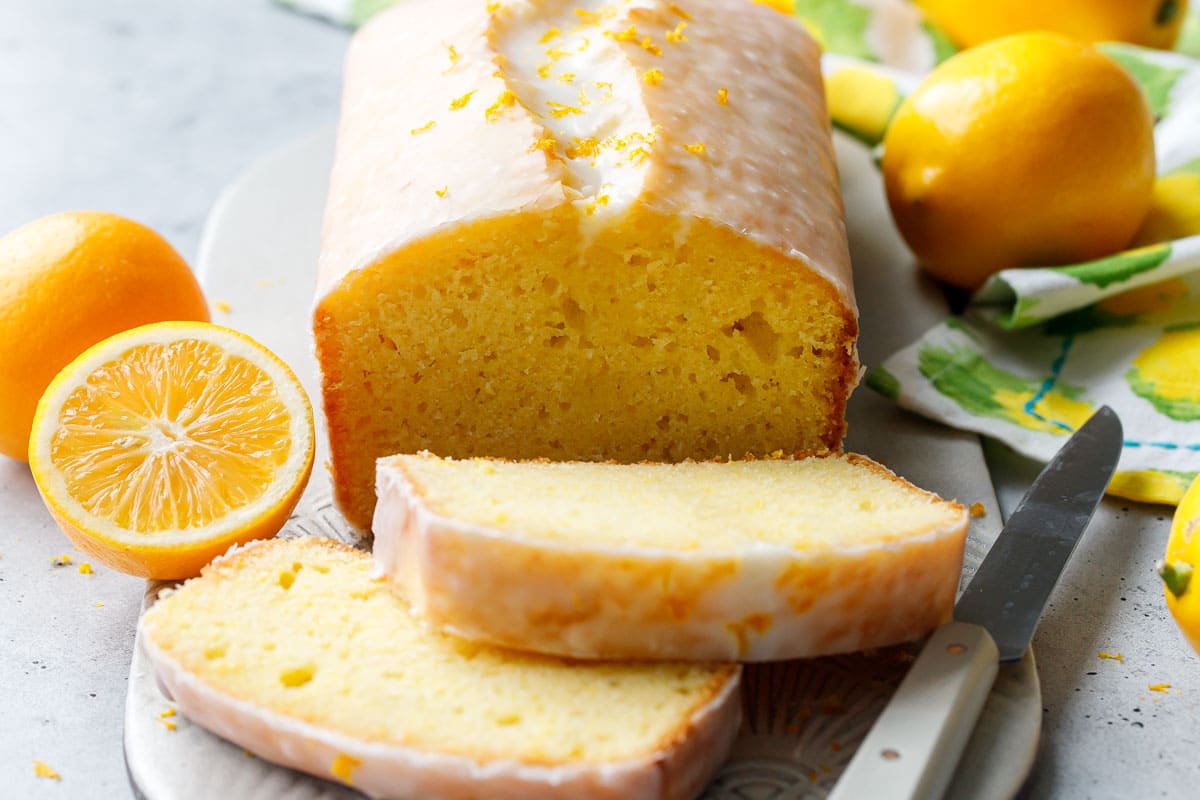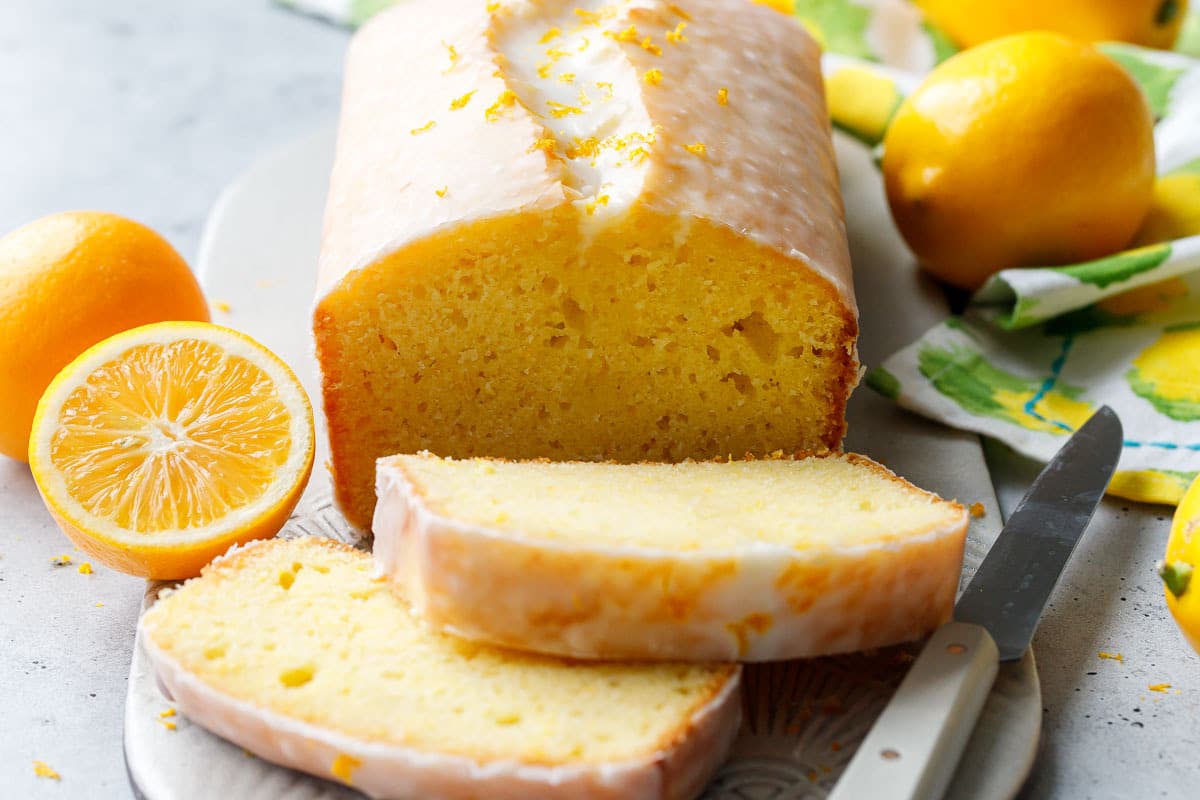 Meyer Lemon Olive Oil Loaf Cake
This moist and flavorful lemon cake is made with extra virgin olive oil and Meyer lemons for a unique flavor, moist texture and gorgeous color.
Ingredients
1

cup

/

200

g

granulated sugar

1

tablespoon

Meyer lemon zest

,

from 2-3 lemons

1

teaspoon

baking powder

½

teaspoon

fine sea salt

3

large eggs

½

cup

/

112

g

extra virgin olive oil

1 ¾

cups

/

210

g

all-purpose flour

½

cup

/

120

g

heavy cream

2

tablespoons

Meyer lemon juice
For Syrup:
¼

cup

Meyer lemon juice

,

from 2-3 lemons

½

cup

/

100

g

granulated sugar

2

teaspoons

olive oil

pinch

fine sea salt
For Glaze:
⅞

cup

/

100

g

powdered sugar

,

sifted

4-5

teaspoons

Meyer lemon juice

,

from 1 lemon
Instructions
Preheat oven to 350 degrees F. Butter an 8½-by-4½-inch loaf pan, line with a strip of parchment paper, leaving an overhang on the long sides to help lift the cake out later (the short sides will be un-lined).

In a mixing bowl or the bowl of a stand mixer, combine sugar and lemon zest. Rub the zest and sugar between your fingers to release the oils and break up the clumps of zest. Add baking powder and salt and mix to combine.

Add eggs and beat with the paddle attachment for 3 to 5 minutes or until batter is lightened in color and falls in ribbons from the beater.

With the mixer running on low, slowly drizzle in olive oil until fully emulsified.

Mix in half of flour mixture, followed by half of cream. Scrape down the sides of the bowl as needed. Add remaining flour, and once it is nearly incorporated, add the rest of the cream and lemon juice and mix until just combined (do not overmix, the batter may be a little bit lumpy, that's ok).

Pour batter into prepared baking pan. To help define the crack in the middle of the cake, dip a bench scraper in olive oil and press it in the very center of the batter, about 1/4-inch deep.

Bake for 50 to 60 minutes or until top is golden brown and a skewer inserted at the highest point near the edge of the crack comes out mostly clean (don't test in the crack itself, which will be a bit softer because of the oil).

About 10 minutes before the cake is done, prepare the lemon syrup by combining the lemon juice, sugar, olive oil and salt in a small saucepan. Heat over medium, stirring occasionally until sugar is completely dissolved and liquid is clear.

Let cake cool for 5 minutes (just until it's cool enough to handle), then lift out cake using parchment overhang and place on a wire rack set inside a baking sheet to catch overflow. Poke all over the surface of the cake using a thin skewer (I used a cocktail pick which was the perfect length).

Pour warm syrup over top of cake, focusing mainly on the areas around the crack (if you soak too much syrup in the crack it may get a little soggy). Scrape the overflow from the baking pan back into the saucepan, then pour another coat over the cake.

Let cool completely, or, if making ahead of time, wrap the still warm cake in plastic wrap and refrigerate overnight (I personally think it's even better this way).

For the glaze, Preheat oven to 350 degrees F. Place cake on an oven-safe wire rack set inside a baking sheet.

Sift powdered sugar into a bowl. Add lemon juice, 1 teaspoon at a time, until glaze is smooth and a nice brushable consistency. Brush glaze over entire surface of cake, top and sides. Like the syrup, try not to fill the crack too full of glaze. Bake for 2 to 3 minutes just to set the glaze (this helps the glaze set up extra crackly).

Let cool for 30 minutes or so until glaze is cooled and full set, then slice and serve at room temperature.

Cake will keep, wrapped in plastic wrap in the refrigerator, for up to 1 week.
All images and text ©
for Love & Olive Oil.
Did you make this recipe?
Let us know what you think! Leave a Review below or share a photo and tag me on Instagram with the hashtag #loveandoliveoil.