Gooey, chewy, and naturally dairy free, these olive oil rice crispy treats use extra virgin olive oil in place of the typical butter.
This twist on a classic is just as easy as the original, it simply replaces the butter with extra virgin olive oil. You get a hint of that lovely olive oil flavor in the final product, plus a touch of sea salt to really make the flavors sing.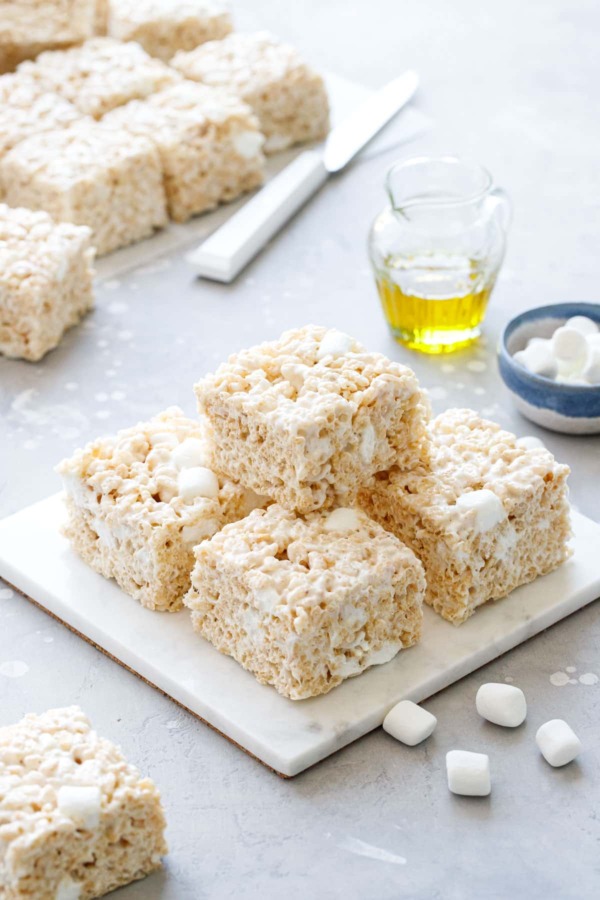 Another recipe from the archives that deserved a makeover. This one first published back in 2012 when I celebrated the blog's 5th birthday with a lime green extravaganza. I had an equally fun party for #10, but alas, with things as they were last year I neglected to celebrate year 15 as I rightfully should have. Maybe we'll need to have a extra sweet sixteen celebration this February?
Anyway. The original olive oil rice krispies treat recipe is basically the recipe on the mini marshmallow bag, simply swapping the butter for olive oil and adding a pinch of sea salt.
The updated recipe, on the other hand, is thicker, softer, and with a few whole marshmallows folded in at the end for good measure.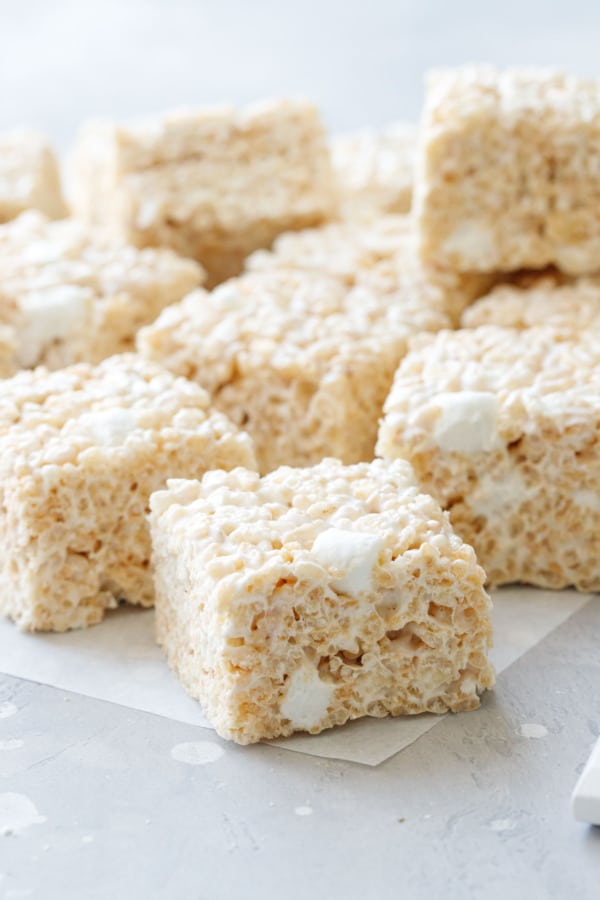 Many recipes can easily accommodate the butter-to-olive oil swap, and this rice krispies treat recipe is no exception!
The flavor does change slightly, with a slight hint of EVOO-essence coming through the sweetness of the marshmallow. I personally love that flavor (obviously), and I'd argue these treats are even better (and somehow, butterier?) than the buttered version.
A pinch of fine sea salt really ties the whole thing together (honestly, all sweet treats should have at least a pinch of salt). You can also add a sprinkle of flake sea salt on top if you want.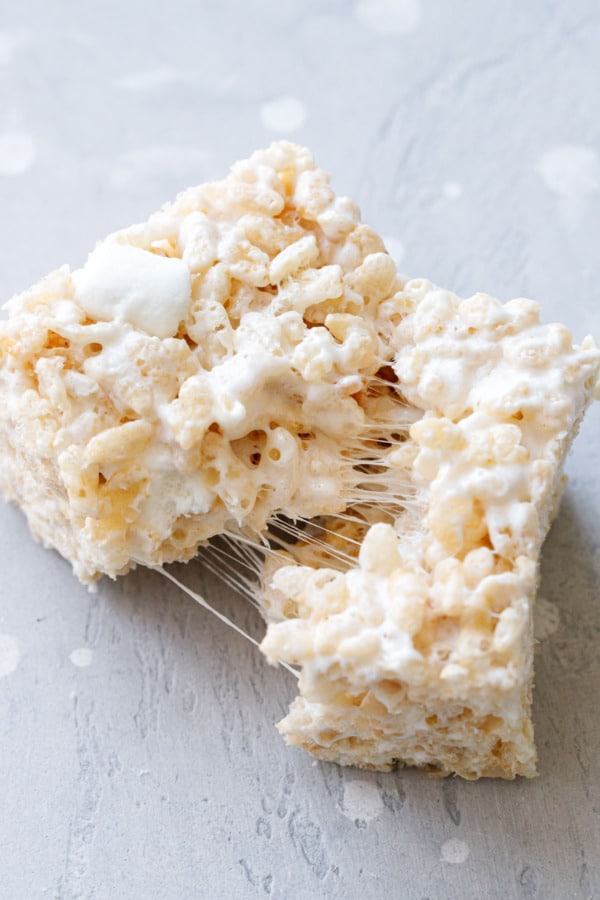 Know When to Fold 'em
If you have trouble folding the cereal into the marshmallow mixture, try it the other way around, instead pouring the melted 'mallow over the cereal in an extra large (you'll need a bigger bowl than you think!) lightly oiled bowl. The larger bowl has more rounded sides too, which will make it easier to fold in the cereal in evenly without crushing it.
How to Fold: "Folding" in baking terms means to gently incorporate mixtures of two different textures or consistencies (in this case melted marshmallow and crisp rice cereal). Rather than a circular stirring motion (which would crush the cereal), you are scooping the stuff on the bottom of bowl up and over the stuff on top. Use a large rubber spatula and cut it down the middle, swoop it underneath the bottom to the edge of the bowl, then up and over the top. Rotate the bowl or pan a quarter turn and then repeat
When it comes time to add the whole mini marshmallows, fold them in right at the end when the mixture has cooled slightly (otherwise they'll melt from the residual warmth).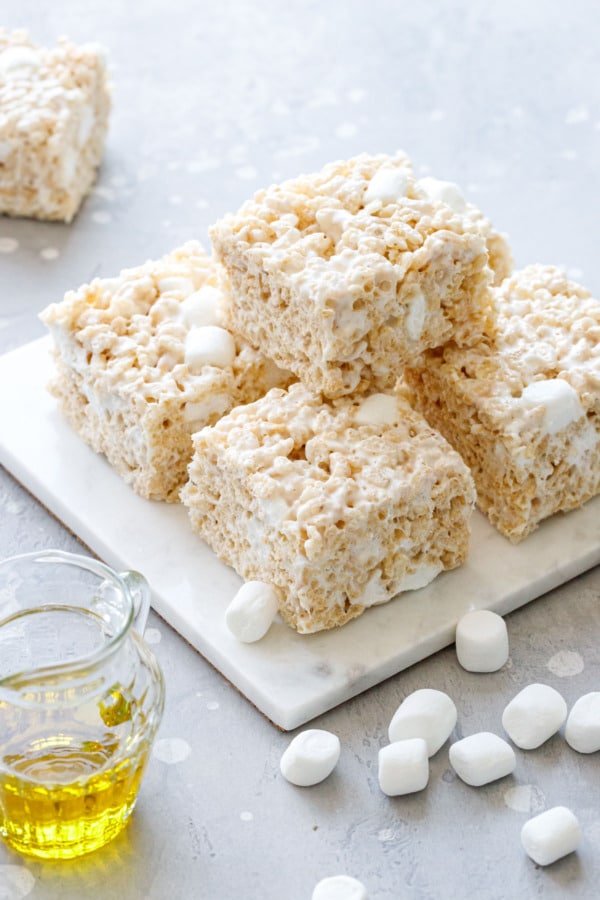 A Sticky Situation
The main problem with rice krispie treats is they're just so darn sticky it's easy to make a complete mess of them (luckily they'll still taste great no matter how messy they get).
Normally I'd line my pan with parchment paper to make the treats easier to remove (you can use the parchment sides as 'handles' to lift the whole block out of the pan at once and transfer it to a cutting board). 98% of the recipes made in baking pans on this side call for parchment lining for this reason.
The problem with parchment lining here is that the parchment slides around when you try to press the stiff, sticky cereal mixture into the pan. Up to you if you're ok with that tiny complication in order to make the treats come out of the pan easier at the end.
Otherwise, just grease your pan really well (baking spray will probably work the best but you can use olive oil too – however if you're using a smooth non-stick pan I find straight oil tends to bead on the surface rather than an even coating). Still, better than nothing.
Likewise, oil you hands to press the marshmallow-coated cereal mixture into your baking pan. I've tried all sorts of tools here and hands really are the best, so long as you keep them good and oiled. Also, don't press too firmly, you want to leave the texture light and not crush the cereal.
For the cleanest cuts, wipe the knife with an oil-soaked paper towel between each cut.
Basically, marshmallow is seriously sticky stuff. When it doubt, oil it. Whether we're taking the pan, your hands, or a knife… grease all of it and grease it well.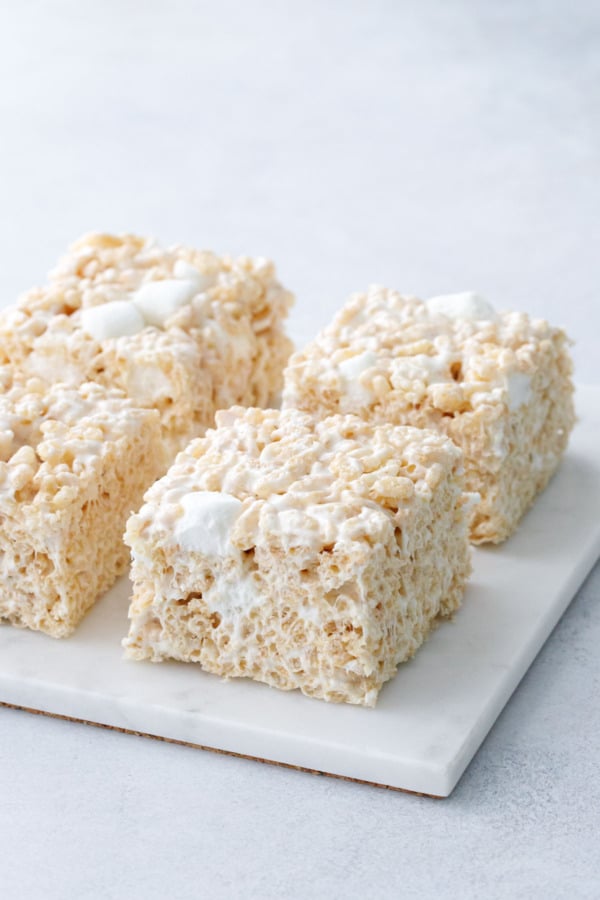 Tips & Troubleshooting
One word of warning: while I certainly ignore 'best by' dates in many cases, don't even waste your time trying to use old marshmallows in this recipe. They might taste fine and aren't technically unsafe, but if they're stiff and stale this recipe will not work (I speak from experience, trust me).
If you find your marshmallow-oil mixture starts to darken and brown before the marshmallows are completely melted and smooth, that could mean your marshmallows aren't very fresh. Soft new marshmallows should melt smoothly together with the oil.
This caramelization can also happen if you try to melt the marshmallows too fast at too high heat. You want to melt them, not caramelize them. Low and slow is the key here!
I have not tested various brands of mini marshmallows, there may be some brands that melt better than others. For that reason I recommend sticking with the tried and true: Jet-Puffed Mini Marshmallows. You'll need 2 (10oz) bags for this recipe.
Luckily the crisp rice cereal is much more forgiving, whether you buy name brand, off brand, or even a healthier option like crisped brown rice cereal. They should all work equally well here!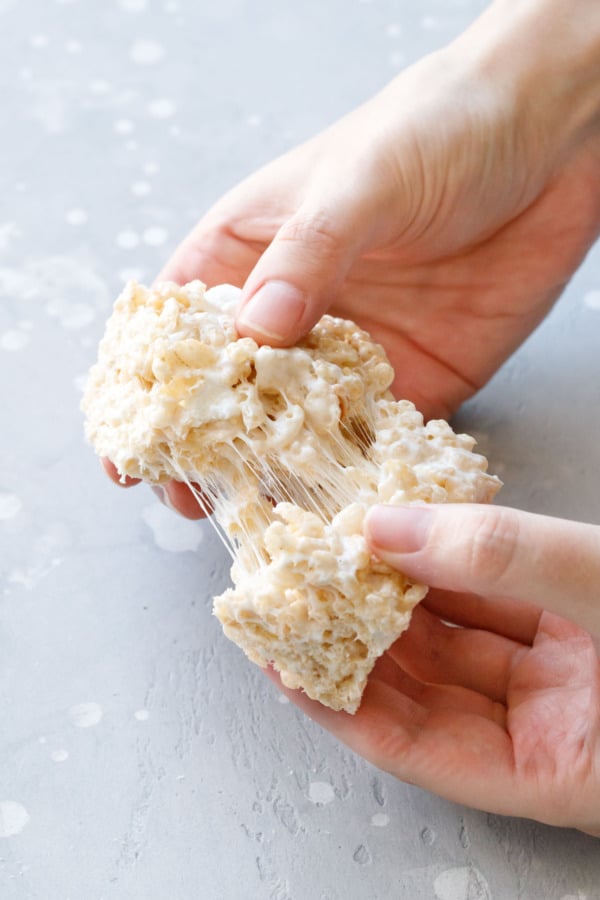 Before & After
The new recipe has been updated to be thicker, softer, and gooier, with extra mini marshmallows folded in whole at the end.
I will leave up the original recipe as well, but if you're looking for the old version, it's basically the recipe from the back of the marshmallow bag, just with olive oil instead of butter (12oz marshmallows, 3tbsp olive oil, 7 cups cereal).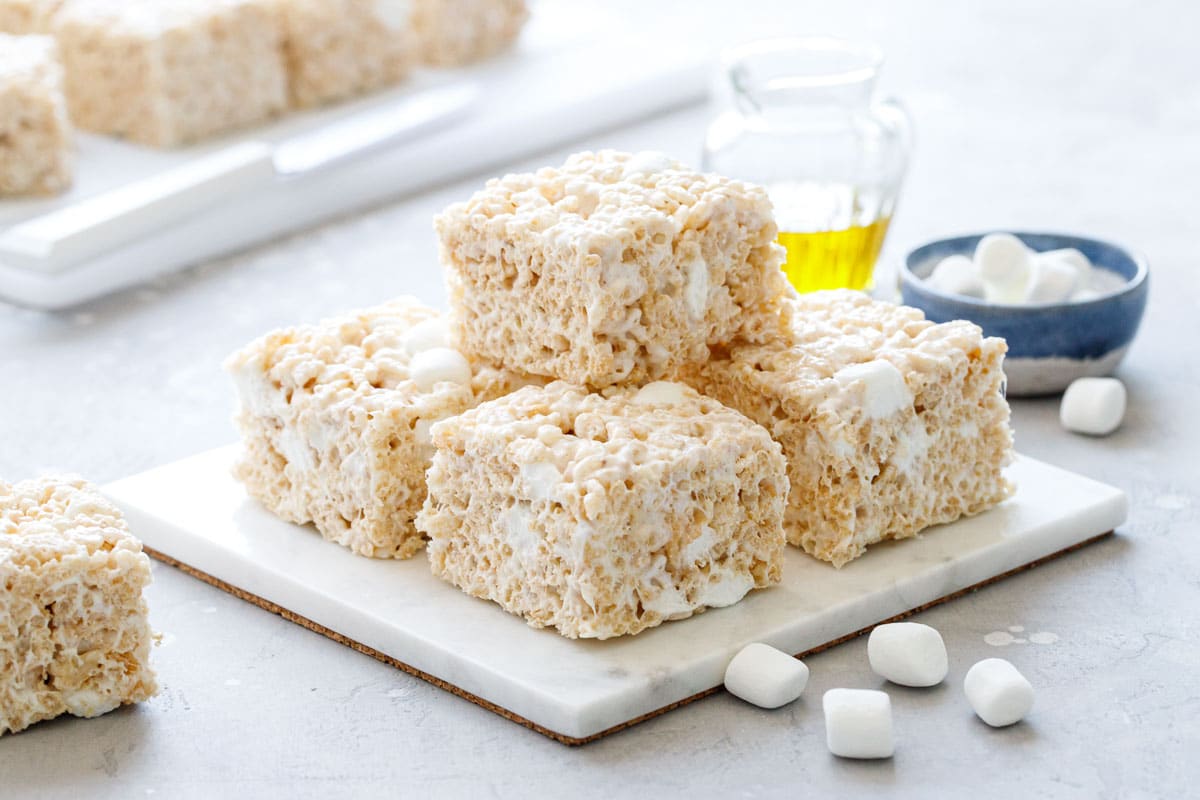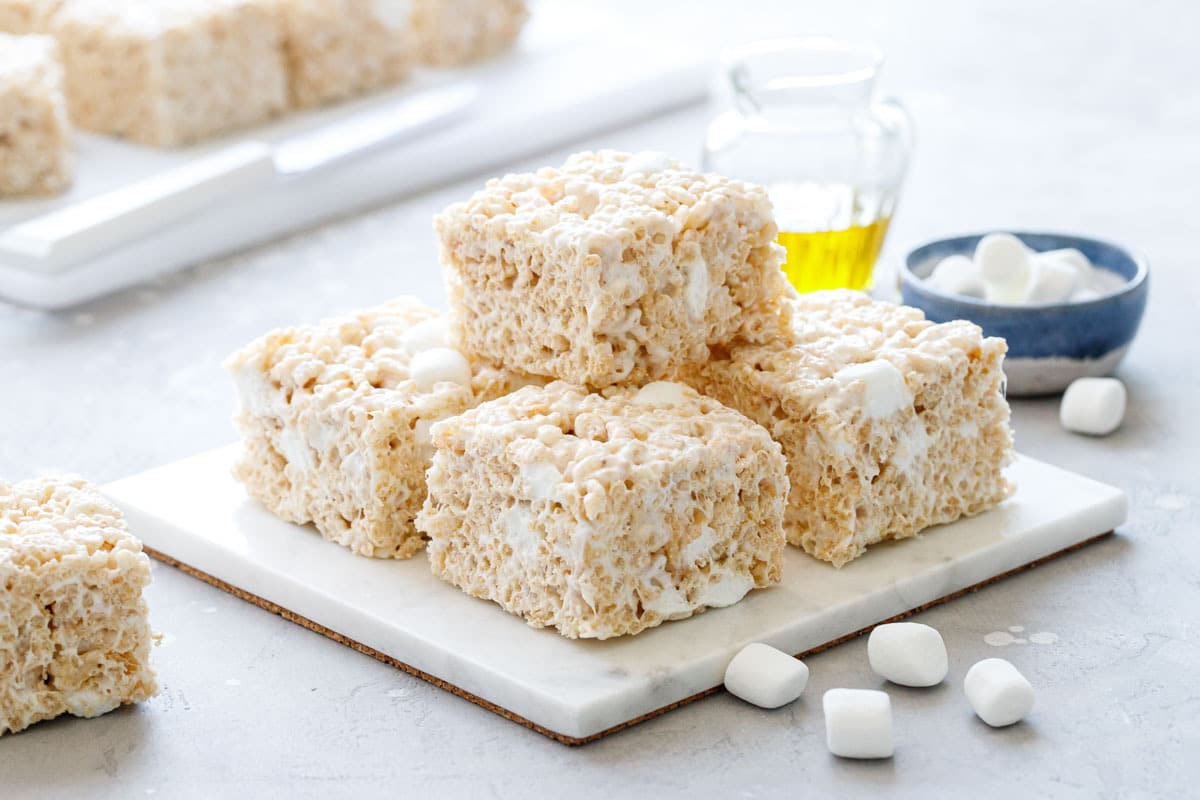 Olive Oil Rice Crispy Treats
Gooey, chewy, and naturally dairy free, these olive oil rice crispy treats use extra virgin olive oil in place of the typical butter.
Ingredients
11

cups

/

567

g

mini marshmallows (two 10 oz. packages)

,

divided*

⅓

cup

/

75

g

extra virgin olive oil

¼

teaspoon

fine sea salt

10

cups

/

340

g

crisp rice cereal (one 12 oz. box)
Instructions
Generously grease a 13-by-9-inch baking pan with olive oil or cooking spray, or line with parchment paper for easier removal of the treats later.

Measure out about 2 cups (100g/3.5oz) of mini marshmallows and set aside.

In a large (5 or 8 qt) heavy-bottomed pot, combine remaining 9 cups mini marshmallows, olive oil and salt. Melt over low heat, stirring occasionally, until melted and smooth. Remove from heat and fold in cereal, gently turning the mixture until completely coated (you can also pour the melted marshmallow over the cereal in a large bowl; it's sometimes easier to get an even coating this way).

Press into prepared pan with oiled hands, pressing lightly to flatten into an even layer, but not too hard as you don't want to compress the cereal too much. Sprinkle with sea salt. Let sit for 30 minutes or so, then cut into squares (I recommend oiling your knife as well for the cleanest cuts).

Treats can be stored, lightly covered in the refrigerator, for up to three days, but are best enjoyed within a day or two of making them.
Notes
*You can opt to leave out the whole marshmallows, in which case just use 9 cups (about 16oz/460g) of regular or mini marshmallows, melted down with the olive oil.
All images and text ©
for Love & Olive Oil.
Did you make this recipe?
Let us know what you think! Leave a Review below or share a photo and tag me on Instagram with the hashtag #loveandoliveoil.