Do you ever feel like your dessert is… watching you?
Your favorite monster cookies are now in bar form! Packed with peanut butter, oatmeal, m&ms and chocolate chips, these monstrous cookie bars are most certainly eyeing your Halloween celebrations.
Monster Cookies are a combination of peanut butter, oatmeal, and m&m candies. Invented in the 1970s by a midwestern photographer and cub-scout leader named Dick Wesley, they were dubbed monster cookies because they are a Frankenstein-like mashup of various other cookie components, cobbled together by what happened to be on hand (in this case, peanut butter, oats and m&ms)
They don't usually have eyes, but, we may as well go all-in on the monster theme, right?
Especially with Halloween just around the corner.
These are more than just basic chocolate chip cookies baked in a pan.
Old fashioned oats give the bars a hearty texture that, paired with the perfect amount of peanut butter, is really, really satisfying to eat. And you may not think that a mere teaspoon of honey would make a difference, but let me tell you: it certainly does (if you love peanut butter and honey sandwiches like I do, these bars will seriously satisfy).
If that wasn't enough, they're packed with a heaping cup of m&m candies and dark chocolate chips studded throughout, plus more on top for good measure.
While optional, I do recommend chilling the dough for at least a few hours, or overnight if desired.
This rest time allows the oats to soften within the batter, resulting in a chewier and more pleasing texture, not to mention a more refined, developed flavor. I tried this recipe both ways and much preferred the texture and flavor of the overnight batch.
That said, you can certainly bake them immediately as well (since they're baked in a pan it's not like you have to worry about them spreading or anything). You know, if you find yourself with a serious craving and require (nearly) immediate satisfaction, don't let the aforementioned rest period hold you back.
I also think these cookies would be fabulous baked in a skillet and served warm with a heaping scoop of vanilla ice cream.
And, because I know someone will ask: these aren't designed to be baked as normal cookies. They need the containing edges of a pan to hold their shape. But really though, bar cookies are totally underrated (and I'd claim much easier than scooping and shaping dozens of cookies).
It seems I've been on a bit of a square kick lately, given that 3 out of the last 6 recipes I've posted are treats baked in an 8-inch square pan. Ok, so I did cut the lemon bars into triangles, but coffee coffee cake, sprinkle-filled blondies, and now these peanut butter and oatmeal cookie bars? Squares all around.
I mean, they do say you should eat three square meals every day, right? I dare say all these square treats certainly qualify.
But maybe I'll break out a round pan for the next recipe, just to mix it up, you know.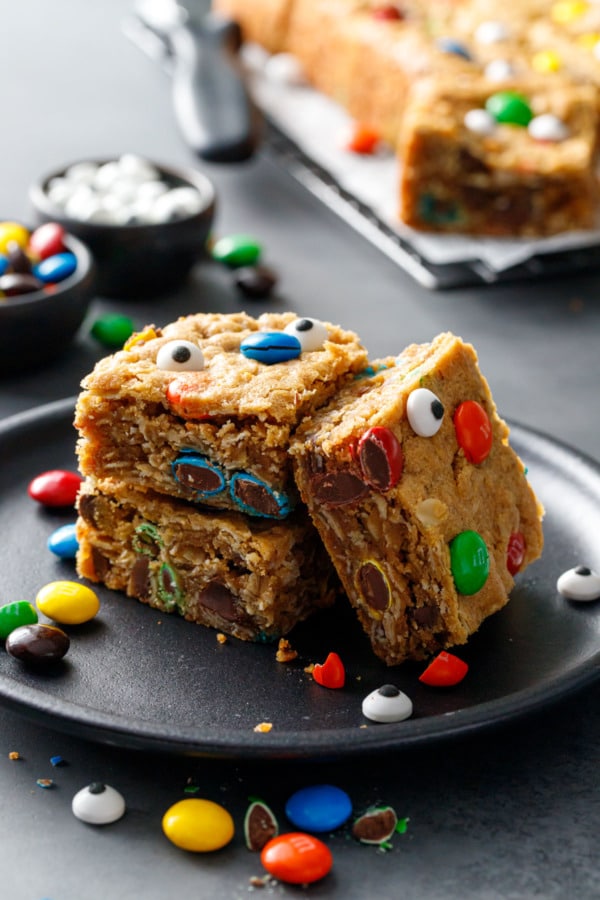 While you'll want to save a few M&Ms to scatter on the top before baking, I'd recommend adding the candy eyeballs at the very end.
The first batch I made, I put the eyes on before baking, and some of them sort of… melted? Which, if you're going for gruesome halloween theme, oozy eyeballs might actually be perfect. Otherwise they are a bit… disturbing.
Instead, just pop on the eyeballs immediately when the pan comes out of the oven. They won't stick quite as well this way, unfortunately (you could use a bit of honey or melted chocolate or icing or something if adhesion was important to you), but I decided that was better than oddly gruesome melted eyeball candies. Plus it was kind of fun watching eyeballs go rolling across the floor of the ceramic studio where I took the leftovers for my clay buddies to devour.
This recipe would also work as a great foundation for a variety of mix-ins… like, say, leftover halloween candy? Reese's pieces would obviously work in addition to/instead of the m&ms, but you could also use candy bars as well. Just chop it all up and toss it in the batter for a decadent post-Halloween treat.
The recipe can also be doubled and baked in a 13-by-9-inch pan as well (increase the baking time by 5 to 10 minutes), or halved and baked in a 6-by-6-inch pan.
Monster Cookie Bars
Your favorite monster cookies, now in bar form! Packed with peanut butter, oatmeal, m&ms and chocolate chips and topped with more candy and cute candy eyeballs for a fun Halloween twist.
Ingredients:
1/2 cup (113 grams/1 stick) unsalted butter, at room temperature
1 cup (210g) packed light brown sugar
1/2 cup (140g) creamy peanut butter, at room temperature
1 teaspoon honey
1 1/2 teaspoons vanilla extract
1 large egg plus 1 large egg yolk, at room temperature
1 cup (125g) all-purpose flour
1/4 teaspoon fine sea salt
1/4 teaspoon baking soda
1 1/2 cups (150g) old fashioned rolled oats
1/2 cup m&ms candies
1/2 cup chocolate chips
candy eyeballs, for topping (optional)
Directions:
Lightly butter the bottom and sides of an 8-by-8-inch baking pan. Line with parchment paper (the butter will help the parchment not move around).
In a mixing bowl or the bowl of a stand mixer fitted with the paddle attachment, beat butter, sugar, peanut butter, honey and vanilla until mixture is fluffy and a shade or two lighter in color.
Scrape down the sides of the bowl, then add egg and egg yolk, mixing until fully incorporated.
Add flour, salt, and baking soda and mix on low speed until almost incorporated, then add oats and mix briefly just to uniformly distribute them. Add m&ms and chocolate chips and stir in with a rubber spatula, scraping any bits of dry flour that might be left on the bottom or sides of the bowl.
Dump dough into prepared baking pan, using spatula to press it evenly all the way to the edges. Cover and chill for at least 2 hours or overnight.
Preheat oven to 350 degrees F. Let chilled dough sit at room temperature for a bit while the oven preheats.
Bake for 33 to 37 minutes or until top is puffed and no longer raw looking, and edges are just starting to brown.
Remove from oven and place pan on a wire rack to cool, then use parchment to lift the bars out of the pan to place on the rack to cool completely before slicing into squares Leftover bars will keep, refrigerated in an airtight container, for up to 5 days.
Did you make this recipe?
Let us know what you think!
Leave a Comment below or share a photo and tag me on Instagram with the hashtag #loveandoliveoil.