Boo! Oh, sorry. I forgot that it's still 3 weeks until Halloween. You see, I've got pumpkin on the brain. Ever since I realized there was a pumpkin shortage (yes, I said shortage. It's true.) I've been craving all things pumpkin. I finally was able to get my hands on some canned pumpkin last weekend, and have been putting it to good use. I'm talking cupcakes and cookies and muffins and breads… we even made a savory salad with a fresh pie pumpkin (I had such high hopes for it, but it was a disappointment, to say the least, it's not a recipe you'll be seeing here. darn.) One can't turn orange from eating too much pumpkin, right?
These cupcakes have to be one of my favorites. If you've been reading this blog since last year you might recognize the recipe. Call it a bit of cupcake mix-n-match, I took my pumpkin chip cupcake recipe, and topped it with a delicious brown sugar buttercream. Pumpkin + brown sugar, well, it was meant to be.
The mummy-inspired decor is surprisingly simple, basically strips of frosting piped on with a flat tip. The sugar eyes are something I've had in my stash for a while, just waiting for the perfect use for them.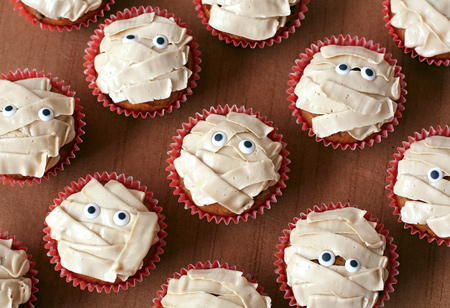 In the meantime, if you see canned pumpkin, stock up. Make sure you have plenty to feed your pumpkin cravings until the supply is back to normal.
Pumpkin Chip Cupcakes with Brown Sugar Buttercream
Ingredients:
Cupcakes:
1 cup canned pumpkin
1/3 cup oil
1 cup granulated sugar
1/4 cup milk or soymilk
1 teaspoon vanilla extract
1 1/4 cups all-purpose flour
1/2 teaspoon baking powder
1/2 teaspoon baking soda
3/4 teaspoon ground cinnamon
1/8 teaspoon each ground cloves, nutmeg, and ginger
1/4 teaspoon salt
1/2 cup mini chocolate chips
Frosting:
2 large egg whites
1/2 cup packed light-brown sugar
1/4 teaspoon salt
3/4 cup (1 1/2 sticks) unsalted butter, room temperature, cut into tablespoons
Directions:
Preheat oven to 350ºF. Line muffin pan with cupcake liners.
In a medium bowl, stir together pumpkin, oil, sugar, soymilk, and vanilla. Sift in the flour, baking soda, baking powder, salt, and spices. Gently whisk by hand until just combined, don't use an electric mixer or overmix the batter as it may become too gummy. Once combined, fold in the chocolate chips.
Fill liners with 1/4 cup batter (cups should be approximately 2/3 full). Bake for 22 to 24 minutes, or until toothpick inserted into the center comes out clean. Transfer to a wire rack and let cool completely before frosting.
For frosting, in a heatproof bowl set over (not in) a pan of simmering water, whisk together egg whites, sugar, and salt. Cook, whisking constantly, until the sugar has dissolved and the mixture is warm to the touch. Transfer to the clean bowl of an electric mixer. Beat on medium speed until fluffy and cooled, about 15 minutes. Raise speed to high; beat until stiff peaks form. Reduce speed to medium-low; add butter, 2 to 3 tablespoons at a time, until fully incorporated. Spread or pipe onto cooled cupcakes.
Did you make this recipe?
Let us know what you think!
Leave a Comment below or share a photo and tag me on Instagram with the hashtag #loveandoliveoil.