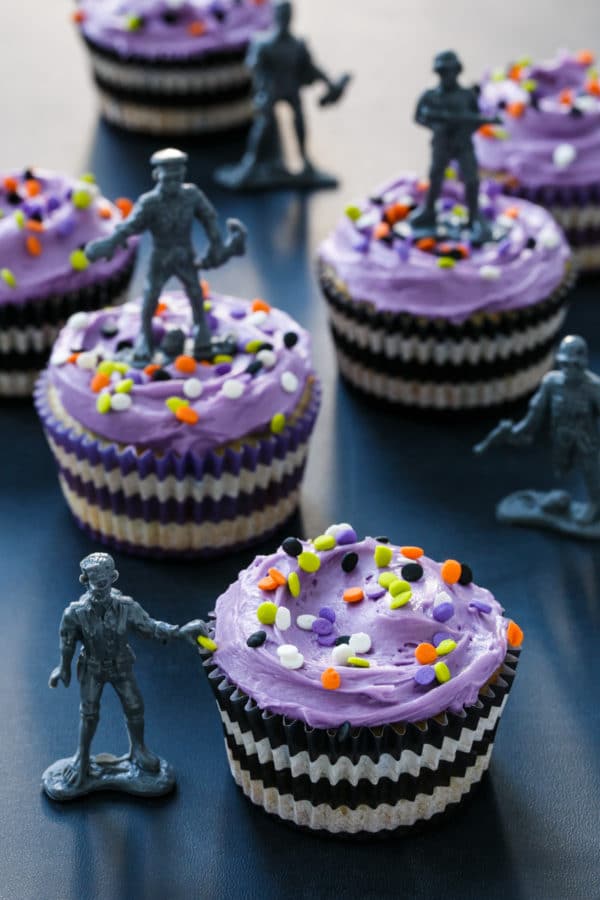 Funfetti + Zombies = Un-deadtti cupcakes.
I've been wanting to do a funfetti cupcake for some time, to make my favorite funfetti cake recipe in cupcake form. And considering the current season, I took the opportunity to do something I rarely do (in fact something I've only done once before with these pumpkin mummy cupcakes): a Halloween-themed cupcake. All it took was some halloween-colored sprinkles and a few plastic zombies.. and tada.
But wait, what is that one doing?
DUDE'S STEALING MY SPRINKLE.
I guess zombies like sprinkles too?
They must be brain flavored.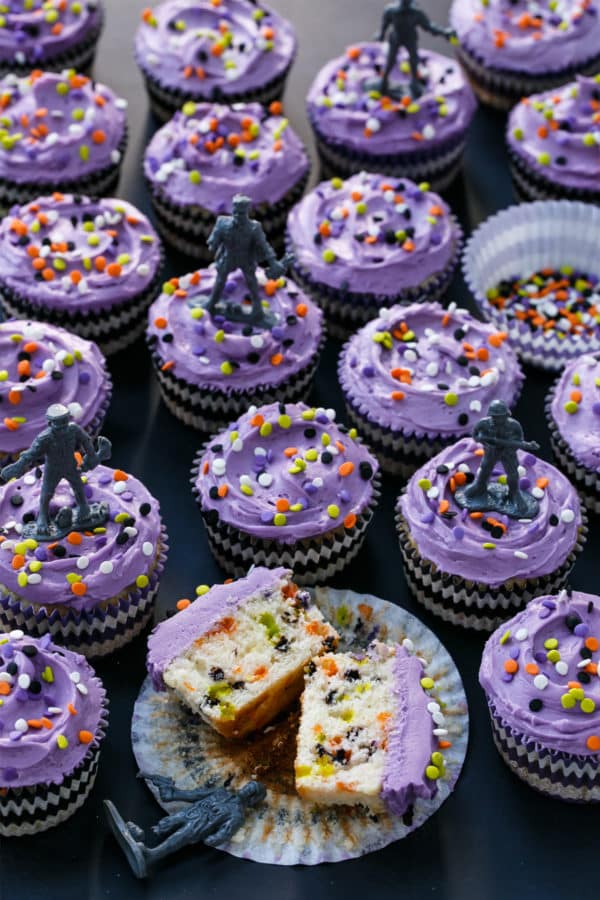 Look at me, being all festive with my spooky cupcakes.
It might not be obvious to you, but I used to love Halloween (with a sweet tooth the size of California… how could I not?) I'd spend months crafting my costumes, painstakingly painting the nutrition facts on my life-size bag of Lays potato chips. Yes, you heard that right. While my tween-age classmates' costumes seemed to get skimpier and skimpier every year, I'm that girl who showed up to 7th grade dressed as a giant bag of potato chips. I'm hoping my mom comes through with photo-proof of this masterpiece, but I'm not optimistic such an image actually exists. Such a shame. (Update: look what my dad found!! Proof of this epic costume exists afterall!)
I have to admit, Halloween is not so fun as an adult. It loses its charm about the same time kids start worrying about being cool. Because, let's face it, a potato chip costume may be freakin' awesome, but it is not, in any sense of the word, cool. Dare I say high school ruined Halloween? Because that's the truth, and I've never quite recovered from it. If I still loved Halloween like I used to, I'd be dressing up like Amy Pond and forcing Taylor to wear a fez and carousing around town like a true who-ligan.
In reality I'll probably just hole up at home watching Harry Potter and eating candy (solo trick-or-treating, if you will), but it's a nice idea.
And hey, at least we'll have cupcakes.
So there's that.
This cupcake recipe is nearly identical to my my funfetti layer cake recipe, scaled down to make about 20 or so cupcakes (a perfect party-sized batch). The base is a tender and flavorful vanilla buttermilk cake, and would be just as good without the sprinkles (though not nearly as fun), but if you're looking for a go-to vanilla cupcake, you can't beat this one.
Note that if you plan on piping towering swirls on your cupcakes (vs spreading on the frosting like I did) you will likely need to multiply the frosting recipe by 1.5 or 2.
But if you're married to a frosting-scraper like I am, a cake-over-frosting-any-day kind of guy, this is proof that you can make pretty cupcakes without a mile-high swirl of frosting. And he might actually eat it.
Let's talk about sprinkles for a second, because the kind of sprinkles you use here will determine just how fun your funfetti is. I personally find the quin-type sprinkles (like these Halloween-themed quins that I used here) the best, as they melt into perfectly contained pockets of color within the cake batter. Other types of sprinkles tend to bleed when stirred into the batter, resulting in a smeared rainbow mess. Trust me on this one.
Funfetti Cupcakes
Ingredients:
For Cake:
1 1/2 cups cake flour
2 1/4 cups granulated sugar
1 1/2 teaspoons baking powder
1/2 teaspoon salt
3/4 cups (1 1/2 sticks) unsalted butter, softened and cut into cubes
3/4 cup whole buttermilk, divided
2 large eggs
1 teaspoon vanilla extract
1/2 cup confetti quin sprinkles, plus more for topping
For Frosting:
1 cup (2 sticks) unsalted butter, room temperature
2 to 3 cups powdered sugar, more or less as needed
1/4 cup heavy cream, more or less as needed
1/2 teaspoon vanilla paste or extract
food coloring (optional)
Directions:
Preheat oven to 350 degrees F. Prepare two cupcake tins by lining with paper liners.
In a large mixing bowl or the bowl of a stand mixer, combine flour, sugar, baking powder, and salt. Mix to combine. Add butter and 1/2 cup of buttermilk. Mix on low speed until flour is evenly moistened, then increase speed to medium-high and beat until light and fluffy, 1 to 2 minutes, scraping down the sides of the bowl as needed.
In a small bowl, beat remaining 1/4 cup buttermilk with eggs and vanilla. Add to the batter mixture one-third at a time, mixing well after each addition. Stir in sprinkles. Scoop a scant 1/4 cup (or use a large cookie scoop) to divide batter, filling each cavity about 2/3 full.
Bake for 18 to 20 minutes, until tops are lightly golden on the edges and a toothpick inserted near the center comes out clean. Transfer pans to a wire cooling rack for 10 minutes, then remove cupcakes from pans to cool completely.
To prepare frosting, in a large mixing bowl, beat butter on medium-high speed until smooth and fluffy, 2 to 3 minutes. Add powdered sugar, 1/2 cup at a time, mixing well after each addition. As frosting thickens, add a few tablespoons of cream as needed. Depending on the temperature and consistency of your frosting, continue alternating additions of cream and powdered sugar, until frosting is light and fluffy. Add vanilla and food coloring and beat until evenly incorporated. Spread or pipe onto cooled cupcakes; top with more sprinkles, if desired.
Did you make this recipe?
Let us know what you think!
Leave a Comment below or share a photo and tag me on Instagram with the hashtag #loveandoliveoil.