These blondies are ready to party, chock full of all the fun stuff: chocolate sandwich cookies, both white and dark chocolate chips, and a bevy of colorful rainbow sprinkles.
The saying is true… blondes really do have more fun (when it comes to baked goods at least), and these sprinkle party blondies are quite possibly the funnest.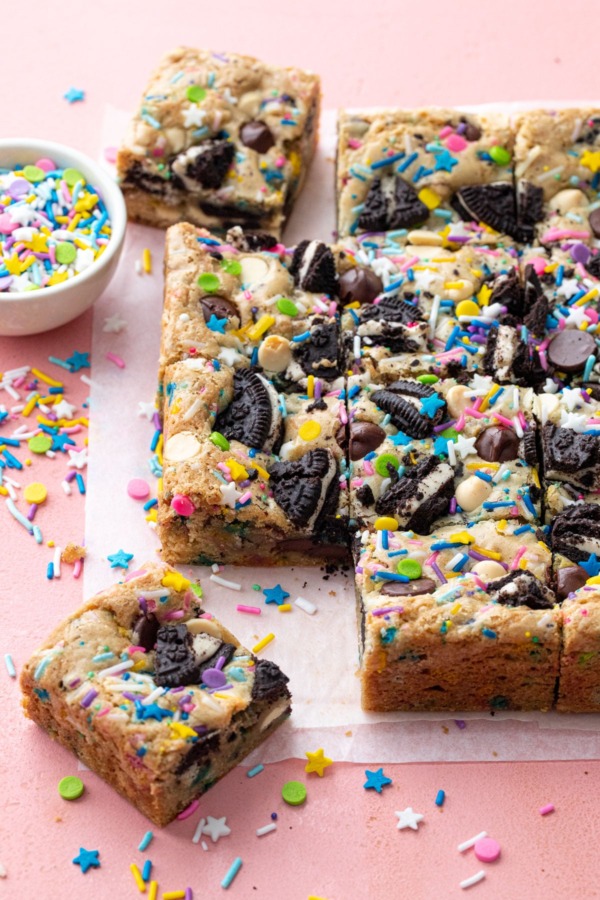 Talk about cheerful, I dare you to take one look (let alone one bite) of these fun-filled blondies without smiling.
I was torn at what to call these celebratory treats. Double chocolate chip cookies 'n cream confetti blondies is a mouthful even before you take a bite. They're definitely more fun than funfetti, more colorful than cookies and cream. Party-something seemed appropriate, but I couldn't decide between sprinkle party blondies, cookie party blondies, or house party blondies.
These blondies have so much going on you think it would be too much, but in this case… too much of a good thing? Even better.
They truly are a party in every bite.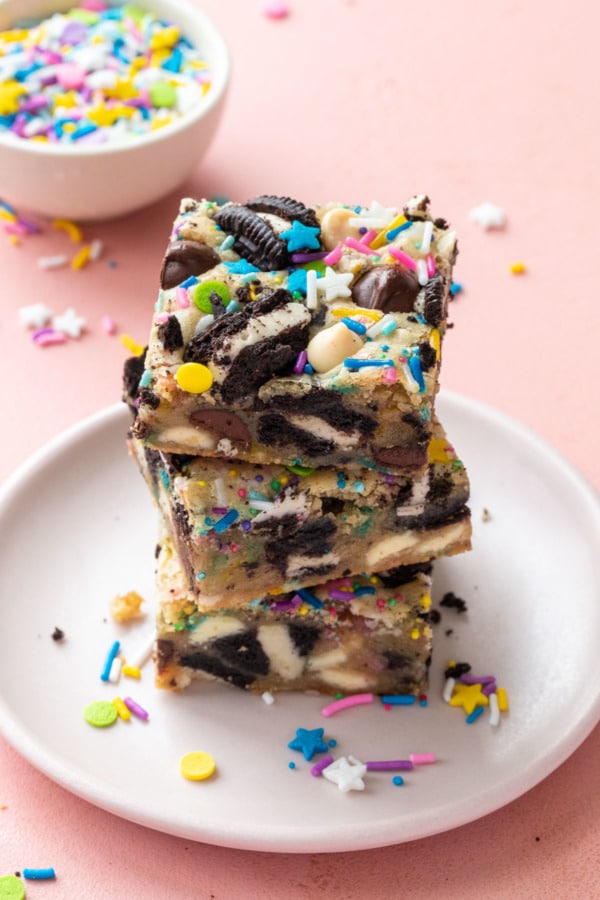 The blondie base is very similar to my stuffed nutella blondies, though I reduced the scale since the mix-ins bump up the volume by quite a bit (the first batch I made was downright THICK), and skipped the brown butter since the focus of these blondies is on the flavorful mix-ins more than anything.
That said, you could easily substitute different mix-ins to suit your current cravings; the basic blondie recipe used here is a great foundation for just about any mix-in you can think of, from nuts to dried fruit to bits of chocolate or even toffee.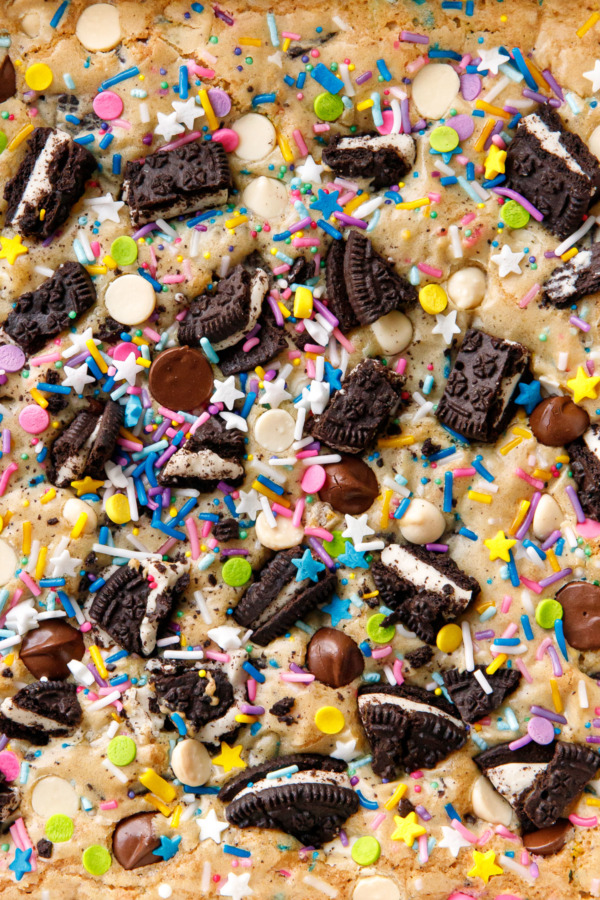 A good blondie should have a variety of textures, slightly crunchy and cakier on the edges and softer, almost gooey towards the center, not unlike an underbaked chocolate chip cookie (the cookie dough lovers will likely gravitate towards the middle pieces). I have yet to figure out a way to have a batch of blondies cook uniformly throughout, but luckily both the edge pieces and the center pieces are equally delightful here, albeit for different reasons.
Plus, the mixins add textural contrast as well, especially the cookies and the crunchy sprinkles here. I'm totally a texture person, so this unexpected crunch was one of my favorite parts of this recipe.
I mean, you could accomplish the same thing with nuts or something, but who wants boring nuts when you can accomplish the same thing with rainbow sprinkles?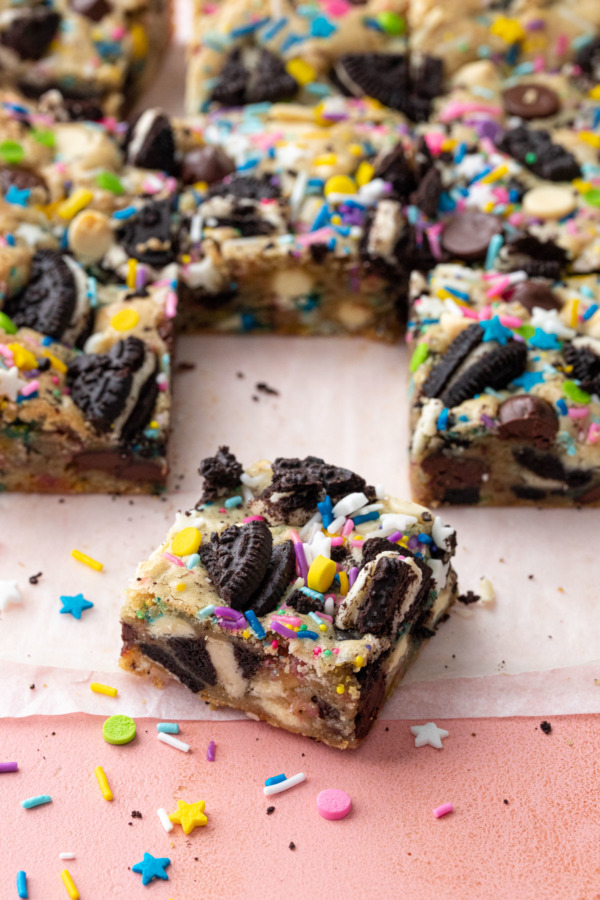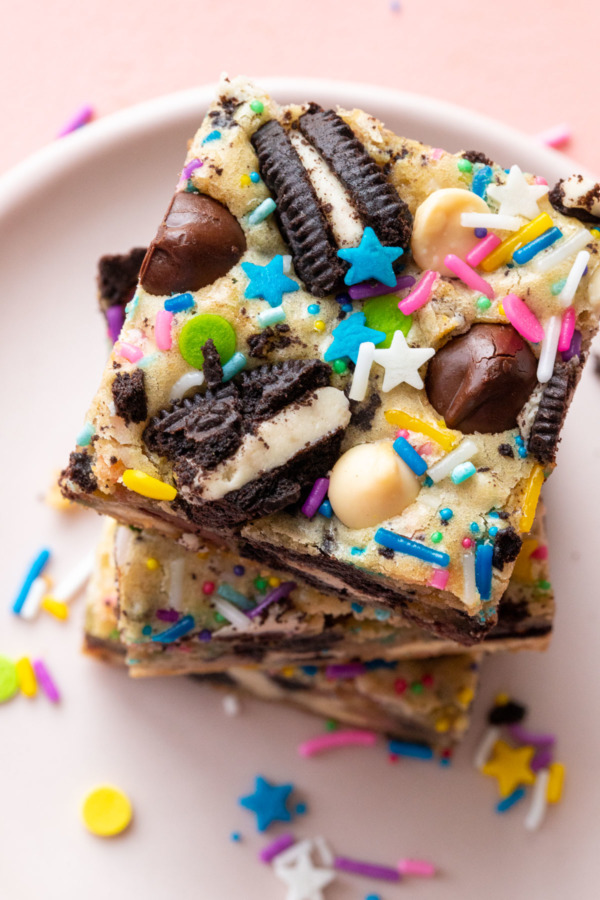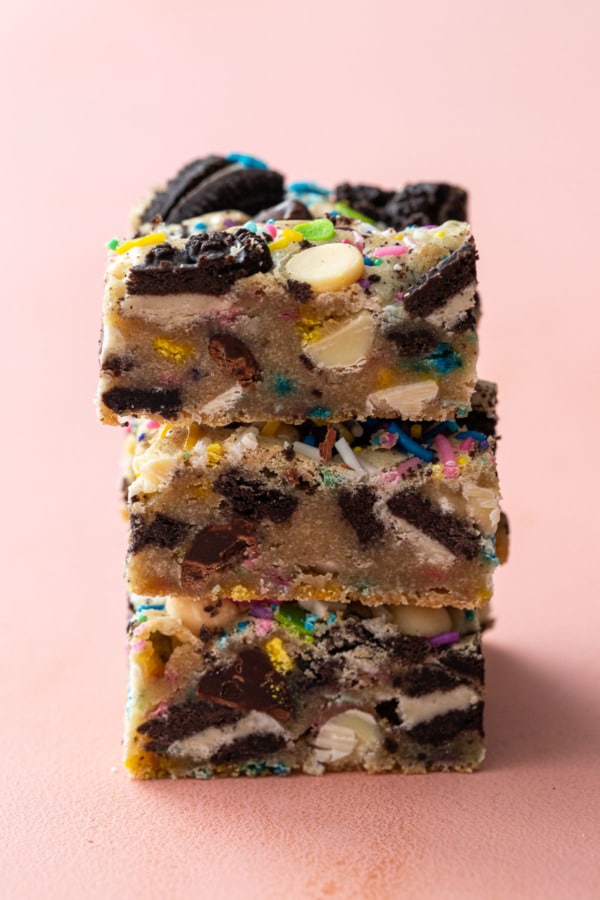 While you can certainly slice into these as soon as they're fully cooled, if you really want super crisp and clean cuts, let them chill overnight. You can see in the above stack how perfect and clean the cuts are, versus the other photos which were cut after a few hours at room temperature. That chill time really does make a difference, allowing the fats to fully solidify.
Alas, I had already given away half the batch by the time I realized just how perfect the post-chill cuts looked, so I'd need to remake it a 3rd time if I wanted to reshoot it. Which I seriously considered because I'm sort of a perfectionist like that. Luckily Taylor talked me out of it mainly because he was sick of blondies by this point (and he was never much a fan to begin with).
I'm really trying to tamp down my perfectionism when it comes to photos, which lately has resulted in more re-shoots than I care to admit. Perfectly good recipes, all of them, I'm just being nitpicky about the quality of light in the shot and other things (like super-clean cuts) that really have no bearing on the outcome of the recipe itself.
Let's just say, it's a work in progress.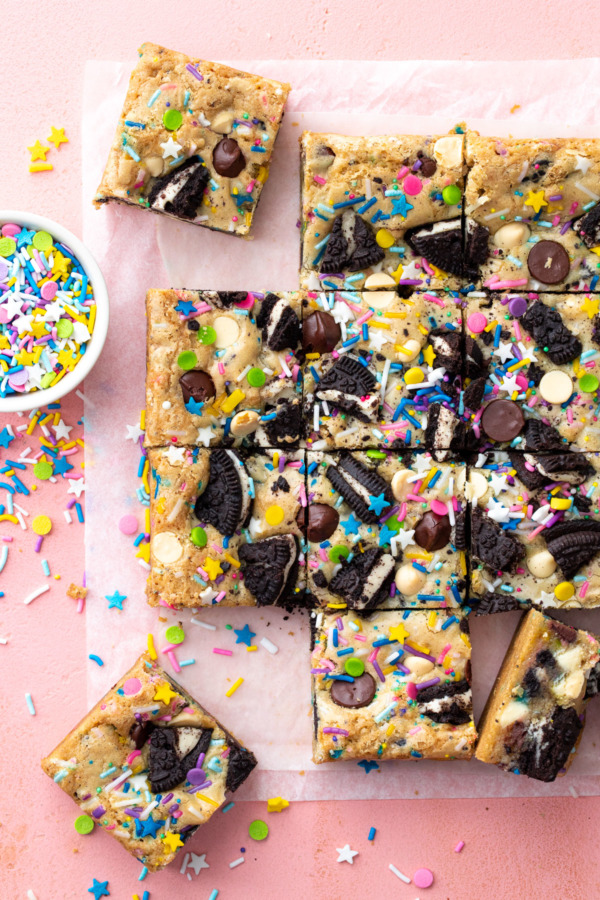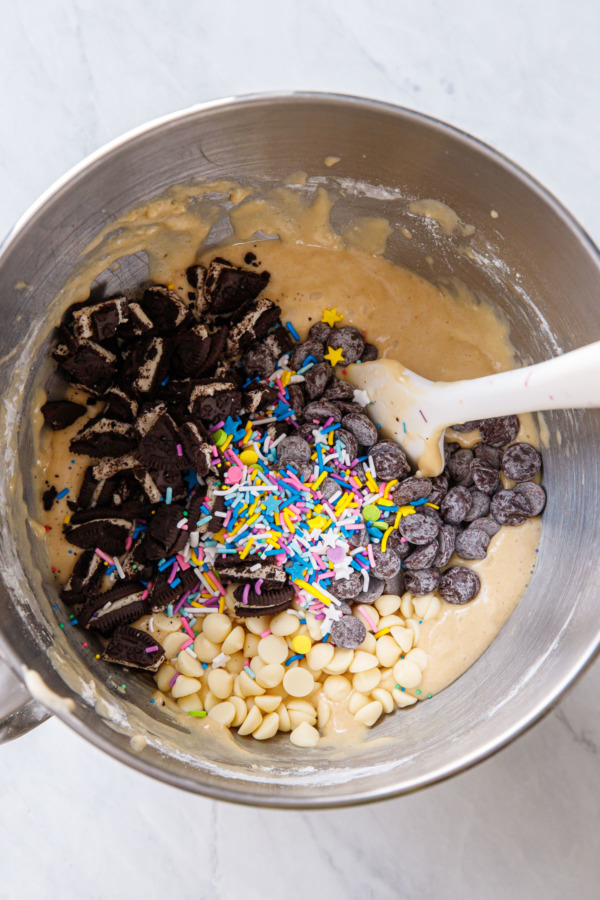 Blondies, moreso than brownies, have a tendency to come out greasy and seemingluy underbaked, no matter how long they are actually baked for. This is mainly a result of a lack of air in the batter.
To avoid greasy blondies (and to create a perfect shiny, crackly, paper-thin layer on top), be sure to whip your sugar and (room temperature!) eggs sufficiently, until the mixture is very light and thick, but not stiff. I beat mine for a solid 3 minutes on high speed in my mixer (with the paddle attachment, but the whisk would be even more effective).
Also, be sure you let your butter cool to lukewarm, as hot butter will not emulsify fully and could deflate the air pockets you've just created. Drizzle it slowly into the bowl with the mixer going on low speed, and the butter should incorporate fully into the fluffy batter.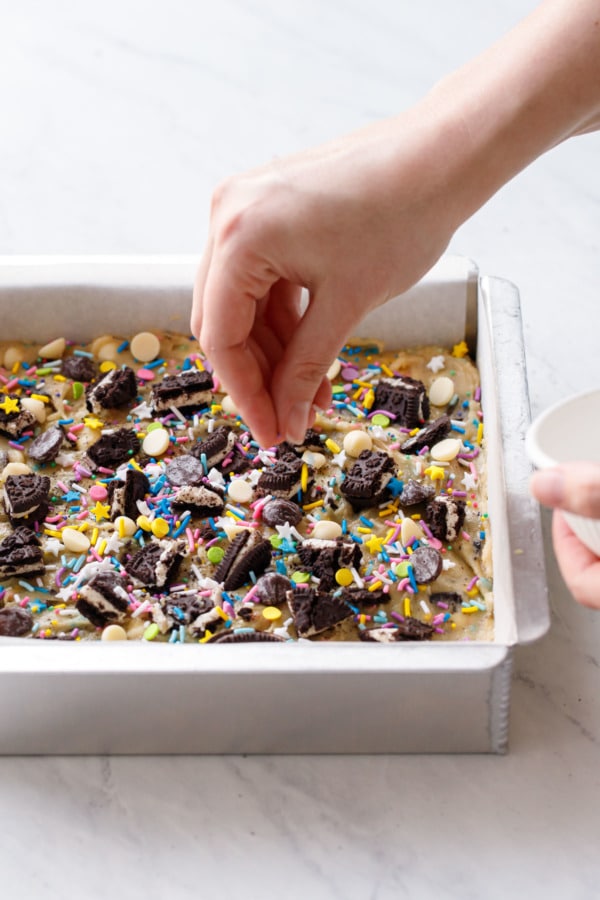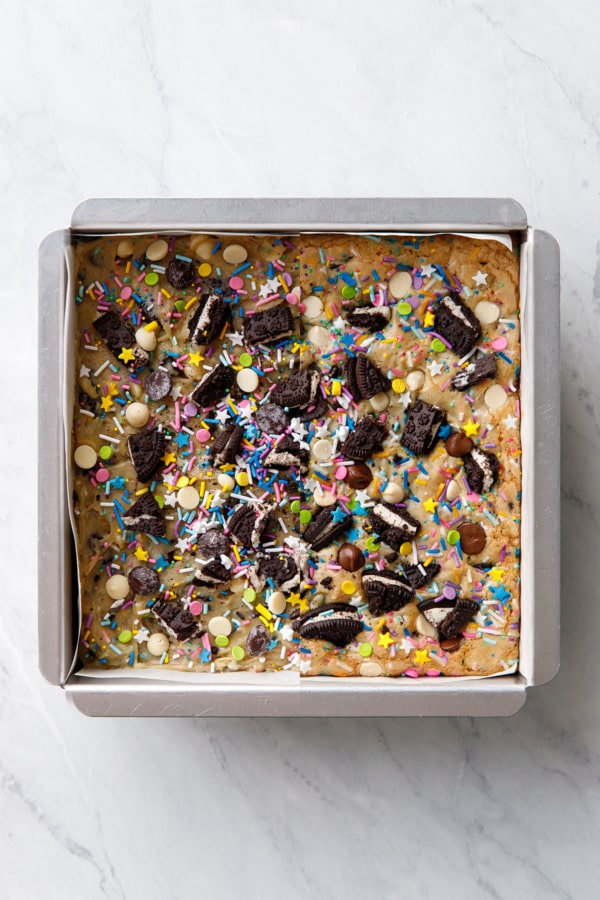 You'll notice the recipe calls for you to reserve about 1/4 of the mix-ins to sprinkle on top, and this is all about appearances. Like cookies, saving a few pieces to place on top makes the outside appearance of the treat match the inside, giving folks a visual clue as to what they're about to bite into.
Because let's face it, we all eat with our eyes first.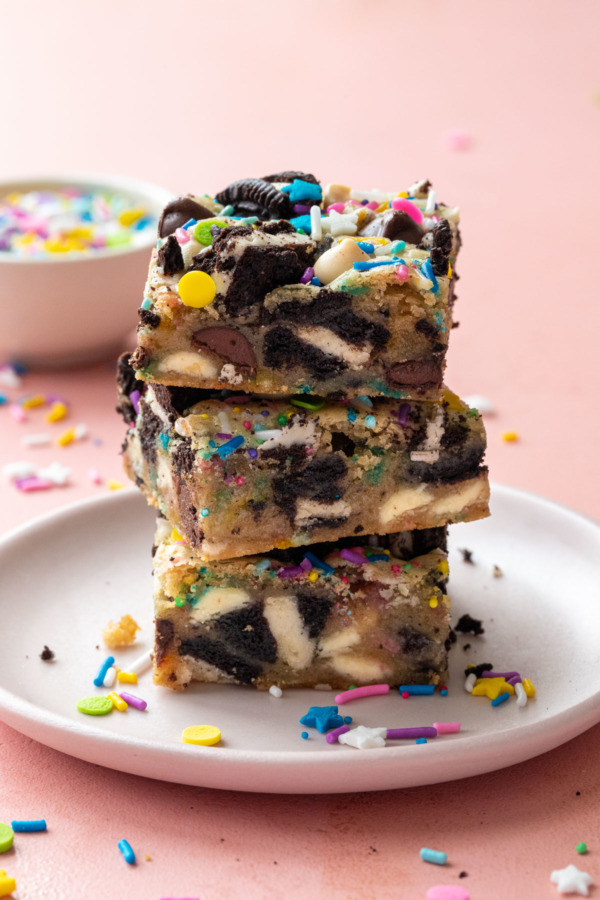 Blondies, unlike brownies, are really hard to gauge when they are done. Toothpicks just don't work here. I baked my blondies in a light aluminum baking pan, and they were done at about 31 minutes (though I think 32-33 would have been just perfect). The edges will be slightly darker (moreso if you're baking in a darker nonstick pan), and the top will have a lovely golden brown, paper thin shiny crust to it.
Unlike cake and regular cookies, which tend to dry out in a matter of days, I find blondies keep extraordinarily well, making them a great make-ahead treat. I store them in an airtight container in the fridge and they're just as tasty a week later (and yes, despite giving away well over half this batch to neighbors, we're still nibbling on the remainder a full week later. Because of the intense sweetness that is characteristic of blondies, I found half a square a perfectly satisfying serving. Which means that one 8-by-8 pan of these blondies will easily make 32 servings.
Sprinkle Party Blondies
These blondies are ready to party, chock full of all the fun stuff: chocolate sandwich cookies, white and dark chocolate chips, and colorful rainbow sprinkles.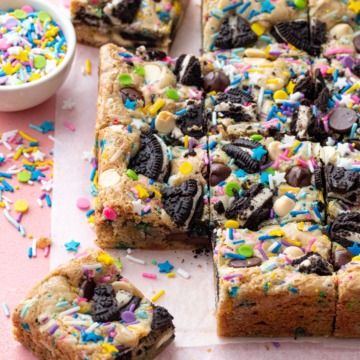 Ingredients:
10 tablespoons (141g) unsalted butter, melted and cooled to lukewarm
1/2 cup (110g) packed light brown sugar
1/2 cup (100g) granulated sugar
2 large eggs, at room temperature
2 teaspoons vanilla extract
1/2 teaspoon baking soda
1/2 teaspoon fine sea salt
1 3/4 cups (218g) all-purpose flour
8-10 chocolate sandwich cookies, coarsely chopped
1/2 cup (70g) semisweet chocolate chunks or chips
1/2 cup (70g) white chocolate chunks or chips
3-4 tablespoons rainbow sprinkles
Directions:
Preheat oven to 350 degrees F. Lightly butter an 8-by-8-inch pan; line with parchment paper and lightly butter parchment
In a large bowl or the bowl of a stand mixer fitted with the whisk attachment, beat eggs, sugar, brown sugar, vanilla, salt and baking soda on high speed for 2 to 3 minutes or until light in color and thick but not stiff.
Reduce mixer to low and drizzle in lukewarm butter until fully incorporated.
Sprinkle over flour and mix on low speed until just incorporated, scraping down the sides of the bowl as needed. Fold in about 3/4 of the cookies (about 1 cup or so), chips, and sprinkles (save a little bit of each for the top).
Spread into prepared baking pan. Sprinkle reserved cookies, chips and sprinkles on top.
Bake for 30 to 35 minutes or until top is shiny and set and starting to brown around the edges (darker coated pans will have browner edges than light ones). The 'toothpick test' doesn't really work with blondies, so you'll have to make your best educated guess as to when they are done (this can vary depending on your particular oven, baking pan, alignment of the stars, etc). Each time you make them you can adjust the bake time until they are just right for your particular situation and preferences.
Place pan on a wire cooling rack and let cool to room temperature. For the cleanest cuts, chill for a few hours or overnight.
Lift out the entire block of blondies using the parchment paper, then use a large chef knife to cut into 16 even squares (wipe the blade between each cut). Blondies will keep in an airtight container at room temperature for up to 3 days or refrigerated for up to 5.
Did you make this recipe?
Let us know what you think!
Leave a Comment below or share a photo and tag me on Instagram with the hashtag #loveandoliveoil.