Perfectly sweet and delightfully crisp, these quick bread & butter refrigerator pickles are leaps and bounds better than anything you can buy in the store, with the added benefit of being completely customizable to your personal tastes and preferences.
Refrigerator pickles are undeniably the easiest kind of pickles no make, no fancy equipment or complicated water baths necessary. They come together in minutes, and keep beautifully in the fridge for weeks, and result in beautifully crispy pickles.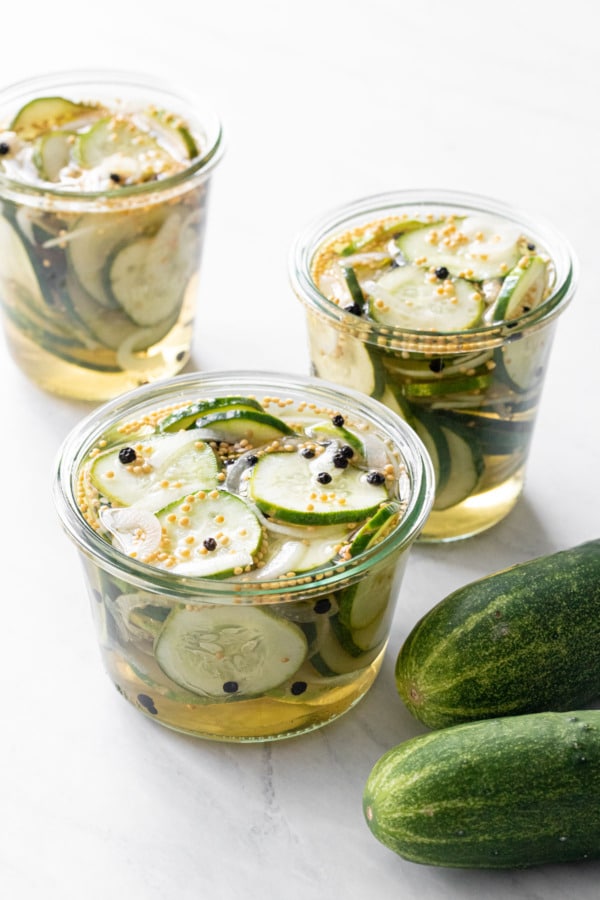 The two main kinds of pickles commercially available are kosher dill and bread & butter. Dill pickles obviously have a dill-forward flavor, and are less sweet and more vinegary overall.
Bread and butter pickles, on the other hand, have more sugar and a different combination of spices and seasonings (primarily onion, mustard, and celery seed), resulting in a vastly different flavor profile.
I have yet to find any definitive information on the origins of the name; it seems to be somewhat of a mystery, though many sources claim the name is derived from a common depression-area sandwich featuring pickled cucumbers layered between slices of buttered bread.
I often find store-bought B&B pickles far too sweet, sometimes cloyingly so (sorry but pickle candy is not my idea of good eats). Which is why I love making homemade pickles, where you can adjust the sweetness and other seasonings to your personal tastes. The fact that they are so darn easy (no fancy equipment or complicated canning required) is just the icing on the cake. Or the pickle on the sandwich, if you will (especially if it's this pickle grilled cheese sandwich, yum!)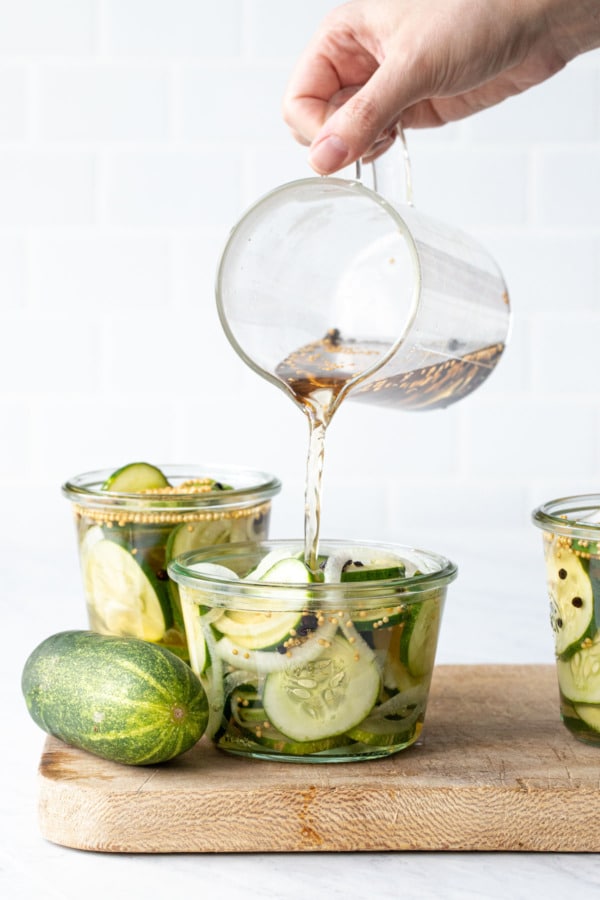 Our favorite bread and butter pickles use a combination of white and cider vinegars (call this a marriage-based-compromise if you will; I personally love the flavor of cider vinegar but Taylor stubbornly remains in the white-vinegar-only camp. A little bit of each turned out to be just about right).
British-style bread and butter pickles use all cider vinegar and brown sugar in place of white, plus a bit of turmeric for color (I believe they also usually have a hint of ginger as well). You could certainly make those substitutions here if that's the style of pickle you prefer.
For us, however, we opted to skip the turmeric and stuck to white sugar for a crisp and clean flavor. A perfect balance of vinegar and water, plus salt and sugar, makes for a perfectly flavorful pickle that's sweet and vinegary but not overly so.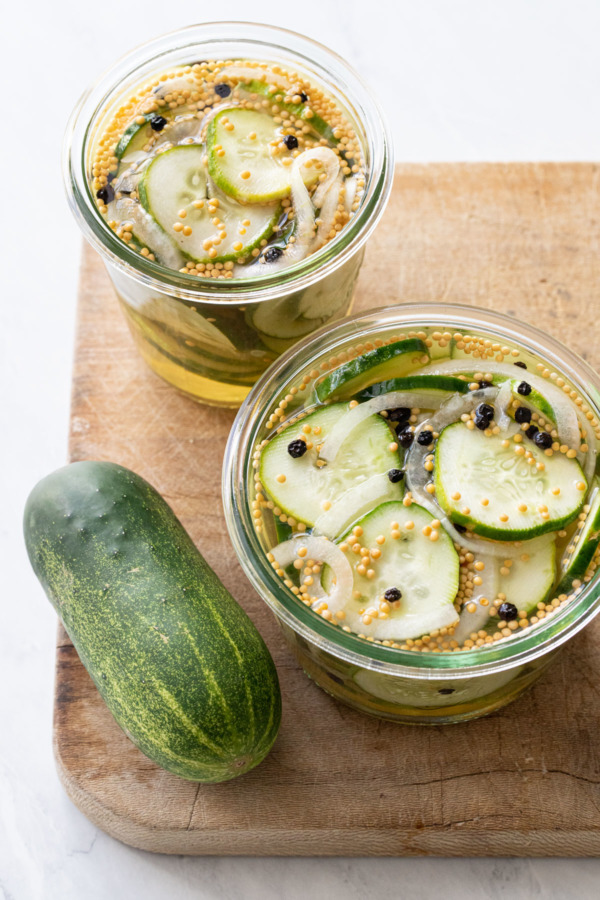 The best kind of cucumbers for pickles are known as pickling cucumbers (hmm, wonder where they got that name from?) Kirby cucumbers, with their smaller size and firm, crunchy flesh, are one variety that are particularly suited to pickling. This recipe calls for 1 pound of cucumbers, or about 4 smallish ones. Try to pick cucumbers with a similar size and circumference so your pickle slices are all the same size.
While technically this recipe will work with larger cukes or even the seedless kind found in grocery stores everywhere, it's definitely worth seeking out Kirby cucumbers, they really do make for the best pickles.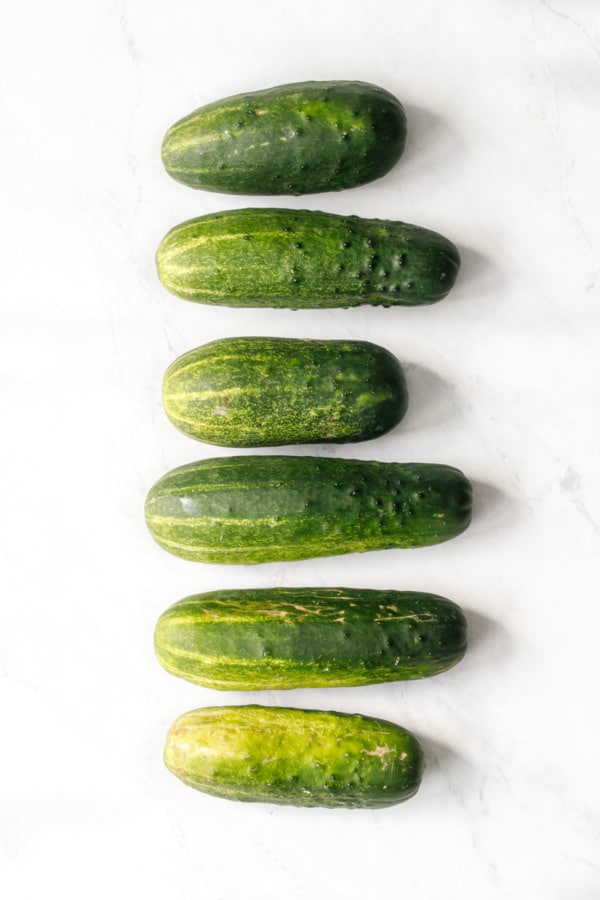 Figuring out the appropriate volume for pickle recipes is always a bit tricky, and the amount of liquid you need to fill a jar of pickles will vary depending on how you cut the cucumbers and how tightly you pack them.
But in general, I found that for sliced chips like these bread and butters specifically, a jar is about half pickle and half pickle juice. In other words, a 250mL jar (about 8 fluid ounces), will need about 125mL or 4 fluid ounces of liquid.
The recipe as written yields about 500mL or 17oz of liquid, and should fill two standard-sized pint canning jars. If you use different sized jars, like the 290mL or 370mL weck jars pictured, feel free to scale and adjust accordingly.
At the very least, if you find yourself a bit short on liquid, you can top off the jars with a splash of water and/or vinegar as needed. Since this recipe is designed to be refrigerated, not canned, you don't have to be overly concerned about proper acidity levels and so forth, it's rather flexible in that regard (so too is the sugar, salt, and seasonings, so feel free to adapt to your heart's content).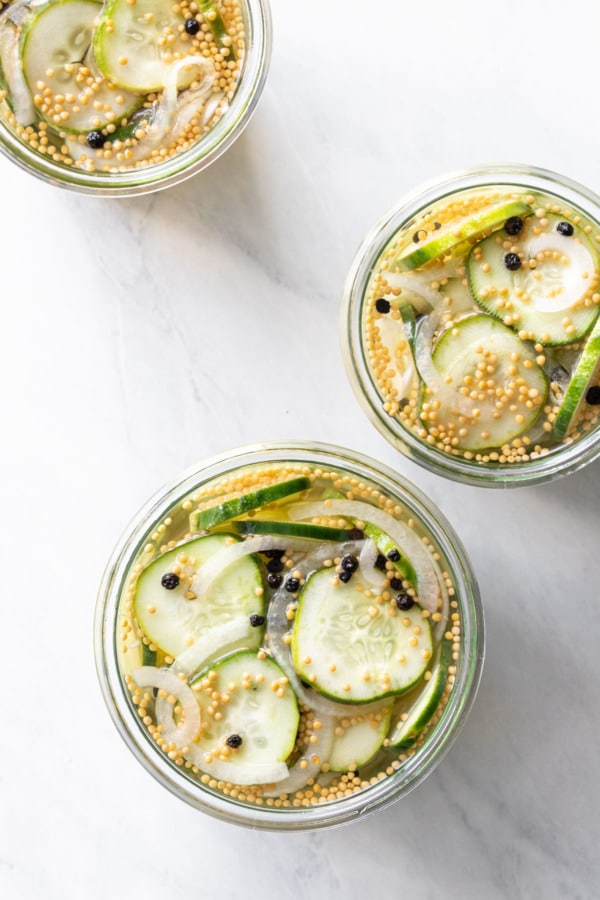 This recipe is a true refrigerator pickle, meant to be stored in the refrigerator, and is not intended for canning or long term storage. If that is the type of pickle recipe you seek, I recommend a trusted source like Ball Blue Book for a thoroughly tested recipe safe for water bath canning. Pickles for canning won't include any water in the brine, and you need to specifically use vinegar labeled 5% acidity.
While most store-bought chip-style pickles are on the thick side, I personally like thinner slices of pickle. That's one of the biggest benefits of making your own pickle, you control the shape! We used a mandoline with a fine serrated blade to get even 1/8-inch thick slices.
Also: bread and butter spears are practically non-existent in the store, but making them yourself gives you the freedom and flexibility to make any shape you choose!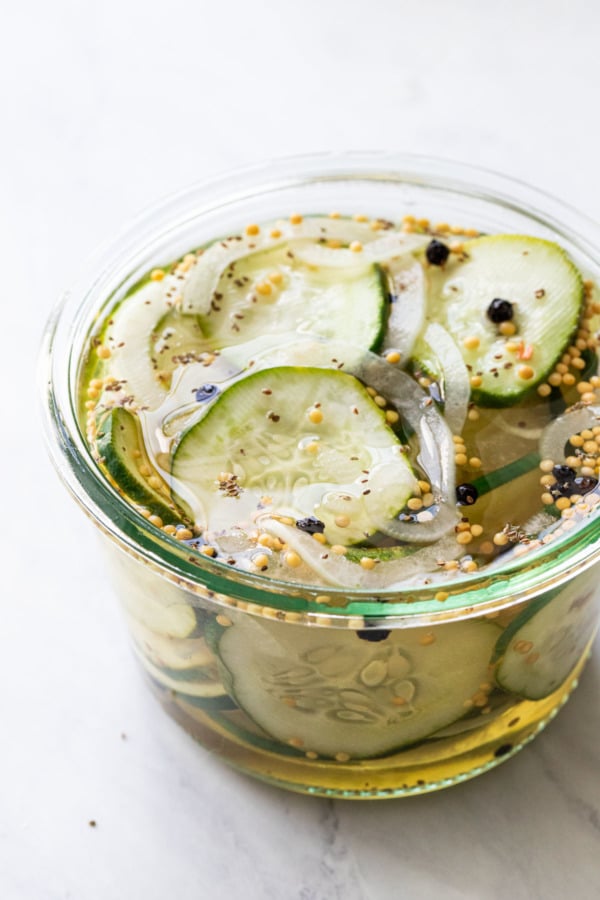 I realized after I shot these photos that I, er, forgot the celery seed. I added some in before this last shot, right before I secured the lids and popped them in the fridge. I also realized after the fact that adding the seeds and peppercorns to the jars with the cucumbers was a much easier method than trying to pour them in with the hot liquid (that's how I did it in my garlic dill pickle recipe, not sure what I was thinking here). The recipe is written with the correct process and all ingredients accounted for.
What do they say… do as I say, not as I do? Something like that.
Besides, 4 jars of pickles in the fridge seemed like more than enough. One small omission (that, let's face it, you probably wouldn't have noticed if I didn't point it out to you) was not sufficient reason to remake and reshoot it a 3rd time.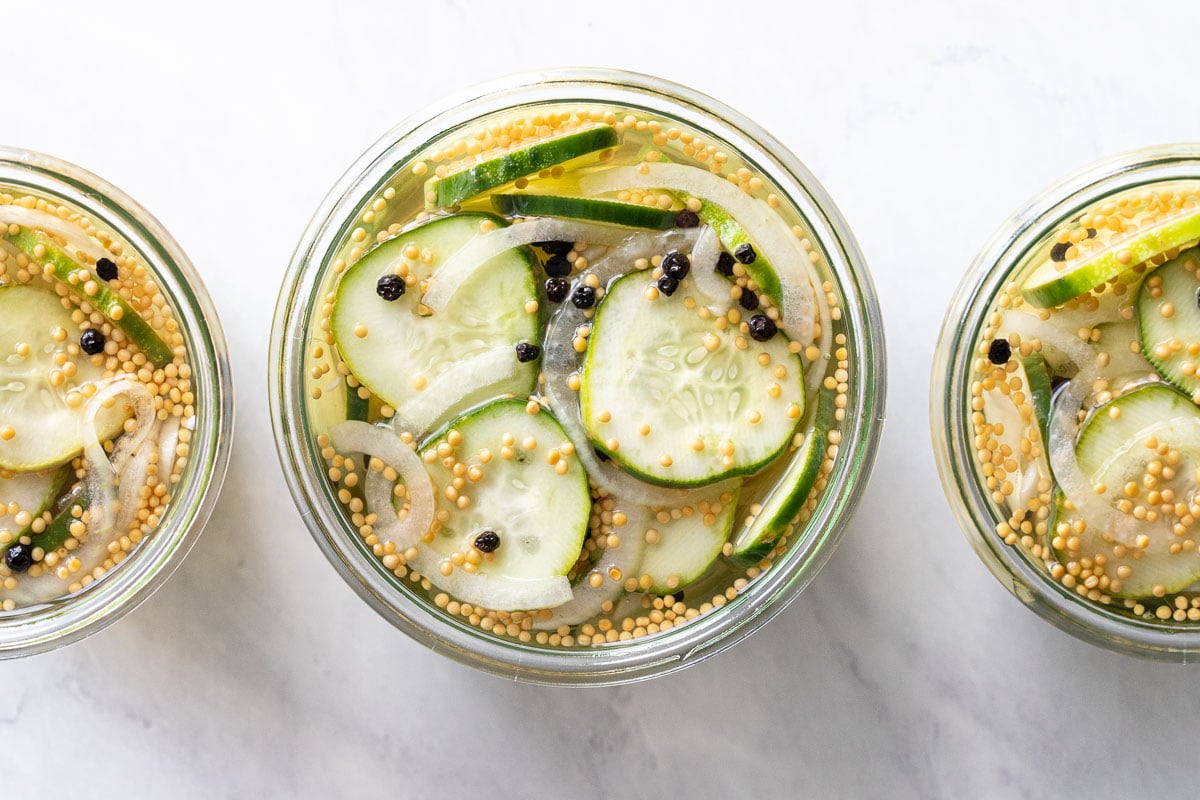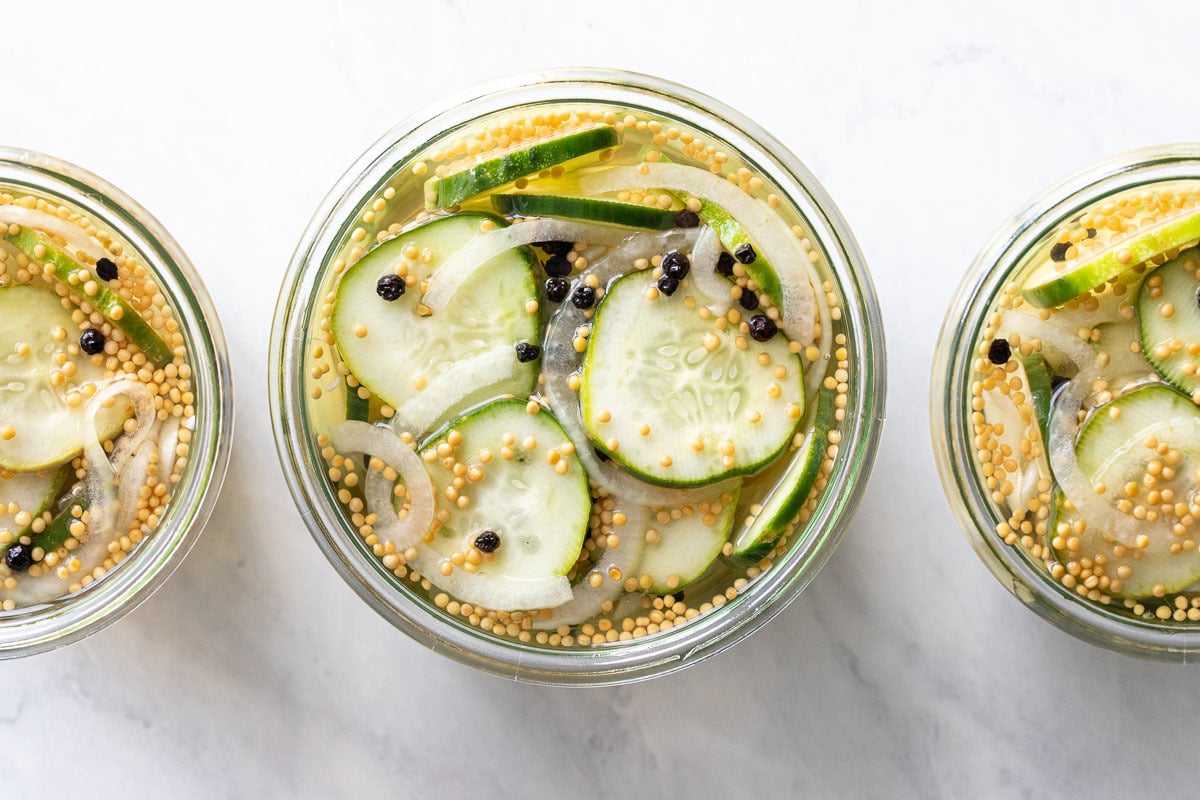 Bread & Butter Refrigerator Pickles
Perfectly sweet and delightfully crisp, these quick bread & butter refrigerator pickles are completely customizable to your personal tastes and preferences. Use cider vinegar and brown sugar for a more British-style pickle, and even add a bit of turmeric if you're looking for that classic yellow color.
Ingredients
1

pound

/

452

g

kirby or other pickling cucumbers (about 4 small)

,

blossom ends removed and cut into spears or slices

½

large onion

,

thinly sliced

1

cup

/

240

g

white vinegar

½

cup

/

119 ½

g

cider vinegar

½

cup

/

120

g

filtered water

¾

cup

/

150

g

granulated sugar

2

tablespoons

/

36

g

fine sea salt or pickling salt

1

tablespoon

/

11

g

whole yellow mustard seeds

1

tablespoon

/

10

g

whole black peppercorns

1

teaspoon

celery seed
Instructions
Wash jars and lids in very hot water to sanitize.

Cut cucumbers into desired shapes, either lengthwise into spears (about 8 spears per cucumber), or crosswise into 1/8-inch thick slices.

Pack cucumbers into jars, alternating with pieces of onion to keep the cucumbers separated. Top with peppercorns, mustard seed and celery seed.

Combine vinegar, cider vinegar, water, salt and sugar in a small saucepan. Bring to a simmer over medium heat until sugar and salt are completely dissolved.

Pour warm vinegar over top of cucumbers, filling jars to the very top. If necessary you can top the jars off with a bit of water to be sure the cucumbers are completely covered.

Screw on lids, then place jars in the refrigerator for at least 24-48 hours before enjoying. Pickles will keep in the refrigerator for up to 2 weeks.
All images and text ©
for Love & Olive Oil.
Did you make this recipe?
Let us know what you think! Leave a Review below or share a photo and tag me on Instagram with the hashtag #loveandoliveoil.