Sweet, salty, spicy, tangy: these quick refrigerator pickles have it all! Made with garden fresh dill, lots of pungent garlic, and a few chiles for extra spice.
Crisp, flavorful pickles like these make a great side for hot dogs or burgers, or you can even slice them and put them inside an epic grilled cheese, or batter and fry them for the ultimate sandwich topper.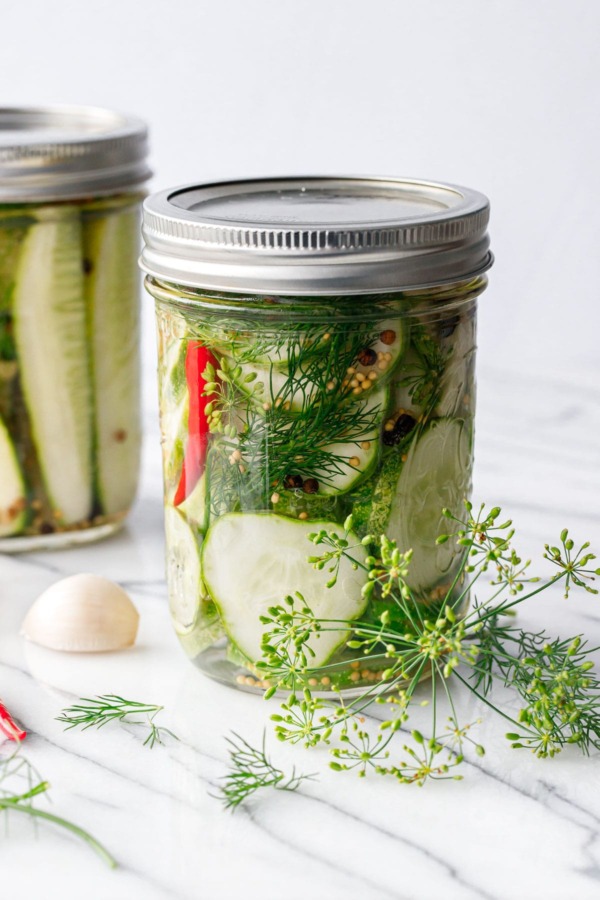 I realized that I have recipes for spicy pickled peppers, pickled green tomatoes, quick pickled red onions… even homemade pickled ginger and pickled sweet cherries… but no recipe for plain old cucumber pickles, despite the fact that I make them on a regular basis all summer long.
Oh, the humanity!
So here it is, our ultra simple and infinitely customizable recipe for refrigerator pickles, with loads of garlic and fresh dill, and a few Thai chiles for a spicy kick (you can also use jalapeno or habanero peppers, or even red pepper flakes – like I said, infinitely customizable).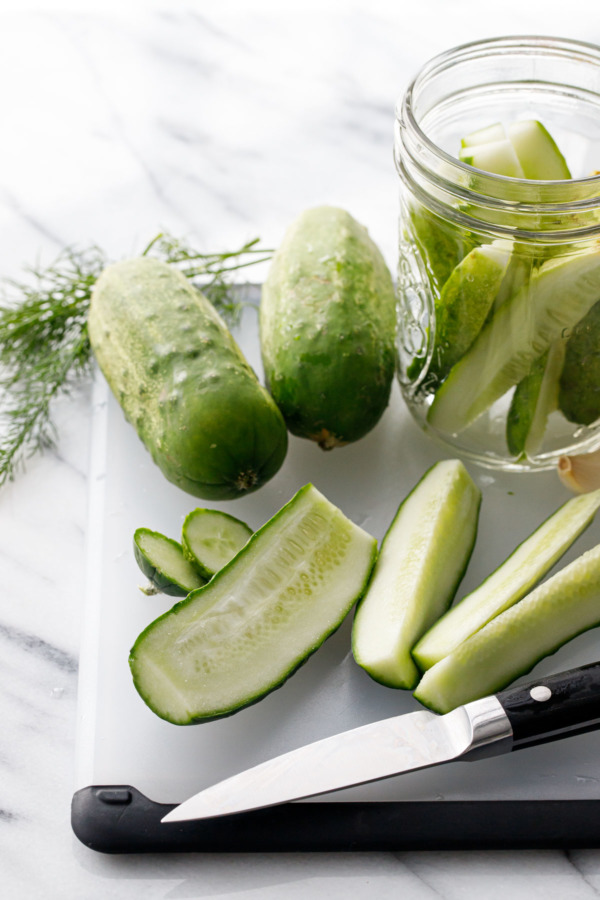 Refrigerator pickles are by far my favorite kind of pickles, since they stay extra fresh and crispy (heat-processed pickles, while they keep longer, are not nearly as crisp).
This recipe makes two pint jars (I like using wide-mouth jars as it is easier to get the pickles in and out).
The pickles are best after 24-48 hours in the fridge, but are good for up to 2 weeks.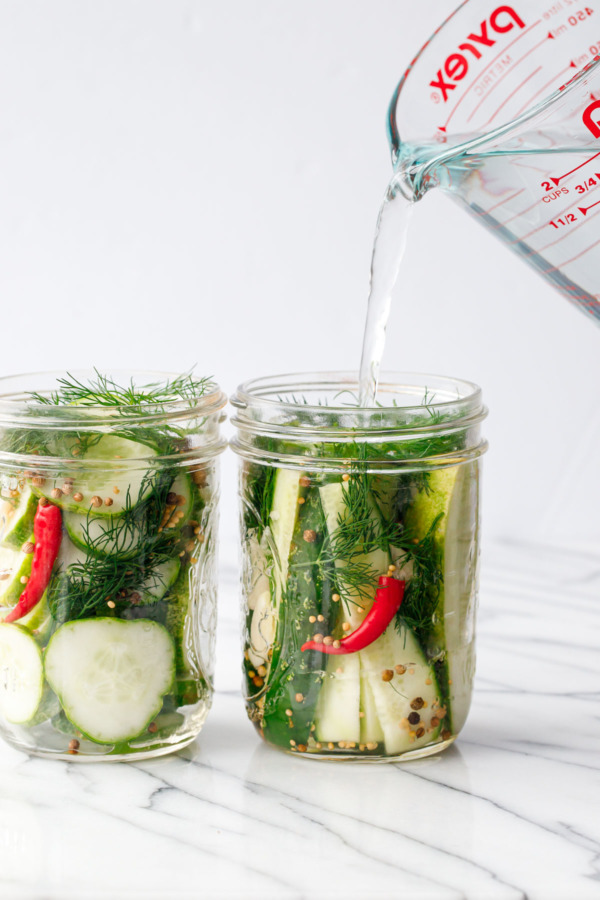 When choosing cucumbers, look for pickling cucumbers, which you can identify by their short and squatty shape. Ideally your cucumbers will be about the same height as your jars (especially if you want to cut them into spears, they'll fit perfectly this way). You'll need about 2 cucumbers per jar regardless of how you cut them.
My basic brine uses regular white vinegar, though try to get an organic vinegar if possible as the flavor is a bit less harsh, which is worth the extra cost to me. Keep the .79 cent generic vinegar for cleaning, lol. You can also use a mix of white and cider vinegars for even more flavor, though your brine won't be quite as clear.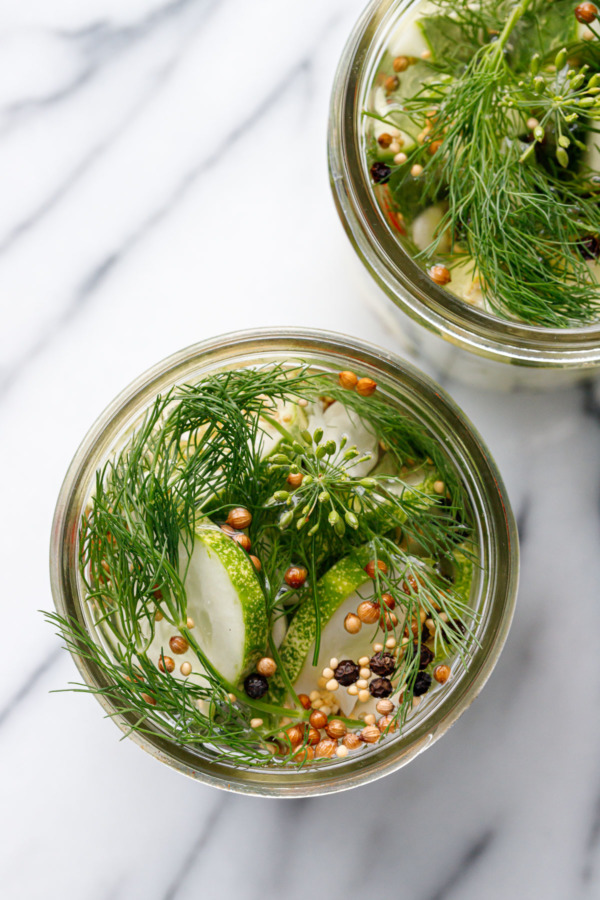 Don't be afraid to use the dill flowers, especially if the summer heat has caused your dill plant to go all Usain Bolt on you (or maybe that's just me?) The flowers are just as tasty and pretty to boot (I think they look like little green fireworks!) Leave a few flowers on your dill plant and after another few weeks you'll have a handful of dill seeds ready to save for next year. :)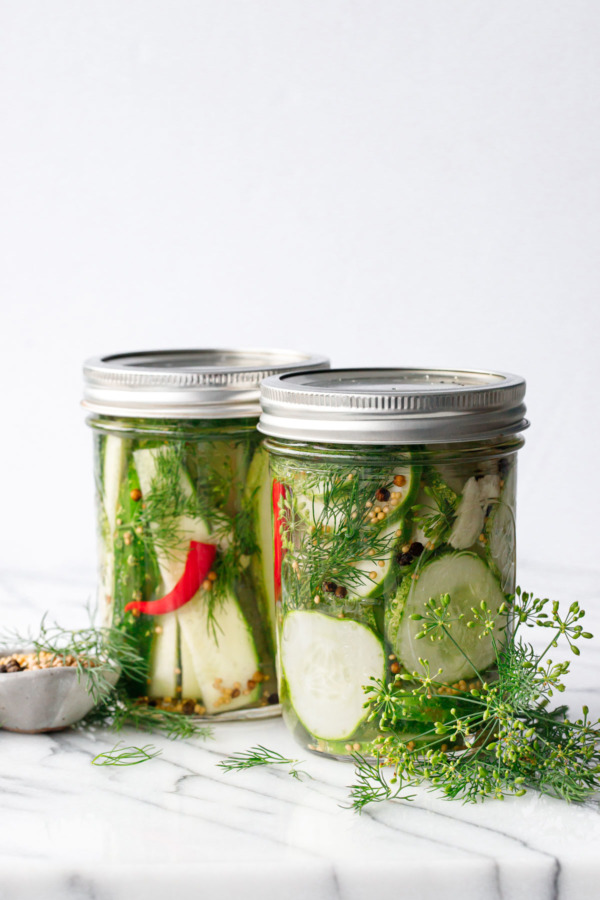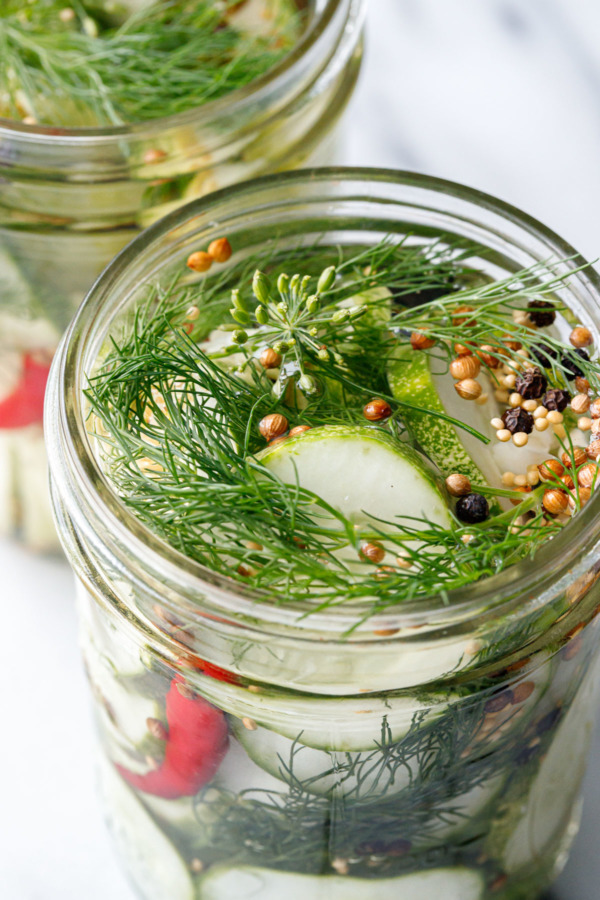 Do note that this recipe has not been tested for canning; if you are looking to heat-process pickles for long term storage I recommend seeking out a recipe from a trusted source (such as Ball's Complete Book of Home Preserving).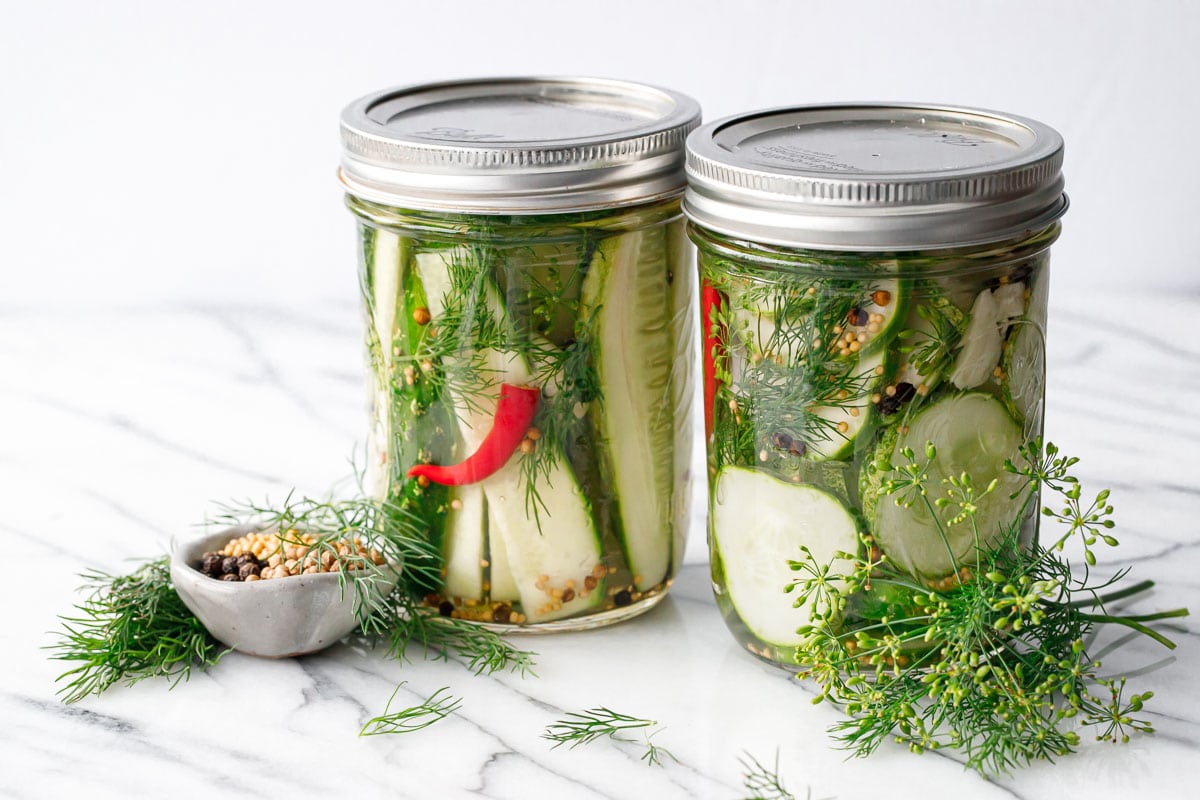 Spicy Garlic Dill Refrigerator Pickles
These crisp and flavorful refrigerator cucumber pickles are made with fresh dill, pungent garlic, whole spices and a few red Thai chiles for added spice. No canning required!
Ingredients
1

pound

/

452

g

pickling cucumbers (about 4 small)

,

blossom ends removed and cut into spears or chips

1

handful

(4-6 sprigs) fresh dill

4

large garlic cloves

,

smashed

4

Thai chiles

,

stems removed

1

teaspoon

black peppercorns

1

teaspoon

yellow mustard seed

1

teaspoon

coriander seed

1

cup

/

255

g

white vinegar

1

cup

/

240

g

filtered water

1

tablespoon

/

18

g

kosher salt

2

teaspoons

/

8

g

granulated sugar
Instructions
Wash jars and lids in very hot water to sanitize.

Cut cucumbers into desired shapes, either lengthwise into spears (about 8 spears per cucumber), or crosswise into 1/4-inch thick chips.

Pack cucumbers into jars, alternating with a few sprigs of dill, and 2 chilies and 2 smashed garlic cloves per jar. Top with peppercorns, mustard seed and coriander seed (1/2 teaspoon of each per jar).

Combine vinegar, water, salt and sugar in a small saucepan. Bring to a simmer over medium heat until sugar and salt are completely dissolved.

Pour warm vinegar over top of cucumbers, filling jars to the very top. If necessary you can top the jars off with a bit of water to be sure the cucumbers are completely covered.

Screw on lids, then place jars in the refrigerator for at least 24-48 hours before enjoying. Pickles will keep in the refrigerator for up to 2 weeks.
All images and text ©
for Love & Olive Oil.
Did you make this recipe?
Let us know what you think! Leave a Review below or share a photo and tag me on Instagram with the hashtag #loveandoliveoil.