Today I'm excited to share this recipe created in collaboration with Cobblestone Bread Co. via AOL Media. As always, all opinions written are purely our own. We're incredibly grateful for opportunities like these that allow us to continue sharing delicious recipes with you, so thank you for supporting us and the brands we love.
What's not to love about summer… not least of all the sandwiches that come along with it.
Because, let's face it, summer sandwiches and winter sandwiches are two entirely different beasts. Winter sandwiches are rich and heavy and meaty, dark and forboding and heavy (wait, I said that already).
But this sandwich, this sandwich is the epitome of summer.
Summer sandwiches are about lightness and freshness and acidity. About picnics and barbecues and swimming pools. And ice cream. Summer is totally about ice cream.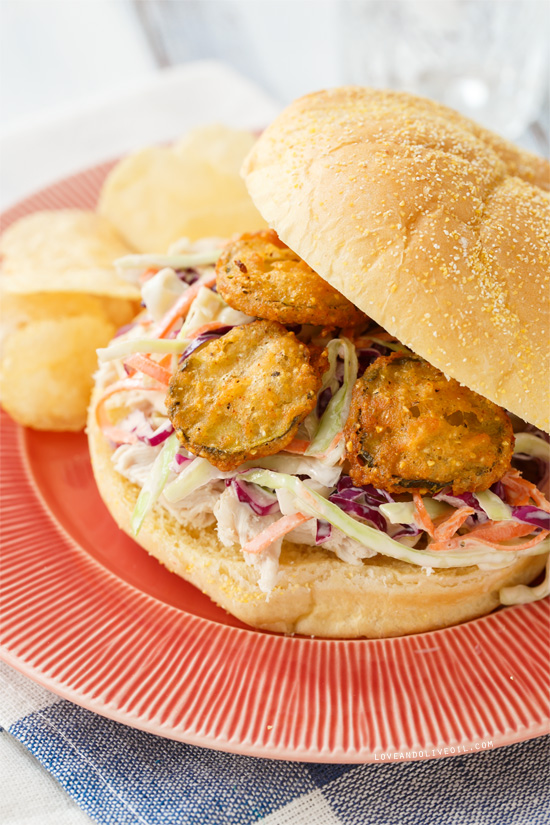 The best sandwiches expertly pair together textures just as much as flavors. And I love sandwiches that have a bit of a crunch to them. Yes, I'm totally that person who would add potato chips to her tuna sandwich, but just that little extra crunch takes a sandwich from mushy and boring to exciting.
We added crunch to this sandwich in two places, with two contrasting textures (because one crunch is not necessarily the same as another).
The coleslaw has a fresh vegetable crunch, the fried pickles a fried and crispy crunch. Sure, you could use regular pickles too (and Taylor wanted me to let you know that he actually preferred it that way) but I really feel the fried pickles take this sandwich over the top.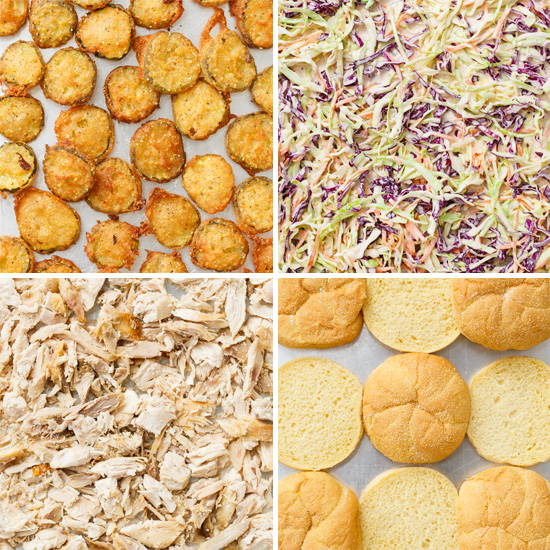 But you can't have an entirely crunchy sandwich, that would just be weird. And that's where the rotisserie chicken and the soft, corn dusted roll come in, cushioning the crunchy elements and absorbing the juicy ones.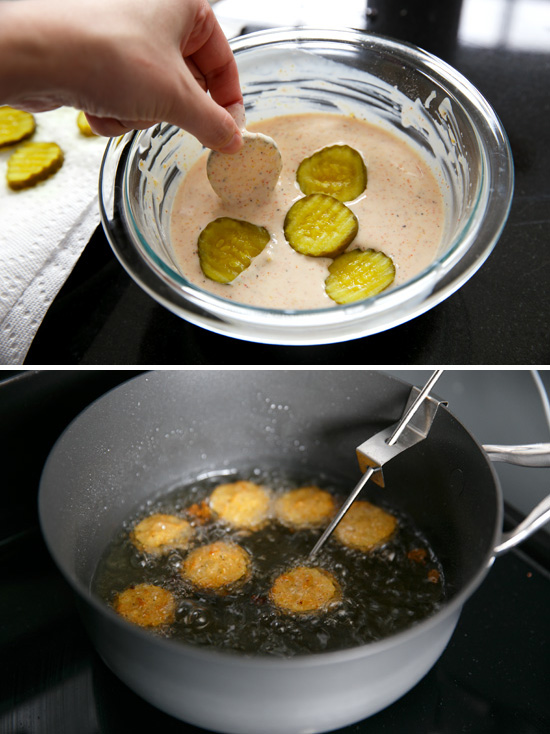 The pickles bathe in a spicy cornmeal and buttermilk batter and then fry in hot oil until light and crispy, almost like tempura pickles, if that were a thing. They are best when they are fresh out of the oil, but can also be re-heated in a hot oven and will regain some of their crispness. While we preferred the tangy dill pickle slices, sweet bread and butter pickle slices would work just fine as well.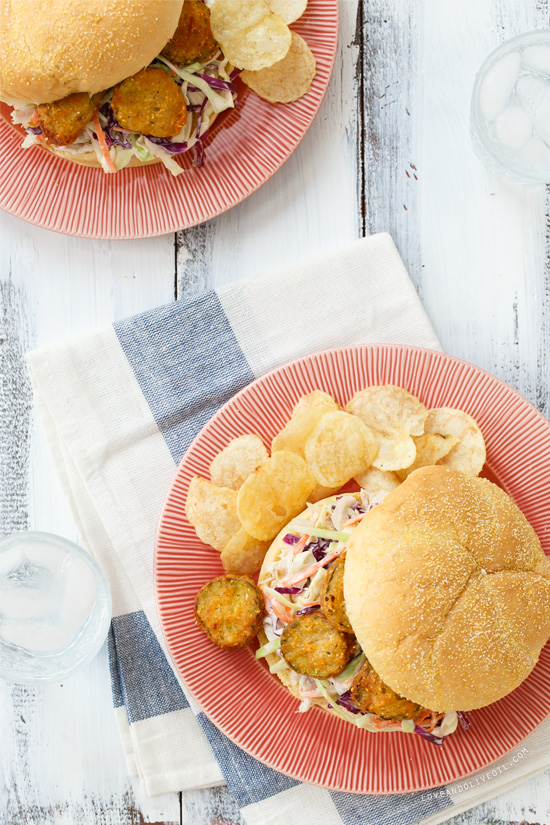 Summer Slaw Sandwiches with Fried Pickles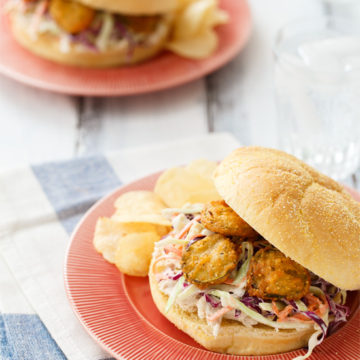 Ingredients:
For Coleslaw:
2/3 cup mayonnaise
1/4 cup buttermilk
2 tablespoons rice vinegar
1 tablespoon sugar
1/2 tablespoon lemon juice (from 1/2 a lemon)
1/2 teaspoon celery salt
1/4 teaspoon ground cayenne pepper
1/4 teaspoon freshly ground black pepper
2 1/2 cups shredded green cabbage (from 1/2 small or 1/4 medium cabbage)
1 1/2 cups shredded red cabbage (from 1/4 small cabbage)
1/2 cup shredded carrot (from 1 medium carrot)
For Fried Pickles:
1/4 cup all-purpose flour
2 tablespoons stone-ground cornmeal
1/2 teaspoon ground cayenne pepper
1/4 ground black pepper
pinch salt
3/4 to 1 cup buttermilk, as needed
36 dill pickle chips (bread and butter pickles work as well if you prefer)
vegetable oil, for frying
For Assembly:
8 Cobblestone Bread Co. Corn Dusted Kaiser Rolls
3 cups shredded chicken
yellow mustard
Directions:
To prepare coleslaw, in a large bowl, whisk together mayo, buttermilk, rice vinegar, sugar, lemon juice, celery salt, cayenne, and pepper until smooth. Add shredded cabbage and carrot and toss to coat. Refrigerate until ready to use.
For fried pickles, in a medium bowl whisk together flour, cornmeal, cayenne, pepper, and salt. Add 3/4 cup buttermilk and stir until smooth. Add more buttermilk, 1 tablespoon at a time, until the consistency of thin pancake batter.
Drain pickles and arrange on a layer of paper towels; pat dry.
In a medium saucepan, add enough oil to a 3/4-inch depth. Heat over medium heat until oil temperature registers 350 degrees F. Dip pickle slices into batter and gently drop into hot oil. Repeat with 6-7 more pickle slices, frying in batches so as not to overload the pan. The pickles will stick together so you want enough space between them.
Fry for about 2 to 3 mintues, flipping once part-way through, until pickles are evenly golden brown. Remove with a slotted spoon and place on a paper towel-lined plate to drain.
To assemble sandwiches, lightly toast or warm rolls to soften. Spread bottoms with a thin layer of mustard. Top with approximately 1/3 cup of shredded chicken, a heapgin 1/3 cup or so of coleslaw, and 4-5 fried pickles. Top with other half of roll and serve immediately.
Did you make this recipe?
Let us know what you think!
Leave a Comment below or share a photo and tag me on Instagram with the hashtag #loveandoliveoil.
Compensation for this post was provided by Cobblestone Bread Co. via AOL Media. The opinions expressed herein are those of the author and are not indicative of the opinions or positions of Cobblestone Bread Co. or AOL. Looking for more summer sandwich inspiration? Check out the other awesome blogger-created recipes over at Kitchen Daily.