When the nacho craving hits, nothing satisfies quite like a mountain of hot and melty nachos. Our version is topped with savory smoked chicken and a creamy cheese sauce so flavorful you'll be tempted to eat it by the spoonful.
Way beyond your basic ballpark nachos, these loaded smoked chicken nachos are topped with all the good stuff including pickled jalapeños and pickled red onions (pickles are the secret to next-level nachos), plus olives, fresh radishes and micro cilantro.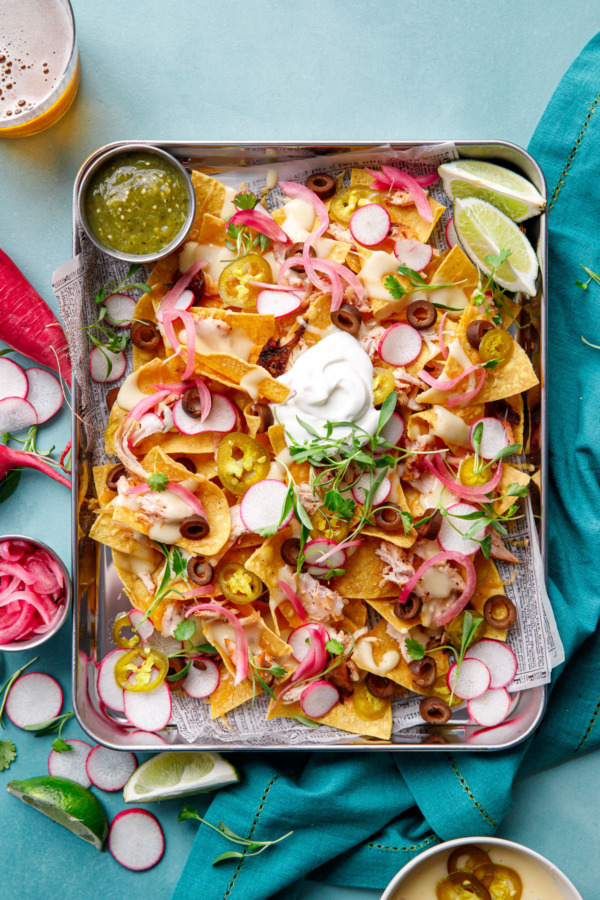 Ready for a little nacho history?
What we think of as nachos here in the US, a heaping mound of crispy tortilla chips drenched in globs of plasticky orange cheese sauce, looks nothing like the original nacho which originated in Northern Mexico in the 1940s. Invented by Ignacio "Nacho" Anaya as a simple and satisfying snack, the original nacho featured simple triangles of fried corn tortillas topped with melted shredded cheese and pickled jalapeño.
Heck, if I created such a brilliant snack I'd name it after myself too.
The "Nacho Special" eventually made it across the border to Texas in the 1970s, where it started to evolve into the ballpark snack we know today.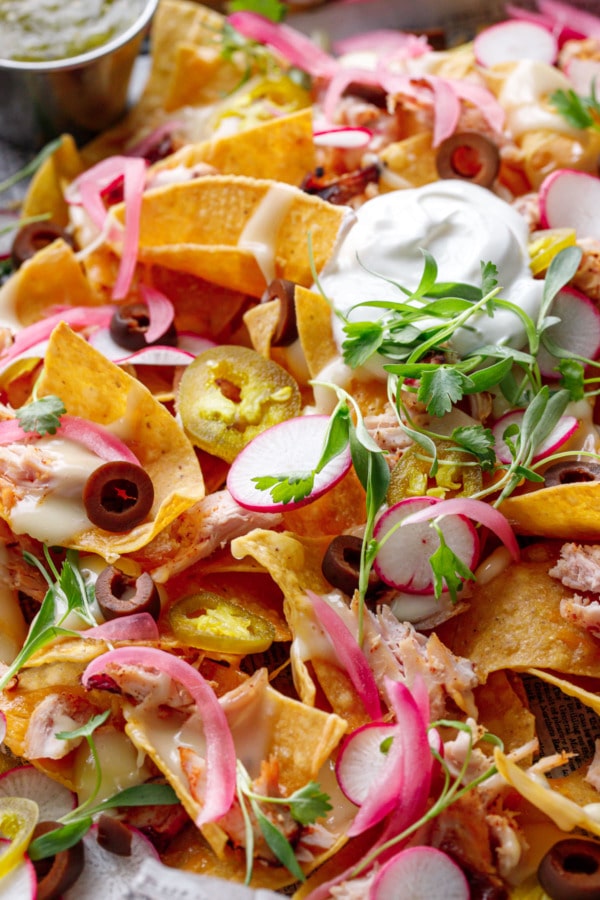 This recipe takes that original idea of chip, cheese, and pickled jalapeño (a perfect combination if there ever was one) and loads it up with even more goodness, including smokey shredded chicken, pickled red onions, black olives, sour cream and cilantro.
I mean, I'd argue that these nachos are less snack and more meal (and indeed, we thoroughly enjoyed a pan of them between the two of us for dinner).
The inspiration for this particular iteration of nachos comes from a Nashville bar called Bastion. Let me just say, their nachos are phenomenal, and I've driven across town more than once just to fulfill a craving.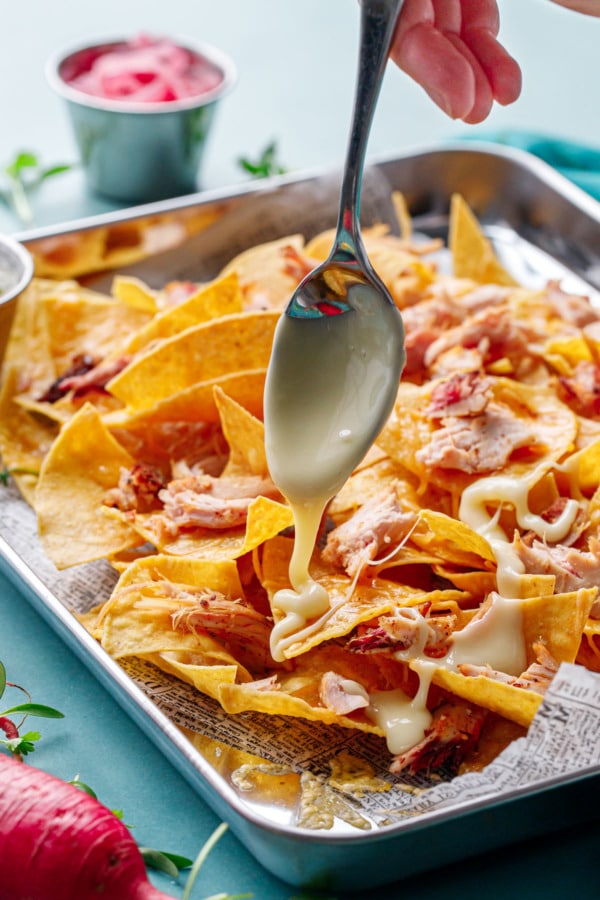 While Bastion's original nachos include smoked pulled pork (and you can certainly use pork here too if you'd like), the chicken version makes an appearance in the book Buenos Nachos, which feature's Bastion's recipe and dozens of other unique nacho recipes from chefs around the country (not to mention it's a gorgeous book, which may/may not be the reason I purchased it initially).
We loved the chicken version almost as much as the pork, and seeing that smoked chicken is pretty easy to come by (most grocery stores will carry a smoked rotisserie alongside their other flavors) it makes a great, easy-to-assemble recipe that's perfect for game time or snack time, and yes, also dinner time.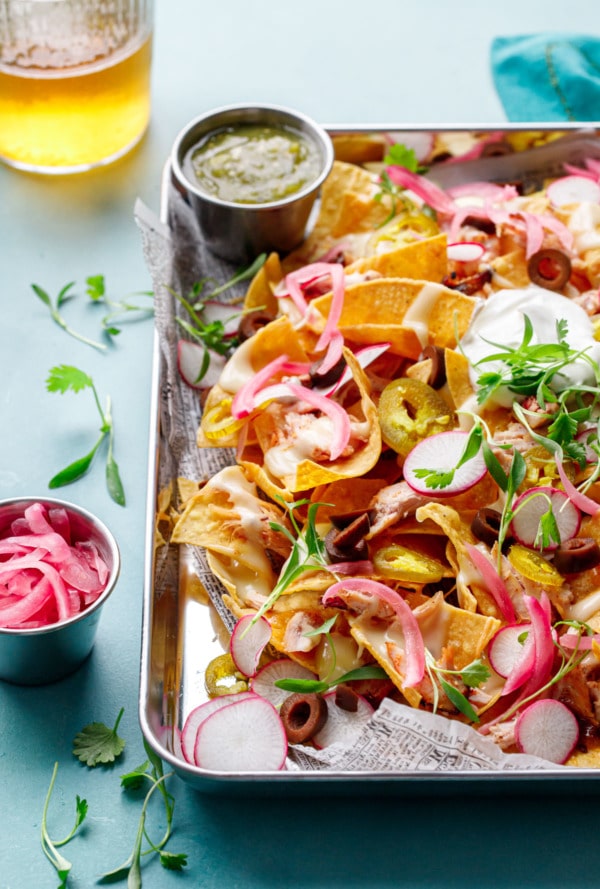 Our cheese sauce is a bit different from the one in the book, which uses straight up Velveeta Queso melted with Mexican-style beer, milk, and jalapeño brine.
Our sauce, on the other hand, is made with the Modernist Cuisine method and a magical ingredient called sodium citrate. You might remember us using this ingredient before in our Mac and Kim-Cheese.
Sodium citrate is what makes processed cheeses, like American and Queso, melt so beautifully. The benefit to using sodium citrate is you can add it to pretty much any cheese you'd like, so you can pick your favorites (here we used a mix of a mild white cheddar and fontina).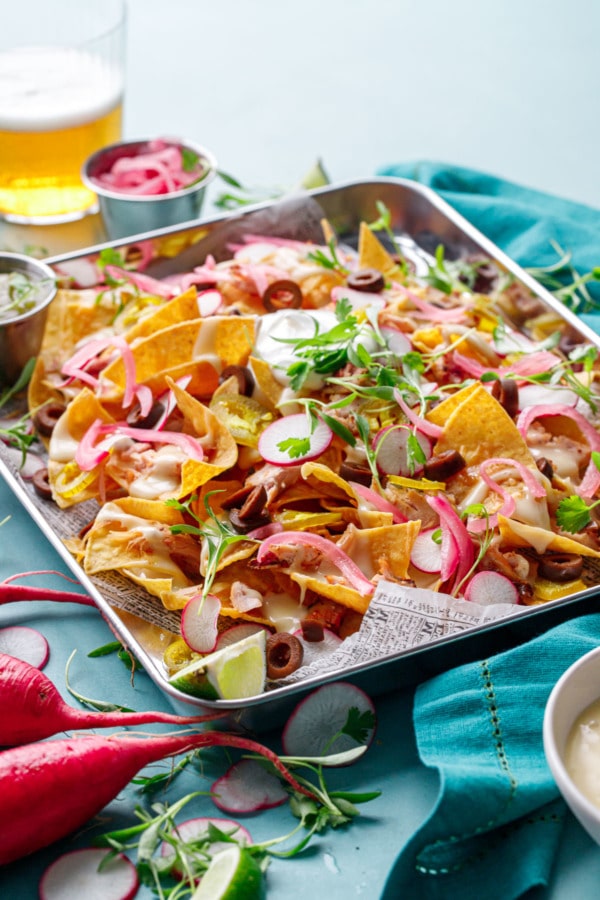 Sodium citrate isn't an ingredient you can easily find in your local grocery store (don't confuse it with citric acid, not the same thing at all), so plan ahead and buy some online. A small container will last forever, so it's a great ingredient to have handy whenever you're making a cheese sauce of any kind.
I'd argue that, while it may seem more complicated because of the sciency-sounding name, cheese sauces made with sodium citrate are incredibly easy, so much easier than dealing with a finicky roux and constantly worrying about your cheese sauce breaking. With sodium citrate, just heat up your liquid (any liquid works, be it milk, beer, or just plain water) with the sodium citrate until it comes to a simmer. Then whisk in your cheese a handful at a time until fully melted. And that's it. Seriously easy.
That said, if you don't have sodium citrate you can replace some or all of the cheese with a processed cheese like white Queso or white American (these cheeses have sodium citrate already, which is why they melt so smoothly). If you tried to make this recipe with regular cheese and no sodium citrate, the sauce will come out be clumpy and separated. Please, just don't even try it.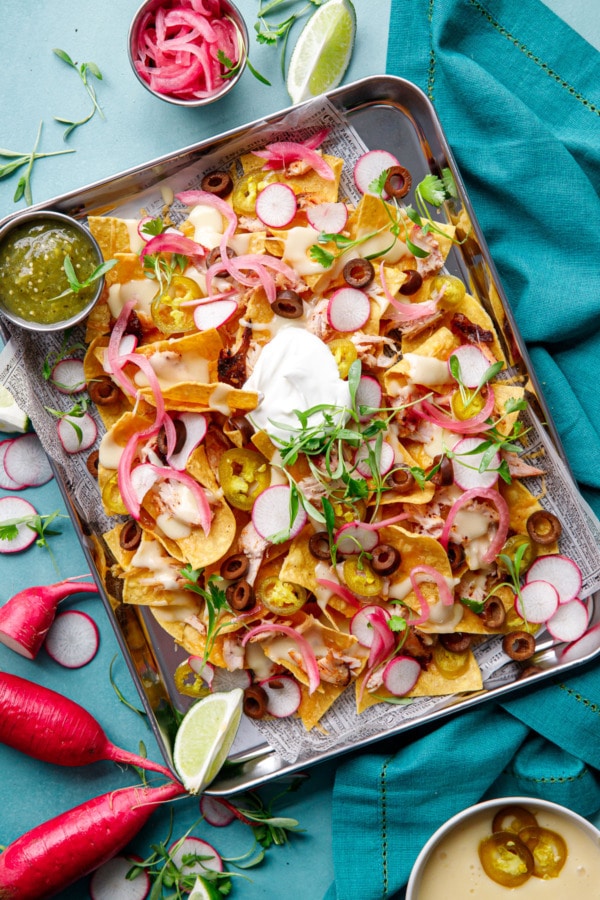 This recipe makes about 4 good servings, more if you're just serving it as an appetizer or snack. We used a quarter sheet pan with half the chips and cheese sauce, and easily got two full meals out of it, but you can make the entire 4 servings at once using a half sheet pan.
Using a sheet pan allows you to spread out your chips in a single layer; take your time adding the toppings to ensure each chip gets a little love.
I recommend serving these nachos with a nice smokey salsa verde and a hearty dollop of sour cream and/or guacamole. Put any leftover cheese sauce in a bowl on the side for extra dipping.
Loaded Smoked Chicken Nachos
Way beyond your basic ballpark nachos, these loaded smoked chicken nachos are topped with all the good stuff including pickled jalapeños and pickled red onions (pickles are the secret to next-level nachos), plus olives, fresh radishes and micro cilantro.
Ingredients:
For Cheese Sauce:
½ cup whole milk
½ cup Mexican-style beer
2 tablespoons pickled jalapeño brine (from a jar of pickled jalapeños)
1½ teaspoons sodium citrate
1½ cups (8oz/226g) shredded white cheese (we used a mix of Fontina and white cheddar)
For Nachos:
8oz (226g) tortilla chips
¼ cup shredded American or cheddar cheese
2 cups shredded smoked chicken (about 1/2 a chicken)
¼ cup sliced pickled jalapeños
¼ cup sliced black olives
thinly sliced radish
fresh cilantro
sour cream
salsa verde, for serving
Directions:
Preheat oven to 350 degrees F. Line a sheet pan with parchment paper or foil.
Combine milk, beer, jalapeño brine, and sodium citrate in a medium saucepan. Cook over medium heat, whisking occasionally, until liquid comes to a simmer and sodium citrate is fully dissolved.
Reduce heat to low and add cheese, one handful at a time, whisking until each handful is fully melted before adding the next. Keep warm while you assemble your nachos.
Arrange chips in a single layer on baking sheet. Sprinkle evenly with shredded cheese (try to get a little bit of cheese on each chip if you can). Top with shredded chicken.
Bake for 4 to 6 minutes or cheese is melted and chicken is warm.
Remove from oven. Drizzle generously with cheese sauce, then top with remaining ingredients, including pickled jalapeños, olives, radishes and cilantro. Serve with a generous dollop of sour cream and salsa verde for dipping.
Leftover cheese sauce will keep, refrigerated in an airtight container, for 2-3 days. Reheat in the microwave or stovetop until smooth and melty once again.
Did you make this recipe?
Let us know what you think!
Leave a Comment below or share a photo and tag me on Instagram with the hashtag #loveandoliveoil.