Tender, buttery shortbread with a hint of almond and studded with mini chocolate chips. This recipe is ridiculously easy to prepare, making it a perfect recipe for stress-free entertaining!
My mom is the one who came up with this new variation of my Cranberry Almond Shortbread Bars, which makes perfect sense, because if anyone's the queen of chocolate chips, it's her, so it's not surprising to me that she came up with such an idea.
The shortbread itself is virtually identical to the original, soft and buttery, with just a hint of almond, and oh-so-easy to prepare. But here, instead of orange peel and dried cranberries, I've added mini chocolate chips.
But cranberry and chocolate chip are just the beginning, this shortbread is incredibly versatile and could serve as the foundation for myriad flavor variations. I mean, I can think of about a dozen sitting here right now (so needless to say, you'll probably be seeing more shortbread recipes in the near future!)
The hardest part of this recipe? Deciding whether to cut it into squares, triangles, or sticks. I mean, I stood there with a knife in my hand for at least 15 minutes staring at these bars, willing them to 'speak to me' and help me decide.
And then I thought that these cookies would be particularly good dunking cookies.
Sticks it is, then! The perfect shape for dunking!


You could certainly add a simple glaze to this one (maybe a drizzle of melted dark chocolate instead of the powdered sugar glaze in the cranberry version?) or even dip the sticks in melted chocolate which would be amazing as well.
When a cookie is this good on its own, it doesn't always need that extra layer of glaze or drizzle or frosting. Sometimes simple is best!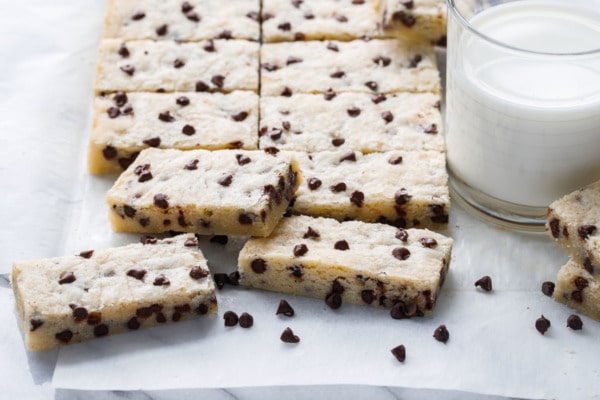 Chocolate Chip Shortbread Cookie Bars
Tender, buttery shortbread with a hint of almond and studded with mini chocolate chips. Quick, easy and delicious!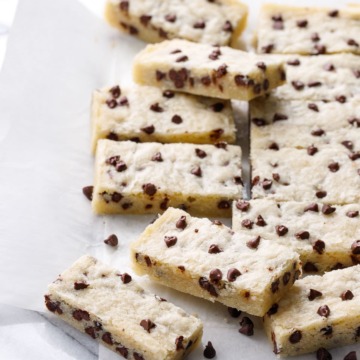 Ingredients:
1/2 cup (1 stick) unsalted butter, room temperature
3/4 cup granulated sugar
1 large egg
1 teaspoon pure vanilla extract or vanilla bean paste
1/4 teaspoon almond extract
1/2 teaspoon kosher salt
1 1/2 cups (6.75 oz) all-purpose flour
1/2 cup mini semisweet chocolate chips, plus more for topping
Directions:
Preheat oven to 350 degrees F. Line an 8-by-8-inch baking pan with parchment paper (see: lining a square pan with parchment), leaving an overhang/handle on at least two edges.
In a large mixing bowl or the bowl of stand mixer, beat butter and sugar together until light and fluffy. Beat in egg, followed by almond and vanilla extracts and salt, scraping down the sides of the bowl as needed. Add flour and mix on low speed until mostly incorporated, then add chocolate chips and mix until evenly distributed.
Press dough into prepared baking pan in an even layer. The dough is quite sticky, so it might help to lightly flour your fingertips so they don't stick to the dough; you can also use a piece of plastic wrap to help you press the dough into an even layer in the bottom of the pan.
Bake for 28 to 30 minutes or until top is puffed and matte in finish and the edges are just starting to turn a very light golden brown. Remove from oven and place on a wire rack to cool completely.
Lift out entire block of shortbread using the parchment paper as handles. Cut into 3×3 squares, then cut each square in half to make perfect dunkable sticks. Cookies will keep in an airtight container at room temperature for up to a week, or freeze for longer storage.
Did you make this recipe?
Let us know what you think!
Leave a Comment below or share a photo and tag me on Instagram with the hashtag #loveandoliveoil.