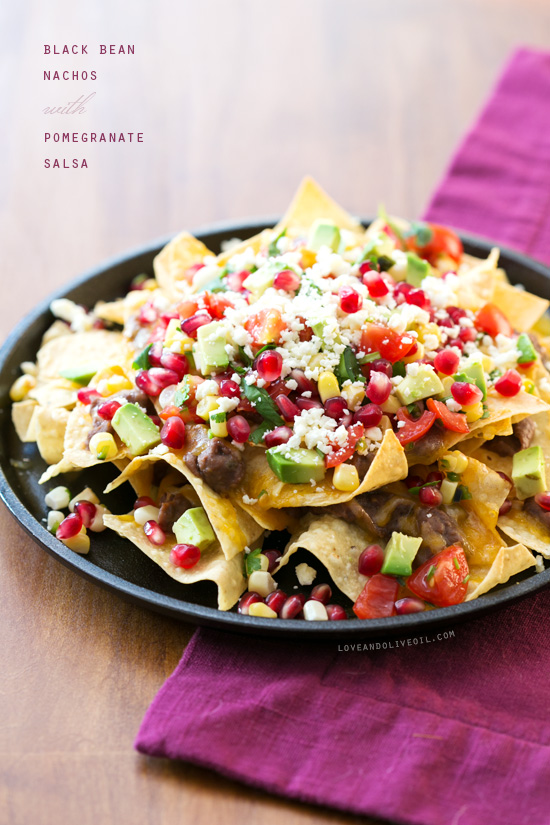 I had a dream.
And in that dream I was eating pomegranate nachos (or was I cooking them? Or just thinking about them? I can't remember exactly, but the specifics of I what I was doing with the nachos in this dream aren't as important as the nachos themselves.)
Indeed, whereas most people dream about falling or flying or fleeing or f… nevermind… where other people dream about whatever they dream about, I dream about food.
I woke up in a haze, not remembering anything else about the night's mental cartwheels except this: pomegranate nachos.
It was probably because I had been working with pomegranates the day before, having bought 4 of the precious gems for a project we've been working on (I say precious literally – the suckers are out of season and cost me a pretty penny.) I went to bed with the ruby red fruits nestled just underneath my conscious thought, and that's exactly where dreams come from, right? It's like our brain offloading the memory card from the day's experiences.
Now, where the nacho part came from… that I have no idea.
My unconscious was clearly on to something here.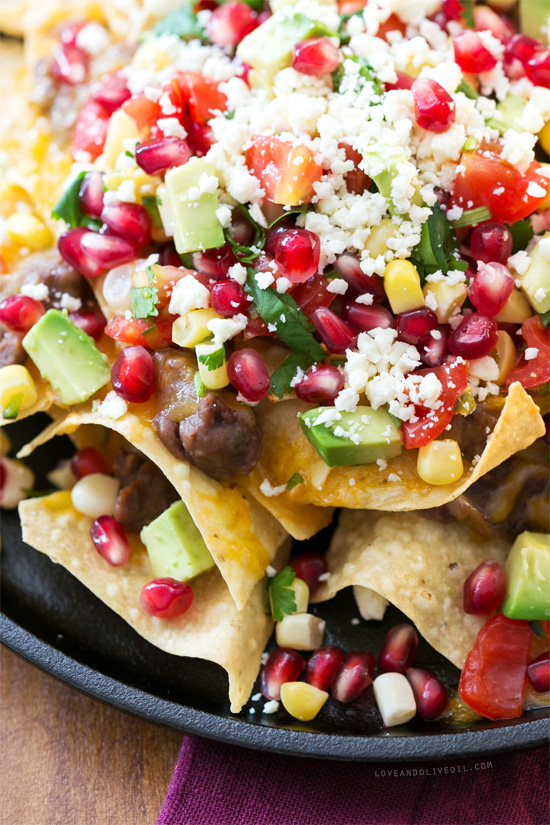 So I put the leftover pomegranates to work, and in no time my dream had become reality.
With a simple base of refried black beans and melted colby cheese to give the nachos a solid foundation, the topping is where it gets interesting: a bright salsa with pomegranates (of course), fresh corn, avocado, tomato, jalapeño, cilantro and lime juice, and a flurry of crumbled cotija cheese. It's everything the perfect nacho should be: crunchy and cheesy, spicy and salty, with a burst of fruity sweetness from the arils.
See?
This is proof.
Dreams really do come true.
Black Bean Nachos with Pomegranate Salsa
Ingredients:
1/2 (14oz) can refried black beans
1 teaspoon chipotle-flavored hot sauce
1/2 teaspoon garlic powder
salt and black pepper, to taste
3 large handfuls tortilla chips (the thinner and crispier the better)
4 ounces shredded colby cheese (about 1 cup shredded)
For Salsa:
kernels from 1 ear fresh corn, blanched*
3/4 cup pomegranate arils (from 1/2 large pomegranate)
1 small tomato, diced (about 1/2 cup diced)
1 avocado, pitted and cut into cubes
1 jalapeño, seeded and finely chopped
1/4 cup packed cilantro, chopped
juice of 1 lime
salt, to taste
2 ounces cotjia or feta cheese, crumbled (about 1/2 cup)
*Blanche corn kernels in a pot of boiling water for 1 minute. Strain and rinse with cold water to stop the cooking process. Drain well.
Directions:
Preheat oven to 400 degrees F.
Combine black  beans with 1/4 cup water in a small saucepan set over medium heat. Add hot sauce, garlic powder, and salt and pepper and stir until smooth and heated through. Remove from heat.
Arrange half of the tortilla chips on a large, oven-safe platter or baking dish. Spoon half of black beans over top of chips, then sprinkle with half of shredded cheese. Top with remaining tortilla chips, black beans, and shredded cheese.
Bake for 5 to 7 minutes or until cheese is melted.
Meanwhile, to prepare salsa, combine blanched corn kernels, pomegranate, tomato, avocado, and jalapeño in a medium bowl. Add cilantro and lime juice and toss to coat. Season to taste with salt. Generously heap salsa onto nachos, then top with cotija cheese. Serve immediately.
Did you make this recipe?
Let us know what you think!
Leave a Comment below or share a photo and tag me on Instagram with the hashtag #loveandoliveoil.