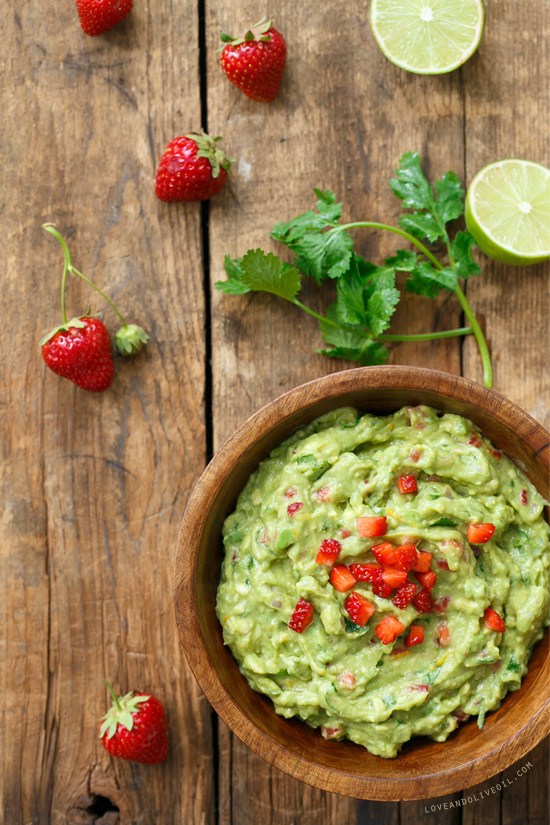 It started as a discussion trying to decide what kind of jam I wanted to make with all those strawberries. My friend Michelle asked if avocado strawberry jam was a thing. While I don't think avocados are safe for home canning, the suggestion got my brain cogs spinning. Because strawberries and avocados together sounded kind of awesome.
A quick google search brought up a strawberry guacamole recipe, with plenty of lime juice and cilantro and habanero peppers. My craving was immediate, and luckily my refrigerator provided what I needed to satisfy it. Within 10 minutes I was seated at the table head first (practically) in a bowl of the stuff.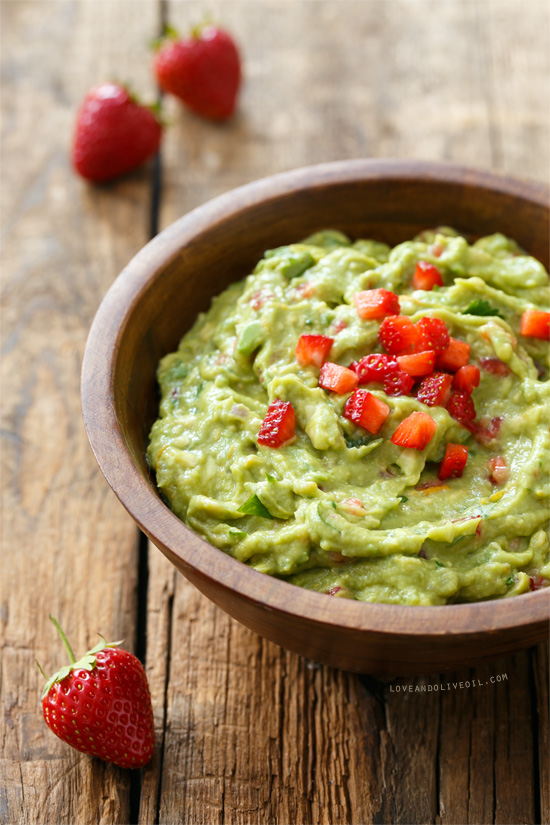 It's a very fresh-tasting guacamole. I'm sure if I had used habaneros instead of jalapenos it would have been spicier, but the gentle heat served its purpose. And yet, despite its mild nature, the flavor was very bright, heavy on the lime and cilantro (just the way I like it), with hints of sweetness from the berries.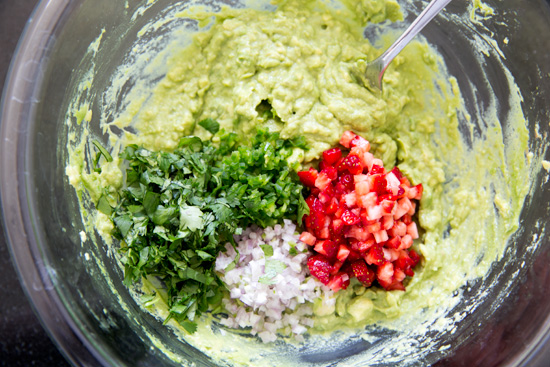 I did make quite a few changes to the original recipe (because I had to have this guac and I had to have it immediately, and unfortunately I do not keep habaneros handy at all times). I used shallot instead of red onion, jalapeno instead of habanero, increased the lime and skipped the orange zest altogether. It is definitely not your typical guacamole, weighed down with sour cream and salsa and thick with spice. Rather, this batch was light and fresh on the tongue, bright and fruity and incredible heaped on a salty tortilla chip.
Strawberry Guacamole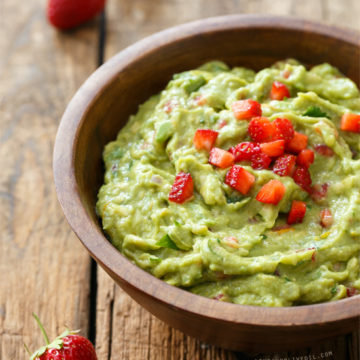 Ingredients:
2 ripe medium-large avocados, halved, pitted and scooped
1 shallot, finely minced (about 1 1/2 tablespoons)
1 fresh jalapeno or habanero, stemmed, seeded, deveined and finely chopped
1 lime, finely zested and juiced
3 tablespoons loosely packed chopped fresh cilantro
4 ounces ripe strawberries, chopped, plus a little extra for garnish
Salt, to taste
Directions:
In a bowl, mash avocados with a potato masher or a fork until coarsely mashed.
Add the shallot, jalapeno, lime zest and juice (about 2 tablespoons), chopped cilantro, and strawberries, and fold until incorporated. Season to taste with salt. Serve immediately, sprinkled with additional chopped strawberries for garnish, or cover with plastic wrap pressed directly onto the surface and refrigerate for up to 4 hours or until ready to serve.
Did you make this recipe?
Let us know what you think!
Leave a Comment below or share a photo and tag me on Instagram with the hashtag #loveandoliveoil.