What do you get when you mix tangy, spicy Korean kimchi into an ultra creamy, white cheddar mac and cheese? A downright delicious dinner, that's what!
Mac 'n cheese aficionados: this one's for you! Quite possibly the creamiest mac and cheese EVER (thanks to a super secret sciency ingredient), we've added spicy kimchi for a unique take on a comfort food classic.
Kimchi mac and cheese.
Mac and kim-cheese.
Get it?
I crack myself up sometimes.
But this pun-derful recipe is more than just a clever name. While it may have originated there, when we made our first test batch we were blown away by the combination of tangy, spicy kimchi and creamy white cheddar cheese. It's simply unreal.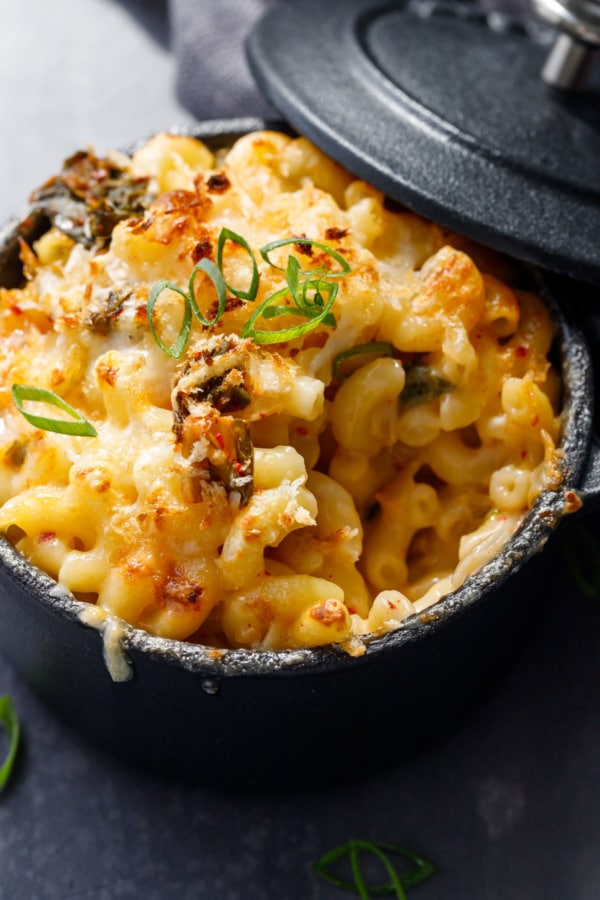 That said, this recipe did not come together easily.
I have a thing about texture, and especially when it comes to mac 'n cheese, the texture is paramount to my ultimate enjoyment.
Most mac 'n cheese recipes start out with a flour roux; this is how I've always made it (and indeed my past mac 'n cheese recipes have done just that) but for whatever reason this time I just wasn't satisfied.
Roux-based cheese sauces have a tendency to get somewhat pasty, a texture that really isn't ideal when you're craving an ultra creamy mac 'n cheese.
I tried changing proportions of flour and cheese. I tried different kinds of cheeses. I compared baked vs stovetop versions. Either I'd have a thick cheese sauce that maybe stayed creamy for 5 minutes before going pasty, or a thin and watery one; there was no perfectly creamy middle ground.
Then I discovered a secret ingredient that is nothing short of magic.
It's called sodium citrate, and it's the same brilliant ingredient that makes American cheese so dang creamy. Essentially what it does is emulsify the fat and the water present in the cheese sauce, resulting in an ultra creamy, extra stable, and not at all pasty cheese sauce; it's also much more heat-stable, meaning if you've found yourself with a greasy, broken cheese sauce before, you don't have to worry about that happening here.
This trick comes from the Modernist Cuisine cookbook, which I'll admit I do not have the space (nor the budget) for, but you can find the modern mac 'n cheese recipe on their website.
Sodium citrate is the reason that American cheese slices melt so divinely, and why Velveeta makes the smoothest, creamiest cheese sauce of all time. The benefit to using sodium citrate instead is that you get to use high quality cheeses that result in a cheese sauce with a better, more sophisticated flavor profile with the same velvety texture.
We opted for a mix of goat's milk cheddar (I love how the funkiness of the goat's milk plays off the kimchi), gruyere, and pecorino cheeses; but ultimately any cheese combination will work here (just swap out an equal weight of the cheese of your choice).
While you do have to plan ahead and order the sodium citrate, once you have it this recipe is incredibly easy, coming together much faster than any roux-based cheese sauce I've ever made.
Basically, heat up the milk and sodium citrate (and according to the original recipe you can even use water 😱). Once it's nearly simmering, stir in your cheese a handful at a time. If have an immersion blender you can use that to speed up the process, though a plain old hand whisk works fine too.
While this mac and cheese is wonderfully delicious and creamy right off the stove (and you can certainly serve it that way), I always like to finish it off in the oven with a sprinkle of shredded cheese and panko breadcrumbs—the crispy contrast of textures is simply divine.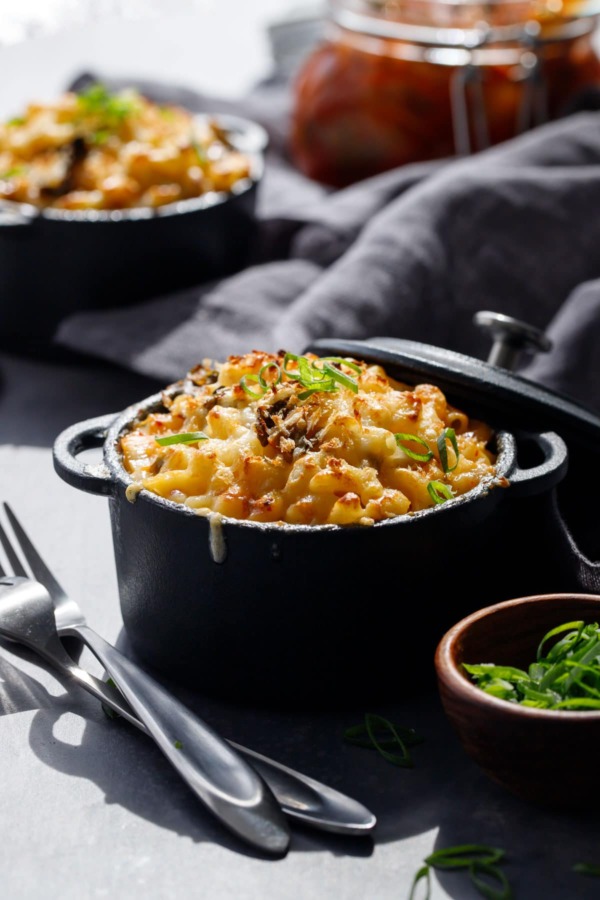 The sodium citrate also produces a far more stable cheese sauce that you can actually reheat without it breaking down into a greasy mess. Although the noodles to absorb quite a bit of the excess liquid so it won't be nearly as saucy the next day.
You can also make the cheese sauce ahead of time and it'll keep for up to a week in the fridge or 2 months in the freezer. Reheat it and fold in your noodles just before serving.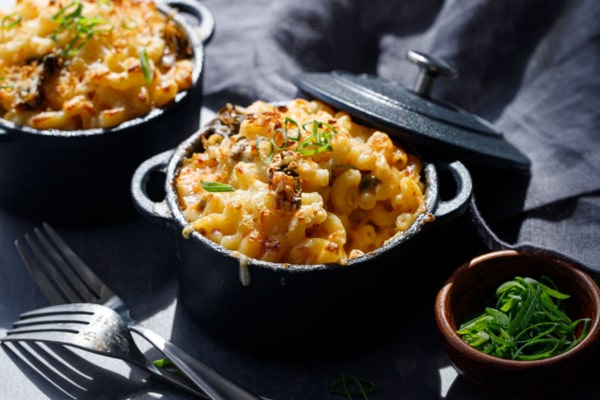 Mac and Kim-Cheese
Ultra creamy, white cheddar mac and cheese gets a spicy twist with the addition of Korean kimchi!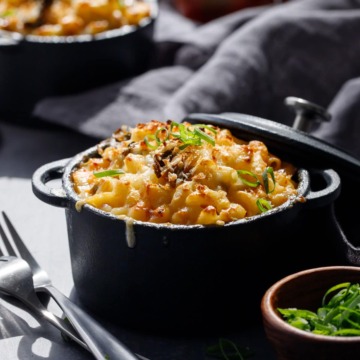 Ingredients:
8 ounces elbow macaroni
3/4 cup milk**
1 teaspoon sodium citrate
6 ounces goat's milk or regular white cheddar cheese, shredded (about 3 cups shredded), divided
2 ounces gruyere cheese, shredded (about 1 cup shredded)
1/2 ounce pecorino cheese, finely shredded (about 1/4 cup)
1/2 cup drained and coarsely chopped kimchi
1/4 panko breadcrumbs, for topping
thinly sliced green onions, for topping
Directions:
Bring a pot of salted water to a boil. Cook macaroni according to package instructions, draining it once it is just barely al dente. If you will be baking the final mac, take it out about 30-60 seconds earlier (since it will cook a bit more in the oven).
In a medium saucepan, combine milk and sodium citrate. Cook over medium heat, whisking occasionally, until sodium citrate is dissolved and milk just starts to form small bubbles around the edges (don't let it fully boil).
Reduce heat to low and add cheese, one handful at a time, whisking until each handful is fully melted before adding the next. If you will be finishing your mac and cheese in the oven, hold back about 1/4 cup of cheese for topping; otherwise you can mix all the cheese into the sauce.
Fold in drained macaroni, followed by kimchi.
Serve immediately, or, to finish it off in the oven, preheat broiler. Lightly butter 3 to 4 oven-safe cocottes or a 2 quart casserole dish. Pour macaroni into prepared dish. Sprinkle with reserved cheese and breadcrumbs.
Broil for 3 to 5 minutes or until breadcrumbs are browned and cheese is bubbly on the top (keep a close eye on it as the breadcrumbs will go from brown to burnt in the blink of an eye).
Let cool for 5 minutes before serving.
**If you will be finishing the dish in the oven and if you prefer a thinner, more ample sauce, you can increase the milk to 1 cup.
Did you make this recipe?
Let us know what you think!
Leave a Comment below or share a photo and tag me on Instagram with the hashtag #loveandoliveoil.