Traditional chilaquiles feature fried tortillas in a spicy ranchero sauce. We like ours extra crunchy and topped with scrambled eggs, two kinds of cheese, sour cream, fresh radish and cilantro.
Most often thought of as a breakfast dish, we like to think chilaquiles can be served any time of day and customized with whatever toppings your tastebuds like best. You can use jarred enchilada sauce if you like, but our homemade version is easy and flavor-packed.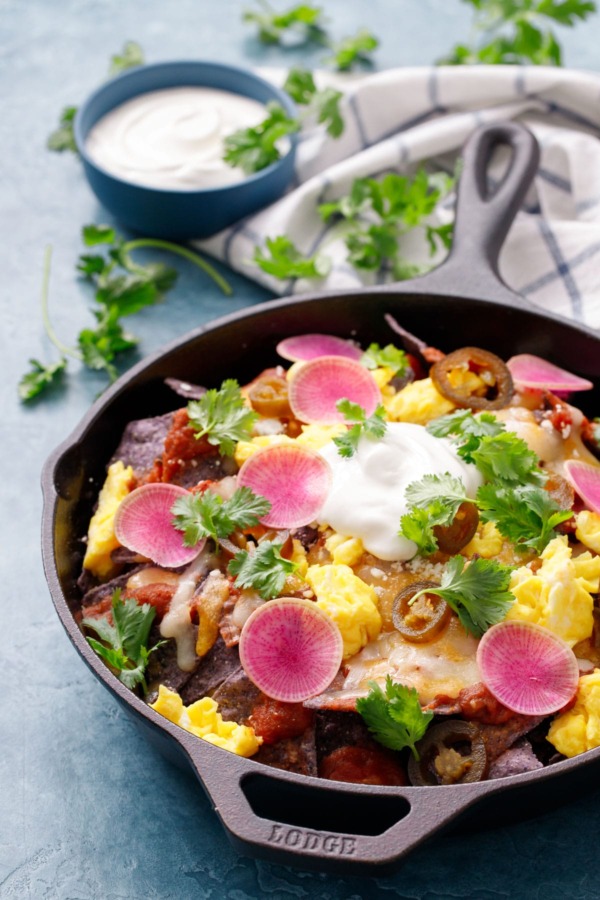 But are they chilaquiles, or are they nachos?
Traditional chilaquiles are a Mexican breakfast dish born out of necessity: to use up leftover tortillas from the night before. Normally the tortillas are fried until crisp and then cooked in a spicy sauce until no longer crisp. I personally dislike soggy tortilla chips, which is why our version has noticeably less sauce than most so the chips retain their crunch.
If you're a stickler for tradition and refuse to call these true chilaquiles, then breakfast nachos it is! Noted and acknowledged; but whatever you call them, they're delicious any time of day.
We topped our breakfast nachos with scrambled egg (which seemed easier to eat than fried, but you could use either) as well as sour cream, cilantro, and, our secret flavor weapon: pickled jalapeños. I could put these things on just about anything and it'd improve the overall flavor.
For more meaty flavor you could even add something like ground chorizo or shredded smoked chicken, or refried black beans for a vegetarian protein addition.
So I fully admit the radishes are there for appearances only.
In Taylor's words… radishes aren't worth the dirt they grow in.
Taste-wise, maybe, although they do add a nice sharp contrast to the rich cheese, egg and sour cream.
But they're more for looks than anything (and you have to admit, this recipe wouldn't be half as pretty without them.) These watermelon radishes in particular, which are basically the reverse of the typical radishes you're used to: plain and white on the outside, with a stunning fuchsia starburst on the inside. Talk about gorgeous.
We baked and served ours in a cast iron skillet, but you could also easily use a rimmed baking sheet as well (a thinner layer of chips means a more even distribution of toppings).
We're now one step closer to being able to enjoy nachos any time of day. Just need to tackle the quandary that is dessert nachos. Hmm…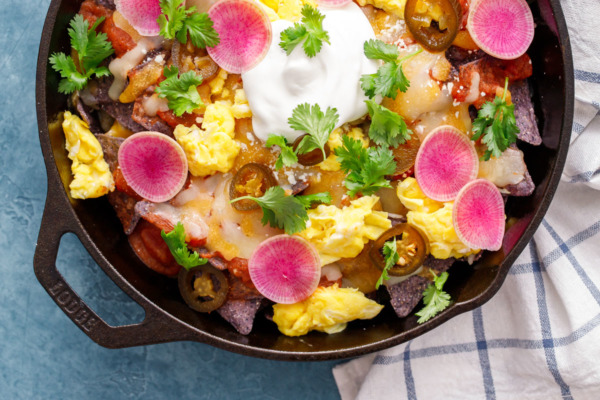 Chilaquiles (Breakfast Nachos)
Fried tortilla chips in a spicy ranchero sauce topped with scrambled eggs, two kinds of cheese, sour cream, pickled jalapeños, fresh radish and cilantro.
Ingredients:
For Sauce:
1 small onion, quartered
3 hatch or anaheim peppers, halved and seeds removed
3 large garlic cloves, smashed
1 (14 ounce) can fire-roasted diced tomatoes
1 tablespoon vegetable oil
salt and black pepper, to taste
For Chilaquiles:
1/2 bag tortilla chips
1/2 cup shredded Mexican blend cheese
2 tablespoons crumbled cotija or queso fresco cheese
4 large eggs
1 tablespoon butter
12-16 pickled jalapeño slices
1 watermelon radish, thinly sliced
fresh cilantro leaves, for garnish
sour cream
Directions:
Preheat broiler. Line a baking sheet with aluminum foil and lightly brush with oil or spray with cooking spray. Arrange onion, peppers, and garlic in a single layer, and broil for 5 to 10 minutes or until peppers and onions are softened and starting to blister (if the peppers are cooking quicker than the onions, you may want to remove them from the baking sheet and cook the onions a little bit longer).
Transfer onions, peppers and garlic to a blender along with canned tomatoes. If you prefer a chunkier sauce, only add half the tomatoes, reserving the rest to add back after blending. Purée until smooth. Pour into a saucepan and set over medium heat. Bring to a simmer and let bubble, stirring regularly to avoid splattering, for 10 minutes. Season to taste with salt and pepper.
Preheat oven to 400 degrees F. Lightly oil a cast-iron skillet or other oven-safe pan. Arrange a layer of tortilla chips in pan. Drizzle with about 1/4 cup of sauce sauce, then sprinkle with half of shredded cheese and half of cotija cheese. Top with another layer of tortilla chips, and repeat.
Bake for 5 to 10 minutes or until cheese is melted and bubbly.
Meanwhile, preheat a nonstick skillet over medium heat. Whisk eggs until uniform in color. Add butter to hot skillet until melted and sizzling, then add eggs. Let cook for 30 seconds, then start scraping the bottom of the pan with a spatula, flipping the cooked pieces of egg so the uncooked parts come in contact with the pan. Continue scraping and flipping for another 1-2 minutes, breaking up any large pieces of egg, until just cooked through.
Remove skillet from oven and spoon scrambled eggs over top. Scatter jalapeño and radish slices over top, sprinkle with cilantro, and finish with a generous dollop of sour cream in the middle. Serve immediately.
Did you make this recipe?
Let us know what you think!
Leave a Comment below or share a photo and tag me on Instagram with the hashtag #loveandoliveoil.