My favorite soft amaretti cookies get a bright and fruity twist with the addition of freeze-dried raspberries.
Almond and raspberry make for a perfect pairing, these luscious little cookies are proof of that. The punch of vibrant raspberry flavor comes from ground up freeze-dried raspberries, which offer an intense flavor without adding any extra moisture.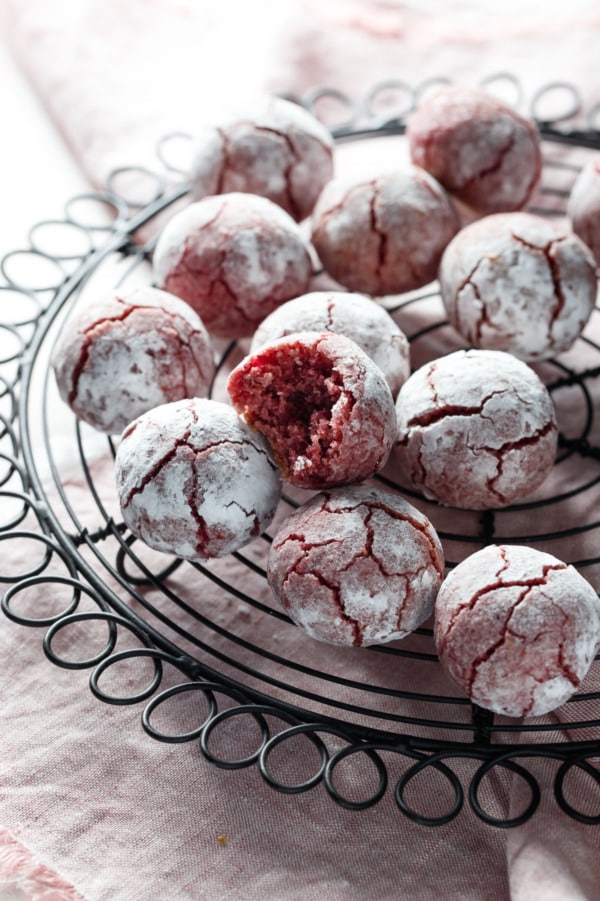 In follow up to last week's soft amaretti cookie recipe, I thought I'd offer up this unique variation: raspberry amaretti!
It's basically the exact same recipe with the addition of ground up freeze-dried raspberries.
But that one little change makes a huge difference. I honestly can't decide if I love the originals better or this bright and fruity variation (I'll have one of each, please… don't make me decide).
In fact, these turned out so well I'm tempted to try more variations. Blueberry, maybe? Or what about a chocolate version? Maybe I'll work on that one for next year!
Sure, they look a little bit like smoldering meteors from mars (or ready to hatch dinosaur eggs), but taste a heck of a lot better (I assume, I've never actually tasted a smoldering meteor).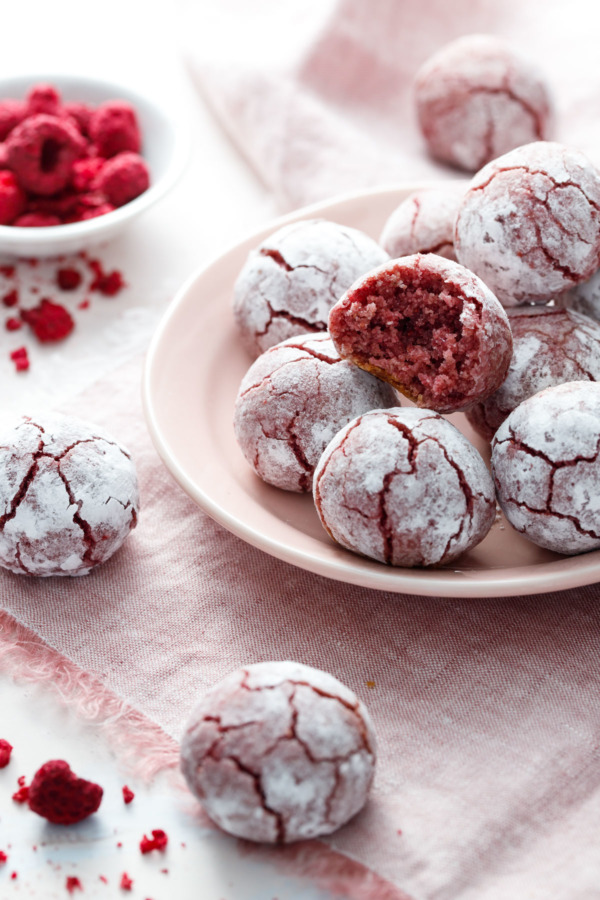 The rich burgundy color will soften when baking (the longer you bake them the less red they will be), but you can add a drop or two of red or pink food coloring if you want a more intense color.
I also found that the cookies look better with a nice thick layer of powdered sugar (vs the original amaretti which just need a light coating). The bold red really shows through the cracks!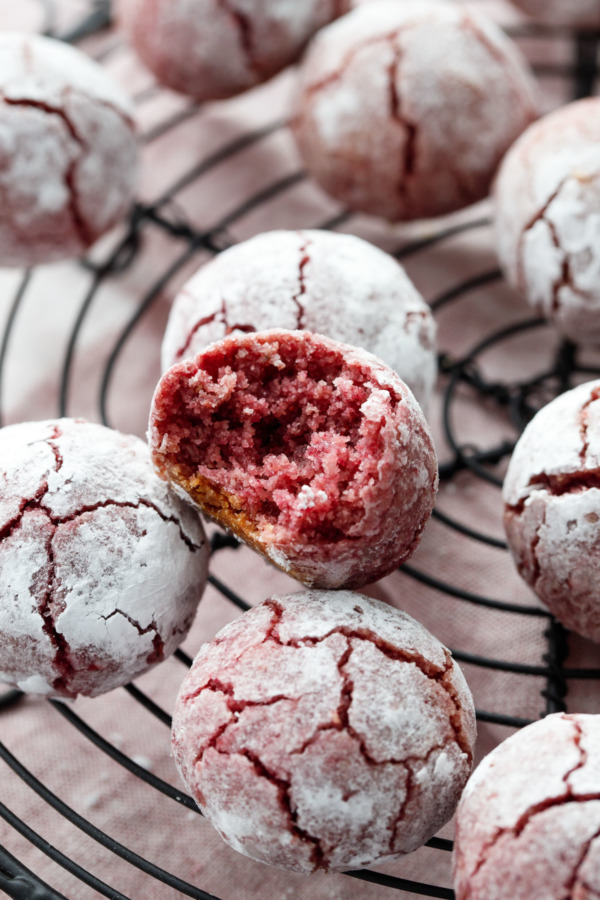 I will emphasize that freeze-dried raspberries are necessary here. Not dried or fresh or frozen (which would add far too much moisture and result in a wildly different cookie.)
You can buy freeze-dried raspberries (I like the ones at Trader Joe's) and grind them up yourself in a clean spice grinder. You can also buy pre-ground raspberry powder which will work here as well. You'll need about 1 ounce of raspberries or 1/4 cup of powder for one batch of these cookies.
Also, if you happen to have freeze dried blueberries or strawberries, they'll work here too!
Want to see how these amazing little cookies are made (along with the original, chocolate and matcha variations)? Check out the video: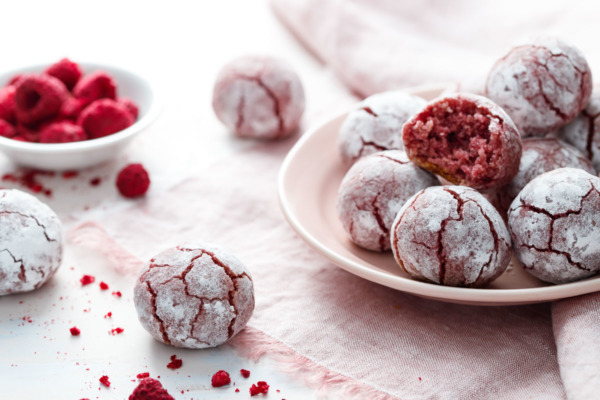 Raspberry Amaretti Cookies
Soft, chewy almond cookies with a punch of bright raspberry flavor (thanks to the addition of freeze-dried raspberries!)
Ingredients:
2 1/4 cups (200g) almond flour or very finely ground almonds, sifted
1 cup (200g) granulated sugar
1 ounce freeze-dried raspberries, very finely ground (about 1/4 cup of ground raspberry powder)
pinch salt
2 large egg whites (about 60 grams)
1/4 teaspoon lemon juice
1/2 teaspoon almond extract
confectioners' sugar, as needed
Directions:
Preheat oven to 300 degrees F. Stack two matching, heavyweight, light to medium colored cookie sheets one inside the other (stacking two cookie sheets together keeps the bottoms of the cookies from getting too brown). Line with parchment paper or a silicone baking mat.
Finely grind freeze dried raspberries in a food processor or spice grinder until finely ground powder.
In a large bowl, whisk together almond flour, sugar, salt and freeze dried raspberries until evenly incorporated.
In a mixing bowl or the bowl of a stand mixer fitted with the whisk attachment, whisk egg whites and lemon juice until they hold soft peaks.
Add beaten egg whites and almond extract to dry ingredients and stir until mixture forms a soft, sticky dough, kneading with your hands if necessary. No need to be gentle here, we're not making macarons. ;)
Lightly dust your hands with powdered sugar. Use a small cookie scoop to portion dough into 1-inch balls. Roll into a smooth ball, then roll in powdered sugar. Arrange on parchment or silicon-lined baking sheets, leaving 1 inch of space between cookies.
Bake for 30 to 35 minutes until tops are cracked and bottoms are just barely golden (if you are NOT using doubled cookie sheets your cookies will brown much quicker, and will likely only need 25 minutes, so watch them closely). If you prefer crunchier cookies you can give them an extra 5 minutes or so or until the tops begin to brown too. Remove from oven; let cool a few minutes, then transfer to wire racks to cool completely.
Cookies will keep at room temperature in an airtight bag or container, for up to 5 days.
Did you make this recipe?
Let us know what you think!
Leave a Comment below or share a photo and tag me on Instagram with the hashtag #loveandoliveoil.