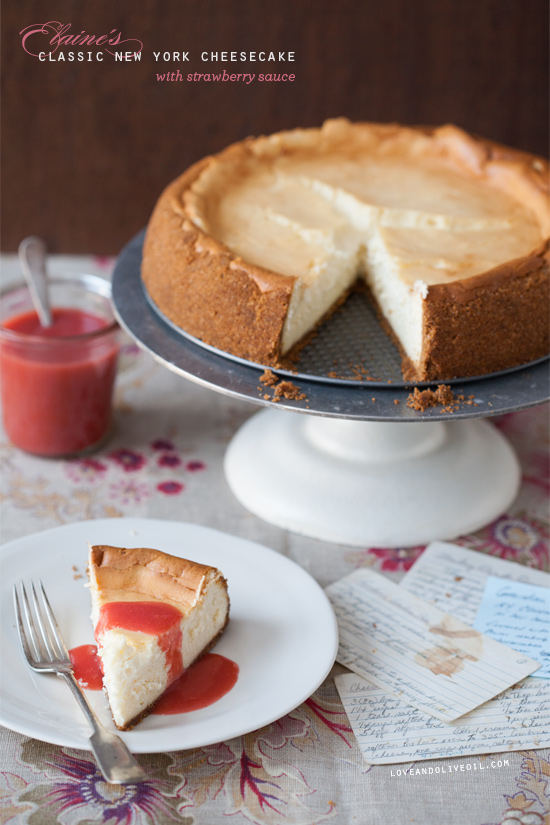 This recipe comes from my grandma Elaine. She's turning 90 this July, and we're all going out to New York to celebrate. Will there be cheesecake? I sure hope so, and knowing Grams, there will be no shortage of sweets.
To call these recipe cards well-loved would be an understatement. The neat pencil script is smudged from years of use and the paper is covered in splashes and splotches of vanilla extract. My mom made this cheesecake, 4 of them to be precise, every morning before her shift at the deli in the 70's. With a hand-mixer, no less.
She even told me that after she left her job at the deli (refusing to sell the 'secret' recipe to the owners), one of her regular customers begged her to share the recipe with him. He was so adamant about getting the recipe for his favorite cheesecake, that he snuck in when she wasn't looking and copied it. The nerve! Luckily she didn't hold a grudge as he was our family's dentist for many years (dentists like sweets too, apparently).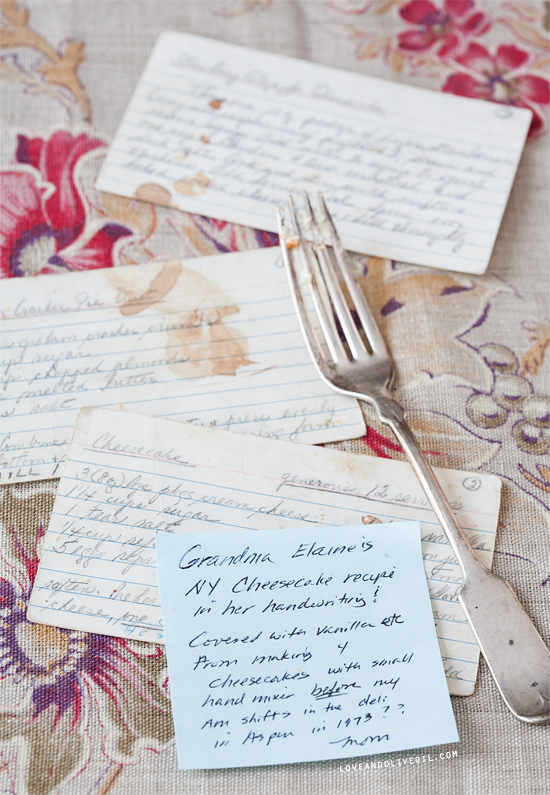 Grandma's index cards paired with mom's post-it note. That about sums it up right there.
And here I am, adding my own story to the mix in the form of a blog post, making 3 generations of stories and memories written between the lines of one incredible cheesecake recipe. There's history and tradition and plenty of love all baked up in a graham cracker crust.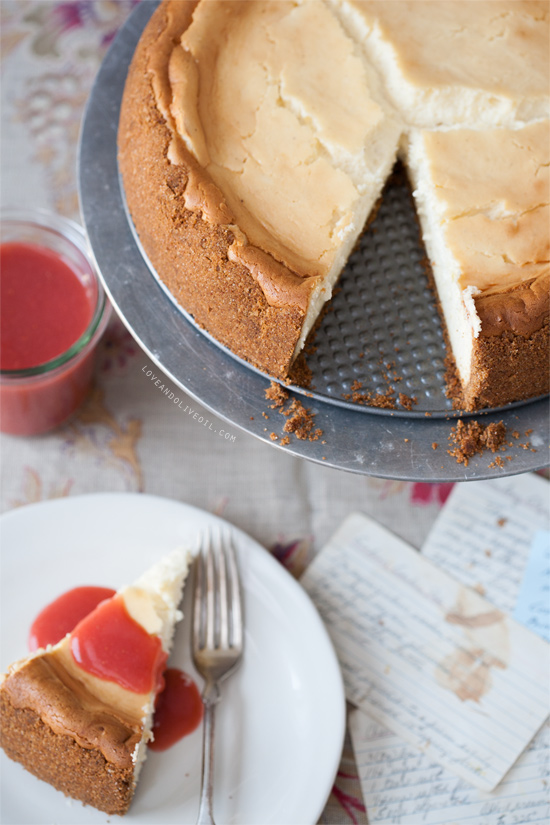 This cheesecake is perfectly imperfect. The egg whites make the cake puff, almost souffle-like, cracking and settling as it cools. Glamor shot it is not. But, as my mom says, that's what the sauce is for.
It's velvety smooth and surprisingly light, and not too sweet; rather, slightly tangy with a hint of almond. It could most certainly be doctored with a multitude of sauces, but for me, personally, there's something so satisfying about the classic combo of cheesecake and strawberry.
Not your grandma's cheesecake? No, it's MY grandma's cheesecake.
Elaine's New York Cheesecake with Strawberry Sauce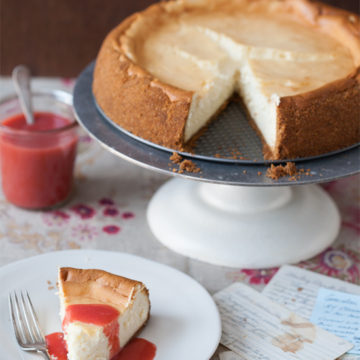 Ingredients:
For Crust:
1 1/2 cups graham cracker crumbs (about 7 ounces)
1/4 cup granulated sugar
1/4 cup slivered almonds, finely ground
1/4 teaspoon kosher salt
5 tablespoons unsalted butter, melted
For Cheesecake:
3 (8-ounce) packages plain cream cheese, room temperature (it is VERY important that the cheese be at room temperature; take the packages out of the fridge at least 1 to 2 hours or more before you start preparing the cake).
1 1/4 cups granulated sugar, divided
1 teaspoon kosher salt
1/4 cup all-purpose flour, sifted
5 large eggs, separated
1 cup sour cream
2 1/2 tablespoons lemon juice
1 teaspoon vanilla extract
1/2 teaspoon almond extract
1/4 teaspoon ground nutmeg
For Sauce:
1 (10-ounce) package frozen strawberries, thawed
1/4 cup cornstarch
dash salt
Directions:
Combine graham cracker crumbs, sugar, ground almonds, and salt in a bowl. Drizzle melted butter and stir until evenly moistened. Press into the bottom and up the sides (as far as it'll go) of a lightly buttered 10-inch springform pan. Refrigerate for at least 1 hour to set.
Preheat oven to 325 degrees F.
In a large mixing bowl or the bowl of a stand mixer, combine cream cheese, 1 cup of sugar, and salt and beat until smooth. Add flour and egg yolks and mix thoroughly. Stir in sour cream, lemon juice, vanilla, almond extract, and nutmeg and beat until smooth.
In a separate bowl, beat egg whites with remaining 1/4 cup sugar until it form stiff peaks. Fold thoroughly into cream cheese mixture (no need to be terribly gentle with it, but you do want the whites to be evenly incorporated). Pour into chilled crust.
Bake cheesecake for 1 hour 15 minutes or until top is puffed and lightly golden brown. There will be cracks, but that's ok (that's what the sauce is for, right?) Without opening the oven door, turn the oven off, and let the cheesecake sit in the oven as it cools for 1 hour. Do not take the cheesecake immediately out of the hot oven or it will fall. After 1 hour, transfer to a wire rack and let cool completely, then refrigerate for at least 1 to 2 hours or overnight before slicing.
To prepare strawberry sauce, drain thawed strawberries, reserving any liquid. Add enough water so the liquid equals 1/2 cup. Place in blender along with berries and purée until smooth. Transfer mixture to a saucepan set over medium-high heat. Whisk in cornstarch and salt and cook until mixture thickens and just starts to bubble. Remove from heat and let cool before spooning over chilled cheesecake.
Did you make this recipe?
Let us know what you think!
Leave a Comment below or share a photo and tag me on Instagram with the hashtag #loveandoliveoil.