This easy weeknight pasta recipe will satisfy all your senses: with chunky bits of bacon and delicate wilted frisée and a mountain of freshly shredded Pecorino cheese.
Quick and easy is the name of the game with this orecchiette pasta dish. It's satisfying and flavorful, and even manages to get some greens in there in a surprisingly delicious way.
Much like escarole, frisée is a unique, sturdy green that's a bit too bitter to really enjoy as part of a salad. For me at least!
And other than soup, pastas are our favorite way to handle these slightly-bitter greens; in this case, slightly wilted and coated in bacon-y goodness which really does wonders to allay the bitterness.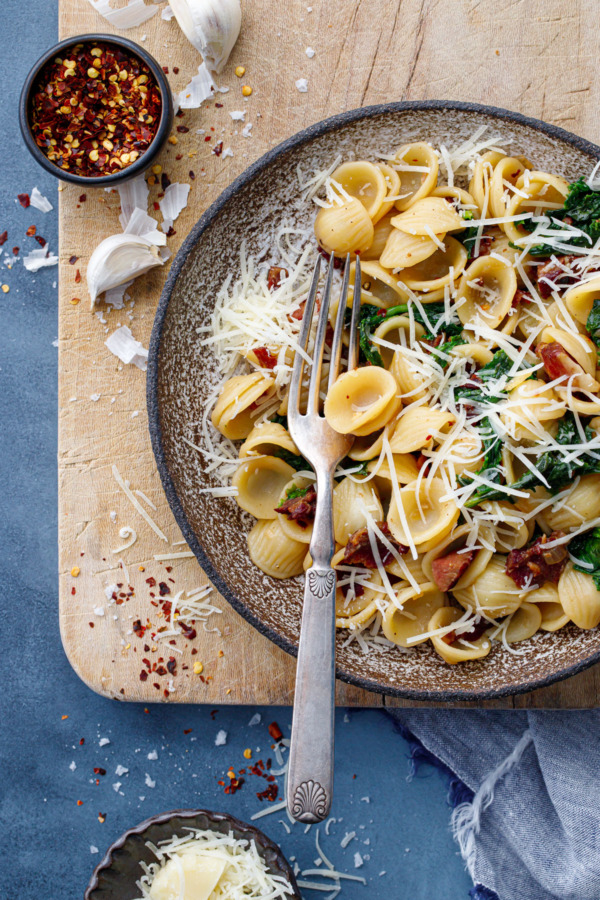 We first made this pasta months ago; I even shot it and wrote up a draft, but never published it because something just wasn't quite right. Turns out, it was the pasta shape that was the problem. We originally used bucatini, which is one of our all-time favorite pasta shapes, but when used in this recipe it makes it really hard to get a nice 'bite' that includes all the goods in a single forkful. All the bits and toppings tend to settle in the bottom of your bowl.
That's where orecchiette is so perfect: the little pasta 'ears' basically serve as scoops for the good stuff.
Anyone else reminded of those little rubber poppers you'd get from the quarter machines? You know, the ones you'd flip inside out, set on the table then hold your breath until they went flying? Just me?
Also: I will never spell orecchiette right on the first try. Heck, I can barely spell it right on the second, I usually end up having to google it and copy the spelling from there. It's even worse than mozzarella or prosciutto!
Orecchiette: impossible to spell, effortless to eat.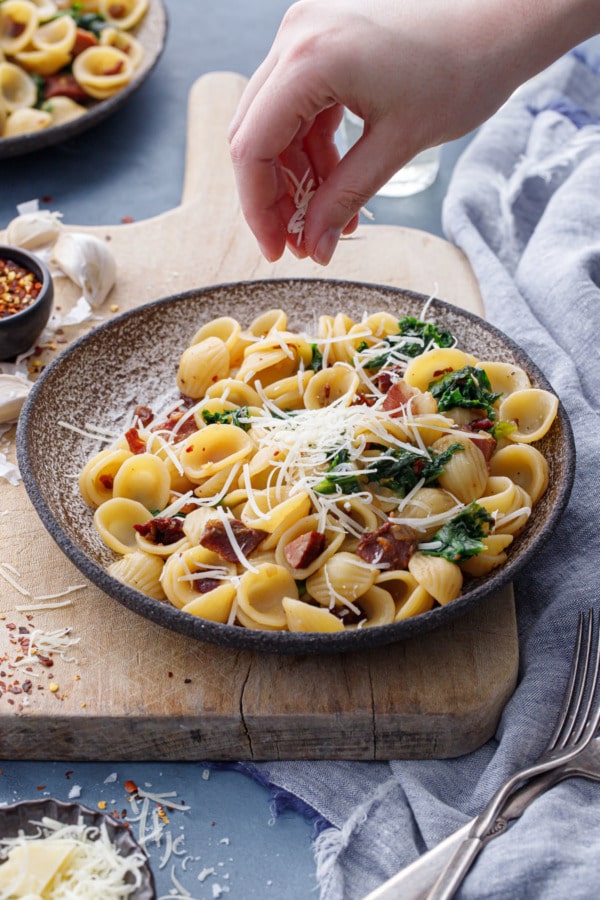 Frisée is a beautiful ruffly green, with a hint of bitterness and bite that's easily tempered with a quick application of heat (via wilting or blanching).
Escarole would be the closest substitution, but if you can't find either, something like arugula or even spinach or kale would work well here too.
We used some chunky bacon ends and pieces, one of our favorite finds from our Caney Fork Farms meat CSA (the frisée is from Caney Fork too!)
Unlike regular sliced bacon, these bits and pieces are thicker and chunkier, and they really make for deeply satisfying dishes like this one. That said, it's not something I've ever seen at a grocery store, in which case just find some nice thick cut bacon and chop it up yourself.
I also think this recipe would be fabulous with some cubed pancetta or crumbled Italian sausage in place of (or in addition to) the bacon.
Orecchiette with Bacon and Wilted Frisée
This easy weeknight orecchiette will satisfy all your senses: with chunky bits of bacon and delicate wilted frisée and a mountain of freshly shredded Pecorino cheese.
Ingredients:
12oz dried orecchiette
6 ounces coarsely chopped bacon pieces
1-2 tablespoons olive oil, as needed
1 large shallot, minced (about 2 tablespoons minced)
3 garlic cloves, minced (about 1 tablespoon minced)
1/4 teaspoon red pepper flakes
1 head (6oz) frisée or escarole, torn into 1 to 2-inch pieces
shredded pecorino cheese, for topping
Directions:
Bring a large pot of generously salted water to a boil. Add orecchiette and cook until al dente according to package instructions (I usually do 1 minute less than the package says). Before draining, reserve 1 cup of pasta liquid and set aside.
Meanwhile, preheat a large skillet over medium-high heat. Add bacon and cook until browned.
If your bacon is particularly fatty, spoon out some of the excess fat. If your bacon was lean and there isn't much liquid fat left in the pan, add a glug or two of olive oil.
Add shallot, garlic, and red pepper flakes and cook until fragrant, about 3 minutes.
Stir in 3/4 cup pasta water; let simmer until slightly reduced.
Add frisée and cook until slightly wilted, 2 to 3 minutes.
Add drained orecchiette and stir until coated, adding a splash or two of pasta liquid as needed if it seems dry.
Transfer to serving bowls and top generously with Pecorino cheese and serve.
Did you make this recipe?
Let us know what you think!
Leave a Comment below or share a photo and tag me on Instagram with the hashtag #loveandoliveoil.