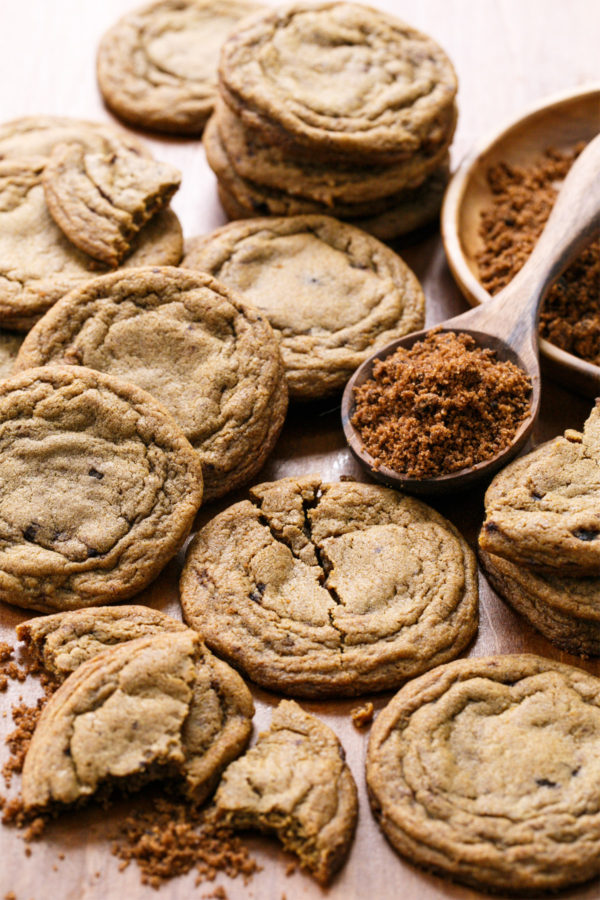 I will always, ALWAYS, choose a chewy cookie over a crispy one.
And these are the absolute chewiest.
Muscovado sugar is my new love, my new obsession, and I'm all for using it anywhere and everywhere I can (because it's delicious, for one, but also because I bought a case of 10 and Taylor's been dropping not-so-subtle hints that I need to use it up. You know, seeing our serious lack of storage space and all, he says I should have consulted him before making such a purchase… I say, 'here, husband, have a cookie because your cranky pants are showing.')
The recipe originally called for dark brown sugar, which has a delightfully molasses-y flavor as is, but muscovado sugar takes it up even another notch, so much so that you'd swear these were some glorious new kind of gingerbread, but with the texture of a perfectly chewy chocolate chip cookie (minus the chips).
Both brown sugar and muscovado sugar (along with other liquid sweeteners like honey and molasses) are much more hydroscopic than white sugar, meaning they hold on to moisture like a sponge. And that sweet sponge means your cookies are going to stay soft and chewy for days.
They are a bit deceiving, I'll admit, with dark brown spots that could very well be be chocolate chip or *gasp* little raisins. But no, it's just the chunky nature of the un-refined sugar that leaves pockets of molasses-y goodness throughout the cookies. I tried to pick out the biggest chunks as I beat the butter and sugar, but it's pretty much impossible to get them all. But that's ok, embrace the chunks.
Also, can molasses-y please be a word? Because I really don't have a better one to describe the rich depth of flavor in these cookies.
The recipe was based on a cookie I received a few years ago from Billy at Wit & Vinegar during the Great Food Blogger Cookie Swap. He got the recipe from Joy the Baker who in turn got it from Epicurious. And that recipe? Came from none other than the official Cookies for Kids' Cancer Best Bake Sale Cookbook (CFKC, of course, being the charity which the cookie swap supports).
Talk about full circle.
Or semi-circle, once I've taken a bite out of it.
Chewy Muscovado Sugar Cookies
Soft and chewy cookies with a rich molasses flavor made with unrefined muscovado sugar.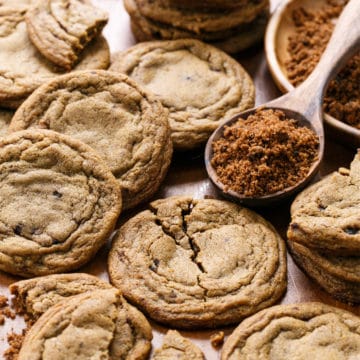 Ingredients:
2 cups all-purpose flour
2 teaspoons baking soda
1/2 teaspoon kosher salt
1/2 teaspoon ground ginger
1/2 teaspoon ground cinnamon
3/4 cup (1 1/2 sticks) unsalted butter, room temperature
1 1/4 cups packed muscovado sugar or dark brown sugar
1 large egg, room temperature
Directions:
Preheat oven to 350 degrees F. Line baking sheets with parchment paper or a silicone baking mat.
In a bowl, whisk together flour, baking soda, salt, ginger and cinnamon and set aside.
In a large mixing bowl or the bowl of a stand mixer fitted with a paddle attachment, beat the butter and sugar until smooth and creamy. Add the egg and beat well, scraping down the sides of the bowl as needed. Add dry ingredients to the butter mixture and beat until everything is well incorporated. Scrape down the sides of the bowl and beat again. Cover dough and refrigerate for at least 30 minutes until slightly firmer.
Drop large teaspoonfuls of dough prepared cookie sheet, leaving about 2 inches of space between them. Bake until center is flat and edges are just beginning to darken, 8 to 10 minutes, or slightly longer if you prefer crispier cookies. Let cool then transfer cookies to a wire rack to cool completely. Repeat with remaining dough.
Cookies will keep in an airtight container for up to 5 days.
Did you make this recipe?
Let us know what you think!
Leave a Comment below or share a photo and tag me on Instagram with the hashtag #loveandoliveoil.