Homemade hot drink mixes make a perfect holiday gift, in 3 delicious flavors including sakura matcha latte, salted vanilla hot cocoa, and unicorn white hot chocolate. Just add hot milk!
If you're looking for a cute and clever homemade gift idea, these sweet drink mixes are just the ticket! Packaged in cute glass jars with colorful gift tags (free printable download at the bottom of this post!) they'll warm the hearts (and stomachs) of anyone lucky enough to receive them.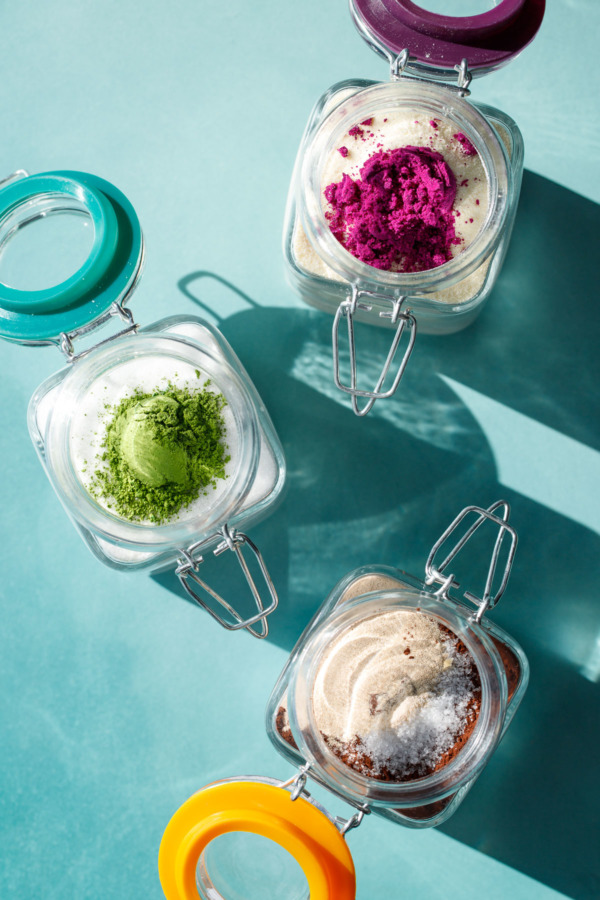 For these adorable and giftable drink mixes, I took 3 of my most popular drink recipes (including the infamous unicorn hot chocolate as well as my sakura matcha latte and salted vanilla hot chocolate) and remade them as powdered drink mixes that are super easy to make (the hardest part is tracking down the various powders and jars) and perfect for gifting!
As easy as the mixes themselves are to make, they are even easier to turn into a delightful hot beverage: just add hot milk! You can even use almond, soy, or coconut milks… whatever your heart desires (do note the unicorn mix does have milk powder in it so it is not dairy free).
Personally I like to mix the powder with about 1 ounce of the hot milk first (you'll make something like a thin paste), and then whisk in the remaining milk. This keeps the mix from getting clumpy (this is especially helpful for the salted vanilla cocoa, the others dissolve quite a bit more easily).
For iced versions, you can also pour over ice (I love me an iced matcha in the summer), or even blend it up with some ice or vanilla ice cream (hello frozen hot chocolate!)
The unicorn hot chocolate was perhaps the trickiest recipe to convert to powdered form, since it originally called for pink gel food coloring as well as white chocolate syrup.
I played with a few different options for the powdered coloring, including powdered food color (which is oh so messy and hard to come by in pink), as well as ground beet powder and raspberry powder. But what ultimately gave me the best color was powdered dragonfruit. It does make for a slightly speckled appearance, but the cotton candy pink is exactly what I was going for. The quantity in the recipe is so minimal that it really doesn't affect the flavor of the drink at all (the same was true for the beet powder, thankfully, and you could certainly substitute that if you prefer, it just results in more of a light red color vs a cotton candy pink).
I totally took the opportunity to showcase some of my handmade pots from my ceramics class… If you can believe it, all 3 of these unique little cups were handmade by me! They're far from perfect but I am darn proud of them, and giddy that I could find a way to work them into a post. :)
I've been taking ceramics classes for about a year now, and have definitely made progress since my first sad attempts on the wheel.
When class starts up again in January, Taylor has given me specs for his perfect coffee cup (nice curve, no handle, with a clean modern glaze). I'm not sure I can make the clay do what I want it to do (up until now I just kind of go with whatever it decides it wants to be), but I'm going to give it a try… we'll see what happens!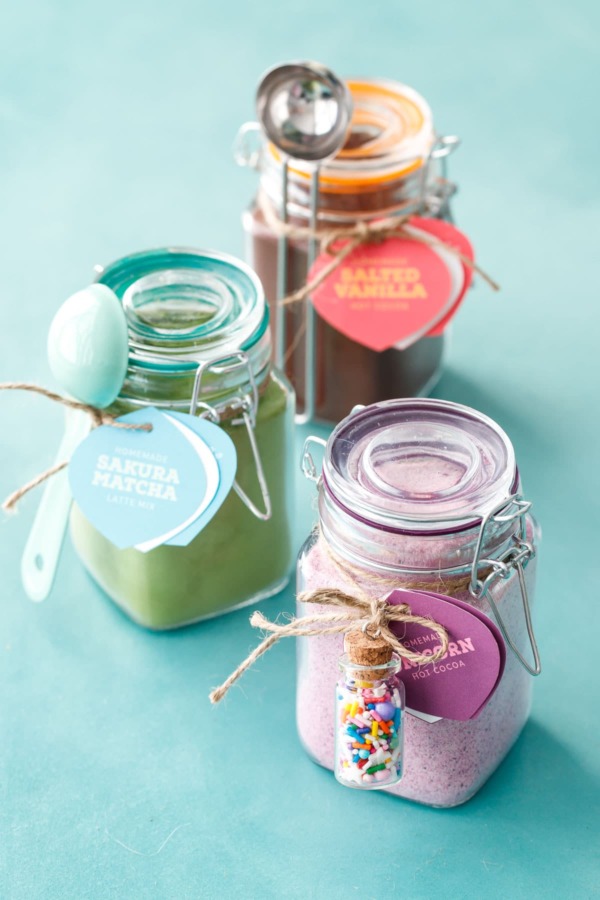 Anyway, back to the drink mixes!
Presentation is key! While you could certainly just plop the powder in a bag and hand it over to your next door neighbor, handmade food gifts are all the more charming when the packaging reflects the deliciousness inside.
I packaged the matcha and cocoa with 1 tablespoon measuring spoons (coffee scoops are pretty easy to find or you can even steal a tablespoon from one of your measuring spoon sets, as I did with the turquoise one). If you really want to turn this into an extra special gift you can find hand-carved wooden spoons and gorgeous ceramic spoons on Etsy (speaking of ceramics, I'm so totally going to try to make some ceramic spoons next year… although not sure what I'll do about getting it to hold exactly 1 tablespoon since clay shrinks about 10-12% after firing. Hmmm…)
Can you tell I love spoons? Lol.
For the unicorn hot chocolate, however, I figured I needed to include sprinkles somehow! So I tracked down some little glass jars that came with cork stoppers and eye screws, and filled them with rainbow sprinkle mix.
I sort of want to start wearing the little sprinkle jar as a necklace it's so darn cute. That's cool, right?


I love adding a little bit of sakura leaf powder (made from ground up leaves from Japanese cherry trees, which, believe it or not, actually has more flavor than the blossoms themselves, plus its green so it perfectly matches the matcha!) It's a hard flavor to describe, not floral at all, nor does it really taste much like cherries either. It's almost like a super mild cinnamon, with a hint of vanilla and toasted almond and subtle fruity notes of cherry and apricot.
You could certainly make the matcha mix without the sakura powder (or even add a bit of the vanilla powder instead), but I really love the unique flavor notes it adds and think it's definitely worth tracking down.
One 8oz jar of matcha mix gives you about 16 servings (1 tablespoon of mix per cup of milk).
The other two need 3 tablespoons of mix per 6 ounces of hot milk (they are much richer and sweeter as well, so you probably don't want to drink more than that).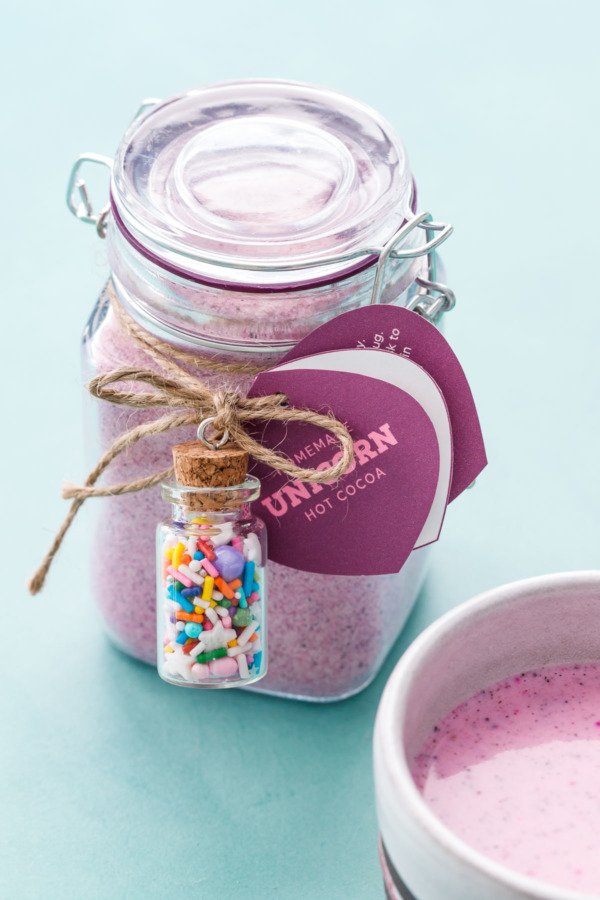 Links to products used: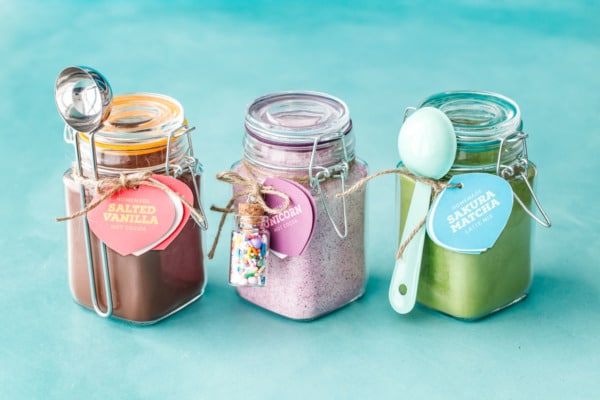 Homemade Hot Drink Mixes
Homemade hot drink mixes in 3 delicious flavors: sakura matcha latte, salted vanilla hot cocoa, and unicorn white hot chocolate. Just add hot milk!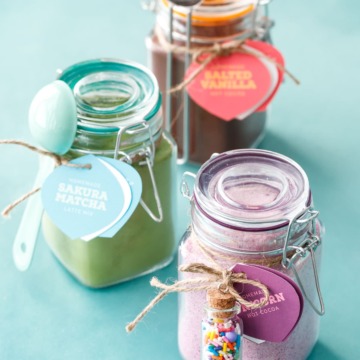 Ingredients:
Sakura Matcha Latte Mix:
(Makes 16 servings)
1 cup (200g) granulated sugar
1/3 cup (30g) matcha powder
1 teaspoon (2g) sakura leaf powder (optional)
Salted Vanilla Hot Cocoa Mix:
(Makes 6 servings)
1 cup minus 1 tablespoon (110g) dutch-processed cocoa powder
1/4 cup (50g) granulated sugar
5 teaspoons (10g) vanilla powder
1/2 teaspoon fine sea salt
Unicorn White Hot Cocoa Mix:
(Makes 6 servings)
3/4 cup (132g) white chocolate drink mix
6 tablespoons (48g) whole dry milk powder
3 teaspoons (6g) dragonfruit powder
Directions:
Combine all ingredients in an 8-ounce glass jar or equivalent container. Secure lid and shake vigorously until powders are evenly distributed.
To serve, heat milk (6 ounces for cocoa or 8 ounces for matcha) in a small saucepan set over medium-low until steamy. Measure out 3 tablespoons of cocoa mix or 1 tablespoon matcha latte mix into a mug. Pour about 1 ounce of milk into mug and whisk with powder to create a smooth paste, then stir in remaining milk. Serve hot.
Did you make this recipe?
Let us know what you think!
Leave a Comment below or share a photo and tag me on Instagram with the hashtag #loveandoliveoil.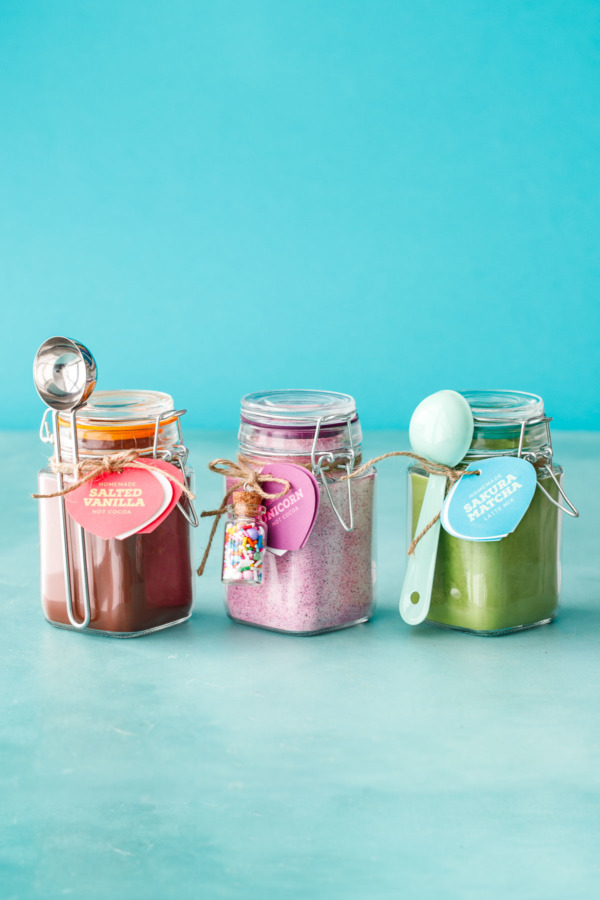 Bonus Printable Labels
What makes these gifts even more special is the packaging (always!) I've designed a set of gift tags that you can easily print and attach to your jars.
The tags for each mix feature 3 different pieces, one with directions for each flavor and another "homemade with love by" tag where you can sign your name to really personalize the gift.
The downloadable PDF file contains 3 pages (1 for each flavor) and 4 sets of tags per page.
To use, simply download the printable file by completing the form below. Print your labels onto white cardstock, cut out the shapes, punch holes in the top, and tie them to your jars using decorative twine.