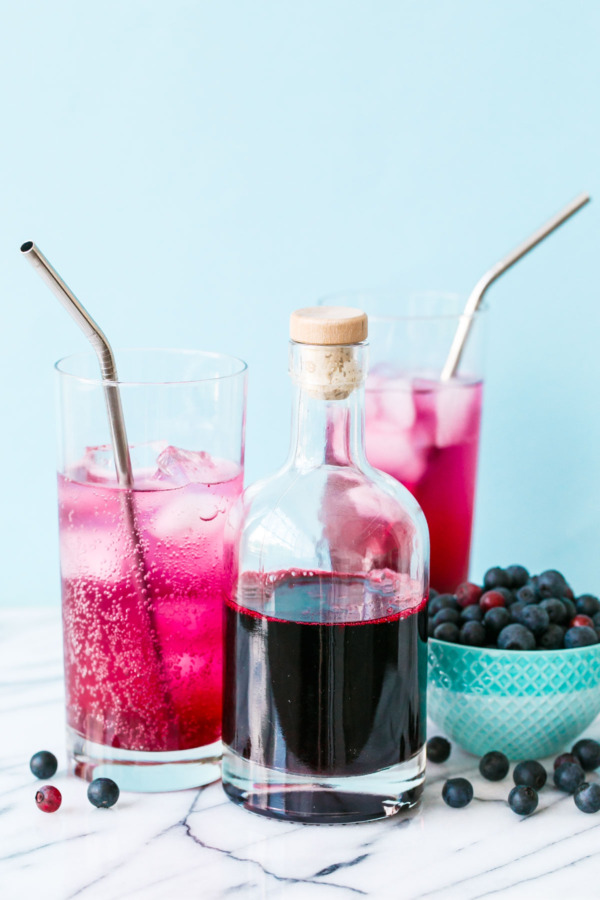 This blueberry soda syrup is tart and tangy and vibrantly magenta. Mix it with club soda or ginger beer for a fun and fuchsia blueberry soda. Add some booze (might I suggest gin or vodka?) for even more fun. Or, hello blueberry bellini (just add champagne) or marvelous milkshake (blend with vanilla ice cream and milk). I call it soda syrup but I also think it be fabulous drizzled over yogurt in the AM or ice cream in the PM.
Most blueberry syrup recipes are just blueberries and sugar. And while that's perfectly delicious, it's also somewhat one-dimensional. I've discovered that a touch of citric acid will bring out the brightness of the blueberry flavor, intense and subtly sweet, like liquid candy. And, unlike lemon juice, citric acid is entirely neutral in flavor. All you taste is bright, bold blueberry.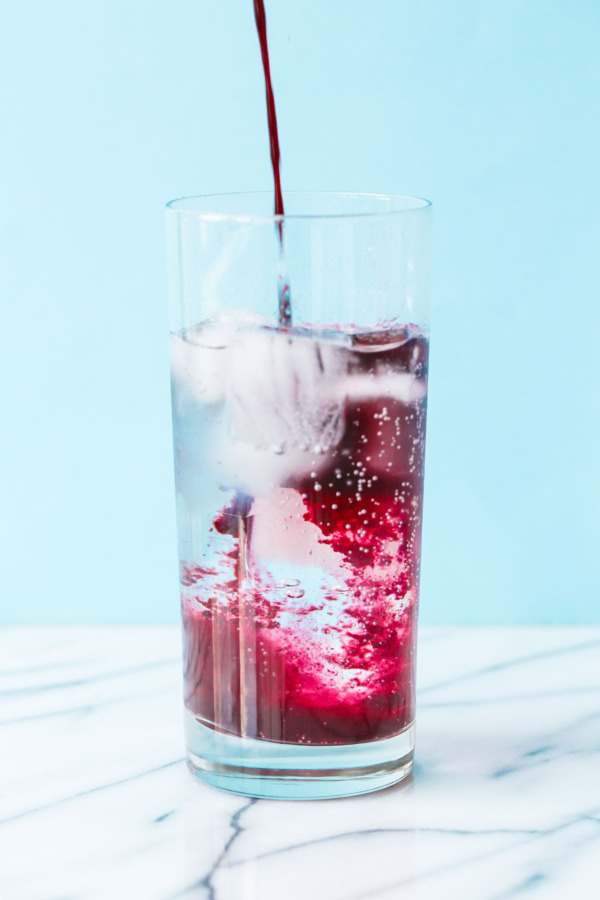 For a stellar blueberry soda, mix 2-3 tablespoons of blueberry syrup with club soda (or ginger beer, perhaps? OMG amazing). You can use more or less syrup to taste, depending on how strong and sweet you like it.
Seriously though, blueberries rival prickly pears for the prettiest drinks ever. Nature is kind of awesome in that respect.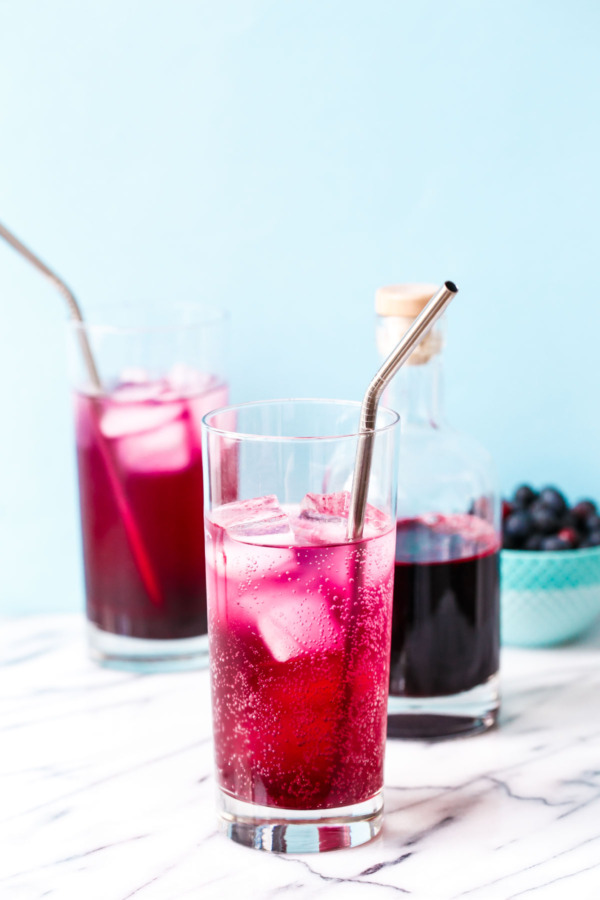 The syrup should be stored in the refrigerator where it will keep for up to a month. However, you can water-bath can this recipe if you'd like, as it is sufficiently acidic for home preserving. Process it in mason jars just like you would blueberry jam, and enjoy it all year round.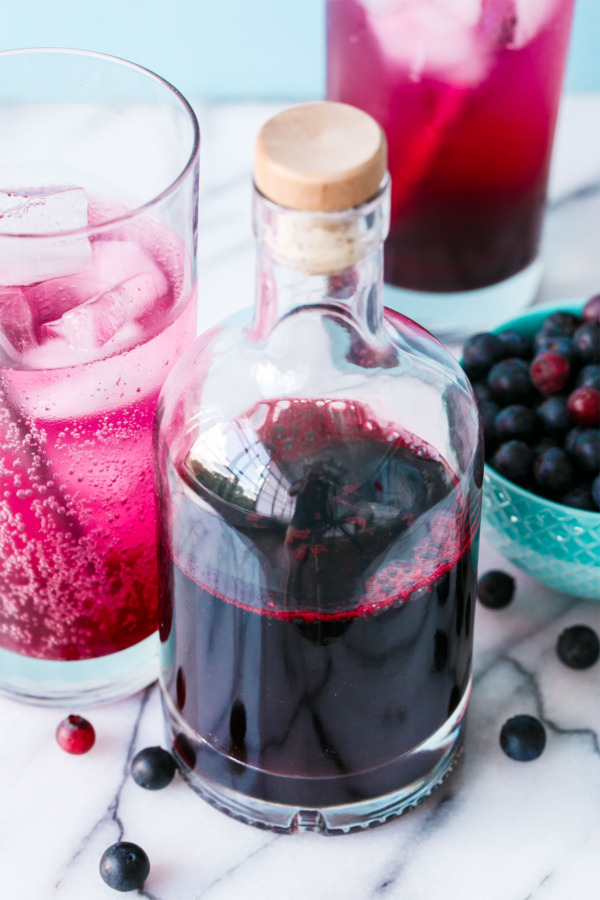 Likewise, this same process can be used with other fruits or berries. Blackberries, for instance, would make an amazing purple syrup. Or plums. Or even something milder like peaches, though the flavor might not be as apparent once mixed with club soda.
You can use fresh or frozen fruit here, so might I suggest stocking up now while produce is abundant and freezing a bunch for later? You never know when you'll crave a bright pink blueberry soda in the dead of winter… better safe than sorry.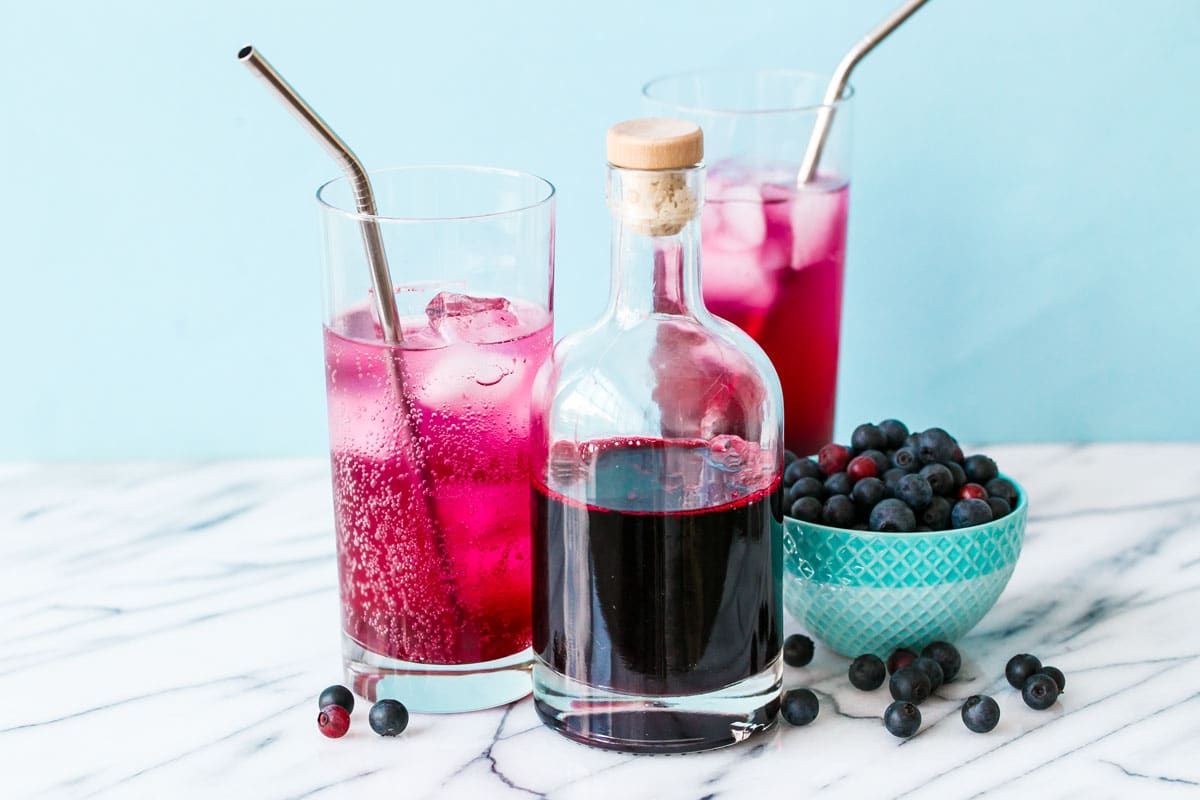 Blueberry Soda Syrup
Tart and tangy and beautifully magenta in color, this syrup is perfect for making flavored sodas or cocktails. The citric acid enhances the natural blueberry flavor beautifully.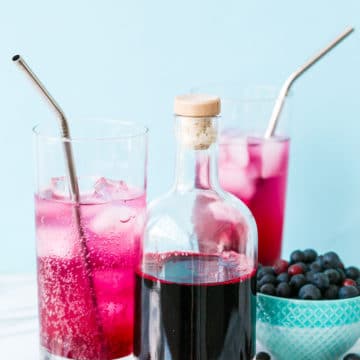 Ingredients:
8 ounces (1 cup) fresh or frozen blueberries
3/4 cup filtered water
1 teaspoon lemon juice
1/4 cup granulated sugar
1/4 teaspoon citric acid
Directions:
Combine blueberries, water, and lemon juice in a saucepan over medium heat. Cover and bring to a simmer for 10 to 15 minutes or until berries have softened and burst.
Strain syrup through a fine mesh sieve, pressing out as much liquid as possible.
Return strained syrup to saucepan and add sugar and citric acid. Bring to a boil over medium-high heat and cook for 5-10 minutes or until syrup has thickened slightly. Remove from heat and let cool before pouring into bottles or jars. Syrup will keep, refrigerated in an airtight container, for up to 1 month.
Did you make this recipe?
Let us know what you think!
Leave a Comment below or share a photo and tag me on Instagram with the hashtag #loveandoliveoil.