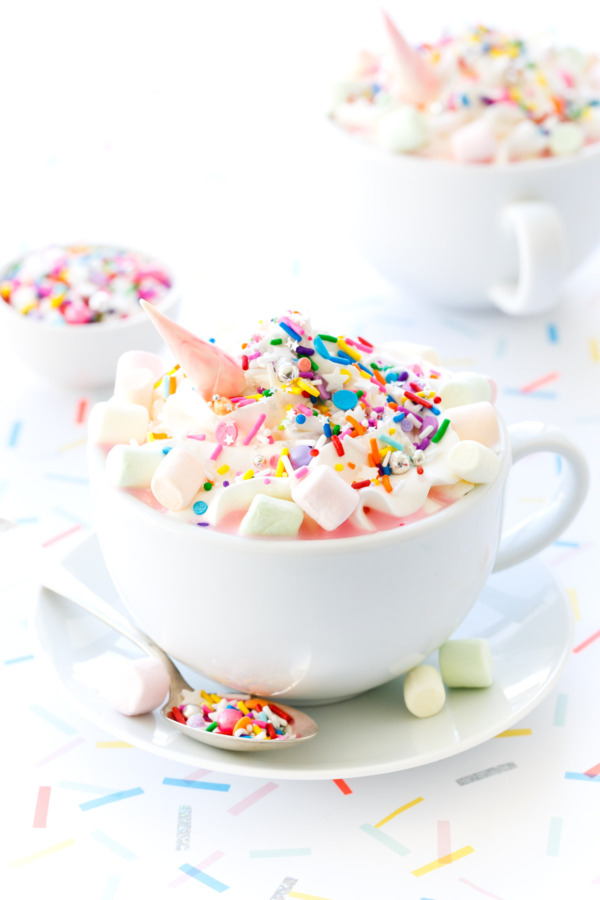 Do you believe in magic?
Once you set eyes on this Unicorn Hot Chocolate, in all its hot pink glory… you just might change your tune.
It's a creation so totally over-the-top you can't help but smile when you see it. Now imagine a steaming cup of your very own, complete with a mountain of whipped cream and rainbows, and your smile will grow even bigger.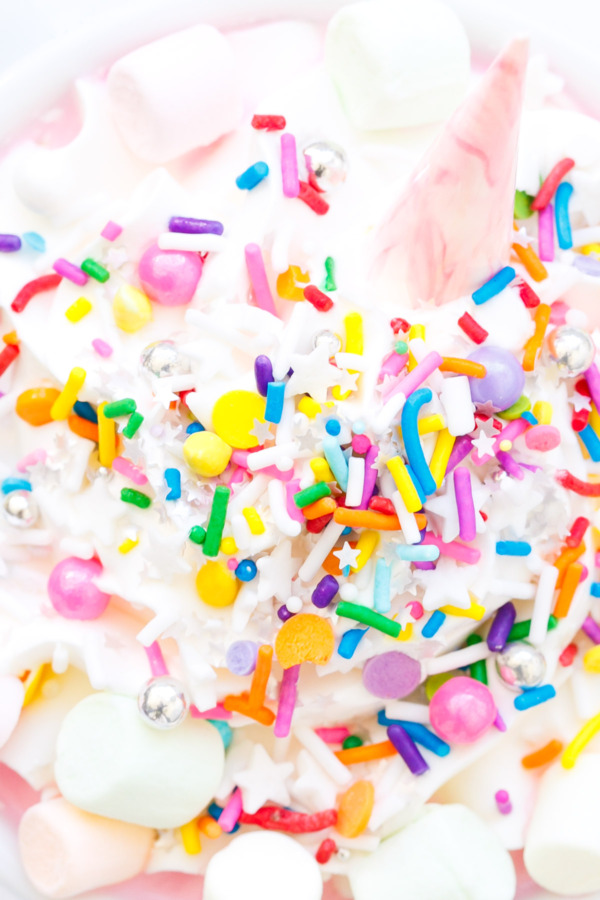 I'm sure you've seen the numerous clips and photos floating around facebook about Unicorn Hot Chocolate, available on the secret menu at a place called Creme and Sugar cafe in Los Angeles. Since I can't exactly fly out to LA for the day just for a steaming mug of pink hot chocolate (as much as I'd love to), I set out to recreate this mythical treat at home.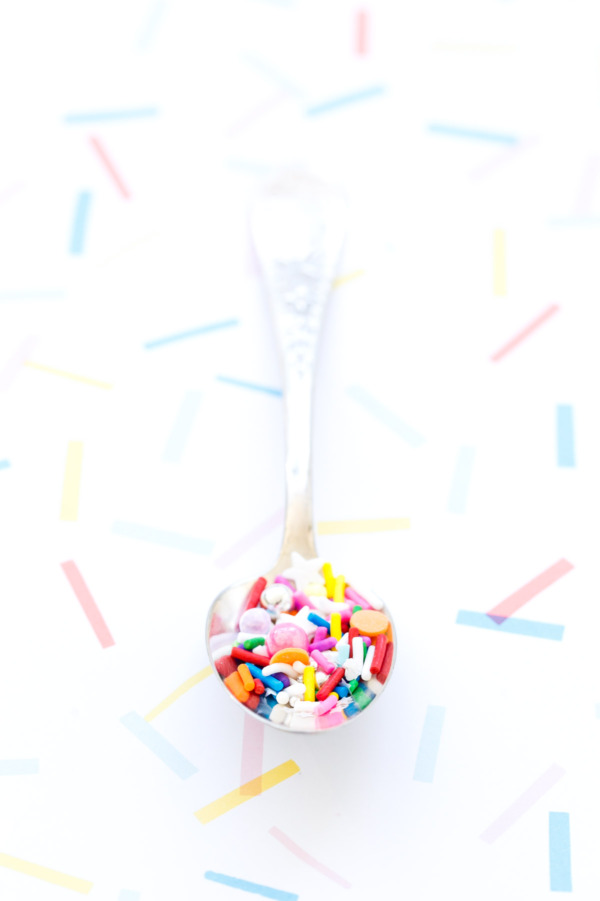 Let me be clear before we begin: there are two distinctly different kinds of white hot chocolate (and regular hot chocolate, for that matter, too).
First, there is what I call 'melted candy bar' style, made with little more than melted white chocolate and milk, maybe a bit of thickener and vanilla. If you search for white hot chocolate, this is probably what you're going to find, and in fact, I posted a white hot chocolate recipe like this as well a few years back. It's thick and rich and doesn't taste unlike liquid birthday cake. You can certainly add a drop or two of pink food coloring to turn it into unicorn hot chocolate if you please.
However, most coffee shops and cafes, Creme and Sugar included, don't make it that way. Rather, theirs is made with powdered white chocolate drink mix as the base. The flavor is more intense, sweeter, and tastes more like vanilla than any bar of solid white chocolate you may have tried. Some might call it cloying, but I call it delicious. And that, my friends, is what we're making here today.
I set out to essentially replicate what you'd get in the cafe. While the recipe itself is quicker and easier to prepare (no chopping or melting chocolate required), it does involve a few specialized ingredients you will need to track down, all of which can be purchased online or in specialty food stores.
The result? Well, it's simply magical.
(Want even more unicorn magic on this chilly Monday morning? Be sure to check out Phillip's unicorn macarons… proof that sprinkles are the best cure for the winter blues.)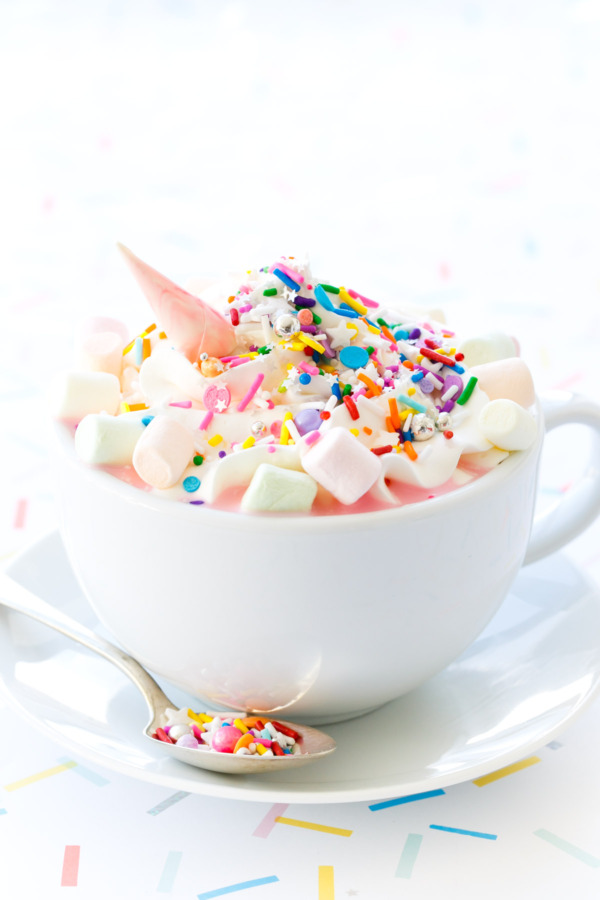 What you'll need:
(Note: there are affiliate links in this post. I'll make a small % if you purchase a product through these links, which will probably just go right back into buying unique and interesting ingredients for fun new recipes to share. Which is a win-win for all of us, I think!)
White chocolate drink mix. Basically like Swiss Miss hot cocoa mix just with white chocolate instead. I used Ghiradelli Sweet Ground White Chocolate Drink Mix.
White chocolate-flavored syrup. I used Monin brand white chocolate syrup, but Torani also makes a white chocolate flavored sugar syrup. You could also use a vanilla-flavored syrup as well. While the syrup adds an extra punch of white-chocolate flavor, this is the one ingredient that could be skipped without affecting the final outcome too much (also, if you prefer your white hot chocolate sweet but not cloying, you can certainly leave this out.)
White chocolate sauce. This is essentially like caramel or chocolate ice cream sauce but white chocolate flavored. Again, I used Monin brand white chocolate sauce, but both Ghiradelli and Torani make a nearly identical product which I've seen for sale at places like World Market.
Dry milk powder. Whole milk powder, if you can find it, will produce a thicker, richer hot chocolate, but nonfat dry milk powder would do too. I don't think Creme and Sugar uses this, however I found it helped thicken the hot chocolate and balance some of the sweetness.
Pink food coloring. I used AmeriColor gel food coloring in Electric Pink. One drop was more than enough to make a nice pink color, but any pink food coloring (gel, liquid, or powdered) should work fine here.
Whipped Cream. If you have a cream whipper at home you're golden. Otherwise, use your favorite spray can or tub whipped cream.
Sprinkles. Because without sprinkles this would just be ordinary white hot chocolate. Here I used the aptly named Flight of the Unicorn blend from Sweetapolita.
Mini marshmallows. The multi-colored fruity ones. Also optional, but so totally fun.



Once you have all these ingredients, it's just a matter of adding a few squirts and spoonfuls to your mug, then whisk in hot milk. Top with whipped cream and a flurry of rainbow toppings and, voila! Instant unicorn hot chocolate. It's so easy you'll find yourself whipping up a cup whenever the craving hits you.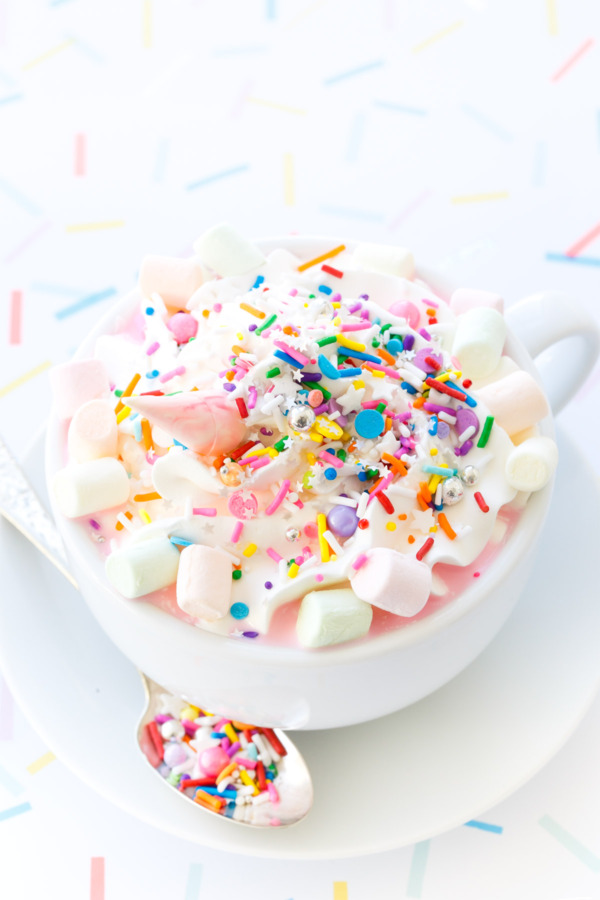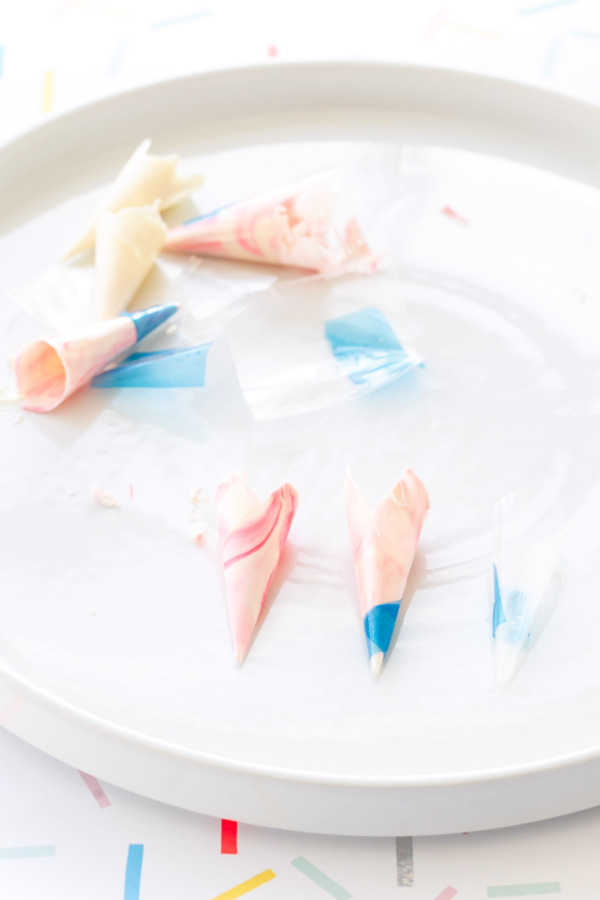 As if it wasn't unicorny enough already, I went one step further and added edible unicorn horns to my already over-the-top creation. The perfect touch, don't you think?
How'd I do it? Well, get yourself some white and/or pink candy coating (no tempering needed). You could do a solid color, or swirl two colors together like I did. Cut out a small (2-inch-ish) square of acetate, roll it into a cone shape, and tape it securely in place. Then fill the inside of the acetate cone with melted candy coating. The horns are actually hollow, like a candy shell, so they are light enough that the whipped cream will support them. Use a small (clean) paintbrush if it's easier to get the coating in an even layer around the whole inside of the cone.
Let cool for 10 minutes or so until completely set, then gently peel off the acetate. You'll be left with perfectly shiny and swirly unicorn horns!
Magic. Pure and simple.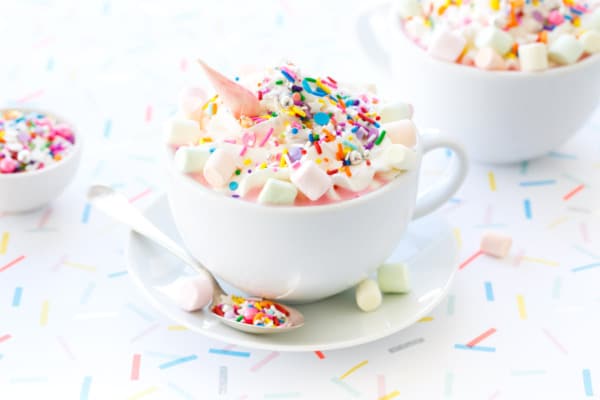 Unicorn Hot Chocolate
Pink-tinted white hot chocolate with a mountain of whipped cream and plenty of rainbow sprinkles: just like the cafe version!
Ingredients:
1 1/2 cups whole milk
1/4 cup (4 tablespoons) white chocolate drink mix
2 tablespoons powdered whole milk
1 tablespoon white chocolate-flavored sugar syrup
1 tablespoon white chocolate sauce
1-2 drops pink gel food coloring
whipped cream, for topping
rainbow sprinkles, for topping
mini colored marshmallows, for topping
Directions:
Heat milk in the microwave or in a saucepan over medium-low heat until it just starts to bubble around the edges.
In a large mug, combine white chocolate drink mix, powdered milk, white chocolate syrup, white chocolate sauce, and food coloring. Pour about 1/2 cup of warm milk over top and whisk until smooth and no chunks of dry powder remains. Pour in remaining milk and whisk until incorporated.
Top with a generous mountain of whipped cream, and spoonful or two of rainbow sprinkles, and mini marshmallows, if desired. Serve warm.
Did you make this recipe?
Let us know what you think!
Leave a Comment below or share a photo and tag me on Instagram with the hashtag #loveandoliveoil.