Robustly flavored and delightfully chewy, these sugar-coated molasses cookies are studded with finely shaved chocolate for a unique twist on a classic holiday cookie.
When you can't decide between a richly spiced molasses cookie and a classic chocolate chip, this recipe is for you! These cookies are so simple to whip up, with an intense gingerbread flavor and delightfully soft chew, they'll be your new go-to holiday recipe for years to come!
Ok, so these really shouldn't be called chocolate chip cookies, but chocolate fleck cookies or shaved chocolate cookies just doesn't have the same ring to it. They are first and foremost a chewy molasses cookie… with some finely grated chocolate mixed in.
Ideally you want to grate the chocolate with a cheese grater, or shave flakes off the bar using a sharp knife (don't chop… shave). These thin flakes of chocolate will almost melt into the cookie as it bakes, giving it a rich depth of flavor without interrupting the chewy goodness.
It's the same way I infused extra chocolate into my salt and pepper sable cookies: again, the texture of the cookie is best when uninterrupted by chips.
These cookies are not mild in any sense of the word: they definitely pack a flavorful punch, with ample ground ginger, cinnamon, nutmeg and cloves to compliment the sweet and smoky flavor of molasses.
If you love spicy gingerbread, robust molasses, pungent ginger… AND chocolate… these cookies are for you.
I love cookies like this. Robust and molassesy and oh so spicy. Oh and did I mention chewy? (Thank the hydroscopic properties of molasses for that, it's also the reason these cookies will stay soft for days.)
So how on earth did I end up married to a gingerbread hater and molasses skeptic?
Seriously though, gingerbread tastes like Christmas. He loves Christmas. So why, whenever I pull out the jar of ground ginger, does he give me the side eye?
I'm not talking about fresh ginger (in savory situations, like stir fry for example, he's all for it), rather it's just ground ginger he's morally opposed to. Ground ginger definitely has a wildly different flavor profile than fresh, I'll give him that, but Christmas just wouldn't be the same without its fiery goodness.
Whatever. He's more than content nibbling on brownie scraps. Which means more cookies for me!
For a cookie like this that gets its primary flavor from ground spices, using the freshest spices possible really makes a world of difference.
Despite what you might think, spices do not have an infinite shelf life. If you've had that jar of ginger for more than a year or two (or, um, four or five?) it's probably time to pick up a new jar.
I just did a huge spice drawer makeover recently, replacing most of my old and long-expired spices with fresh bulk spices (will be doing a post in January about spice organization, including some awesome printables!) and was shocked at just how fragrant and flavor-packed the fresh ground ginger was compared to what I had been using before.
Even a 'new' jar of ground ginger could be lacking, as you really have no idea just how long its been sitting there. (For those curious, I purchased this amazingly potent ground ginger from World Spice).
This is what shaved chocolate looks like. I used a 70% dark chocolate bar (Trader Joe's Pound Plus bar, if your curious) and shaved off the chocolate using a large chef's knife. You could also use a vegetable peeler on the side of a thick bar, or even grate the chocolate using a coarse cheese grater.
The shaved chocolate almost melts into the dough, adding a chocolatey richness that perfectly compliments the molasses and spice. While you could substitute chocolate chips in theory, I think the larger chunks of chocolate would interrupt the delightfully chewy texture.
These cookies are great for holiday cookie boxes and cookie exchanges, as, thanks to the molasses, they stay soft for days!
I used a small cookie scoop for these, which make 2-inch cookies perfectly sized for shipping. I'd rather send a half a dozen smaller cookies than 2 or 3 larger ones, plus the smaller size tends to be less fragile and thus better for shipping purposes.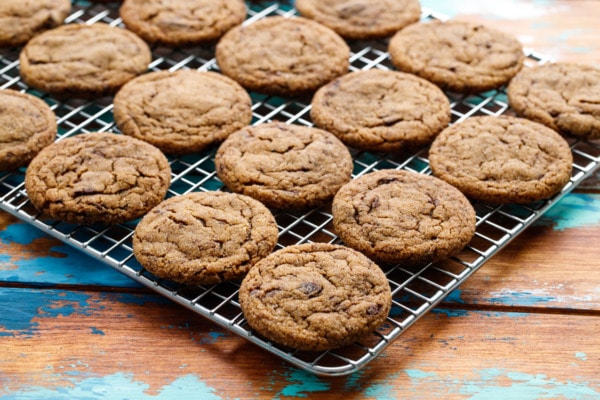 Chewy Molasses Chocolate Chip Cookies
Robustly flavored and delightfully chewy, these sugar-coated molasses cookies are studded with finely shaved chocolate for a unique twist on a classic holiday cookie.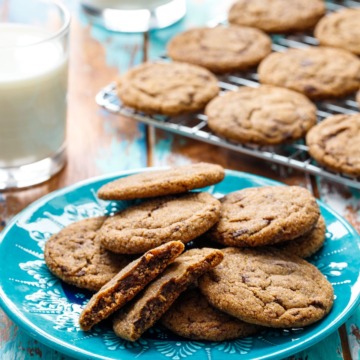 Ingredients:
3/4 cup (1 1/2 sticks or 6 ounces) unsalted butter, at room temperature
1/2 cup granulated sugar, plus more for rolling
1/2 cup packed light brown sugar
1/4 cup mild molasses (not blackstrap)
1 large egg
2 1/3 cup (10 1/8oz or 285g) all-purpose flour
2 teaspoons baking soda
2 teaspoons ground ginger
1 teaspoon ground cinnamon
1/2 teaspoon kosher salt
1/2 teaspoon ground cloves
1/4 teaspoon freshly ground nutmeg
3 ounces (85g) good quality dark chocolate, finely shaved or grated
Directions:
In a large mixing bowl or the bowl of a stand mixer, beat together butter, sugar and brown sugar until smooth and fluffy, 1 to 2 minutes. Add molasses and mix until smooth. Add egg and mix until incorporated, scraping down the sides of the bowl as necessary.
In a separate bowl, whisk together flour, baking soda, salt and spices until evenly incorporated. Add to wet ingredients and mix on low speed until almost fully incorporated. Fold in shaved chocolate.
Cover tightly, pressing a piece of plastic wrap or waxed paper down on the surface of the dough to keep it from drying out, and refrigerate for at least 2 hours or overnight.
Preheat oven to 350 degrees F. Line a medium-colored baking sheet with parchment paper or silicone baking mats. If dough has been chilling for longer than 2 hours, let it come to room temperature for 15 minutes or so before shaping.
Using a small cookie scoop, roll dough into 1-inch balls. Roll in granulated sugar to coat, then arrange on prepared baking sheet, leaving 2 inches of space between each cookie.
Bake for 10 to 11 minutes or until cookie is set but still soft and slightly crackled on the surface. For a crunchier cookie bake for a few minutes longer.
Remove from oven and let cool on baking sheet for 10 minutes, then transfer to a wire rack to cool completely. Repeat with remaining dough.
Cookies will  keep in an airtight container at cool room temperature for up to 5 days.
Did you make this recipe?
Let us know what you think!
Leave a Comment below or share a photo and tag me on Instagram with the hashtag #loveandoliveoil.