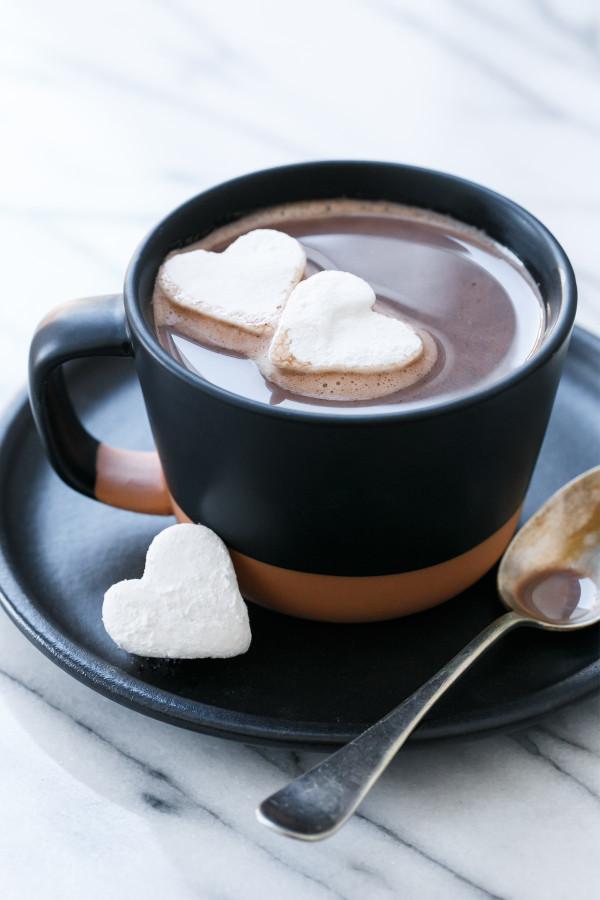 If you were wondering about yesterday's adorable little heart shaped marshmallows… well, this was the reason I made them to begin with. And with all this talk of orange, almond, and vanilla, you didn't honestly think that'd I'd leave you completely chocolate-less this Valentine's day? Not so fast. Here's a big ol' steaming cup of chocolate for you.
Salted vanilla hot chocolate, to be exact.
You might think of chocolate and vanilla as polar opposites, but in fact, they are really quite complimentary. And the sea salt? Well, just like salt amplifies the flavor of savory dishes, it does the same thing here: clarifying and intensifying the distinct flavors of chocolate and vanilla as they come together in perfect harmony.
There's something to be said for the classic powdered hot chocolate mix. You know what I'm talking about: those little pouches of cocoa with itty bitty little marshmallows mixed right in. French-style hot chocolate is amazing, thick and rich like a melted candy bar, but sometimes you want something a bit more drinkable, more like the instant hot chocolate you grew up with. At the same time, you are a grown up now (at least that's what people tell you), and your adult tastebuds crave more complexity and refinement, not to mention less artificial sweeteners and mystery preservatives.
This recipe is a sophisticated upgrade to that childhood staple, with a pinch of sea salt and a generous scoop of Pure Vanilla Powder from Nielsen-Massey.
Note you can also substitute 1 tablespoon vanilla extract in place of the powder, though you will get a slightly alcoholic aftertaste. The vanilla powder doesn't impart any sort of harsh alcoholic flavor to the cocoa, which is why it is so perfect here. Another benefit of the vanilla powder is that this recipe could easily be made into a hot chocolate mix: cleverly packaged in a glass jar, it'd make a great homemade gift. Just add warm milk.
Get the full recipe at FoodFanatic.com »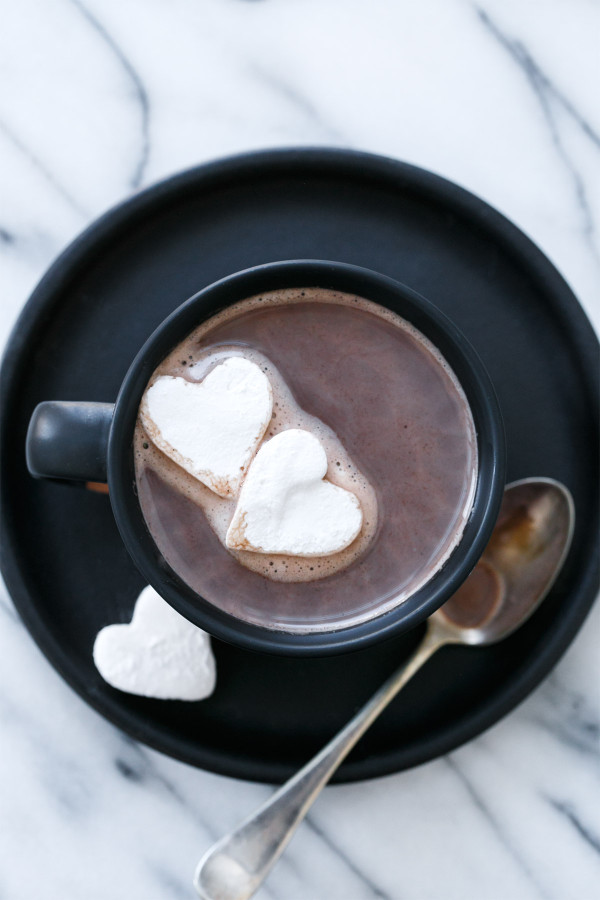 When it comes to cocoa powders, we taste-tested a few different types, and preferred the flavor of a high quality Dutch processed cocoa powder. Since the cocoa is the source of 90% of the flavor, it's worth the effort and cost to track down and buy the good stuff. Trust me.
Salted Vanilla Hot Chocolate
Warm up this winter with a sweet and salty twist on a classic hot chocolate, made with Nielsen-Massey Madagascar Bourbon Pure Vanilla Powder and a pinch of sea salt.
Ingredients:
2 cups whole milk
1/2 cup good quality cocoa powder, sifted
3 tablespoons granulated sugar
1/4 teaspoon fine sea salt
1 tablespoon Nielsen-Massey Pure Vanilla Powder
marshmallows or freshly whipped cream (optional, for serving)
Directions:
Heat milk in a saucepan over medium heat until it just begins to bubble around the edges (do not let it fully boil or it will form a skin).
Whisk together cocoa powder, sugar, sea salt, and vanilla powder.
Pour about 1/2 cup of warm milk into cocoa powder mixture and whisk until smooth and no stray lumps of cocoa powder remain. Whisk in remaining milk until smooth. Pour into mugs and serve warm, topped with marshmallows or freshly whipped cream (if desired).
Did you make this recipe?
Let us know what you think!
Leave a Comment below or share a photo and tag me on Instagram with the hashtag #loveandoliveoil.
Disclosure: I was compensated by Nielsen-Massey Vanillas on behalf of Food Fanatic for my time in developing this recipe and post. All opinions are my own.