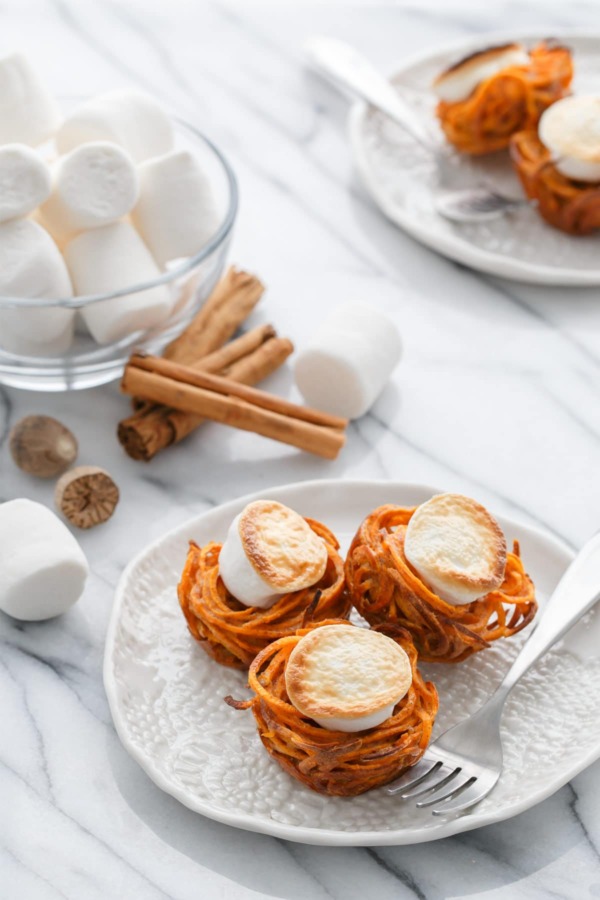 Not every Thanksgiving dish has to be larger-than-life-sized.
Sometimes it's the little things that make the biggest impression.
Take sweet potato casserole, for instance.
Wouldn't it be better if, instead of an oversized casserole dish full of sweet slop, every person at your table got their own petite package of crispy and caramelized sweet potato, each nest topped with their own roasty toasty melty marshmallow?
Sounds pretty awesome to me.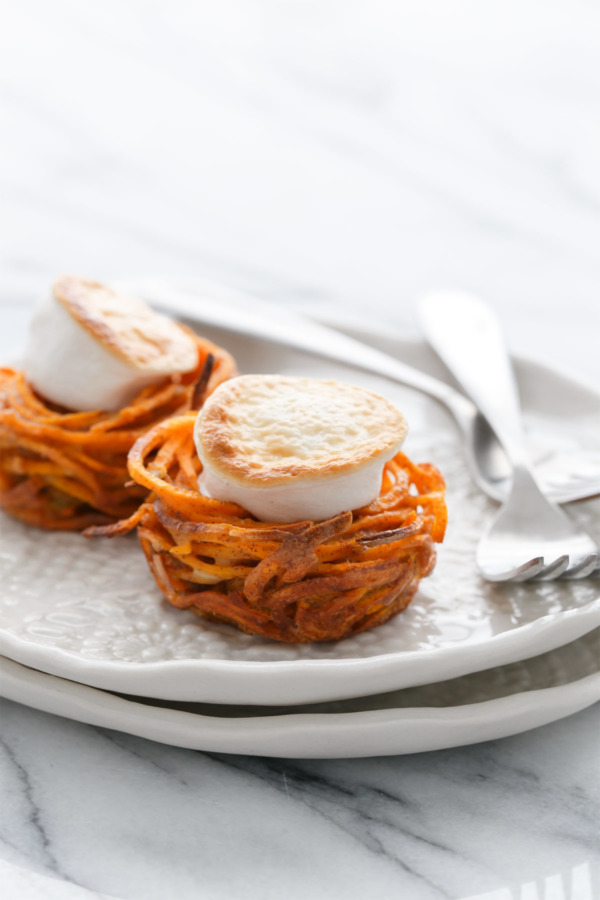 The spiralizer makes easy work of this otherwise tedious dish, no peeling, boiling or mashing involved. Even with a 15-20 minute soak (our trick to getting crispy sweet potatoes) this dish easily comes together in under an hour.
To make these bite-sized casseroles, simply toss spiralized sweet potato with an egg and flour mixture, and arrange in muffin cups. The cups bake up crisp on the edges and creamy in the center, with a perfectly toasted marshmallow to top it all off.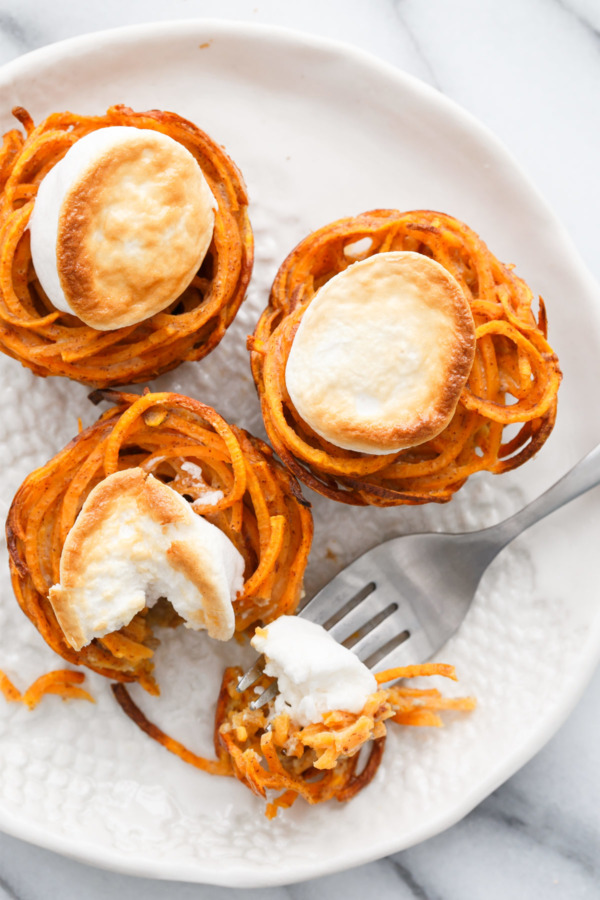 While this recipe is a twist on the classic sweet potato casserole (complete with marshmallows), the sweet potato cups themselves could easily serve as a base for any number of delicious variations. Try swapping the spices for cayenne and cumin and topping with taco meat and a dollop of sour cream. Or how about replacing the marshmallow with a cracked egg to the center of the cups for a fabulous low-carb breakfast treat. You could also replace the sweet potato with russet potato for a similar effect (and if you like crispy potato, white potatoes will get much crispier than sweet potato in situations like this).
Get the full recipe on the Kitchenthusiast blog »
This recipe was created in partnership with KitchenAid®. All opinions are my own. Be sure to share your take on this recipes on Instagram using #ForTheMaking for a chance to be featured on the @KitchenAidUSA account!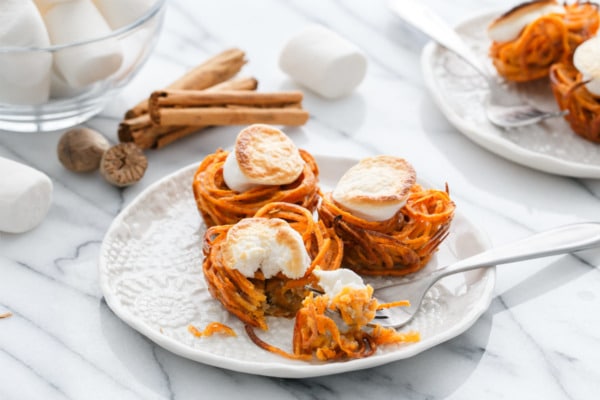 Mini Sweet Potato Casserole Nests
A twist on the classic sweet potato casserole (complete with marshmallows), spiralized in miniature size!
Ingredients:
1 large or 2 medium sweet potatoes (about 12 ounces total)
1 large egg, lightly beaten
2 tablespoons all-purpose flour
1/2 teaspoon ground cinnamon
1/4 teaspoon ground nutmeg
1/4 teaspoon sea salt
6 marshmallows, cut in half
oil, as needed for oiling pan
Directions:
Preheat oven to 375 degrees F. Generously oil the cups of a 12-cup standard muffin tin with approximately 1 teaspoon of oil per cup, brushing oil up the sides as well as letting it pool in the bottom.
Spiralize sweet potatoes using the extra fine noodle blade. You can choose to use the peeling arm or not, that is up to you whether you prefer your potatoes with skins or not.
Place spiralized sweet potato in a bowl with ice water and a generous pinch of salt. Let soak for at least 15 minutes or up to 3 hours, then drain thoroughly and pat dry.
In a bowl, toss sweet potato with egg, flour, spices ands salt until evenly coated.
Place a small handful of sweet potato into each muffin cup, compacting spirals and tucking in ends so there are no 'tails' sticking up (they will burn in the oven).
Did you make this recipe?
Let us know what you think!
Leave a Comment below or share a photo and tag me on Instagram with the hashtag #loveandoliveoil.