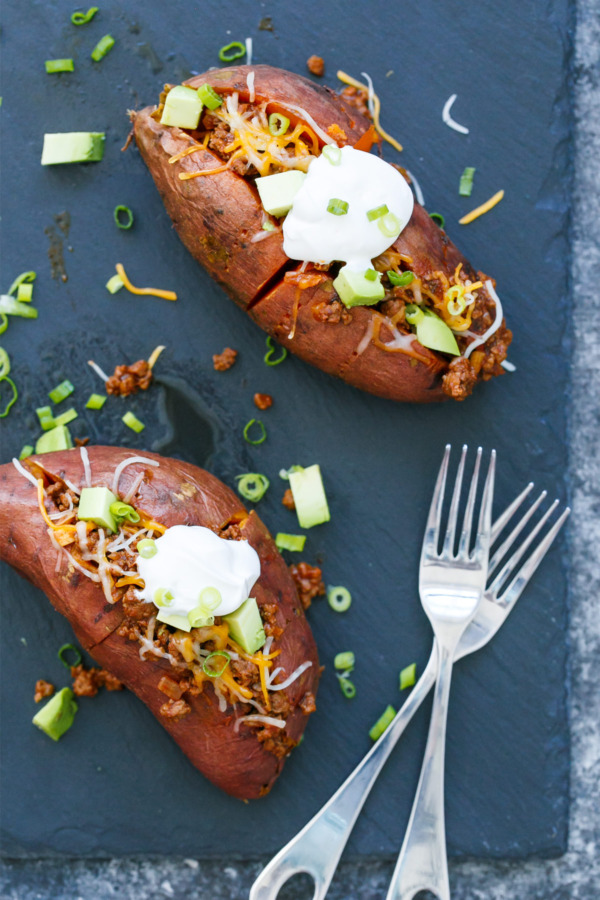 I've been sitting on this recipe for quite some time.
Well, not physically sitting on it (that would be a mess), but at a loss for how to photograph it (since it is also a mess).
While it is a very easy recipe in and of itself, it is not such an easy recipe to photograph.
I attempted to shoot it 3 times over the course of the last year. The first time I accidentally bought white sweet potatoes. The second time I was just having a bad day (and if you're a food blogger you know how that goes). I'm still not 100% pleased with these photos either, but I decided that enough is enough and I just need to post the darn thing already because… well? It's delicious.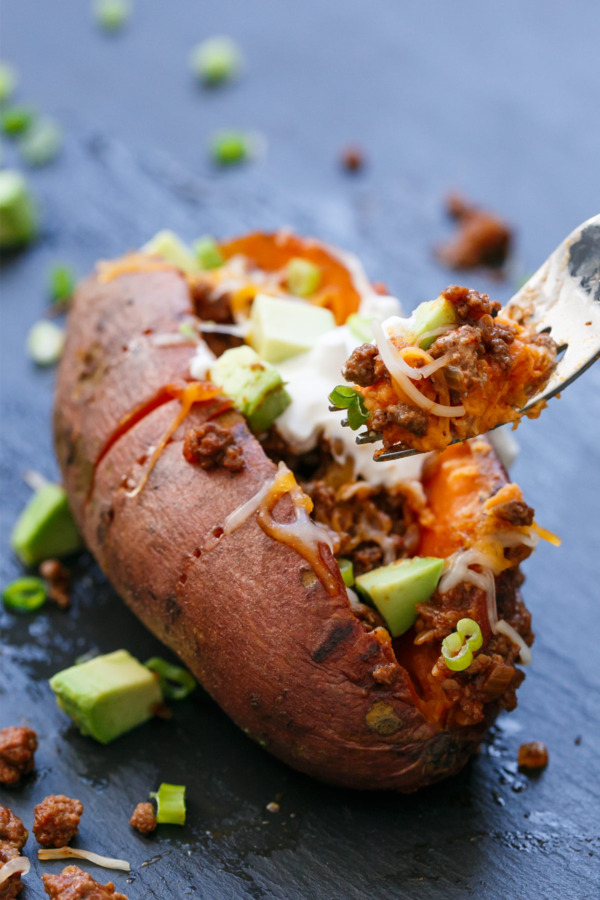 Calling this a "stuffed" sweet potato is misleading, perhaps, as what you really end up doing is smashing and flattening out the sweet potato and then slathering it with taco meat, melted shredded cheese, and all the toppings your heart desires, and then eating it more like a taco salad, scooping up a little sweet potato 'base' with each and every bite.
Like I said, it's a mess. Embrace it. That's what I'm trying my best to do.
You can certainly use your favorite taco seasoning in this recipe, or even make your own taco seasoning spice blend. The spices listed here make for a boldly spiced flavor, a generous dose of ground chipotle providing a good bit of heat and flavor.
Lesson: not all ground chipotle is created equal. A fresh bottle is going to be more potent than an older one, and some brands just have more kick to begin with. Start with a little, then add more to suit your palate. Just don't dump in a full tablespoon of it right off the bat. Trust me on that one… it makes the dinner-eating-experience not so pleasant.
See? Proof that you can top sweet potatoes with more than just marshmallows.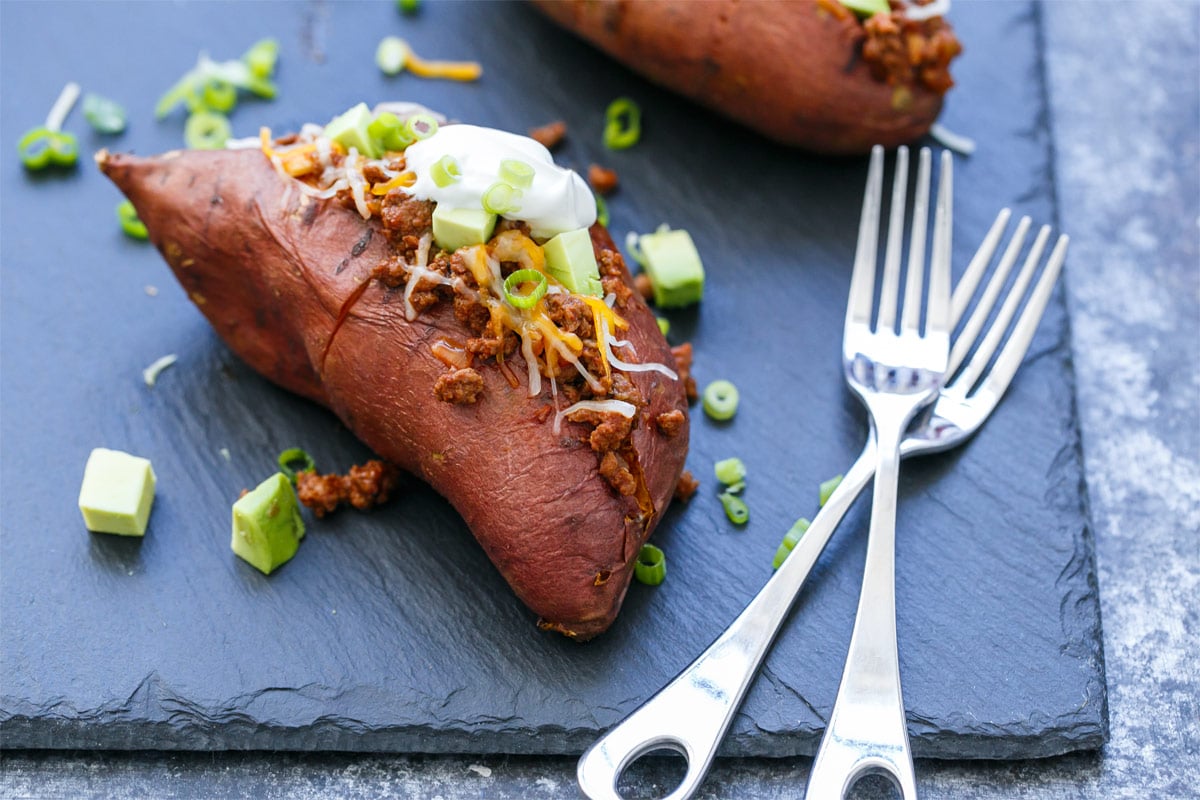 Taco-Stuffed Sweet Potatoes
Roasted sweet potatoes stuffed with chipotle-spiced taco meat and topped with melted cheese, avocado, and sour cream.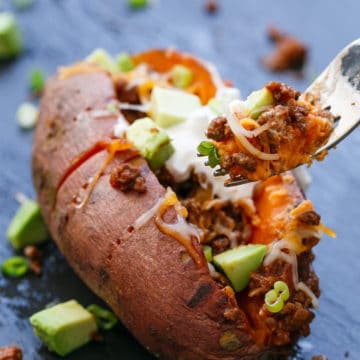 Ingredients:
4 medium sweet potatoes
olive oil
salt and pepper
1 small onion, chopped (1/2 cup chopped)
3 garlic cloves, minced
1 pound ground beef
1/2 cup chicken broth
1 tablespoon tomato paste
2 teaspoons brown sugar
1 teaspoon salt
1 1/2 teaspoons ground chipotle (or to taste)
1 teaspoon ground coriander
1 teaspoon dried or 1/2 teaspoon ground oregano
1/2 teaspoon ground cumin
1/4 teaspoon ground cayenne
1 teaspoon cider vinegar
shredded Mexican blend cheese
sour cream
avocado
sliced green onion, for garnish
Directions:
Preheat oven to 400 degrees F. Poke sweet potatoes all over with a fork. Rub with olive oil and sprinkle with salt and pepper. Arrange on a foil lined baking sheet and bake for 40 to 50 minutes or until fork tender.
Meanwhile, heat 1 tablespoon olive oil in a large skillet set over medium heat. Add onion and cook until softened and translucent, 3 to 5 minutes. Add garlic and saute until fragrant, about 30 seconds. Add beef and cook, breaking up any large pieces with the back of a spoon, for about 5 minutes or until just cooked through. Add chicken broth, tomato paste, sugar, salt, and spices and cook until liquid is thickened and saucy and meat is completely coated. Depending on how fatty your beef is, you may want to add more/less chicken broth to acheive a nice saucy consistency. Stir in vinegar.
To serve, cut a slit down the center of sweet potatoes and gently pull open. Fill with taco filling, then top with a sprinkle of grated cheese, avocado, sour cream and green onion.
Did you make this recipe?
Let us know what you think!
Leave a Comment below or share a photo and tag me on Instagram with the hashtag #loveandoliveoil.