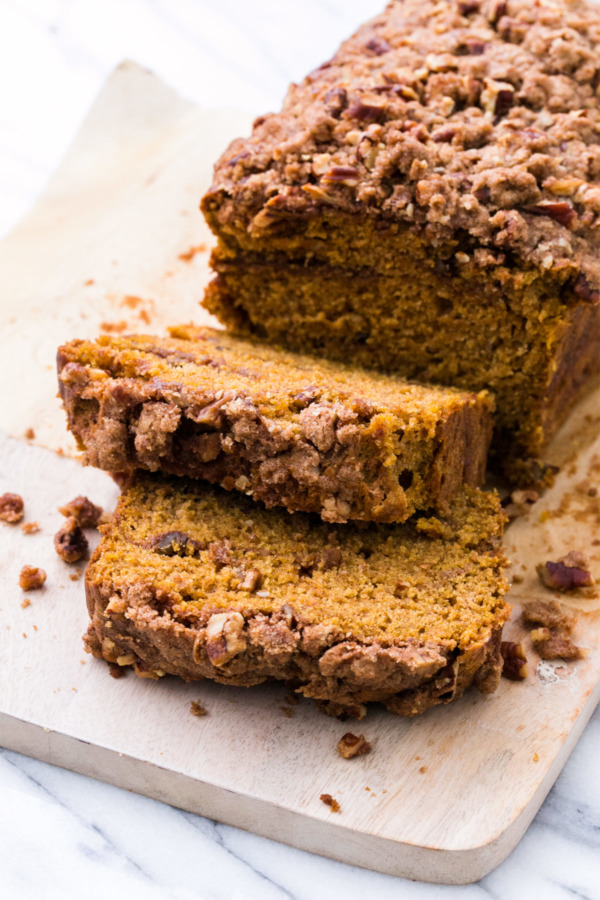 Cake or bread? That is the ultimate question.
Technically, this is a sweet potato quick bread. Think banana bread, but with sweet potato instead of banana (in fact, I used my own banana bread recipe as a jumping off point, if that gives you any indication of the overall texture). But once I added the sweet, crunchy topping, I couldn't quite bring myself to call it crumb bread. That just sounds silly. So crumb cake it is.
But don't be deceived… just because it's called cake doesn't mean it's not perfectly acceptable to eat for breakfast.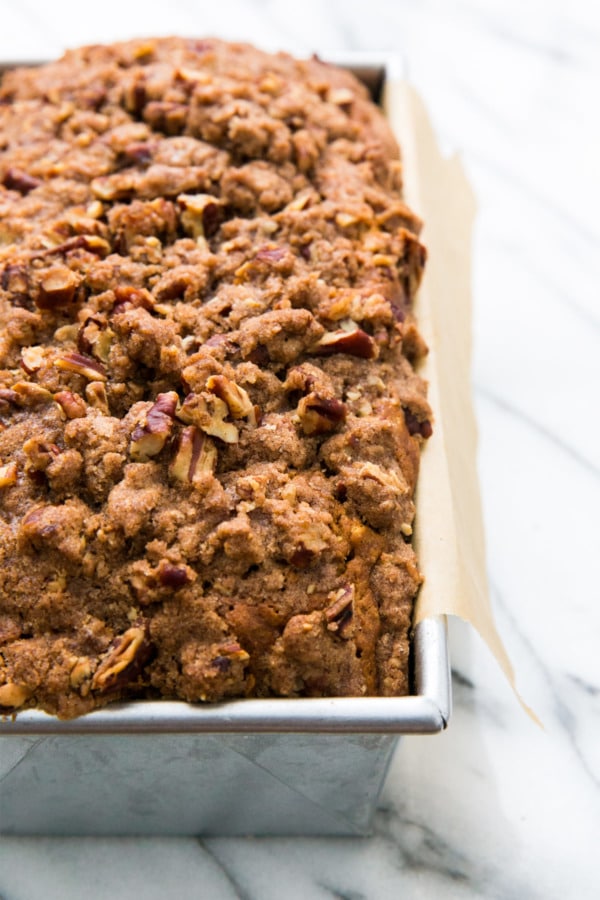 Bands of caramelized cinnamon sugar swirled through an impeccably tender cake, ever so slightly crisp on the outside and luxuriously moist in the center. And the topping! If you're someone who appreciates textural contrast when you eat, the crumb topping is going to be your new favorite thing: a light sugary crunch that practically melts in your mouth, perfectly punctuating an already stellar flavor experience.
It's certainly not winning any beauty contests, but what this bread lacks in looks it makes up for in flavor and personality (and we all know that's what truly seals the deal in the end).
The first time I tested this recipe, I made the mistake of assuming the presence of canned sweet potato in the pantry, without actually looking. Alas, sometimes I get it in my head that I have something, when in reality it might have been 8 months since I'd last seen it there… or even longer.
Not wanting to waste the day, I nuked a few sweet potatoes we had lying around, then scooped out the soft flesh and pureed it in a food processor to make my own puree.
Interestingly enough, the significantly lower moisture content of the homemade puree varied the baking time by a full 15 minutes. In fact, I royally screwed up my second attempt (which used canned sweet potato) by baking it for the same amount of time as the first loaf, only to discover upon slicing it that it was practically raw in the middle.
The recipe below is written for canned sweet potato puree. If you should go so far as to make your own puree, start checking for doneness after about 45/50 minutes and go from there. Luckily, this cake is so inherently moist that you'd be hard pressed to overbake it (so long as the crumb topping doesn't start getting noticeably dark), so, when in doubt, bake it a few minutes longer.
An interesting note about the crumb: if you were to melt the butter and add it to the sugar/flour mixture, your crumb would hold its shape and be much crunchier overall, more like a crisp cookie. Despite aesthetics, Taylor strongly preferred the crumb that was made with cold butter and prepared like a pie crust. It melted into itself a bit more when it baked, but it gave the bread a nice light sugary crunch. You can do either here depending on your preference.
(Sgt. Pepper on the other hand, doesn't really care if the crumb is made with cold vs melted butter, he just wants a lick either way.)
And before I get 20 bajillion comments asking… yes! You could certainly used canned pumpkin in place of the sweet potato. You could also make this recipe without the swirl and/or the crumb topping, and you'd have a good solid sweet potato bread in your recipe arsenal.
But that wouldn't be much fun, now, would it?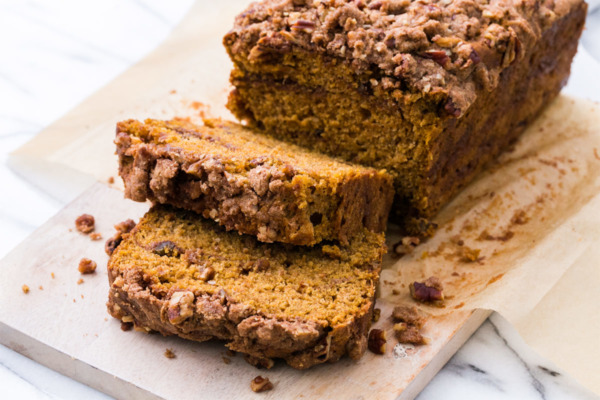 Cinnamon Swirl Sweet Potato Pecan Crumb Cake
Whether you call it cake or bread, this tender sweet potato crumb cake features a cinnamon swirl and crunchy sugar and pecan crumb topping.
Ingredients:
For Swirl/Topping:
1/4 cup all-purpose flour
1/4 cup brown sugar
2 tablespoons granulated sugar
1 tablespoon ground cinnamon
pinch salt
2 tablespoons cold butter, cut into cubes
1/2 cup chopped pecans, divided
For Cake:
2 cups (8.5 oz) all-purpose flour
2 teaspoons ground cinnamon
1 teaspoon baking powder
1 teaspoon baking soda
1/2 teaspoon kosher salt
1/4 teaspoon freshly ground nutmeg
1 cup sweet potato puree
2 large eggs, at room temperature
1/2 cup packed brown sugar
1 tablespoon pure maple syrup
2 teaspoons vanilla extract
1/2 cup (1 stick) unsalted butter, melted and cooled
Directions:
Preheat oven to 350 degrees F. Lightly butter an 8-by-4-inch loaf pan; press and 8-inch wide strip of parchment paper into bottom of pan so it lines the bottom and long edges, leaving two overhangs on either side.
In a small bowl, whisk together flour, brown sugar, sugar, cinnamon and salt. Divide mixture in half and set one half aside (this will create the cinnamon sugar swirl inside the cake).
Add cold butter cubes to the other half of cinnamon sugar mixture. Cut in butter with two knives or a pastry cutter until pieces of butter are no larger than a pea. Add 1/4 cup of pecans and work into mixture with your fingers (reserve remaining pecans) until it clumps together. Refrigerate until ready to use.
In a bowl, whisk together flour, baking powder, baking soda, cinnamon, nutmeg, and salt.
In another bowl, whisk together sweet potato and eggs until evenly incorporated. Whisk in sugar, maple syrup, and vanilla until smooth.
Add sweet potato mixture and melted butter to dry ingredients, and mix until just incorporated and no dry ingredients remain.
Spoon about 1/3 of the batter into bottom of prepared loaf pan. Sprinkle with half of cinnamon sugar mixture and half of reserved pecans. Spoon another 1/3 of batter on top, followed by remaining cinnamon sugar and pecans. Spread remaining batter on top, spreading it into a smooth layer. Sprinkle with refrigerated crumb mixture, breaking it up into pea-sized pieces and keeping the bulk of the crumb mixture 1/2-inch from the edge of the pan (it will spread as it bakes).
Bake for 55 to 65 minutes or until crumb topping and corners are starting to darken and a toothpick inserted in the deepest part of the bread comes out clean.
Place pan on a wire rack to allow bread to cool completely, 1 to 2 hours. Run a thin knife along the short edges (where there is no parchment), and then use the parchment overhang as handles to gently lift the loaf out of the pan. If it is still warm, let it cool completely on a wire rack before slicing and serving.
Did you make this recipe?
Let us know what you think!
Leave a Comment below or share a photo and tag me on Instagram with the hashtag #loveandoliveoil.