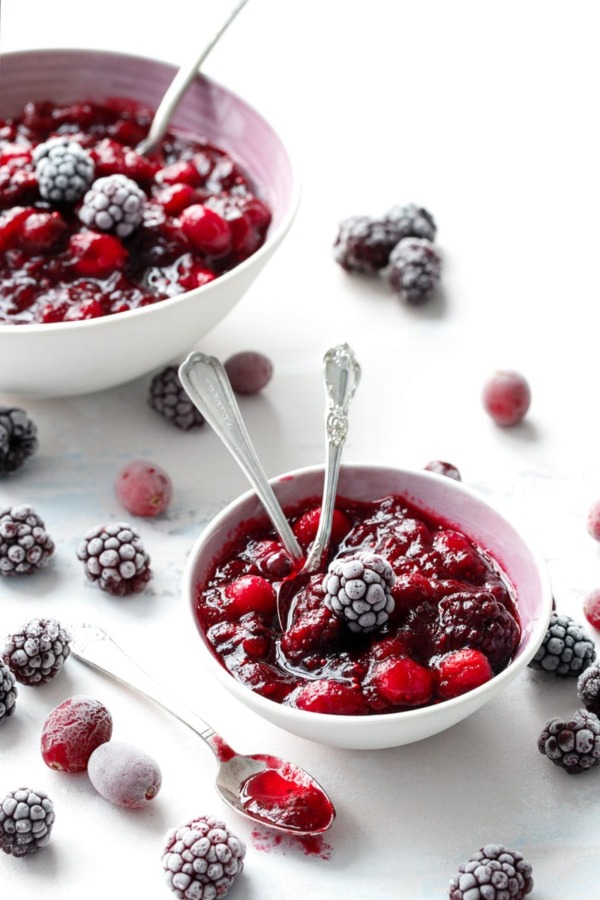 Cranberry sauce is arguably one of the most important parts of any Thanksgiving meal.
The bright acidity is perfect for breaking up the expanse of rich creaminess that covers the rest of your plate.
Every year I try to one-up myself, never settling for just a simple cranberry sauce (although the jellied cranberry sauce recipe available in my canning ebook always makes an appearance, as it satisfies even the most devout canned-sauce fanatics). It's not unlike me to prepare two different cranberry sauces each year, one jellied and one with some clever addition to make it more than just ordinary cranberry sauce. Cranberries play so well with so many different flavors (from hibiscus to ginger to grand marnier) I don't think I'll ever run out of unique combinations of ingredients to try.
This year, it's blackberry and cranberry, the idea coming to me more out of necessity than creativity as I had some frozen blackberries picked over the summer that still needed to be used.
Turns out the combination is pretty darn spectacular: the sweet tart of blackberries and the tannic tart of cranberries being two entirely different kinds of tart that compliment each other quite beautifully.
Also, a splash of chambord (entirely optional, of course, but I always feel a splash of booze makes the berries shine) because why not?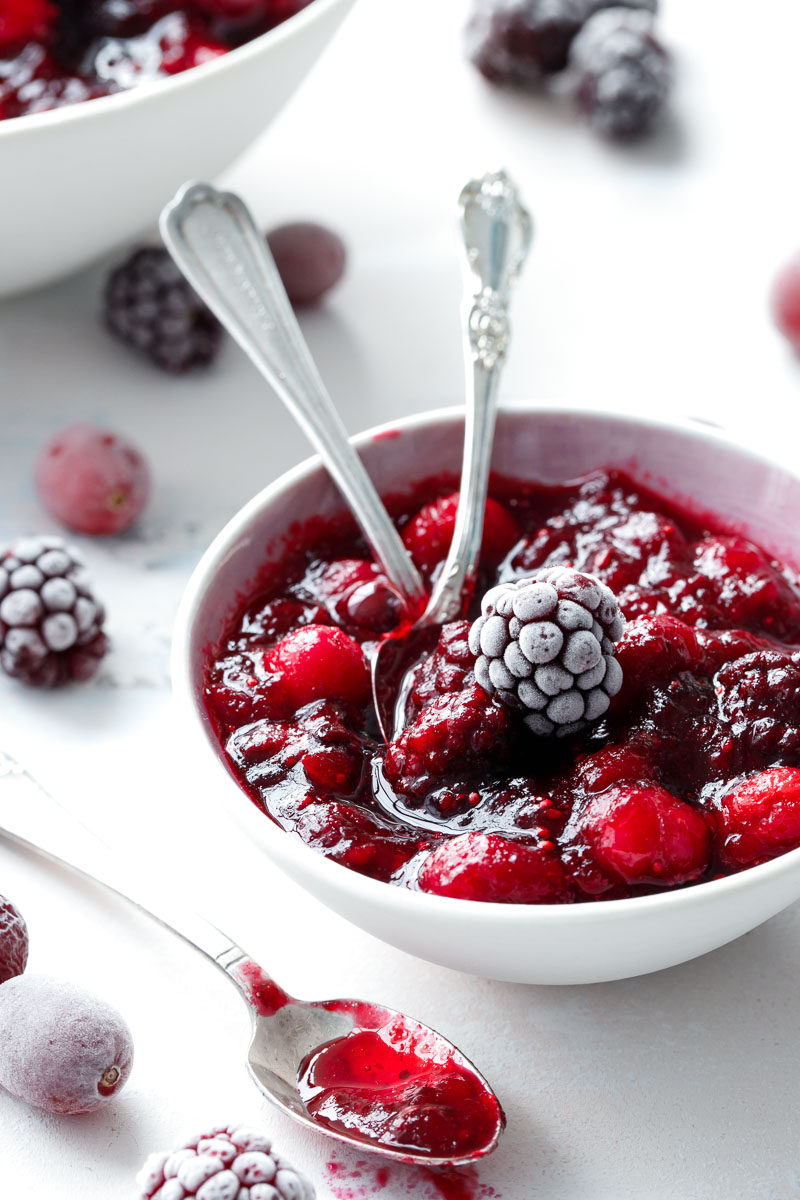 You can use fresh or frozen fruit here without affecting the recipe either way. Frozen fruit (no need to thaw it first) might take a few minutes longer to come to a simmer, but otherwise can be treated just the same as fresh.
Also? Raspberries and cranberries would be a pretty darn good combination too.
Blackberry Cranberry Sauce
A new twist on a classic Thanksgiving condiment, this easy chunky cranberry sauce recipe adds blackberries and black raspberry liqueur for a unique flavorful variation.
Ingredients:
12 ounces fresh or frozen cranberries
4 ounces (1 cup) fresh or frozen blackberries
1/2 cup granulated sugar
1/4 cup water
1 teaspoon lemon juice
2 tablespoons Chambord black raspberry liqueur (optional)
Directions:
In a saucepan, combine cranberries, blackberries, sugar, water and lemon juice over medium heat. Bring to a simmer, stirring occasionally, for about 10 minutes or until cranberries are burst and liquid is thickened. Stir in chambord and return to a simmer.
Remove from heat and let cool before serving. Sauce can be made up to 3 days ahead of time and refrigerated in a jar or airtight container.
Did you make this recipe?
Let us know what you think!
Leave a Comment below or share a photo and tag me on Instagram with the hashtag #loveandoliveoil.