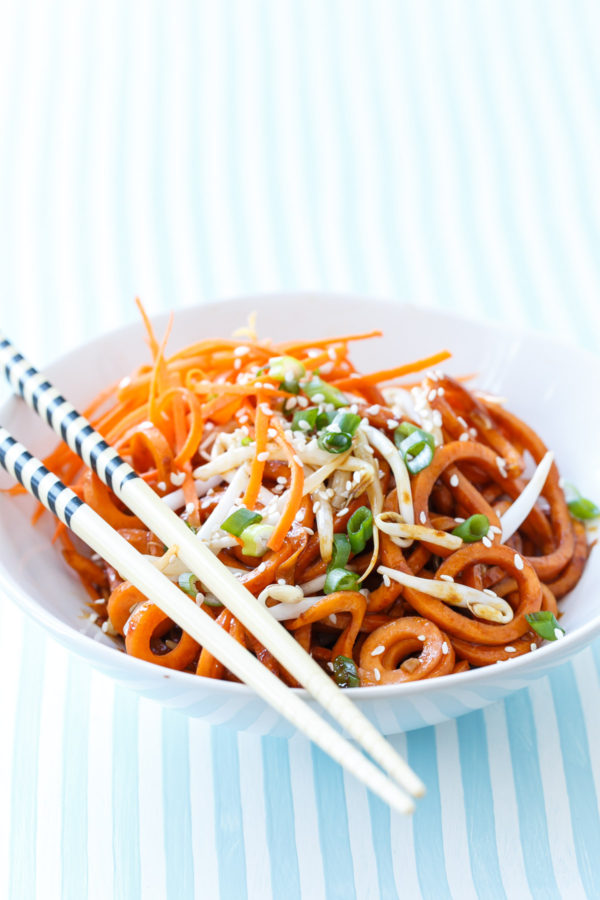 I caved. I finally got a spiralizer. I resisted for a long time, but a recent trip to KitchenAid® headquarters in Chicago changed my mind. Now, let's be clear, I'm not going paleo. I'm not on a low-carb diet (sorry, not even a cool new tool is going to convince me to give up my beloved pasta). Healthy options are a bonus, for sure, but no, the real reason I love this attachment? It's so gosh darn fun.
It's really just an excuse to play with your food, after all. I mean, you try putting a potato through this thing and not smiling as the perfectly curly spirals cascade into your bowl, visions of crispy shoestring fries dancing in your head. (Leave it to me to turn a health-nut's favorite tool into a means to acheive deep fried perfection… I will be making those fries, btw.)
But I digress. Because this recipe actually is healthy. It's virtually identical to our popular Soy Sauce Noodle recipe just with sweet potato noodles in place of the egg noodles. Quick and easy becomes quick, easy AND healthy!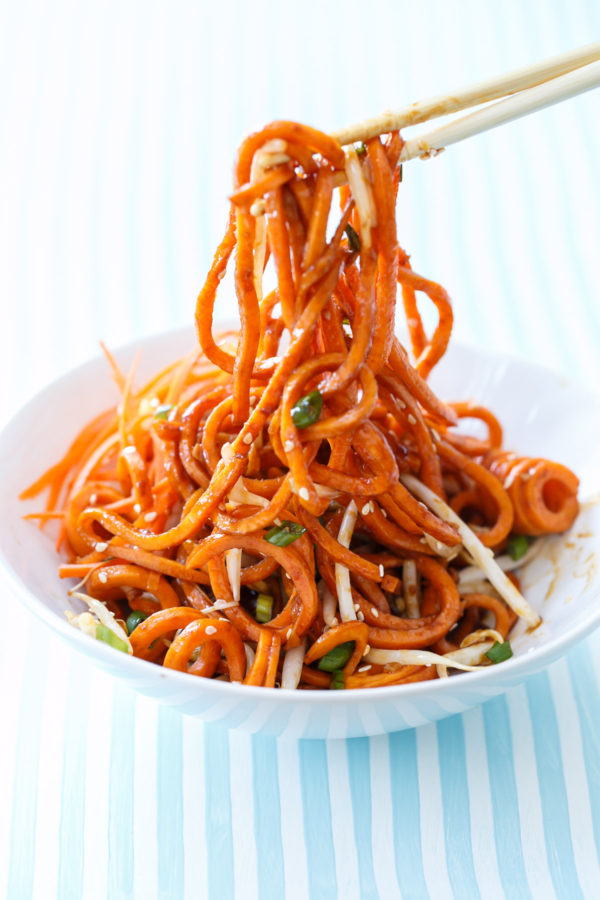 While the sauce is almost identical, the sweet potato noodles don't absorb liquid in the same way the egg noodles do, so we compensated by tossing the noodles in cornstarch first, both to aid in browning and to thicken the sauce so the noodles are evenly coated in sweet, sticky goodness.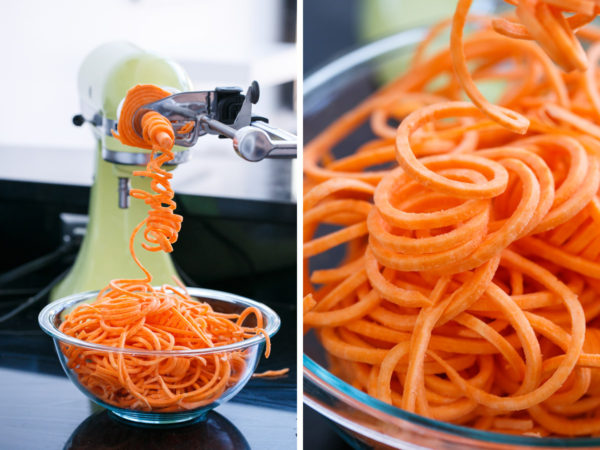 Look at those gorgeous curls.
Bonus perk? You don't even have to exert yourself in the process, like those hand-cranked spiralizers (I mean, we're already eating healthy, god forbid we get any actual exercise doing it). Just turn on your mixer and watch the magic happen.
While the attachment does a great job of spiralizing (as it should), I found the peeling blade to have a hard time with the uneven nature of the sweet potato. The blade was meant to work with soft-skinned, symmetrically-shaped fruits and vegetables like apples, potatoes, and zucchini, but unless you can hunt down a perfectly symmetrical sweet potato you'll be better off peeling them by hand first. Or you can leave the peel on too, your call.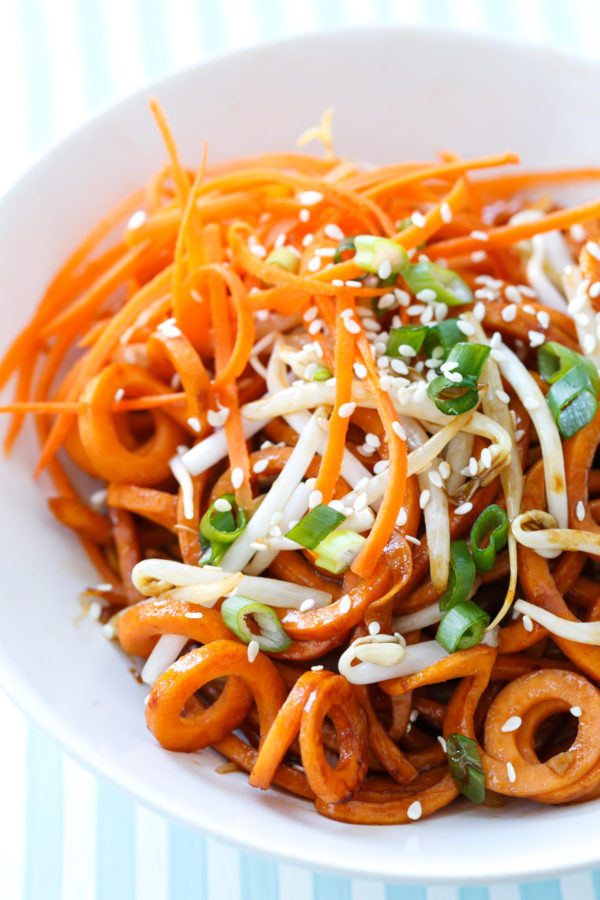 Crunchy bean sprouts, thin ribbons of carrot, sliced green onion and toasted sesame seeds round out this stellar dish. It's great on its own as a vegetarian (vegan, even!) main dish, or you could easily add some tofu or thinly sliced beef or chicken to give it some additional protein.
Soy Sauce Sweet Potato Noodles
Ingredients:
1 tablespoon soy sauce
1 tablespoon Shaoxing wine*
2 teaspoons dark soy sauce or tamari
2 teaspoons sesame oil
2 teaspoons dark brown sugar
1 teaspoon sriracha
2 medium sweet potatoes, peeled and spiralized
1 tablespoon cornstarch
1 tablespoon vegetable oil
2 garlic cloves, minced
2 green onions, sliced into matchsticks, white/light green and darker green parts separated
1 medium carrot, thinly sliced into matchsticks or ribbons
3 ounces bean sprouts**
sesame seeds, for garnish
Directions:
In a small bowl, whisk together soy sauce, dark soy sauce, Shaoxing wine, sesame oil, sugar, and sriracha. Set aside.
Toss spiralized sweet potato with cornstarch until evenly coated.
In a large skillet or wok, heat 1 tablespoon vegetable oil over medium-high until it shimmers. Add sweet potato and garlic and cook for 3-4 minutes or until garlic is fragrant and noodles are beginning to brown. Add soy sauce mixture and toss to coat. Cover skillet and cook for 2 to 3 minutes or until noodles are just tender (they should be cooked through but still al dente, you don't want them so soft they fall apart). Add green onion, carrot ribbons, and bean sprouts and cook for 1 minute more or until  just softened.
Remove from heat and divide among bowls; sprinkle with sesame seeds and serve immediately.
*Shaoxing (also spelled Shao Hsing) is a Chinese rice-fermented cooking wine, easily available at grocery stores with robust Asian foods sections or at Asian food stores. You can also substitute a dry (not cooking) sherry if needed.
**Beansprouts are often available at stores with good product sections or Asian markets. Note that they do go bad very quickly, so it is recommended to use them up within a day or two of purchase.
Did you make this recipe?
Let us know what you think!
Leave a Comment below or share a photo and tag me on Instagram with the hashtag #loveandoliveoil.