This recipe was created in partnership with OXO® – smartly designed kitchen tools for the modern cook. Thanks for supporting us and the brands we love!
It's officially oven season!
As the temperatures drop, sheet pan dinners like this one make regular appearances in our kitchen.
I love sheet pan recipes because you can simply throw all your ingredients onto a sheet pan (ok, don't throw, you want your food arranged in a single layer so it bakes evenly, but you get the idea) and pop it in the oven. No need to wrangle multiple pots and pans on the stove and in the oven to prepare a complete meal. That's the beauty of recipes like these.
As far as roasted chicken recipes go, this one might be our new favorite, not to mention totally seasonally appropriate. We used an assortment of tools from OXO to make it happen, including bakeware, tongs, basting brush, peeler, thermometer and chef's knife.
I swear, I'm not exaggerating when I say that half of our kitchen is OXO, which is why it was a no-brainer when they asked if we wanted to partner to share some fall roasting recipes with you. But seriously, all of OXO's products are so well designed and just gosh darn functional, not to mention comfortable to use. Other kitchen tools just don't compare.
This chicken packs a flavorful punch in the form of an apple cider glaze, made from fresh apple cider simmered with garlic and spices until thick and sweet.
Let's just clarify now and get it out of the way: use apple cider, NOT apple cider vinegar. That's an entirely different beast and I don't think you'll be pleased with the results. (You'd be surprised how often such a mistake is made).
We used an unfiltered honeycrisp apple cider, but you can use your favorite (non-alcoholic) apple cider or unfiltered apple juice. In fact, fresh cider is basically defined as raw apple juice that has not undergone a filtration process so they are technically the same thing. If your cider is already spiced, you might want to leave the cinnamon out of the glaze.
When cooked down, the natural sugars in the cider will caramelize, creating a super sweet and sticky glaze. And when I say reduce I really mean it: you'll start with 1 1/2 cups of liquid and end up with a scant 1/3 cup, just enough to brush onto your chicken breasts and a little leftover to drizzle on your veggies.
When it comes to varieties of winter squash, there are so many varieties out there you might start going cross eyed. For this recipe we used delicata and honeynut, but acorn squash would be another good option (although peeling acorn squash is a tricky task indeed). That's one of the reasons I love delicata squash, the tender skin doesn't require peeling. Honeynut squash is a new-to-me variety that's basically a smaller, sweeter butternut, is a perfect sweet compliment to the cider glaze. It does need to be peeled (but armed with a super sharp, ergonomic peeler, you'll have naked squash in no time!)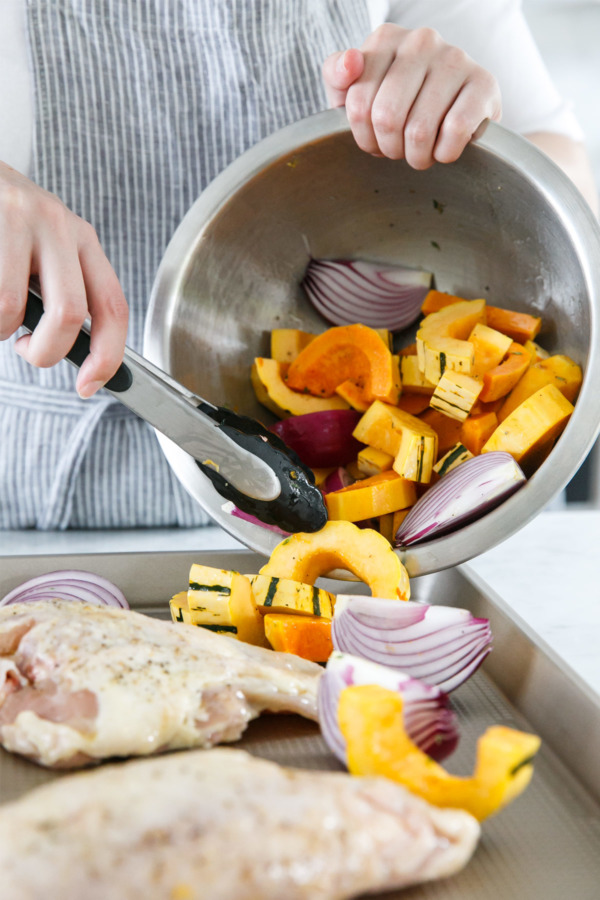 The sugary glaze will burn, so we only brush it on the chicken during the last 5-7 minutes of baking (tip: use a silicone basting brush like this one for easy application and even easier cleanup). A sugary glaze is the quickest way to ruin a good cookie sheet, so don't make the mistake of putting it on too early.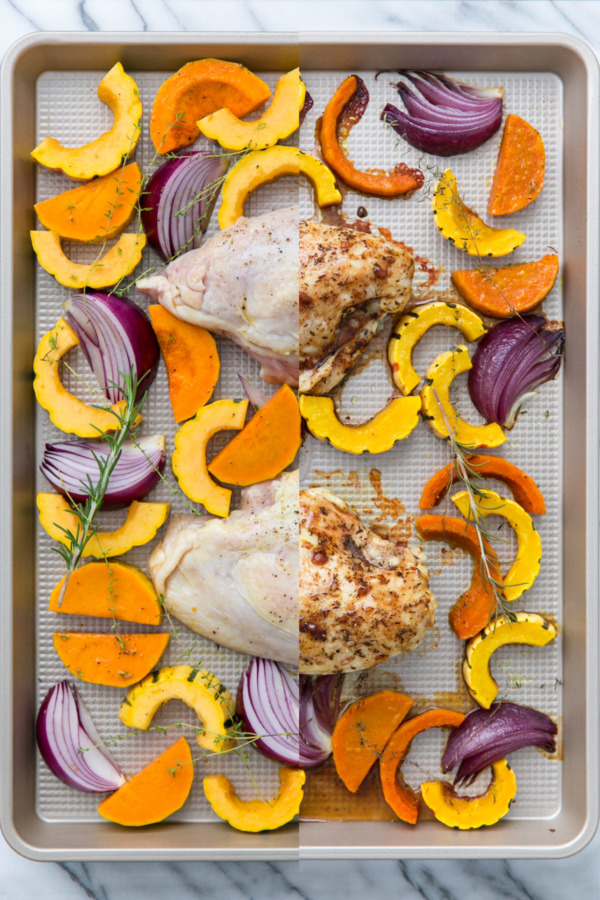 Speaking of cookie sheets, for sheet pan meals like this one a thick, evenly-conducting pan is essential, and a quality non-stick surface will ensure that any burnt or caramelized bits will be easy to scrub off. A thinner sheet pan will develop hot spots, whereas a quality cookie sheet bakes evenly so the food on the edges is cooked just as much as the middle. OXO's non-stick metal bakeware has a microtextured pattern to improve nonstick capabilities and improve airflow for even baking. It's really some of the nicest bakeware I've ever used.
As we've mentioned before, starting with bone-in, skin-on chicken breasts is key to moist and juicy chicken, and this recipe is no different. You simply won't get the same flavorful results from a boneless breast. Not to mention they're usually significantly cheaper. (Cheaper and more flavorful? That's what I call a win win!)
Since chicken breasts vary so much in size, you can't rely solely on the cook time outlined in a recipe, be it mine or Martha's. Instead, the only authority you should trust when it comes to cooking chicken is your thermometer (you do have a reliable thermometer, don't you?)
If you can find them, smaller breasts (around 8 to 10 ounces each) work better for this recipe; larger ones may take upwards of 40 to 50 minutes to cook, at which point the veggies will be mush. If your breasts are on the larger side, I'd recommend starting your chicken first by itself, then add the veggies to the pan after 10 to 15 minutes.
Start checking the temperature of the meat after about 30 minutes. When the breasts hit 150 degrees in the thickest part of the meat, brush on your glaze, then pop it back in the oven for 5 to 7 more minutes or until the glaze is golden and the thickest part of the breast reads 165 degrees F. That's the only way you'll know that your chicken is truly done (and not overdone at that).
Cider-Glazed Chicken Breasts with Fall Vegetables
Moist, bone-in chicken breasts with winter squash and a sweet and sticky apple cider glaze. A perfect one-pan recipe that's full of bold fall flavors!
Ingredients:
1 1/2 cups apple cider or unfiltered apple juice
2 garlic cloves, finely minced
1/2 teaspoon ground cinnamon (optional, leave out if your cider is spiced)
1/2 teaspoon ground thyme
1/4 teaspoon ground sage
1/4 teaspoon salt
2 small (10-12 ounce) bone-in, skin-on chicken breasts
1 medium or 2 small winter squash (about 1 1/2 pounds), peeled (if necessary), halved, seeds scooped out, and sliced into 3/4-inch thick slices.
1 small red onion, cut into wedges
olive oil, for drizzling
salt and freshly ground black pepper, to taste
fresh thyme and rosemary sprigs
Directions:
Preheat oven to 375 degrees F. Prepare a half sheet pan by brushing lightly with olive oil.
In a saucepan, combine apple cider, garlic, cinnamon, thyme, sage and salt and bring to a simmer over medium-high heat. Continue to cook, stirring occasionally, until the glaze is noticeably thickened and reduced to about 1/3 cup. This will take about 20 minutes.
Meanwhile, rub chicken breasts all over with a few tablespoons of olive oil all over chicken breasts. Season with salt and pepper. Arrange on sheet pan with a few inches of space between them.
In a bowl, toss sliced squash and onions with about 2 tablespoons of olive oil, and a generous pinch of salt and pepper.  Toss to evenly coat, then spread onto baking sheet, arranging in a single layer in spaces around chicken breasts. (Note that if your chicken breasts are on the large side, you should give them 10 to 15 minutes in the oven on their own, then add the vegetables to prevent overcooking).
Bake for about 30 minutes or until chicken breasts read an internal temperature of about 150-155 degrees F. Brush with cider glaze, then return to the oven for 5 to 7 minutes more or until glaze is browned and chicken reaches 165 degrees F in the thickest part of the meat.
Transfer chicken and vegetables to plates and serve with remaining cider glaze on the side.
Did you make this recipe?
Let us know what you think!
Leave a Comment below or share a photo and tag me on Instagram with the hashtag #loveandoliveoil.
Disclosure: This post was created in partnership with OXO®. As always, all opinions written are purely our own. We're incredibly grateful for opportunities like these that allow us to continue sharing delicious recipes with you, so thank you for supporting us and the brands we love.