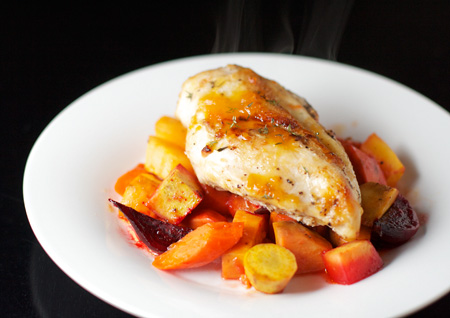 We're really trying to think outside of the box (jar?) when it comes to all this jam we have. Because you can only eat so much toast. Our abundant jars of fig and peach and pepper preserves need to be used somehow, and I've been looking for creative uses for them.
So far I've found the apricot jam to be the most versatile. It's great on grilled cheese, and as we discovered with this recipe, it makes a fabulous glaze for chicken. But, alas! There is only one jar left. I totally should have made more.
You can really mix it up with the vegetables here – while the original recipe called for acorn squash, fennel, and parsnip, we added in some sweet potato and butternut squash. So long as the vegetables you choose tend to cook at about the same speed, you're free to add in just about anything.
Now if we could just find an equally creative use for the fig jam, we'd be in business. Any ideas?
Apricot Roast Chicken with Root Vegetables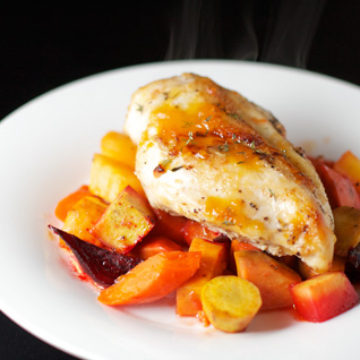 Ingredients:
2 small carrots, peeled, cut on the diagonal into 1-inch pieces
2 small beets, each cut into 6 wedges
3 small sweet potatoes, cut into wedges
1 medium butternut squash, peeled & seeded, cut into 1-inch pieces
1 large fennel bulb, cut into 8 wedges, tops reserved
2 tablespoons plus 1 teaspoon olive oil
1/4 cup apricot jam, mixed with 2 tablespoons warm water
2 tablespoons fresh thyme leaves, branches reserved for stuffing
Salt and freshly ground black pepper
2 whole chicken breasts, bone in, skin on (2 1/2 pounds total)
1/2 lemon, cut lengthwise into 4 wedges
Directions:
Heat oven to 450 degrees. In a large bowl, toss vegetables with 2 tablespoons oil, 2 tablespoons apricot-jam mixture, and thyme leaves; season to taste with salt and pepper. Arrange in a 9-by-13-inch glass baking pan; roast for 10 minutes.
Meanwhile, in a large skillet, heat remaining teaspoon oil over medium-high heat; season chicken, and brown, 4 minutes. Remove from heat; fill cavities between breast halves with lemon, thyme branches, and fennel tops.
Place chicken, skin side up, in a roasting pan, with vegetables around it; roast 15 minutes. Brush chicken with remaining jam; add 6 tablespoons water to pan. Roast until vegetables are tender and chicken is well browned, about 20 minutes. Discard lemon, thyme, and fennel. Bone each breast half with a sharp knife: Cut along breastbone, scraping rib cage with knife; remove meat with your fingers. Arrange meat and vegetables on a serving dish. Pour pan juices over, and serve.
Did you make this recipe?
Let us know what you think!
Leave a Comment below or share a photo and tag me on Instagram with the hashtag #loveandoliveoil.