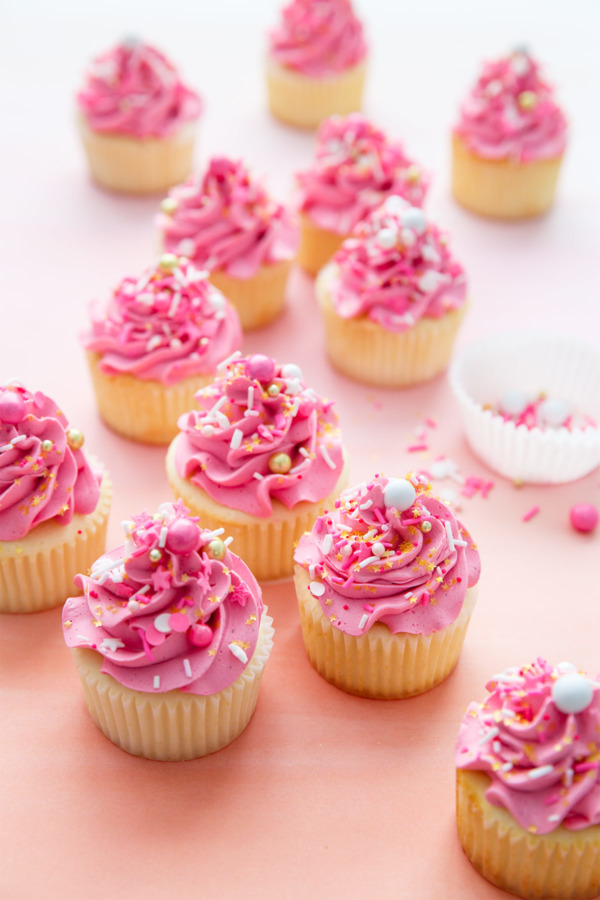 There are few things better than a moist, fluffy white cupcake topped with a mound of the creamiest buttercream.
Except maybe a tender white cupcake topped with a mound of the creamiest buttercream and FILLED WITH SPRINKLES.
Indeed, you wouldn't know it from just looking at them but these cupcakes are filled with a surprise cache of sprinkles!
Like a piñata, in cupcake form. That you bite into instead of bash.
Talk about a fun party trick!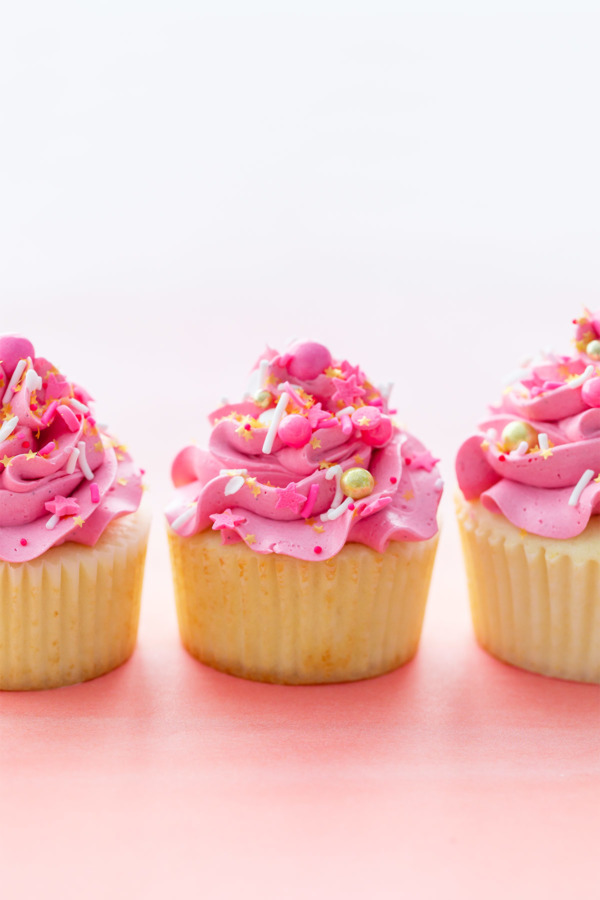 Both the cupcake and marshmallow buttercream recipes come from the Bravetart cookbook, which is shaping up to be one of my all-time favorite baking cookbooks.
This buttercream especially. Let's just say it's downright fabulous, quite possibly the best buttercream I've ever eaten, let alone made from scratch. It's light and creamy and practically melts in your mouth, not gritty and crusty like the American kind, but far easier and less temperamental than the finicky meringue buttercreams I've tried. Just be sure your butter is at the proper temperature (yes, stick a thermometer in it if you have to!) and you'll be good to go.
I'd be curious if the recipe would work with store-bought marshmallow fluff, as the from-scratch thing is definitely something you have to plan for. Although making the fluff one day and the buttercream the next was not an unreasonable task (you don't even have to refrigerate it). The outcome is well worth it!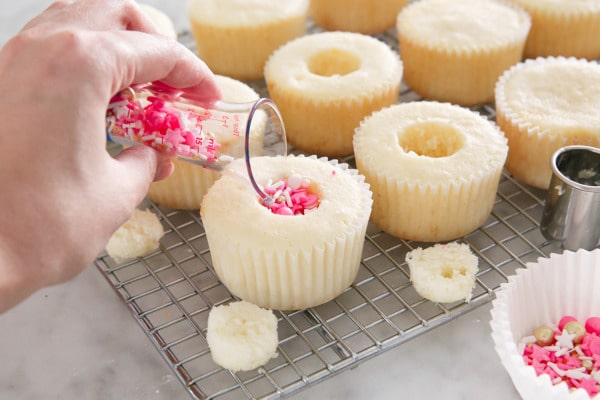 To fill with sprinkles, I used a 3/4-inch round cutter to core the cupcakes. Simply press the cutter down as far as it will go–though not touching the bottom of the cupcake–then twist and lift to remove the plug. If any is left in the bottom you can scrape it out with a butter knife. You can also use a paring knife to cut a 'cone' of cupcake out of the center.
Trim off the bottom of the plug (baker's snack!) leaving about a 1/2-inch 'cap' to replace on top.
Fill the cavity with 1-2 teaspoons of sprinkles, then top with the cap and frost as normal. The frosting will cover up the entire operation so your sprinkles will be a complete surprise.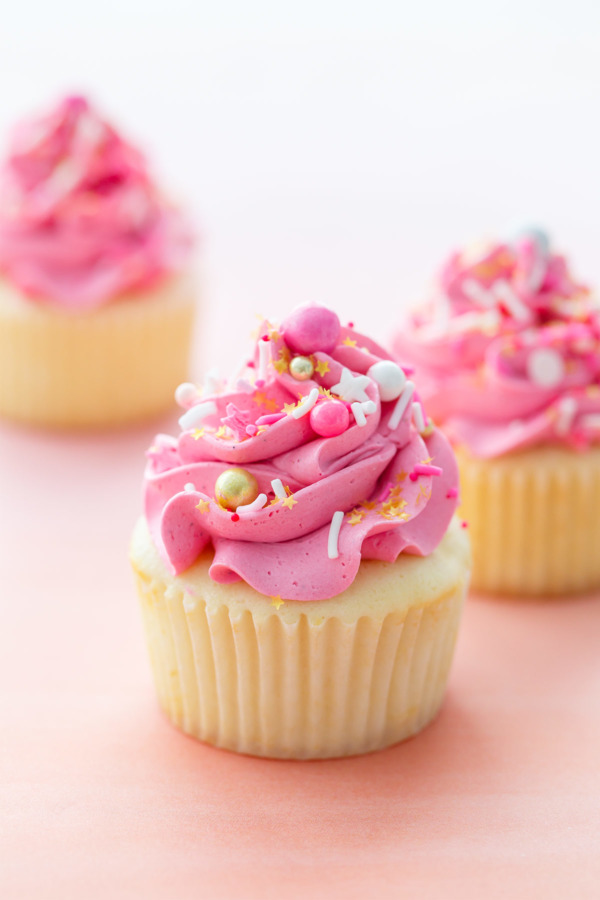 Technically the same process could be used to fill these cupcakes with just about anything, from lemon curd to fruity jam to dulce de leche. Filling cupcakes is the best way to take them over the top, in my opinion!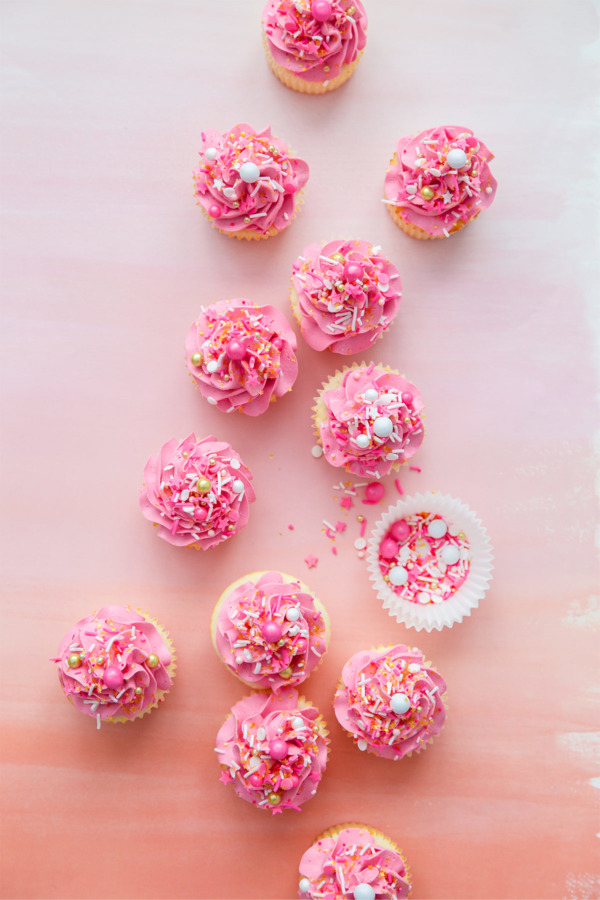 For those curious, these fab sprinkles are the Flamingo twinkle sprinkle medley from Sweetapolita. Seriously love their stuff. I used a whole 4 ounce bottle for this project, filling and topping.
Also…
Be sure to check out the amazing giveaway going on right now on Instagram. I've partnered with KitchenAid for their #10000cupcakes campaign in support of breast cancer awareness, and we're giving away a gorgeous pink stand mixer to boot! You don't want to miss it. :)
Sprinkle-Filled Cupcakes with Marshmallow Buttercream
These fluffy white cupcakes are filled with a fun sprinkle surprise and topped with the best, creamiest buttercream I've ever had.
Ingredients:
For Buttercream:
1 1/8 teaspoons (1/2 packet) unflavored gelatin
2 tablespoons cool water, to bloom gelatin
1/2 scraped vanilla bean or 1/2 teaspoons vanilla extract
1/4 cup plus 2 tablespoons (3 ounces) water
1/4 cup plus 3 tablespoons (5 ounces) light corn syrup
1 cup (7.25 ounces) granulated sugar
1/4 teaspoon Diamond Crystal kosher salt, half as much if iodized
2 1/2 sticks (10 ounces) unsalted butter, soft but cool (about 65 degrees F)
For Cupcakes:
2 cups (8 ounces) bleached cake flour, sifted
1 stick (4 ounces) unsalted butter, at cool room temperature*
1/3 cup (2 ounces) virgin coconut oil, solid but creamy*
1 cup plus 2 tablespoons (8 ounces) granulated sugar
1 1/4 teaspoons baking powder
1/2 teaspoon baking soda
1/2 teaspoon Diamond Crystal kosher salt, half as much if iodized
4 large egg whites, about 1/2 cup or 4 1/4 ounces), at room temperature*
1 tablespoon vanilla extract
1/2 teaspoon almond extraact
1 cup (8 ounces) cultured low-fat buttermilk, at room temparture*
4 ounces sprinkles of your choice, for filling and topping
Directions:
For Marshmallow Creme:
(this should be made at least 2 hours before frosting and up to 1 week ahead of time)
In a small bowl, sprinkle the gelatin over 2 tablespoons cool water to bloom for at least 5 minutes. Add vanilla extract or split vanilla bean to gelatin without stirring.
Combine 3 ounces water with corn syrup, sugar and salt in a heavy saucepan set over medium heat. Stir with a fork until dissolved and bubbling, then increase heat to  medium-high. Clip on a digital thermometer and continue to boil, without stirring, until syrup reaches 250 degrees F, about 8 minutes.
Pour the hot syrup into the bowl of a stand mixer fitted with the whisk attachment, scraping the pot with a heat resistant spatula. Let cool to exactly 212 degrees F, about 8 minutes.
Add gelatin and mix on low speed until gelatin is melted, then increase speed to medium-high and whip until marshmallow is thick, glossy white, and roughly tripled in volume, about 10 minutes. Scrape into a greased container and let stand at cool room temperature for at least 2 hours or up to 1 week.
For Cupcakes:
With rack in the lower-middle position, preheat oven to 325 degrees F. Line a muffin pan with cupcake wrappers.
Combine butter, coconut oil, sugar, baking powder, baking soda, and salt in the bowl of a stand mixer fitted with the paddle attachment. Mix on low speed to moisten, then increase to medium and cream until light and fluffy, about 5 minutes, pausing to scrape down the sides of the bowl part way through.
With the mixer running, add the egg whites one at a time, followed by vanilla and almond extracts.
Reduce speed to low and add 1/3 of the sifted flour, followed by 1/3 of the buttermilk. Continue alternating flour and buttermilk, allowing each addition to be mostly incorporated before adding the next, until no dry ingredients remain.
Using a large cookie scoop, drop a scant 1/4 cup of batter into each cup, filling about 2/3 full.
Bake for 16 to 18 minutes or until a toothpick inserted in the center comes out with just a few moist crumbs attached. The cupcakes will look slightly underdone compared to yellow cake, as they do not brown like you might expect. Use the toothpick to know when they are done rather than visual cues.
Let cool for 10 minutes, then remove cupcakes from pan and place on a wire rack to cool completely.
To fill, cut out cores of cupcakes using a paring knife or a small round cookie cutter. Trim off all but 1/2 inch or so of plug to form a flat cap. Fill each cavity with 1 to 2 teaspoons of sprinkles, then top with trimmed cap.
For Buttercream:
Place the marshmallow in the bowl of a stand mixer fitted with the whisk attachment. Turn to medium speed, and begin adding butter 1 tablespoon at a time, waiting about 5 seconds after each addition. The creme will cling to the whisk at first, but will loosen up as the butter is incorporated.
Once all the butter has been added, scrape down the sides of the bowl.Add food coloring as desired and whip for 1 minute more. The buttercream should be light and creamy and almost melt on your tongue, but still thick enough to hang upside down from a spoon. (If your buttercream seems to dense or too thin, please see troubleshooting in the original recipe [preview available on google books.]) Spread or pipe onto cooled cupcakes and top with more sprinkles.
*The temperature of the butter, coconut oil, buttermilk, and egg whites is very important to the structure of the cake. Butter should be at cool room temperature, about 65º, and the other ingredients should be about 70ºF. Get your ingredients out about 1 hour before you start baking, and use a thermometer if you have to to monitor the temperature of your ingredients.
Did you make this recipe?
Let us know what you think!
Leave a Comment below or share a photo and tag me on Instagram with the hashtag #loveandoliveoil.