This recipe was created in partnership with McCormick® for your dinnertime pleasure. Thanks for supporting us and the brands we love!
Cooking is all about timing.
Fitting in a homecooked meal between finishing work and your favorite TV show that comes on at 7. Coordinating the prep and cooking to ensure that all parts of that meal come out hot and perfectly cooked at the same time, and, if you're like Taylor, all the dishes are done before you even sit down to enjoy that hot meal.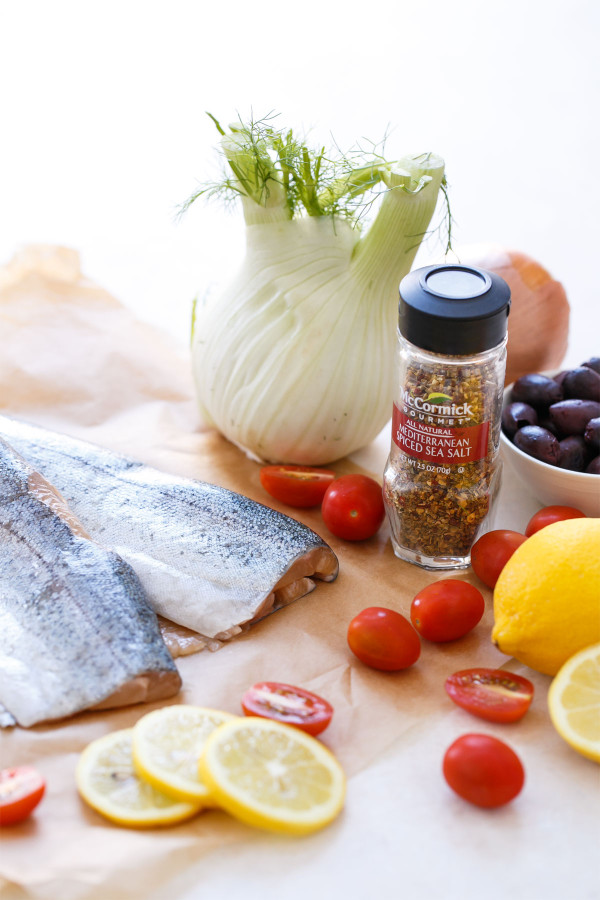 We love trout because the thin fillets cook in practically no time at all, and that (along with the fact that it's just plain delicious) is the reason why we cook this dish (or something very much like it) on a weekly basis. It's one of our favorite weeknight dinner tricks: simply toss some random vegetables on a sheet pan with the fish and pop it in the oven and voila! Dinner in no time flat.
In this case, paired with fennel and onion, the trout cooked almost too quickly, leaving the fennel a bit too al-dente. I'm all for crisp veggies, but fennel likes to be cooked until it's nearly caramelized, which brings out the sweetness and flavor. In that respect it's not quite a one step meal, but I promise, it's just as easy to throw the fennel in the oven for a few minutes first, then top it with the seasoned fish as well as the tomatoes and olives (which are perfectly softened after 10 minutes).
See? Timing.
This recipe is a study in contrasts and complements… sweet and spicy, soft and crunchy, salty and tart. Each ingredient, each flavor, adds to the greater whole, resulting in a wildly satisfying dinner dish.
For this recipe we used McCormick Gourmet's Mediterranean Spiced Sea Salt. It's a brilliant blend of sea salt with other herbs and spices including red pepper flakes, garlic, basil, and oregano. It takes the guesswork out of seasoning, and it works equally well on both the vegetable and the fish portions of this dish. Talk about convenient.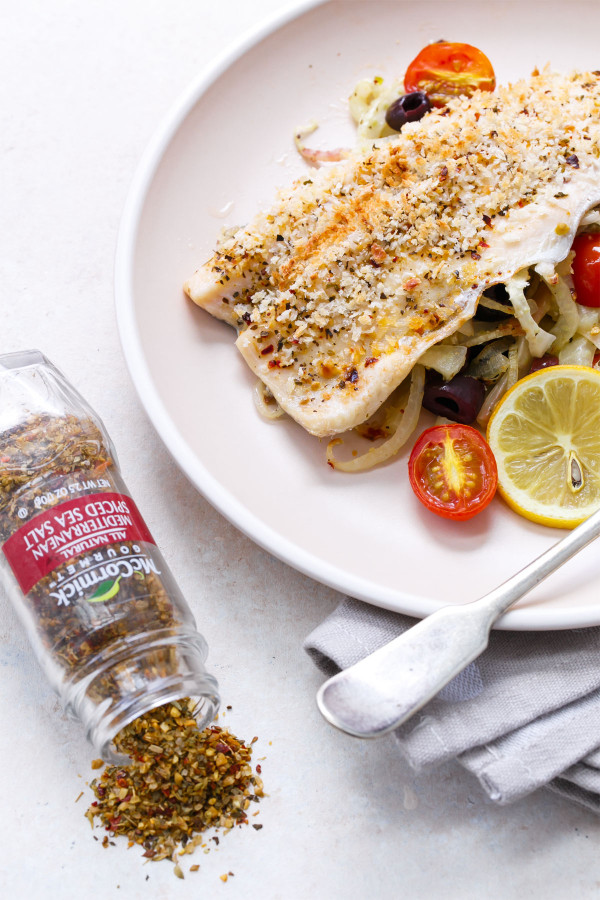 I'll admit that I'm usually one to avoid spice blends, as I like to have control over my seasoning. But there's something to be said for only needing one bottle, only having to make one measurement, as opposed to a little of this and that from 6 or 8 different jars, bottles, and grinders. Especially when the seasoning blend is so beautifully balanced, vibrantly flavored, and perfectly salted (that's right, you don't even need the 'season with salt and pepper to taste' step with this one) I know for sure this is one seasoning blend that will see regular use in our kitchen.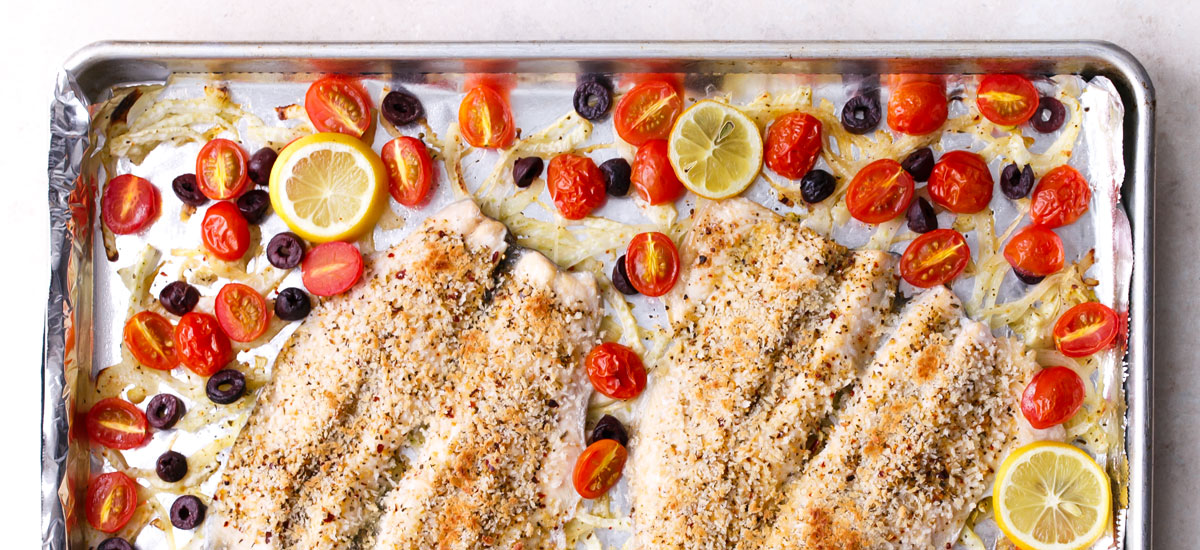 Mediterranean Baked Trout with Olives, Fennel & Tomatoes
An easy-to-prepare and wildly flavorful recipe with baked trout fillets, caramelized fennel and onions, cherry tomatoes, kalamata olives, and a savory Mediterranean sea salt seasoning.
Ingredients:
1/2 large fennel bulb, cored and thinly sliced
1/2 large onion, thinly sliced
2 tablespoons extra virgin olive oil
4 teaspoons McCormick Gourmet Mediterranean Spiced Sea Salt, divided
2 rainbow trout butterflied fillets
1/4 cup panko breadcrumbs
6 ounces cherry tomatoes, halved
1/4 cup sliced pitted kalamata olives
1 lemon, thinly sliced
Directions:
Preheat oven to 400 degrees F, position baking rack in the center of oven. Line a baking sheet with aluminum foil; spray with olive oil cooking spray.
Toss sliced fennel and onion with 1 teaspoon of Mediterranean Spiced Sea Salt until coated. Spread in an even layer on prepared baking sheet. Bake for 10 minutes or until fennel begins to soften and caramelize.
Remove baking sheet from oven and arrange trout fillets on top. Sprinkle evenly with remaining 3 teaspoons of Mediterranean Sea Salt and panko breadcrumbs (2 tablespoons per butterflied fillet). Scatter halved tomatoes, sliced olives, and lemon slices around fish.
Return to oven and bake for another 5 minutes, then switch your oven to high broil for an additional 3 to 5 minutes or until breadcrumbs are golden brown and fish is cooked through. Keep a close eye on it to ensure the breadcrumbs don't burn. Remove from oven and cut fillets in half. Divide vegetables among serving plates and top with fish; serve immediately.
Did you make this recipe?
Let us know what you think!
Leave a Comment below or share a photo and tag me on Instagram with the hashtag #loveandoliveoil.
Disclosure: This recipe was created in partnership with McCormick®. As always, all opinions written are purely our own. We're incredibly grateful for opportunities like these that allow us to continue sharing delicious recipes with you, so thank you for supporting us and the brands we love.