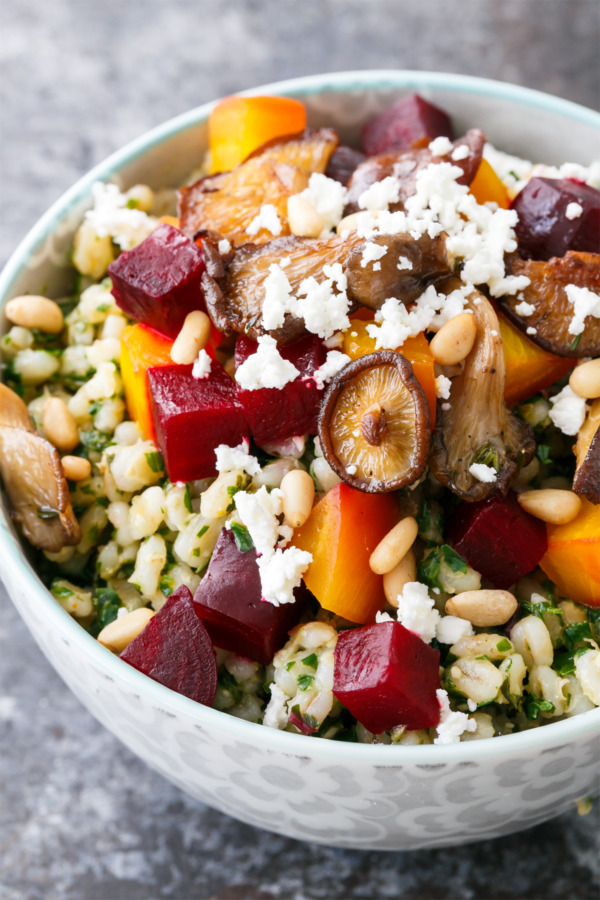 I like to call these vegetarian power bowls. Vegan even, if you skip the goat cheese. Me, however, I'll never skip the goat cheese.
We set out to create a unique pesto recipe using KitchenAid's new mini food processor, and these veggie-friendly bowls were the perfect vehicle on which to smother it. With a base of hearty protein-rich barley, sweet roasted beets and savory roasted mushrooms, all tossed with a waste-nothing batch of beet green pesto, these bowls are both filling and flavorful, and downright awesome.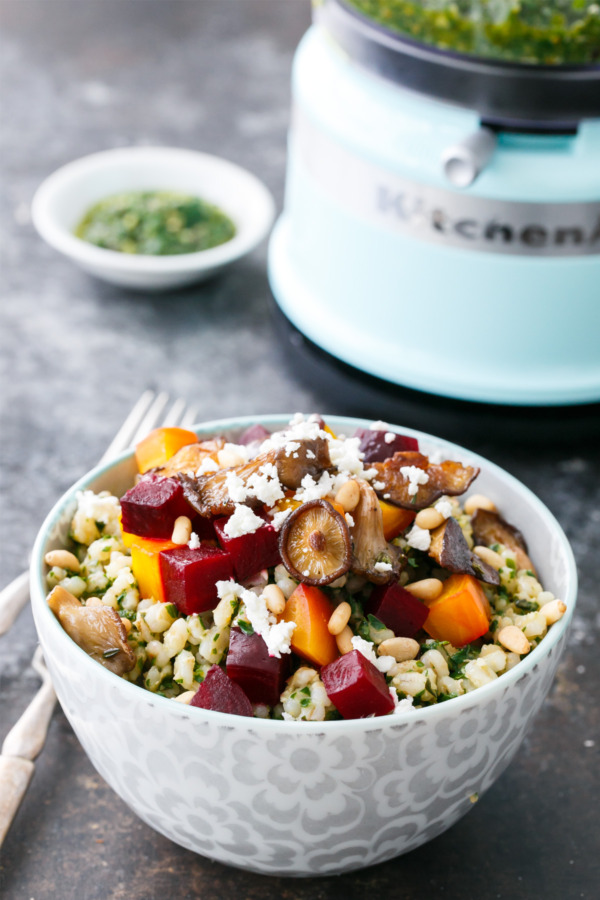 The beet green pesto uses the otherwise-wasted beet greens as the base, resulting in a super-flavorful twist on an classic Italian pesto sauce. Blanching the greens first removes any undesired bitterness, and adding a handful of basil and parsley gives the pesto a nice herbal brightness and counteracts the overt earthiness that often turns people off of beets and beet greens entirely. With a touch of orange zest, vinegar, and honey, trust me, it does not taste like dirt in the least.
If you can't find beets with greens still attached (which you need for the pesto), know that swiss chard is the closest flavor-wise, but you could also use kale or spinach or even straight up basil for a more classic pesto. My philosophy is you can pretty much make pesto with anything green.


We like to roast our beets in foil packets, rubbed with olive oil and sprinkled with salt and pepper. After about an hour (more or less depending on the size of your beets) the skins will practically slide off with little effort on your part. So much easier (and less messy) than trying to peel and chop beets beforehand.
While we used a mix of red and golden beets (because they're just so darn pretty!) you can certainly use a single color as well.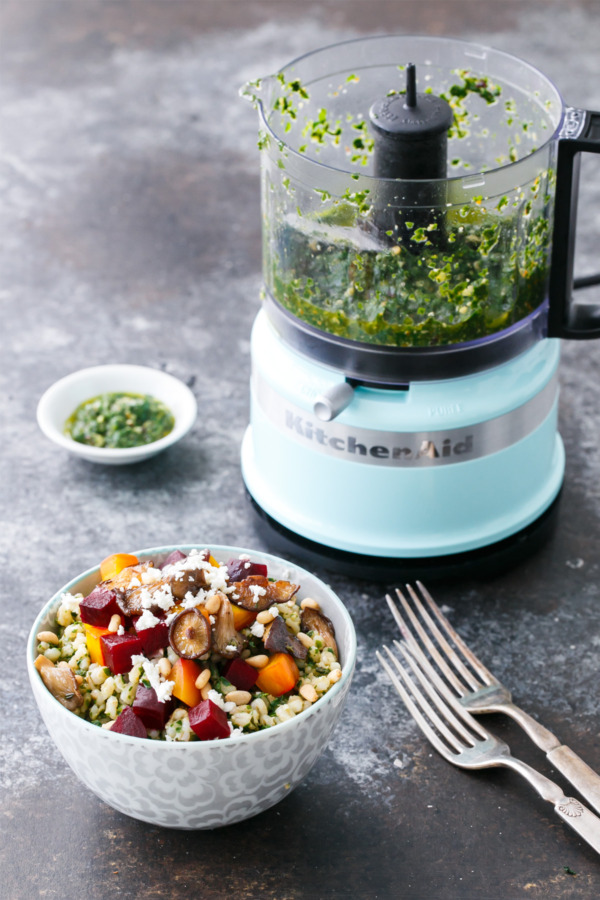 This Mini Food Processor from KitchenAid is seriously one of my new favorite things. Not only is it basically the cutest thing ever (and that color!) but it is the ideal tool for small batches of pesto (something I have long lamented has never been possible in a full size food processor). I also love how light and easy to transport it is, since I always hate lugging my big ol' food processor out of the pantry when I need to use it. This one I can lift with one hand (literally).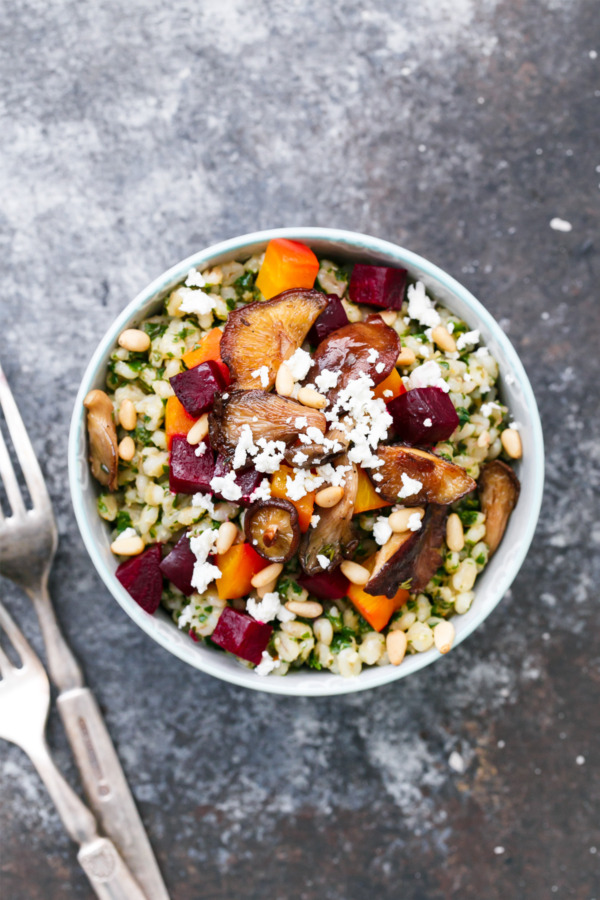 It amazes me sometimes just how much flavor you can coax out of seemingly boring vegetables. The mushrooms are key, I think, to adding a richness and umami that would otherwise only be found in meat. Roasting them to the point where they are almost crispy is not only easier than sauteeing them on the stovetop (simply stick the sheet pan in your oven and work on other things) but it also adds some truly unique flavor and texture to this recipe.
Beet & Barley Bowls with Beet Green Pesto
These vegetarian power bowls are full of plant-based awesomeness, including hearty barley, sweet roasted beets and savory roasted mushrooms, all tossed with a flavorful and economical beet green pesto.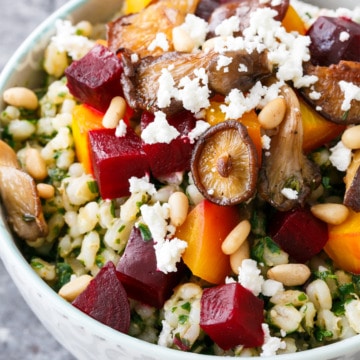 Ingredients:
1 cup pearl barley, cooked according to package instructions (you can also use quinoa or bulgar or whatever base grain you'd like!)
1 bunch beets with greens (3-4 medium beets, any color)
1/4 cup plus 2 tablespoons olive oil, divided
8 ounces mixed wild mushrooms (such as oyster, shiitake, etc.), trimmed and coarsely chopped
2 sprigs fresh thyme
salt and freshly ground black pepper
crumbled goat cheese, for topping (optional)
For Beet Green Pesto:
1/2 cup packed fresh basil leaves
1/4 cup packed fresh Italian parsley leaves
2 large garlic cloves
1 tablespoon pine nuts, lightly toasted, plus more for topping
1 teaspoon honey
1 teaspoon orange zest
1 teaspoon white wine vinegar
1/4 teaspoon sea salt
1/3 cup extra virgin olive oil
Directions:
Preheat oven to 400 degrees F. Position two oven racks in the top and bottom thirds of the oven.
Cook pearl barley according to package instructions. Drain and set aside to cool.
Wash and trim beets; set greens aside. Place beets in the center of a piece of aluminum foil, two beets per square of foil. Drizzle with about 2 tablespoons olive oil and rub all over beets. Sprinkle with salt and pepper. Gather foil around tops of beets to form a packet, with the opening at the top to prevent leakage. Place packets on a cookie sheet and roast for 50 to 60 minutes or until beets are fork tender. Carefully open tops of foil to release steam, and let cool for about 10 minutes. When beets are cool enough to handle, rub skins off using a paper towel. Slice into 3/8-inch slices and then cut slices into cubes.
While beets are roasting, bring a large pot of water to a boil. Cut thick stems out of beet greens and discard. Blanch greens for 30 seconds until bright green, then transfer to an ice bath. Drain, squeezing out as much liquid as possible from the greens, and place in the bowl of your food processor along with basil, parsley, garlic, pine nuts, honey, orange zest, vinegar, and salt. Pulse 3 or 4 times to chop. Scrape down sides as needed, then add olive oil and pulse a few more times to combine.
Toss mushrooms with 1/4 cup olive oil, fresh thyme, and a generous pinch of salt and pepper. Spread in a single layer on a foil-lined baking sheet lightly coated with cooking spray. Roast for 20 to 25 minutes, stirring once, until mushrooms are golden brown and nearly crispy.
To assemble, toss barley with about 2/3 of pesto mixture. Divide among serving bowls. Top with cubed beets, roasted mushrooms, crumbled goat cheese, and a sprinkle of pine nuts if desired. Serve warm or at room temperature with remaining pesto alongside.
Did you make this recipe?
Let us know what you think!
Leave a Comment below or share a photo and tag me on Instagram with the hashtag #loveandoliveoil.
This recipe was created in partnership with KitchenAid®. All opinions are my own. Be sure to share your take on these recipes on Instagram using #MadeWithKitchenAid for a chance to be featured on the @KitchenAidUSA account!