Beets. Rosemary. Balsamic vinegar. Arborio rice.
Four ingredients with endless possibilities.
Yes, you could do risotto, that's the obvious choice. But when we were given these four ingredients as part of McCormick Gourmet's Go4Gourmet challenge, we wanted to think outside the risotto and come up with something a bit less obvious.
A few failed attempts at creativity later (including one successful, albeit unintentional, batch of glue) we ended up with this.
Are you surprised that it's breakfast for dinner? Because you shouldn't be.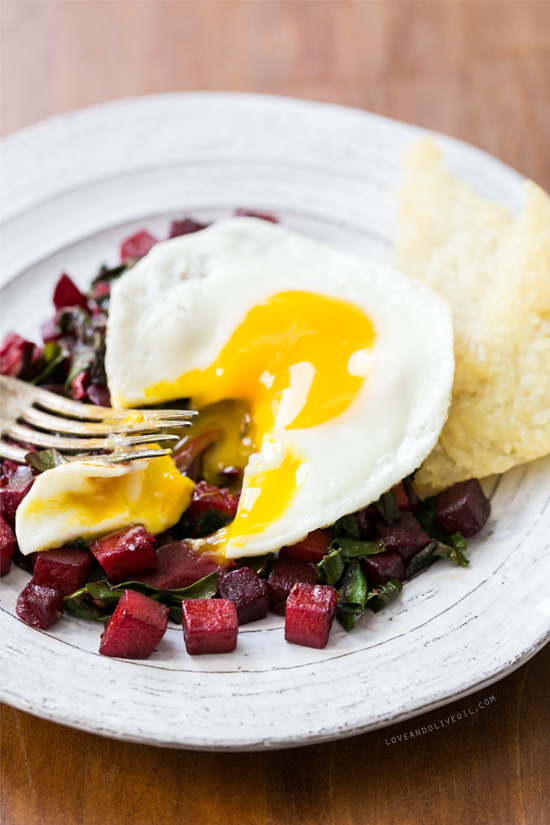 The arborio rice gets spread into a baking pan and chilled, then cut into wedges and fried until crispy. Alone, they taste a bit like popcorn (go figure). But when paired with a runny egg and savory beet hash, the rice cakes provide the perfect crispy foundation for an incredible breakfast for dinner dish (or breakfast for breakfast, it'd work then too!)
We especially love that this recipe uses both the beets and their greens (although you can easily substitute Swiss chard or kale if you can only find loose beets). The greens have such a lovely earthy flavor and brilliant red veining that it's a shame to see them go to waste.
But let's talk about this hash. And I'm not sure if it is technically a hash (is there an official definition?) but that's what we're calling it. I figure anything served with an egg on top can technically be called a hash.
But I digress.
Yes, you have your beets. And your beet greens. But there's also onion, sweet potato, and shiitake mushrooms in there too (don't let the all-encompassing pink camouflage fool you, they're there!). These additions lend another level of flavor to the dish so it's not overly beety (hear that, beet haters?), while the balsamic vinegar and rosemary take it squarely into dinner territory.
And in reality, as much as I love the textural contrast of the crispy rice, the beet hash itself would be pretty fabulous over risotto.
Sunny Side Up Beet Hash with Crispy Rice Cakes
Ingredients:
1 cup arborio rice, prepared according to package instructions
1/3 cup olive oil, divided
1 medium onion, chopped
1 teaspoon dried rosemary
1/4 teaspoon red pepper flakes
4 ounces shiitake mushrooms, stems removed and thinly sliced
2 medium beets (greens reserved), peeled and diced into 1/2-inch cubes (about 2 cups)
1 medium sweet potato, peeled and diced into 1/2-inch cubes (about 2 cups)
3 tablespoons balsamic vinegar
2 cups roughly sliced beet greens (from 2 medium beets, you can also substitute swiss chard or kale if you cannot find beets with greens still attached)
1/4 teaspoon each salt and freshly ground black pepper
6 large eggs
Directions:
Line a 9-by-9-inch baking pan lined with plastic wrap and spray lightly with cooking spray. Prepare rice according to package directions. Spread into prepared pan, pressing in to an even square. Cover with plastic wrap and refrigerate for at least 2 hours or overnight.
Heat 2 tablespoons oil in a large skillet or saucepan over medium-high heat. Add onion and cook until translucent, about 3 minutes. Stir in rosemary and red pepper flakes and cook for 1 minute or until fragrant. Add mushrooms and cook, stirring occasionally, for 3 minutes or until mushrooms are softened.
Stir in beet and sweet potato, followed by balsamic vinegar. Cover and cook, stirring occasionally, for about 20 minutes or until vegetables are just tender. Add beet greens and sauté until greens are bright green and slightly wilted, about 5 minutes. Season to taste with salt and pepper.
Meanwhile, heat 2 to 3 tablespoons olive oil in a large non-stick skillet over medium-high heat. Gently lift rice out of baking pan and set on cutting board. Cut into 9 even squares, then cut each square in half to form triangles. Cook 4 or 5 rice cakes in hot oil, taking care not to overcrowd the pan, and cook until crispy and just barely golden brown, about 2 to 3 minutes per side. Transfer to a paper-towel lined plate and repeat with remaining cakes. Crisped cakes can be kept in a warm oven at 200 degrees until ready to serve.
Heat a nonstick skillet over medium heat; spray lightly with cooking spray. Add eggs and cook, either one at a time (for perfect, round eggs) or all at once in a large skillet for speedier preparation. Cook for about 2 to 3 minutes for a runny egg, or flip and cook for another minute if you like your eggs over medium.
To serve, divide hash among plates. Top with a fried egg and serve with crispy rice cakes.
Did you make this recipe?
Let us know what you think!
Leave a Comment below or share a photo and tag me on Instagram with the hashtag #loveandoliveoil.
Disclosure: This post was sponsored by McCormick Gourmet. As always, all opinions written are purely our own. We're incredibly grateful for opportunities like these that allow us to continue sharing delicious recipes with you, so thank you for supporting us and the brands we love.