After a trip, you're left with memories and photos. Maybe a souveneir or two (I have a habit of bringing home spoons, go figure) but sometimes a dish, something you ate during your travels, follows you home and simply refuses to be ignored.
In cases like this it's helpful to have a direct connection, a source where you can request the recipe, politely of course, but some legit begging and pleading (oh-my-god-if-I-don't-eat-that-again-soon-I-might-die) might very well occur. Then you sit back and hope the chef is generous enough to share their secrets with you, and in turn your readers.
This is one such recipe, from the Grocery Cafe at Deer Valley Resort in Utah. I knew from the second I took a bite that this was a dish I would not soon forget (and let's be honest—how often can you say that about a SALAD?)
It's a beautiful thing, really, when ingredients come together in perfect harmony. There's a reason that word, harmony, is used to describe both music and food: as when you find it, you almost want to stand up and applaud the chef who created such a magnificent symphony.
In my case, I didn't want to cause a scene, so I just snapped a photo and made a mental note to email the Deer Valley Resort PR team about the dish when I got home.
I've had this recipe in my email box for since December, tempting me to no end, the only thing preventing me from making and sharing it sooner was my unfortunate lack of microgreens. They are hard suckers to find, but darn if I was going to make this salad without them (however that's not to say the salad wouldn't be perfectly delicious still without them, because it would, I promise!) Microgreens are basically infant greens or herbs, harvested somewhere between the sprout and baby lettuce stages. They have the flavors of their grown counterparts, just milder and less intense. Not to mention they are just plain cute, and can take even the most ordinary dish to fancy new heights. I see them at Whole Foods every few months, and when they do appear they are in short supply. This time I happened to find arugula, which was perfect for this salad, and cilantro (!!!) which I'd never seen in micro-form before and promptly snatched up.
I've seen some chefs around town with their own little microgreen patches, and I assume they are not to difficult to grow yourself. I may just have to set up a little microgreen farm in our unused upstairs shower to ensure I have a steady supply at all times.
Seriously, I want to microgreen ALL THE THINGS.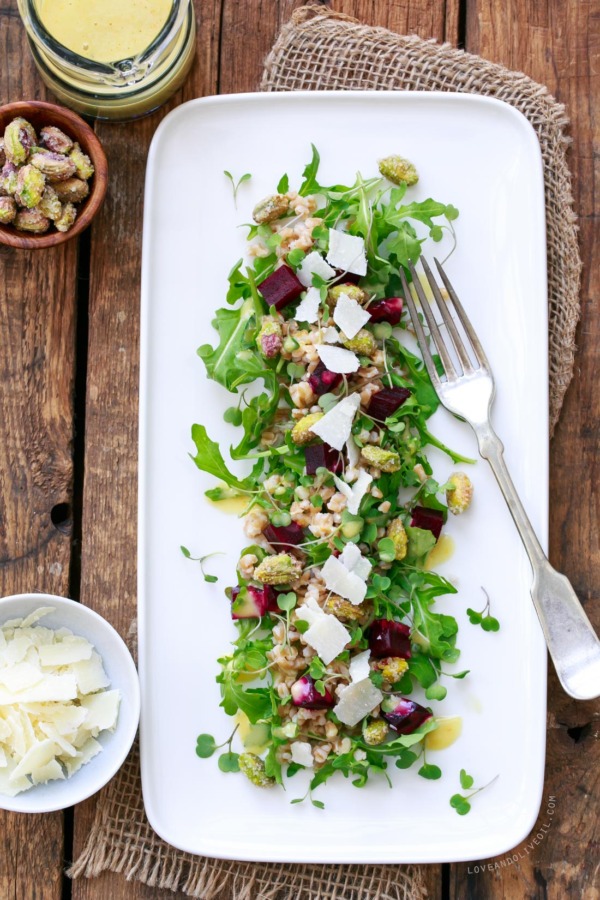 But back to this salad.
Aside from the microgreens, it combines seemingly dissonant parts into one, beautifully harmonic whole. The bright arugula, the hearty farro, the sweet and earthy beets, the candy-like pistachios, and the salty cheese.
It just works.
And it's recipes like this that reconfirm that I am not a chef. I couldn't have come up with as beautiful a combination as this if I had wanted to. No, this is the work of someone who knows how to combine textures and flavors masterfully. Like a beautiful logo, it's one of those things that looks so simple, but you just know that the time and thought that went into developing that simplicity was anything but.
This recipe may seem like it has a lot of parts, but the reality is that they can all be made well ahead of time (since they need to be cool when served anyway). Make a double batch, and enjoy this delicious healthy salad all week long.
Oh, and beet haters (yes, I know you're out there)… leave them off if you must. But don't miss out on the rest of this recipe just because that one ingredient stirs such contempt in your soul and on your tongue. It'd be a crying shame.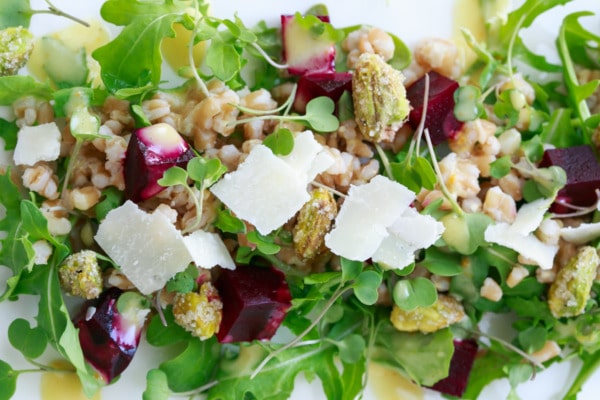 Roasted Beet and Farro Salad with Citrus Vinaigrette
Ingredients:
2 large beets, rinsed and stemmed
1/2 cup farro, rinsed
4 cups baby arugula
1 cup mixed micro greens
1/2 cup shaved Parmesan cheese
Citrus Vinaigrette:
2 oranges, zested and juiced
2 lemons, zested and juiced
1 clove garlic, finely chopped
1 tablespoon Dijon mustard
1/4 cup honey
1 cup olive oil (also ok to use half grapeseed or light olive oil for a lighter flavor)
Candied Pistachios:
1/2 cup raw shelled pistachios
1 tablespoon maple syrup
2 tablespoons maple or white sugar
Directions:
Preheat oven to 375 degrees F. Rub beets all over with olive oil. Wrap in aluminum foil and place on a baking sheet. Bake for 30 to 40 minutes (depending on size) or until beets are fork tender. When beets are cool enough to handle, rub between two paper towels; skins should come off cleanly. Slice and dice into 1/2-inch chunks and set aside.
Bring a pot of lightly salted water to a boil. Cook farro according to package instructions, until al dente. Drain any excess water and set aside to cool. Farro can be made ahead of time and stored in airtight container in the refrigerator.
For vinaigrette, combine citrus zest and juice, garlic, mustard, and honey in a blender or food process and blend well. Slowly drizzle in oil with machine on the lowest speed until emulsified and evenly pale yellow in color. This recipe makes enough dressing for about 8 servings; store it in a jar or airtight container in the fridge for up to 2 weeks.
For candied pistachios, preheat oven to 275 degrees F. Toss pistachios with maple syrup. Sprinkle with sugar and toss to coat. Pour onto a foil-lined baking sheet and spread into a single layer. Bake for 20 minutes or untill lightly colored and crispy.
To assemble, divide arugula among serving dishes. Top with cool cooked farro. Sprinkle with chopped beets, micro greens, and candied pistachios. Drizzle with vinaigrette. Top with shaved Parmesan cheese. Serve at room temperature.
Shared with permission from Grocery Cafe at Deer Valley Resort (Executive Chef Jodie Rogers and Cafe Chef Kristine Thorslund)
All images and text ©
Lindsay Landis
/ Love & Olive Oil
Did you make this recipe?
Let us know what you think!
Leave a Comment below or share a photo and tag me on Instagram with the hashtag #loveandoliveoil.