In an effort to be more healthy, I'm sure we've all tried swapping out whole wheat pasta, and chances are you were disappointed with the outcome. I've yet to meet someone who actually prefers whole wheat to standard white pasta, ourselves included. And yet we tolerate it because the health benefits are so apparent (less processing means the grain retains more of its nutrients, including vitamins E and B, antioxidants, fiber, protein, and healthy fats.)
The thing about whole wheat pasta is it needs a sauce that can hold its own against the thick, nutty noodles. Delicate butter sauces need not apply, what this pasta needs is a bold, flavorful pesto, to transform it from something that is tolerated to something that is enthusiastically devoured.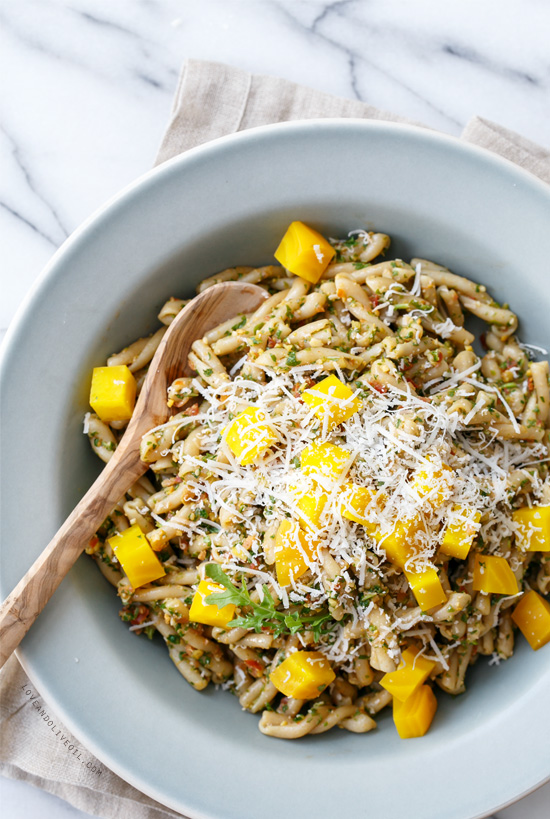 But not just any pesto will do. Technically speaking, pesto is a generic term for anything that is made by pounding (as it is traditionally made with a mortar and pestle, from which the name derives). While it is most commonly made with basil, I wholeheartedly believe that anything green can be made into pesto. Ok, maybe not green apple jolly ranchers, but any leafy green, vegetable, or herb. Pick your plant, pick your nuts, add some cheese, olive oil, seasoning, and voila! Pesto.
I've made pesto with spinach and beet greens, asparagus and kale, but my favorite version, aside from the traditional basil, is most definitely arugula.
This particular iteration also contains cherry tomatoes, making it somewhat of a hybrid between traditional Genovese pesto and trapense (or Red Pesto, a variation from Southern Italy made with almonds and tomatoes). Pistachios instead of almonds to enhance the vibrant green color and nutty flavor, a splash of lemon juice to offset the spicy arugula, and of course, red pepper flakes (totally optional, of course, but I love the addition of spice to my pesto).
We topped the pasta with golden beets, roasted until they are sweet and tender, and a generous pile of finely shredded pecorino cheese, the delicate saltiness the perfect compliment to the nutty pesto and sweet beets. (Big surprise, I initially used goat cheese in this dish, which you could most definitely do if you like, but found that the pecorino brought so much more to the table.)
While you can substitute a good quality Parmigiano Reggiano (an aged cow's milk cheese with a decidedly nutty flavor), Pecorino Romano, which is made with sheep's milk, has a more potent flavor and salty finish that I find holds up better to the strong flavors of this dish.
Arugula Pesto Pasta with Roasted Golden Beets
Ingredients:
3 medium golden beets, stems trimmed
olive oil, salt, and pepper, for roasting
16 ounces DeLallo® Organic Whole Wheat Gemelli pasta, cooked according to package directions
4 ounces cherry tomatoes
3 ounces (half a bag) baby arugula
1/3 cup grated Pecorino Romano cheese, plus more for serving
1/4 cup shelled, unsalted pistachios
3 large garlic cloves, coarsely chopped
1/2 tablespoon lemon juice
1/2 teaspoon red pepper flakes
1/2 teaspoon sea salt
1/4 teaspoon freshly ground black pepper
1/4 cup extra virgin olive oil
Directions:
Preheat oven to 400 degrees F. Rub beets with olive oil and sprinkle with salt and pepper. Wrap beets in aluminum foil. Place on a baking sheet and bake for 30 to 40 minutes or until tender. Let cool slightly. When cool enough to handle, rub beets with paper towels to remove skin (it should come off cleanly), then slice into 1/2-inch cubes.
Bring a large pot of salted water to a boil. Cook pasta according to package directions. Drain, reserving 1/2 cup pasta water, and set aside.
To prepare pesto, combine tomatoes, arugula, pecorino cheese, pistachios, and garlic in the bowl of a food processor. Add lemon juice, red pepper flakes, sea salt, and pepper. Pulse until finely chopped. Drizzle in olive oil, and puree until smooth, scraping down the sides of the bowl as needed.
Toss pesto with pasta, adding a splash of reserved pasta water as needed to help the pesto coat the pasta evenly. Divide among serving bowls. Top with beet cubes and additional pecorino cheese as desired. Serve warm or at room temperature.
Did you make this recipe?
Let us know what you think!
Leave a Comment below or share a photo and tag me on Instagram with the hashtag #loveandoliveoil.
Disclosure: This post was created as part of an ongoing partnership with DeLallo Foods. As always, all opinions written are purely our own. We're incredibly grateful for opportunities like these that allow us to continue sharing delicious recipes with you, so thank you for supporting us and the brands we love.