When it rains, it pours. And that's not necessarily a bad thing. Despite the fact that we were still playing catch-up from our grand Europe adventure, we simply couldn't turn down an invitation to sail for Alaska aboard the Ruby Princess. Timing be damned, when Alaska calls, you answer.
I know I still owe you Paris and Barcelona pictures (I was barely half-way through editing the Paris shots when I had to unexpectedly travel to New York), but I wanted to share our Alaskan adventure while the picture-perfect scenery was still fresh in my mind and the motion of the waves still lingering in my feet. And I'm not talking figuratively, either. Little did I know (until now) that 'reverse-seasickness' is actually a thing. It's been 8 days and I'm convinced someone swapped the solid ground under our apartment for a barge. After our last cruise I still felt the residual motion for a day or two (you know when you get off a trampoline? It's a bit like that.) but this is taking it to the extreme. Taylor admits he's jealous, that he wishes he felt like he was still on the ship, but I try to convince him it's not a pleasant feeling.
Surprisingly, I was good when I was actually on the boat, armed with a 30-day supply of Bonine to keep me on my feet (Traveler's tip: Bonine is a life saver. Seriously. Dramamine puts me out and leaves me feeling worse than if I hadn't taken it at all. Bonine gets rid of the motion-sickness without any drowsiness. I take it anytime I have to travel, be it plane, train, or, in this case, cruise ship.)
Of course, the champagne didn't hurt, either.
Our accommodations were pleasant, clean and bright with a much-appreciated balcony. Like any stateroom, it was by no means spacious, but it's not like you spent much time there anyway. I was also pleasantly surprised to find we had a mini-fridge, which came in handy to stash the two growlers of Rachel's Ginger Beer I picked up in Seattle (seriously, that post I did on my favorite ginger beers awhile back? I might as well just delete the whole thing because RGB has ruined me for anything else. It's that good.)
Be sure to click through to see the full post and all of the postcard-worthy photos (a compliment to Alaska's sheer beauty rather than my cred as a landscape photographer). As hard as I tried to whittle it down, I simply couldn't fit all of the images and stories I wanted to share into a single post, so stay tuned for Part II later this week!
We set sail at 4pm on Sunday, and arrived in Ketchikan, Alaska amidst a shroud of fog early Tuesday morning. The time change proved in our favor here, as we were up and bright-eyed at 5am to watch as the ship silently crept into port.
In Ketchikan we had signed up for a fishing excursion, which turned out to be our favorite excursion of the entire trip. We were outfitted in super stylish rubber waders, life vests, and rain gear (a welcome layer as it was quite chilly that morning until the sun came out). Over the course of 3 hours we each caught a few fish despite it being an "abnormally slow" day (according to our guide), which we promptly took back to the campsite for an amazing lunch. The food was so good, in fact, that it'll be the subject of it's own post, complete with recipes, coming up soon. Stay tuned!
The following morning took us North to Tracy Arm Fjord. While the ship meandered through the scenic base of the arm, we boarded a smaller catamaran that would get us out into the tiny fingers and as close to the glaciers as possible. They told us that this was the first time this season they had been able to do this, as even the week before there had simply been too much ice to do so.
The catamaran took us within 1/4 mile of the Saywer glaciers, where we sat in awe and anticipation, hoping to see a piece of the glacier calve and crash into the water with a surprising sound. The face of the glacier used to be miles farther down the fjord, the now separated North and South Sawyer glaciers united in a single icy mass that could be seen from the point where the ship had dropped us off that morning.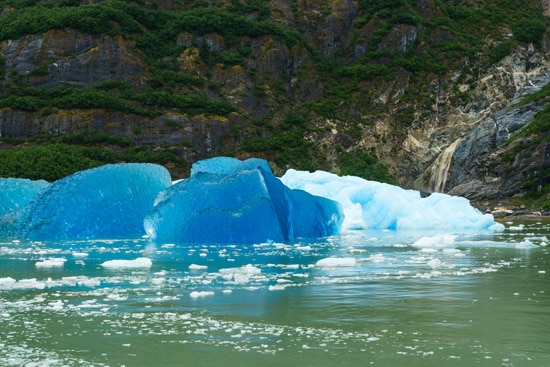 The crystal blue color of the ice left me speechless. According to our guide, the older and denser the ice, the bluer the color. We saw a few pieces of this unnaturally blue ice floating in the water around us, and I couldn't wrap my head around it. It looked like chunks of sea glass (or frozen blue raspberry kool-aid, depending on how you looked at it), the electric blue color only intensified by the jade green water in which it floated.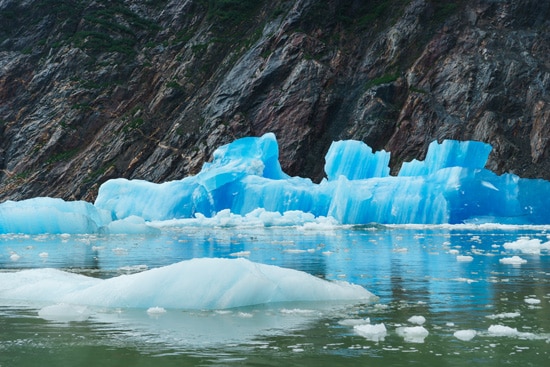 I felt like I was floating through a glass of ice water, chunks of ice scraping against the underside of the boat. I'm sure we all had visions of Titanic looping through our heads as the captain expertly meandered around the larger pieces, their size just a hint of the sheer mass that lay hidden below.
If I was cold at this point, I can't imagine how this poor little seal felt.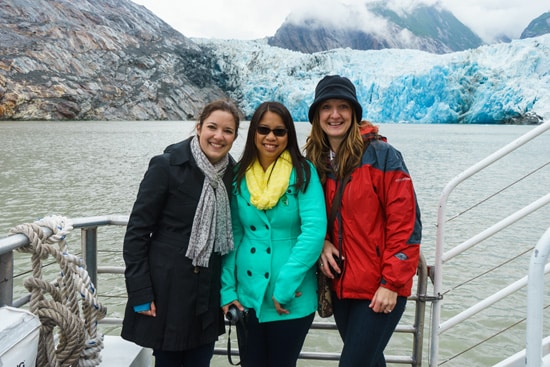 I was lucky enough to be able to experience this with two of my closest blogger friends, Julie of The Little Kitchen and Brenda of A Farmgirl's Dabbles, along with our respective significant others. It made the experience that much more meaningful.
With the glaciers at our backs, the low-lying clouds began to recede, and the sun warmed our frozen fingers (gloves, I've found, severely impair one's picture taking mobility). At this point we really began to take in our surroundings, and were treated to some of the most beautiful scenery I have ever encountered.
I felt like around every corner was another picture perfect postcard. We made our way back down the fjord, bound for Juneau where we'd meet up with the Ruby once again, stopping only a few times along the way to gawk at black bears, eagles, and whales.
I was mentally checking off square after square on my "Alaska Bingo" card as we went (glacier: check; black bear: check; black bear and harbor seal in the same photo: double check extra bonus points).
After what seemed like hours skimming across the choppy waters of Stephens Passage, we finally met up with the Ruby again in Juneau, mere minutes before our next excursion was scheduled to depart. Luckily, our tour hadn't left without us, and good thing too: it was perhaps the most delicious 3 hours of our entire trip.
Our Juneau Food Tour took us to some of Juneau's tastiest destinations, including Tracy's King Crab Shack. I probably would have written the place off as a tourist trap based on its location alone (so many of the restaurants near the piers are less than authentic, strategically placed in between the diamond and souvenir shops as they are), but Tracy's is legit, and well worthy of the acclaim. The crab bisque and crab cakes were out of this world, hands down the best I've ever had. Though I tried to get my hands on the recipe, it's no surprise that Tracy (pictured above, working the line every day of the week) keeps it tightly under wraps. Luckily (since I can't picture my life without them) you can order both the bisque and the crab cakes in frozen form from their website.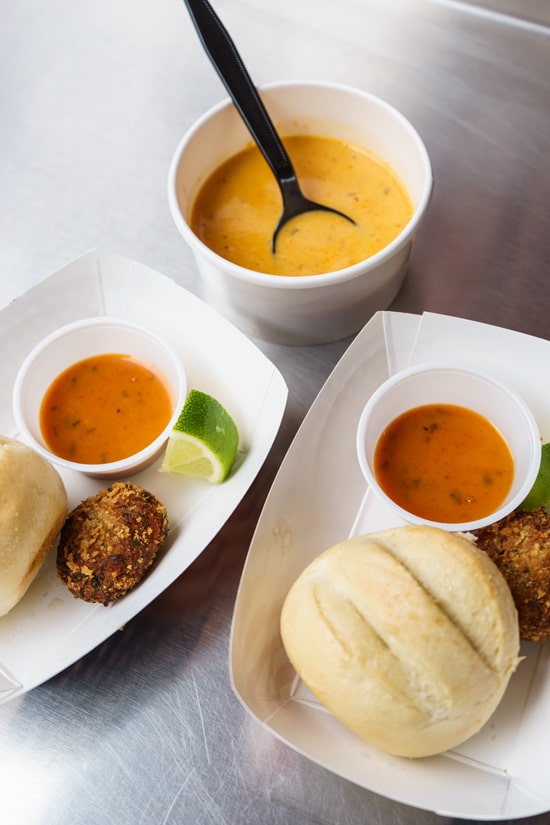 We also sampled a variety of smoked salmon products, kelp jam, sourdough bagels from Juneau's oldest operating bakery (since 1890), local Halibut tacos, handcrafted meats and cheeses, and locally-brewed beer at one of Alaska's oldest and most historic bars.
Funny enough, as I later found out, our guide Catherine is a long-time reader of this blog. As she later told us, "your red pesto recipe is my GO TO RECIPE for my birthday meal every year and pretty much anytime I need to impress someone at a dinner party on a weeknight." Small world, right? I loved that this time the tables were turned, and she was able to share her delicious city with us.
After the tour, we spent an hour or so exploring downtown Juneau on our own (and honestly, one doesn't need much more than an hour as it's surprisingly small, despite being Alaska's capitol and all), popping into quaint little shops and absorbing the local flavor. While the ship was docked until 11pm that night, we headed back on board around 5pm to get ready for our reservations at the Chef's Table.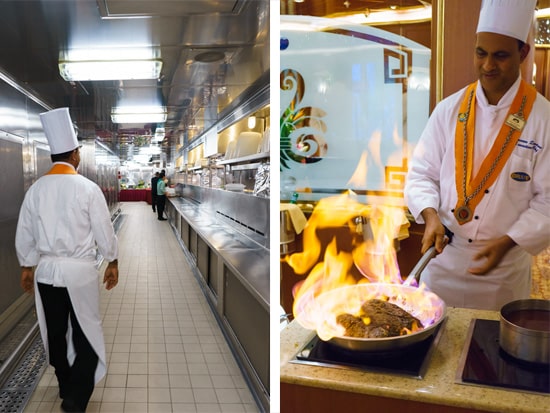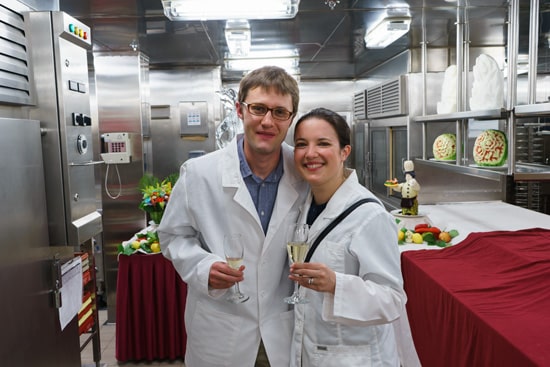 Like our previous experience aboard the Carnival Sunshine, the Chef's Table included a tour of the galley, along with some appetizers prepared by the chef. Since we were still in port, most of the passengers were off exploring (and eating) in Juneau, and the galley was eerily quiet. I have a feeling if you look at Julie & Brenda's pictures (who joined the chef's table the following night after leaving Skagway), it'd be an entirely different scene.
Believe it or not, this galley (one of 5 on the ship) pumps out nearly 14,000 plates of food every single day. I can't even begin to comprehend that kind of of volume.
I guess since we are on the subject, I should probably talk a bit about the food on the ship. Because this is a food blog, after all, and you all might be wondering why this post is all mountains and glaciers and bears (oh my) with very little mention of food.
I'll be honest, I had some very good dishes on the ship (like the perfectly steamed king crab legs, the delicate blueberry sorbet served between courses, and the coca-cola glazed chicken wings, to name a few) but, overall, the food was underwhelming. Which was a shame, because we saw first hand how everything is made fresh from scratch right on the ship (from the bread to the pastries to the gelato). It should have been amazing, it could have been amazing. But the reality was, it just wasn't. Now I know everyone has different tastes, and I know I can be picky sometimes, but this wasn't just me. Other (non-food bloggers) I encountered during our trip seemed to agree with me on this one, that the food just wasn't anything to write home about.
The drinks didn't disappoint though: from the wine selections with every meal to the ship-made limoncello to the exclusive Chocolate Journeys cocktail menu (hello boozy hot chocolate). I am not a big drinker, so when I do indulge in a cocktail or two, it better be a good one.
Let me be clear: this is only my second cruise. I do not have a large pool of comparison; but what I do have to compare it to set the bar very high. Carnival (ironically enough, Princess' parent company) has undergone a major overhaul in the past few years, refurbishing some of their ships and updating the culinary program. And it shows. Based on what I ate on this cruise, Princess would be smart to follow their parent company's lead in this respect.
Anyway, moving on.
This cruise was an experience I do not regret and will never forget, and I don't want to let one disappointment overshadow the overall experience (which was amazing). While our last cruise was definitely all about the boat (and the food on the boat), in this case the boat was just a means to an end: the destination was the real star. Alaska should be on everyone's travel bucket list, regardless of how you get there (and what you eat along the way).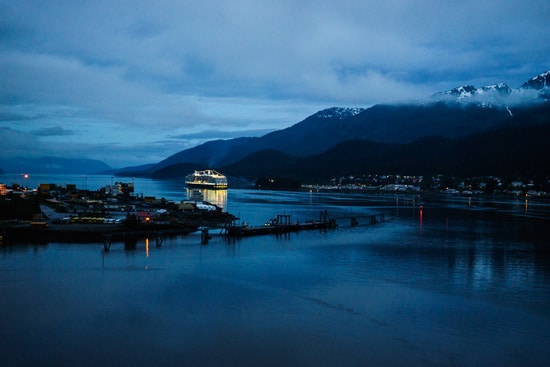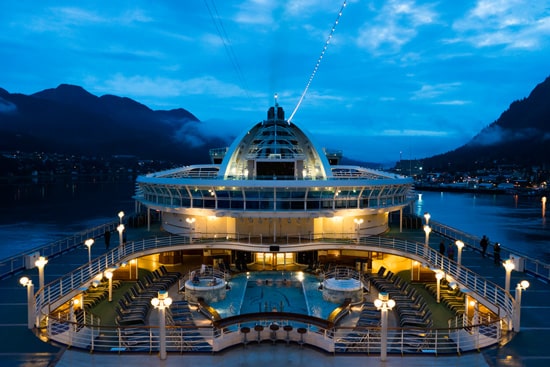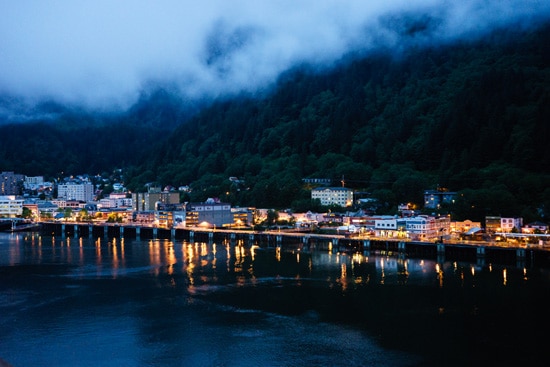 Alaska is just so darn… blue. Not in the figurative sense (nothing about it was sad in the least) but literally blue, everything from the sky to the water, the glacial ice and the mountains; even the light itself was blue. Gorgeous, brilliant blues in all shades ranging from teal and aqua to royal and deep cobalt. I've never seen so many different shades of blue. It's as if you took the cool qualities of Northern exposure and amplified it, the hues around you getting notably bluer and bluer as your latitude increased.
It was truly magical.
We sailed out of Juneau that night (of note is that these pictures were taken at 10:30pm, mind you, when twilight was just beginning to engulf the last light of the day) and headed North to Skagway, the Northernmost stop on our journey. But for now this post is long enough. Stay tuned for part 2 of our Alaskan adventure!
Disclosure: Thank you to Princess Cruises for inviting us on this amazing experience. As always, all opinions written are purely our own. We're incredibly grateful for opportunities like these that allow us to continue sharing experiences like this with you, so thank you for supporting us and the brands we love.