It's been a tough few weeks for me. I've been in catch-up mode ever since we got back from Europe, slowly making a dent in my backlog of design work, while at the same time trying to sift through and edit and whittle down my thousands of photos from Paris and Barcelona, trying to get my posts finished and scheduled before my next trip. How are you supposed to plan for one trip when your mind (and heart) are still racing from the last one?
That alone was almost more than I could handle.
Then I got the news that my grandmother, Elaine, suffered a stroke this past weekend. She hadn't been herself in quite some time, incrementally declining since her 90th birthday two years ago. That's the hardest part of this all, seeing the kindest, warmest, and most welcoming person I've ever known slowly turn into just a whisper of her former self.
We knew it was coming. We knew she couldn't go on for very much longer, and hoped, for her sake and ours, that she'd soon be at peace.
But that doesn't make it any easier, when the time finally does come.
I knew I wanted to be there. For her. For my mom. I was unable to attend my grandfather's service 10 years ago because of school and finals and because I was still too young to realize how important it was, to me, to be there. I wasn't going to let that happen again.
But of course, things like this never happen at a convenient time. About a month ago, Taylor and I were invited on a Princess cruise to Alaska. Timing be damned (I was already worried about catching up after Europe), an opportunity like that isn't something you turn down.
I talked with my mom a lot after it happened, trying to figure out what to do. Despite my willingness to cancel the cruise entirely, my family adamantly insisted that I not miss this cruise, that grandma wouldn't have wanted me to, and that spending her last few days surrounded by family was vastly more important than being present at a formal service if the timing didn't work out for me to be there.
And so, with less than 12 hours notice, I changed my flights, apologized profusely to my (amazingly understanding) clients whose projects would be delayed as a result, and hopped a plane to New York where I'd meet up with my parents and sister along with my aunts, uncles, cousins, and family friends to spend whatever last precious days/hours she had by her side. Then I'd fly out on Saturday to meet Taylor in Seattle and set sail for Alaska.
As it turned out, she passed before I got there, which was both a disappointment and a relief at the same time. Now, we're all just trying to put together the pieces, make arrangements, and do our best to honor the amazing woman she was. A task which, to her credit, involves eating gobs and gobs of ice cream.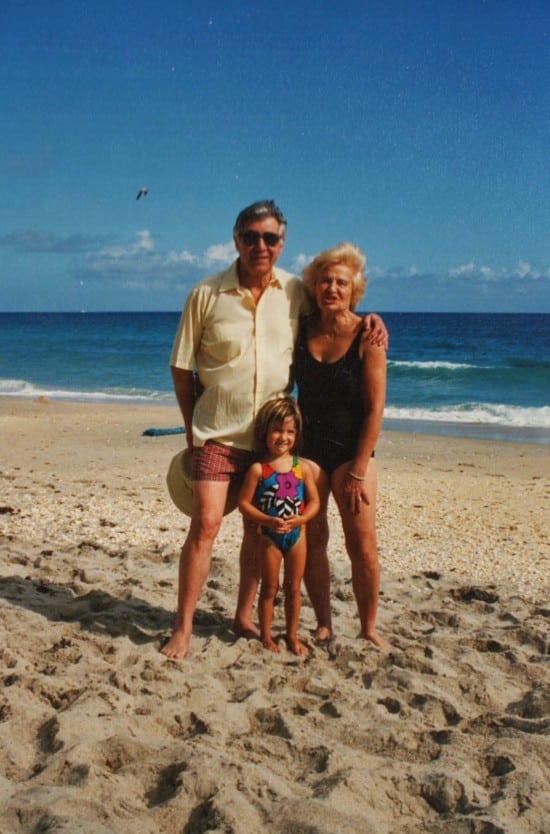 My grandparents were travelers. They explored the world in search of the elusive fish they'd never caught before, in Iceland and Russia and South America.
And Alaska.
I've had my grandparents on my mind since we started planning this trip, when one of the available port excursions happened to be a "gourmet fishing adventure". Despite the fact that I am about as outdoorsy as a house cat, I booked it anyway, thinking of Grams and Poppoo (as they were affectionately known) and looking forward to having Taylor experience the same wonder and awe that I had on fishing trips with them as a child. Even though we booked it months ago, the events of late have made me realize how important it is to live life to the fullest, embracing each and every opportunity that comes our way. No matter how inconvenient the timing.
My grandparents had a painting in their home for as long as I can remember. In it was a vast blue sky and sea, dotted with frothy white wave caps, and a small white fishing vessel. Someone (who actually made the addition I do not know) had added a speech bubble emanating from the boat.
"Ernest my dear [Ernest being my grandfather], I dare say I've hooked my fifth sailfish!"
It always made me smile, and is one of things I remember most about these two amazing people.
I remember sitting at the dining table in my childhood home on the Roaring Fork River in Colorado, the table strewn with feathers and twine and little bottles of glue, enraptured as my grandfather showed me how to tie flies. Granted, I'm not sure how my scraggly neon pink creation actually resembled any bug in real life, but he made me feel like I'd just created the Mona Lisa of flies.
Shortly thereafter, we stood knee deep in the river, my (leaky) hand-me-down waders slowly filling with the cold rocky mountain water, casting our lines into the pools and eddys where the fish might lie. Despite having more water in my boots than the river itself (or so it seemed), I was in heaven.
I haven't been fishing since my grandfather passed away, and as I watched my grandmother slowly lose her sense of self and retreat further and further into the depths of her own mind, I couldn't help but think of those happier times. In the cool Colorado river waters, on the inland waterways of Florida, probably scrunching my nose up at the idea of touching worms (they made me anyway).
I've cried my tears, I've made my peace, comforted that she's no longer stuck in that fuzzy place between the woman she used to be and what is surely a better place beyond. I know there will be more tears, but I'm ok. We will all be ok.
And for now, I'm going fishing.
Grandma, I'm going to hook a big one for you. Though I'm sure wherever you're going the waters are teeming with even bigger fish, and Poppoo is waiting for you on a perfect little fishing boat, just like the painting. Maybe this time you'll let him catch one, too.