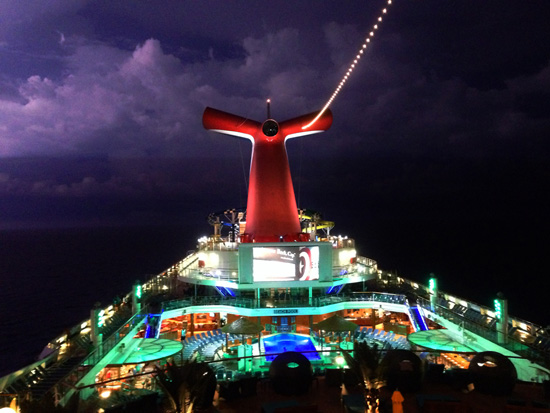 I'll admit, when I got invited on a 7-day cruise aboard the Carnival Sunshine, I wasn't quite sure what to expect. I'd never been on a cruise before, afterall. Maybe I was assuming I'd be incapacitated by seasickness and confined to my cabin the entire 7 day trip, and so the fact that I wasn't was pretty much a win in my book (thank you, Bonine).
Seasickness-less aside, however, I was beyond impressed. With the ship. With the service. And most of all, with the food.
Every night the food seemed to get better and better. At one point, around the 5th course of the Chef's Table dinner, I had to remind myself that I was ON A FREAKING BOAT.
All my presumptions about cruise dining must have come from the 80s. Not that I ever went on a cruise in the 80s, or ever for that matter, but still, you probably have the same picture in your head: big, generic buffets and fancy dining rooms with forced seating and mediocre American fare. Amirite?
With the Carnival Sunshine's "Funship 2.0" updates (a $155 million dollar-retrofit completed in 2013), they have taken their dining to an entirely new level. You are no longer limited to just the buffet or main dining room, but can now choose your own dining experience in one of their 4 specialty restaurants on board the ship. Yes, there are four entire restaurants on the thing. It's ridiculous. And delicious.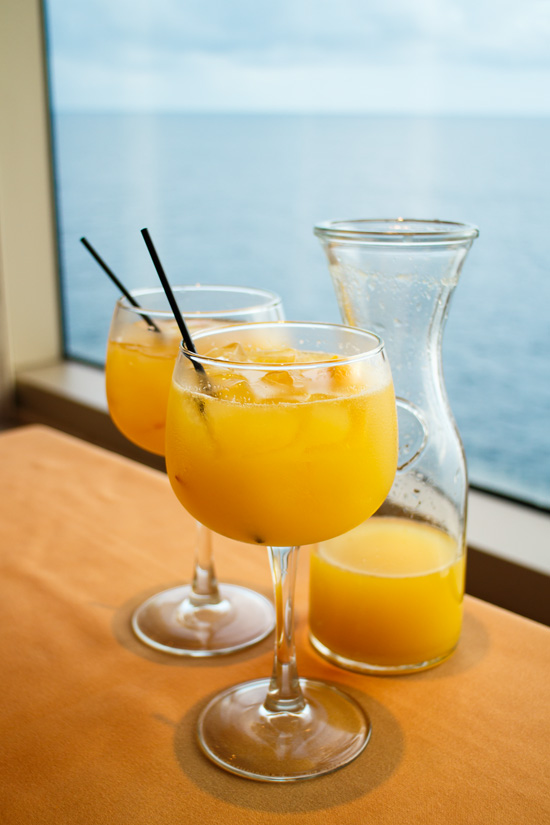 Each night we were able to experience one of the ship's specialty dining options, including JiJi's Asian Kitchen, where they started the night off right with these gorgeous sake sangria cocktails (and how's that for dinner with a view?) Other highlights of this meal were the Hakka-style noodles and the wonton dessert (over a coconut-tapioca pudding that is high on my "to-recreate" list). While JiJi's is considered a premium dining option, the cost is only $15 per person. For anything you want (so might I suggest ordering one of everything and sharing?) A steal.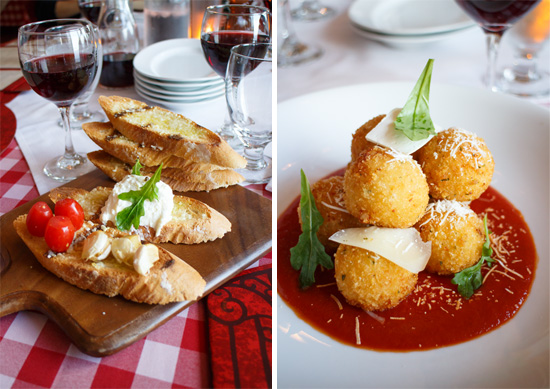 The next night it was off to Italy (well, technically we were on our way to Mexico, although dinner made us feel otherwise). Cucina del Capitano is the ship's family-style Italian restaurant, again, like JiJi's, only $15 for all-you-can-eat (and I know some might see that as a challenge, but I saw it as an opportunity to try a bite or two of everything on the menu). This bruschetta and these arancini (fried risotto balls) blew me away, not to mention the presentation.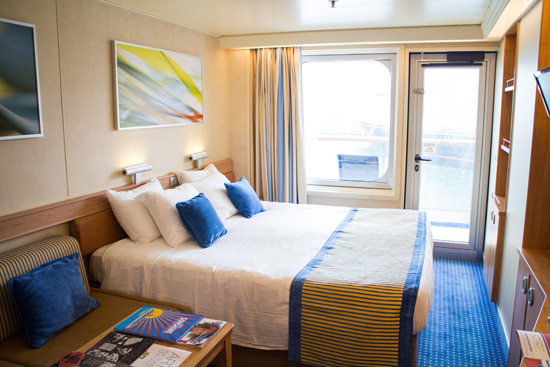 We stayed in a luxurious balcony stateroom. While it was by no means spacious (cruise accommodations rarely are), it was clean and comfortable and we loved being able to step outside and breathe in the sea air. Then again, it did have more closet space than we have in our bedroom at home, so…
The third night, after departing the port of Cozumel, we dressed up in our 'Cruise Elegant' attire and made our way to the ship's prime steakhouse, Fahrenheit 555.
I loved the unique amuse-bouche bites served before the meal – everyone got something different. Taylor got the most adorable little mini burger I've ever seen, and I got… this stick. Actually it was a unique take on a prosciutto and melon combination, with paper thin slices of melon and prosciutto draped over a rustic twig. (What I want to know is, whose job is it to collect and inventory the twigs before each voyage?)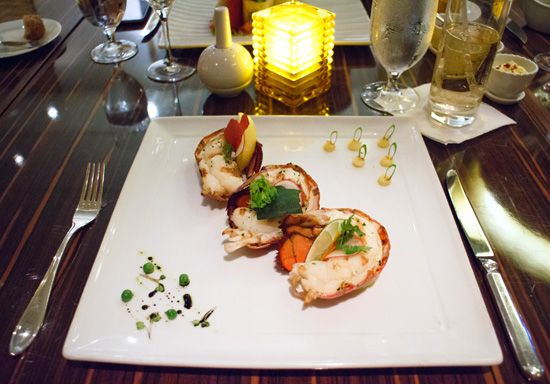 This restaurant boasts a reasonable $35 per person price tag, at which cost you can order the filet. Or the lobster (like I did, what can I say, I'm a rebel). Or both for that matter.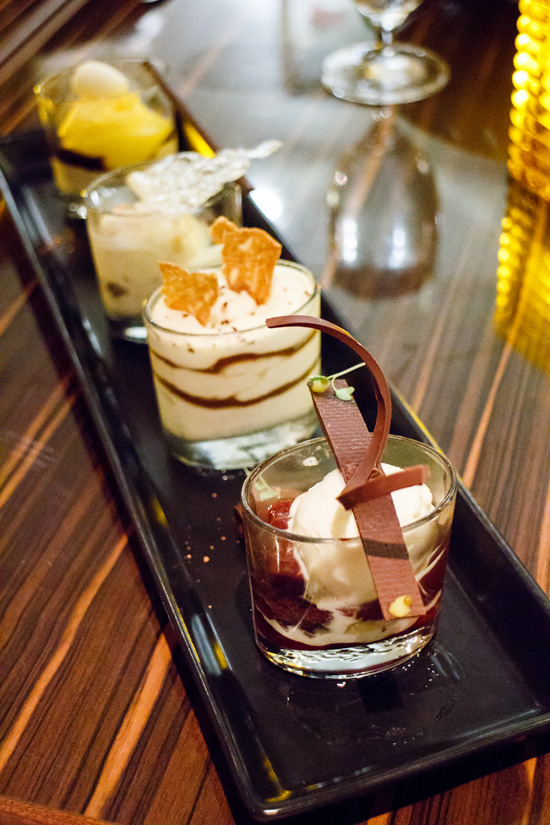 Dessert consisted of a chocolate sampler or the steakhouse's signature cheesecake (literally the size of your face). I opted for the sampler, because, chocolate.
Duh.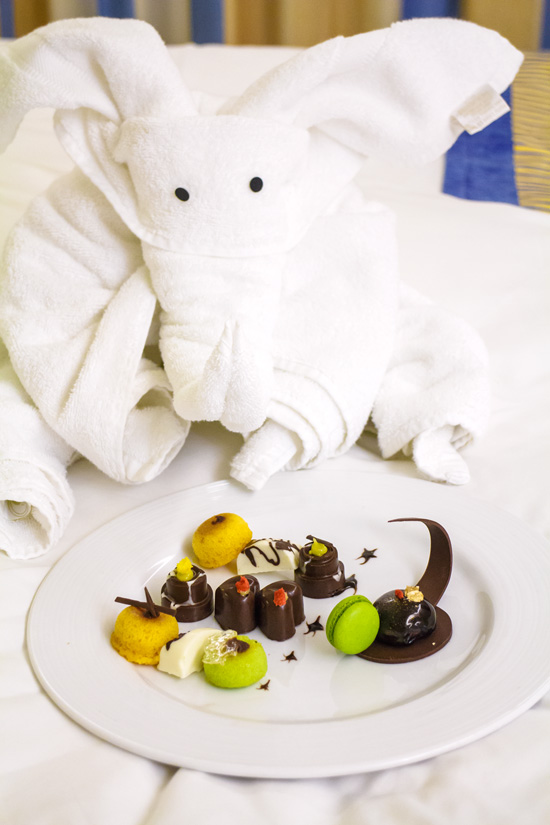 After stuffing our faces with meat and lobster and chocolate, we returned to our room to find… this. An adorable towel elephant (the animals were different every night) and a delicious platter of treats. Our stomachs were full to the point of bursting.
But we ate it anyway. Most if it, that is. The rest made a fabulous breakfast. :)
Let me tell you that at this point we realized there was no chance you could ever go hungry on a cruise. Even in the middle of the night there were still options for food. We felt quite silly looking at our stash of emergency candy and granola bars (which is part of our typical travel packing list, you know, just in case you happen to be stuck somewhere when your stomach starts rumbling).
I don't think we ate a single granola bar on the entire trip.
Food, glorious food.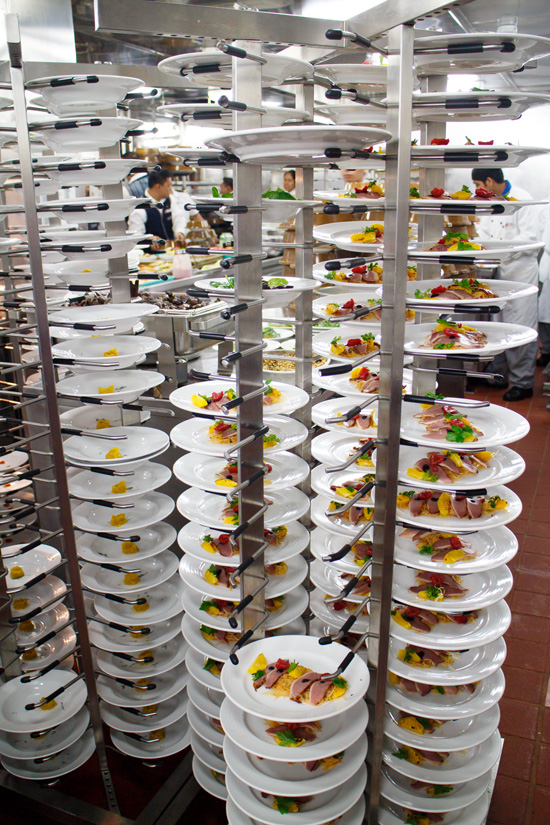 The following night was perhaps the culinary highlight of the trip. Limited to only 12 people, the Chef's Table is a 7-course feast for the eyes, nose, and stomach. But just as, if not more exciting than the food was the opportunity to tour the galley.
Let me tell you. I'm one to get stressed cooking for 10 people. This crew cooks for 3,350 people. On any given night, 14,000 plates will go out of this kitchen. That includes appetizers, entrees (oftentimes multiple entrees per person), and desserts for both the main dining rooms and the specialty restaurants.
I didn't get to see the size of the dishwasher but I bet it is just as impressive.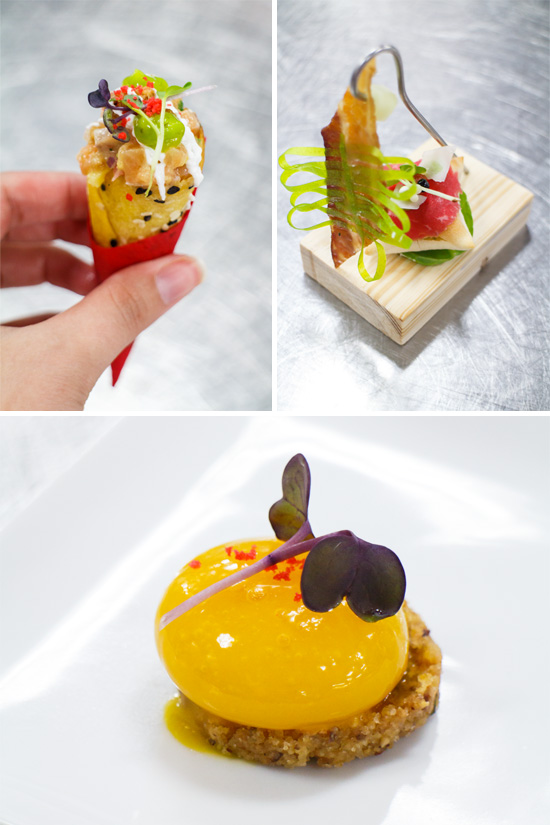 As if the sheer size and scale of the galley wasn't amazing enough, we were served a series of canapés that blew my mind.
Mango 'sphere' made from mango juice that's been frozen and treated with some sort of algenate that keeps the juice inside, salmon tartare in a sesame cone, and some crazy chocolate butterscotch bacon concoction that, while it looks vaguely like a fishing lure, was like nothing I'd ever tasted before.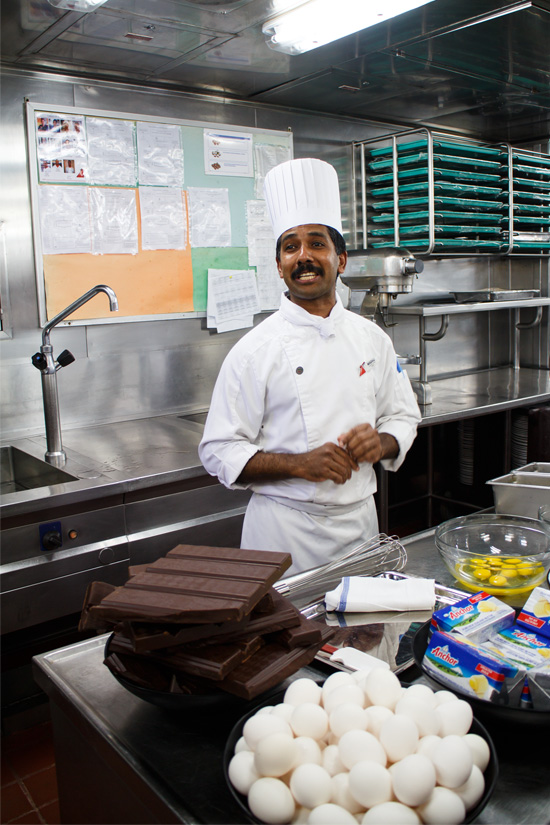 Chef de Cuisine Joaquim Dias oversees this entire operation, along with 2 sous chefs and 155 other chefs on board, while head pastry chef Madhu (pictured above) oversees a team of 18 to prepare all the amazing desserts that we enjoyed on our trip, including three different versions of tiramisu as well as Carnival's famous Chocolate Melting Cake (there's a reason it's famous, it's incredible!)
Once the galley tour was complete, we sat down at the Chef's Table and began our epic meal. I would be hard-pressed to recall eating a better meal IN MY LIFE. It was that good. From the petite beet blankets (in spiced grape tea) to the crab stack (like a fresh crab cake), to the two-tomato, three-basil bisque (expertly poured to make a yin-yang of red and gold in each individual bowl), it was incredible from start to finish.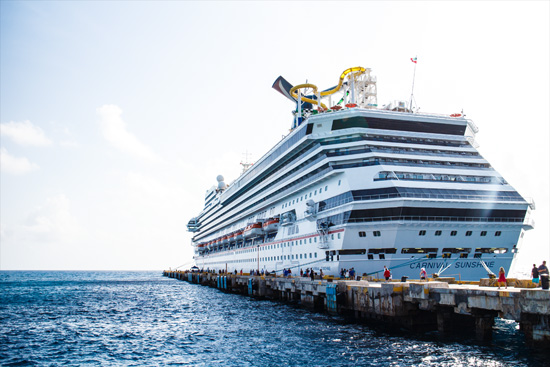 The remaining 3 nights we were free to dine on our own, to experience the main dining room or to return to one of the restaurants if we chose. Wanting to experience the classic cruise dining, we ventured into the main dining rooms where we were seated along the windows, looking out on the ship's wake as we made our way from Belize to Honduras to Costa Maya, Mexico.
While a very different experience than the specialty restaurants, the main dining room was no less impressive. Every night there is a new menu with interesting dishes and specials for any taste. And no special request is ignored. The last night, still stuffed from 6 consecutive days of eating, I chose to order two appetizers instead of an entree, thinking a light dinner would be perfect for my bulging tummy. Little did I know that Andrew, our server, put a special request into the kitchens and returned with an entree-sized platter of crab cakes. He obviously thought that a single crab cake for dinner would leave me completely famished (did I mention that it is impossible to go hungry on this ship, even by choice?) Needless to say I appreciated the sincere thought.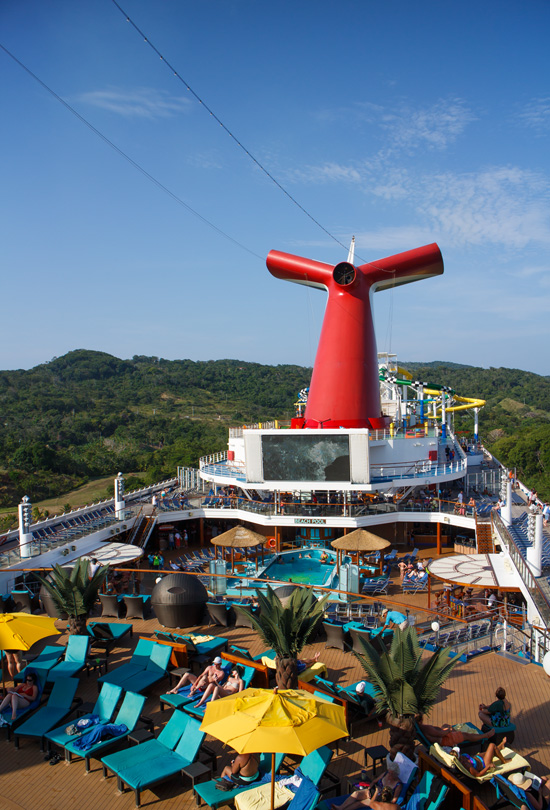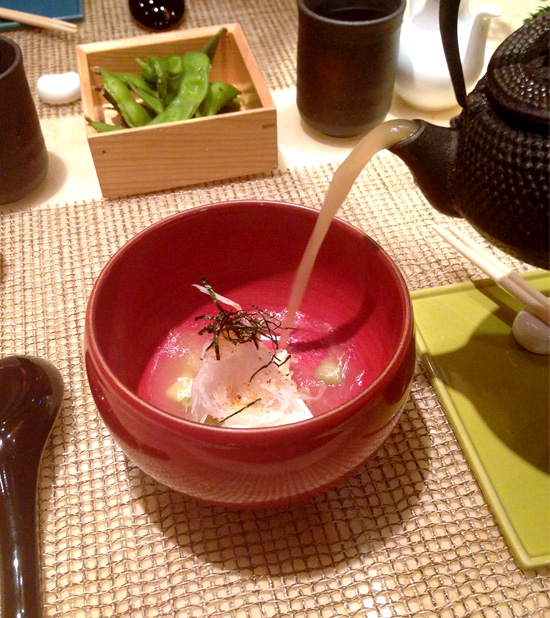 This miso soup was from Bonsai Sushi (the 4th specialty restaurant on the ship) where we also ordered two amazing sushi boats (literally, wooden boats filled with delicious and unique sushi).
One observation: they definitely like interactive presentations on this ship. No fewer than six dishes over the course of the cruise were 'poured' right in front on me, including this miso soup as well as a cold cherry soup, grand marnier sauce over an orange souffle, and TWO soups at once (a red and yellow tomato soup) during the Chef's Table dinner. My attempts at action shots were mostly futile, however.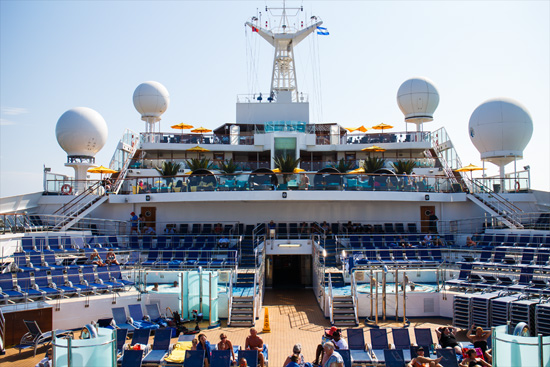 Brunch was only an option on the two sea days, and the dining rooms overflowed with late sleepers and early risers ready for a second breakfast. The first sea day I ordered the most beautifully plated bagel and lox I've ever seen (and I swear I made my server nervous by ONLY ordering this 'starter' without an accompanying main course and/or dessert TOO).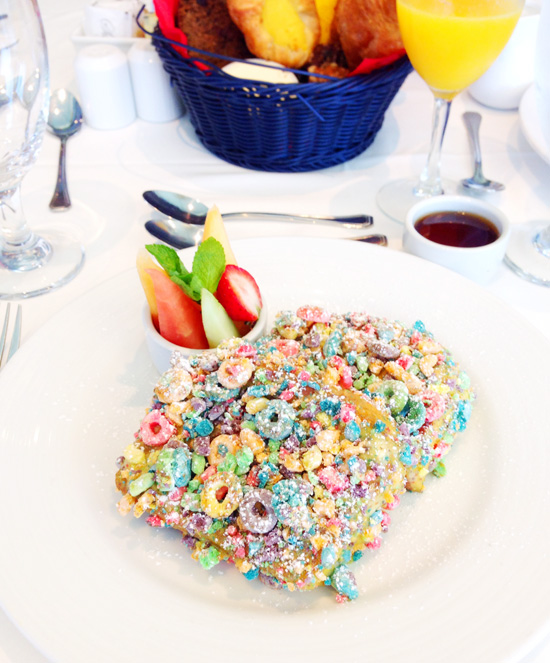 The last day I ventured to the fun part of the menu, ordering the fruit loops french toast. How can you not smile at this? Sure, it was probably intended for 5 year olds, but that doesn't mean I can't enjoy it. And enjoy I did.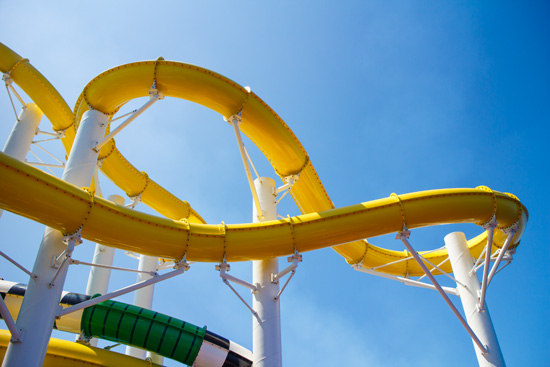 Although this post is technically focused on the food, Taylor would not let me publish it without mentioning the waterslides. I swear, he's secretly a 12-year-old.
I lost track of how many times he rode these things, surely more than any other kid on the entire boat. We'd return from ports early and while I'd relax in the room (and by 'relax' I mean I'd try to read but end up totally zonked out with my book on the floor), he'd don his swim shorts and ride the slides over and over and over again (no lines, obviously, because everyone else was still on shore).
I can't even begin to describe the entire experience in a single post. I've touched on the highlights of what we ate and experienced here, but as far as what we drank, well, that deserves its own post entirely. You'll just have to stay tuned for that post, coming soon (hint: there might be fire involved).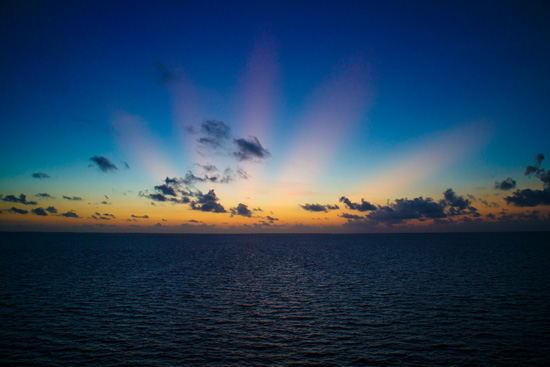 What. A. Trip. Definitely one I will remember for a long time. It was my first cruise, but I can definitively say it will not be my last.
Disclosure: Thank you to Carnival® for inviting us on this amazing cruise. As always, all opinions written are purely our own. We're incredibly grateful for opportunities like these that allow us to continue sharing delicious experiences with you, so thank you for supporting us and the brands we love.