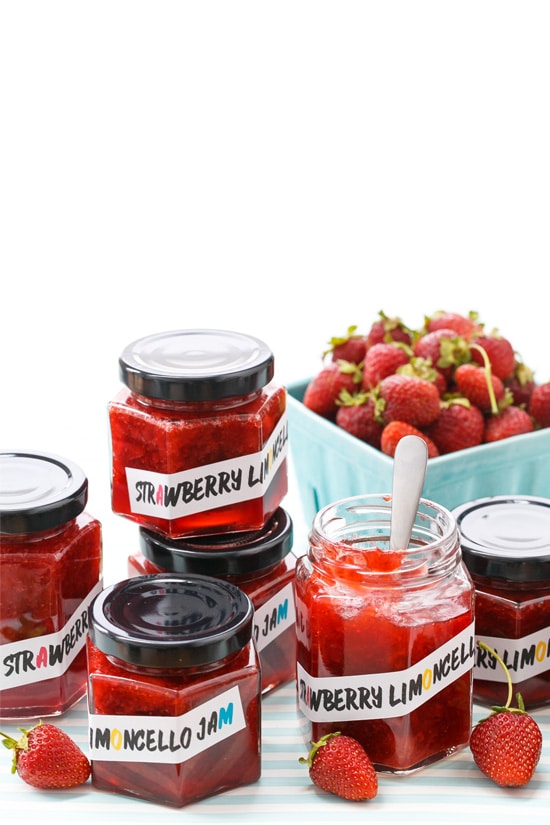 Start your canners, mason jars ready… it's canning season, y'all!
First to the starting gate is the ever popular strawberry. Spring's pride and joy, May's main squeeze. Load up while you can, folks, because these beauties won't last forever.
I was inspired to create this jam after seeing a similar concoction from Nashville's own Bathtub Gin. I didn't buy it, as much as I wanted to, because god knows I've got more than enough jam in my cabinets than is reasonable for two people (and it's only June). Still, the combo stuck with me. I've done lemon and strawberry before, and I've done boozy jams too… so the addition of limoncello made perfect sense.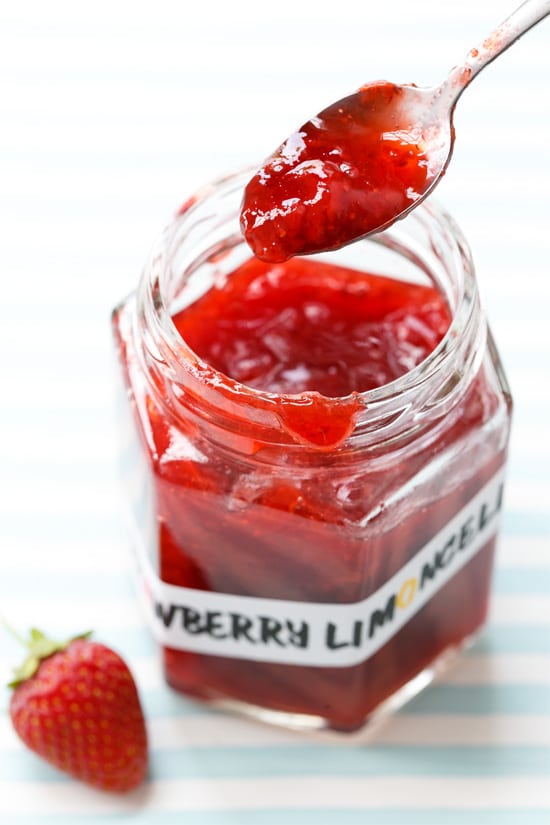 I wanted to post this in conjunction with a homemade limoncello recipe, but it still needs some work. The batch I made burns, and not in a good way. Maybe it was the everclear, or maybe I let it steep too long with the lemon, but regardless, the recipe isn't quite ready to share so you'll just have to wait. Luckily, I've got another batch of lemons on the way (thanks, Auntie Sal!) and as soon as it's done brewing and is tested and confirmed against my quality control standards, I'll post the recipe for y'all. But for now, I didn't want strawberry season to hit you on the bum on its way out, so you can use store-bought limoncello (for now).
The lemon is subtle. The perfume of alcohol is subtle. Mostly you taste the strawberry, sweet (but not too sweet) with just a hint of tantalizing lemon. That's why it's important to use the best berries you can find. The kind that are red through and through, unworldly sweet and juicy, with a flavor that makes your eyes roll back in your head. These kinds of berries are usually a little imperfect, oddly shaped or barely brusied, and that's ok: berries picked when they are perfectly ripe are going to get a little banged up. The short of it is, if you wouldn't want to eat one by itself, it's not going to be any better as jam.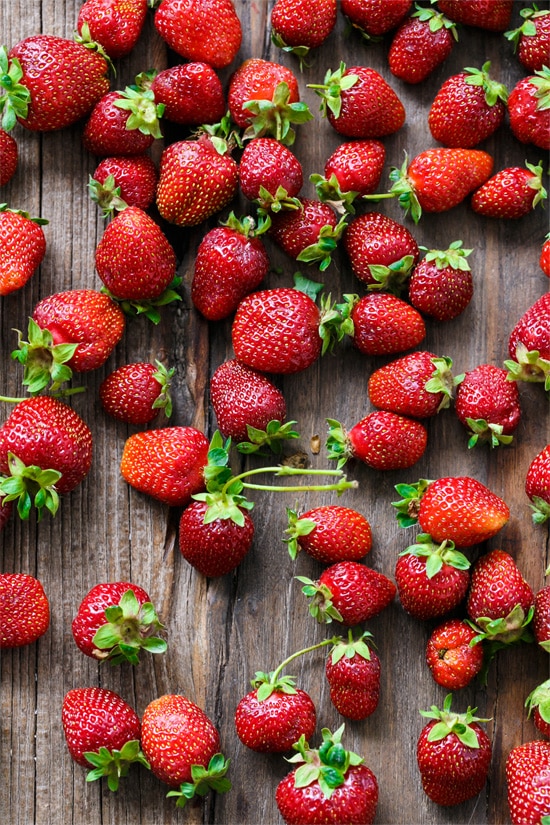 While I didn't make it out to pick my own berries this year (alas, time has not been on my side), I figured I'd fork over the extra $2/pound and buy a gallon of gorgeous berries from the farmers market. (When you really think about it, $15 vs $30 a gallon for pick-your-own vs pre-picked, that $15 really isn't worth the gas, time, sweat, and effort that goes into picking a gallon of your own. But will that stop my little cheap heart from doing so in the future? Heck no.)
Strawberry Limoncello Jam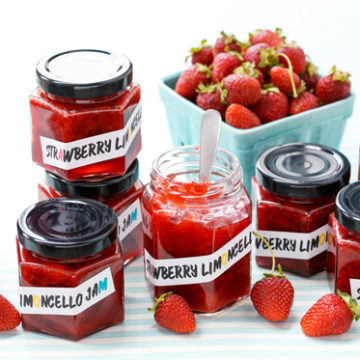 Ingredients:
2 1/2 pounds hulled strawberries
1/4 cup lemon juice
2 cups granulated sugar
2 teaspoons Pomona's Universal Pectin
2 teaspoons calcium water (included with the pectin)
1/3 cup limoncello
Directions:
Prepare canner and wash/sterilize 5 half-pint mason (or equivalent) jars. Keep jars in hot (not boiling) water until ready to use. Warm lids in hot (not boiling) water to sterilize and soften seal.
Place half of strawberries in food processor and pulse twice. Add remaining strawberries and quickly pulse twice more, until berries are coarsely chopped (do NOT liquefy). Alternatively, you can mash the ripe berries with a potato masher until chunks are reasonable in size. Measure out prepared fruit: you should have almost exactly 4 cups.
Pour fruit into a large, heavy saucepan along with lemon juice and calcium water. Bring to a full rolling boil, stirring occasionally.
Whisk together pectin and sugar until evenly incorporated. Whisk in to fruit, stirring vigorously until completely dissolved. Stir in limoncello (careful as it will spatter), and continue to stir until mixture returns to a full rolling boil. Remove from heat and let sit for 5 minutes, stirring occasionally and skimming off any foam that may have formed.
Ladle jam into jars, leaving 1/4-inch of headspace. Wipe jar rims and threads. Screw on lids and rings. Process in a boiling water bath for 10 minutes. Remove from water and let cool completely, 12 to 24 hours. Check seals. Any unsealed jars should be refrigerated and used within 3 weeks.
Did you make this recipe?
Let us know what you think!
Leave a Comment below or share a photo and tag me on Instagram with the hashtag #loveandoliveoil.
Bonus Printable Labels
You know the drill. Naked jars are a no no 'round these parts. A jam recipe isn't truly finished until it's signed, sealed, and packaged with a pretty label. So here you go – something a bit modern and edgy for your bold berries.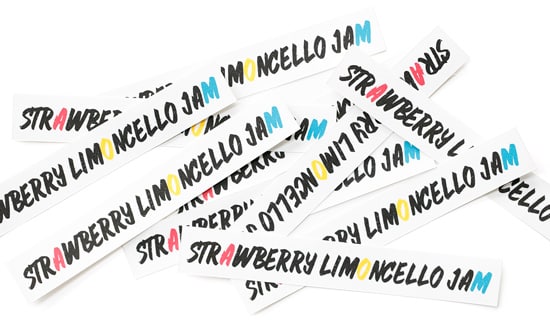 The downloadable PDF file includes eleven long labels, flexible to wrap around any jar, including my favorite hex jars (4oz and 6oz sizes pictured), but would also fit nicely around just about any shape jar. I like them stuck on slightly askew, but if you prefer them straight and level (hello, Ms. Type A) feel free.
To use, simply download the printable file by completing the form below. Print your labels onto full-sheet sticker paper, cut out, and apply directly to the (canned and cooled) jars.