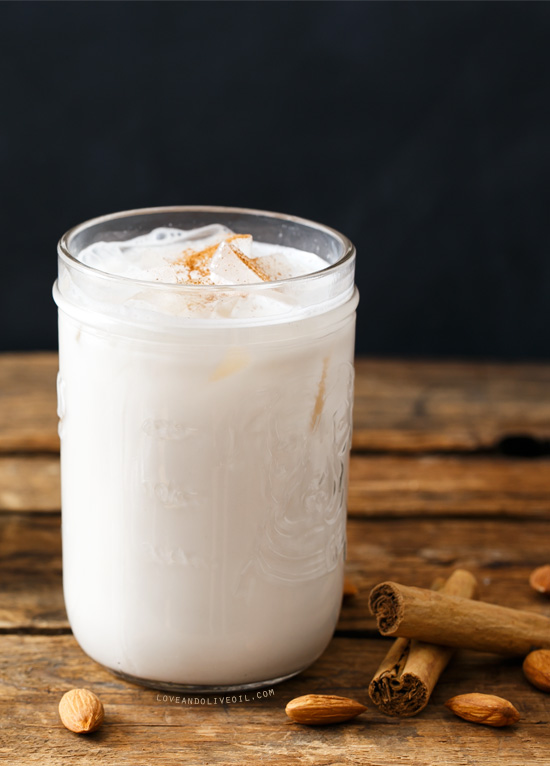 Hello, horchata. You sexy thing you.
Horchata is a traditional Spanish or Latin American beverage, made from soaked nuts and/or rice and seasoned with cinnamon. Almond and rice or just rice is probably the most common iteration, although it can also be made with barley, sesame seeds, or tigernuts (whatever those are, but I bet they are delicious!) When developing this recipe for the KitchenAid® Kitchenthusiast blog, we chose to keep it pure and simple with a mix of rice and almonds, and lightly scented with Mexican cinnamon.
Making homemade horchata is surprisingly easy, although it does require a bit of patience and planning ahead. First, grind up your rice and cinnamon (I find a coffee grinder is the best tool for the task). Then you'll want to soak the rice and almonds overnight, making them easier to blend the next day. Finally, blend them with water and a bit of sugar until smooth and frothy.
At this point you'll probably want something called a nut milk bag (go on, get your giggles out now). While you can use a cheesecloth-lined sieve, a nut milk bag makes homemade nut milks so much easier, so you can literally squeeze all the milk out of the leftover pulp. Believe me, it's $8 well spent.
Once it's been blended and strained, season with cinnamon and serve over ice. It's refreshing and creamy and naturally dairy free, and chances are once you've tried it you'll be tempted to keep a pitcher on hand at all times.
Homemade Horchata
Ingredients:
1/2 cup long-grain white rice (such as basmati)
1 3-inch stick Ceylon cinnamon (also called Mexican cinnamon or canella)
1 cup (5 ounces) raw blanched almonds*
1/4 cup granulated sugar (or to taste)
ground cinnamon, for dusting
Directions:
In a spice grinder or a clean coffee grinder, pulverize rice and cinnamon stick until finely ground. Add ground rice to a large mason jar or bowl. Add almonds and cover with 2 cups water (use filtered water if your tap water is iffy). Cover and refrigerate 10-12 hours or overnight.
The next day, pour the contents of the jar into the canister of a blender, along with granulated sugar and 2 more cups of filtered water. Blend on the highest speed for 1 to 2 minutes or until completely smooth.
Pour mixture through a fine mesh sieve lined with two layers of cheesecloth, or, if you have one, a nut milk bag is ideal for this. Let most of the liquid drain through, then gather up the edges and squeeze the remaining pulp to force out as much liquid as you can. Discard leftover pulp.
Keep refrigerated. Slight separation is normal, just stir or shake well prior to serving. To serve, pour over ice and dust with ground cinnamon.
*Blanche almonds in boiling water for 45 seconds, then draining and rinsing with cool water. The almonds should easily slip out of their skins when squeezed. You can also substitute whole or slivered almonds which have already been blanched.
Did you make this recipe?
Let us know what you think!
Leave a Comment below or share a photo and tag me on Instagram with the hashtag #loveandoliveoil.