There's nothing shy about this summery twist on a classic cocktail—from its striking hue to its eye-opening tart flavor, you'll want to sip on one of these raspberry lime gin sours all summer long.
This simple summer cocktail is bursting with a double dose of tart flavor from raspberries and freshly squeezed lime juice, mixed with gin, sugar syrup, and a dash of cardamom bitters.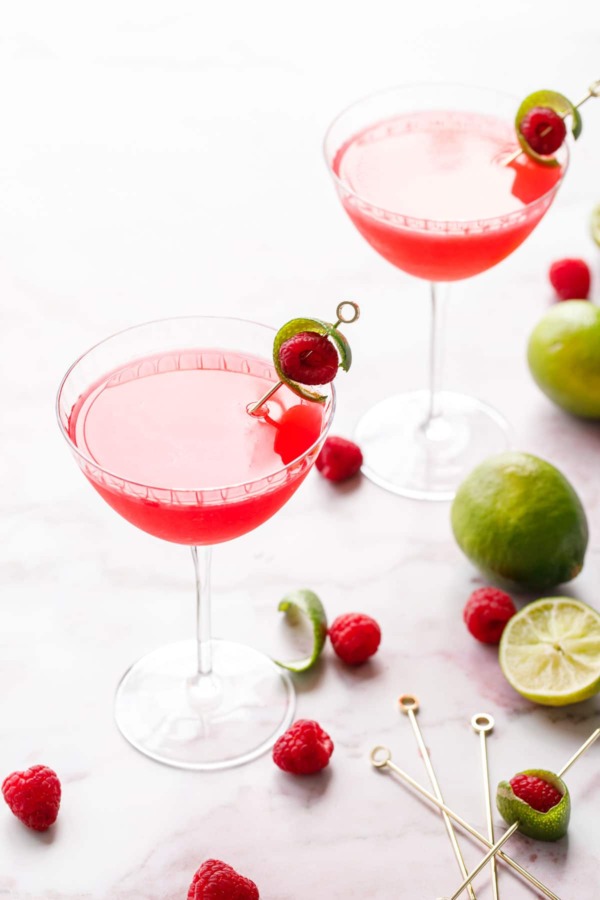 I had some raspberries leftover from my raspberry s'mores tart (I bought 3 containers of them for testing and only ended up using one single fresh raspberry for garnish, so needless to say I had a lot of leftover berries).
Taylor jumped at the chance to use up some of the softening fruit, smashing them into a tart and vibrantly pink gin-based cocktail.
I don't really drink, but even I couldn't resist the allure of this neon pink concoction and helped myself to a few sips of Taylor's drink. And the flavor, well, I'll just say the flavor is as bright as the color—shockingly so, you could say. Tart raspberries plus even tarter lime juice makes basically the cocktail version of a sour patch kid.
I wasn't originally planning on posting this (drink recipes, for whatever reason, tend to flop over here and even moreso on Instagram, interestingly enough). But, when we found ourselves on a Thursday afternoon with no internet and more raspberries on the verge of turning, we figured, why not, and indulged in some day drinking disguised as work (sometimes being a food blogger has its perks).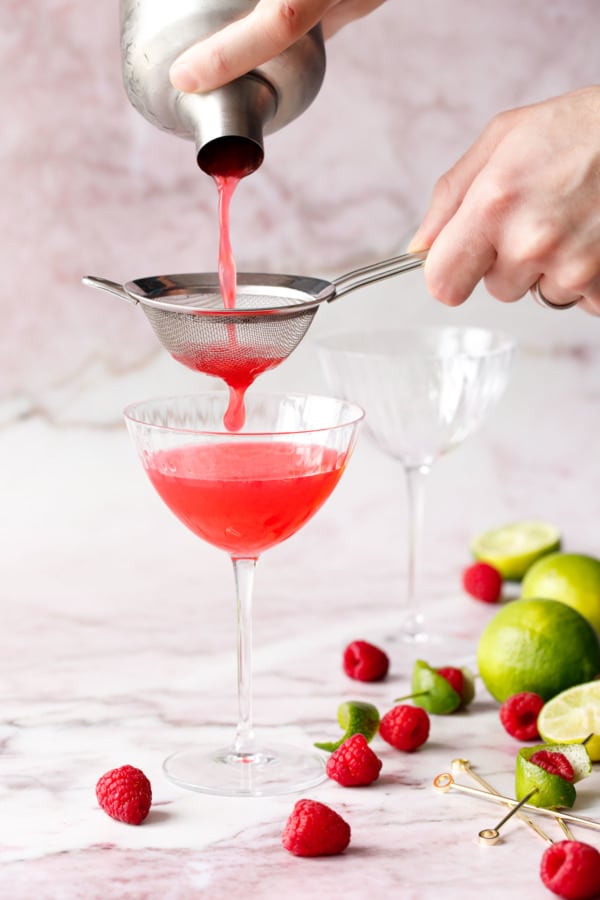 Some might call this gin-and-lime mixed drink a gimlet, but Taylor is adamant that gimlets are made with lime cordial (a sweet and sour lime syrup of sorts). Since this one has fresh lime juice, he says, it's more like a gin sour, just with lime instead of lemon.
I also think you could rightly call it a gin smash, since the berries need a good smashing to extract the most flavor and color. Add a splash of soda water and you'd have yourself a gin rickey (which you could certainly do if you wanted something a bit less… potent). And for a gin fizz, just shake it up with an egg white (another leftover ingredient that Taylor is well versed in using up).
Sour, gimlet, rickey, fizz, smash… minor differences in ingredients and preparation, vastly different results.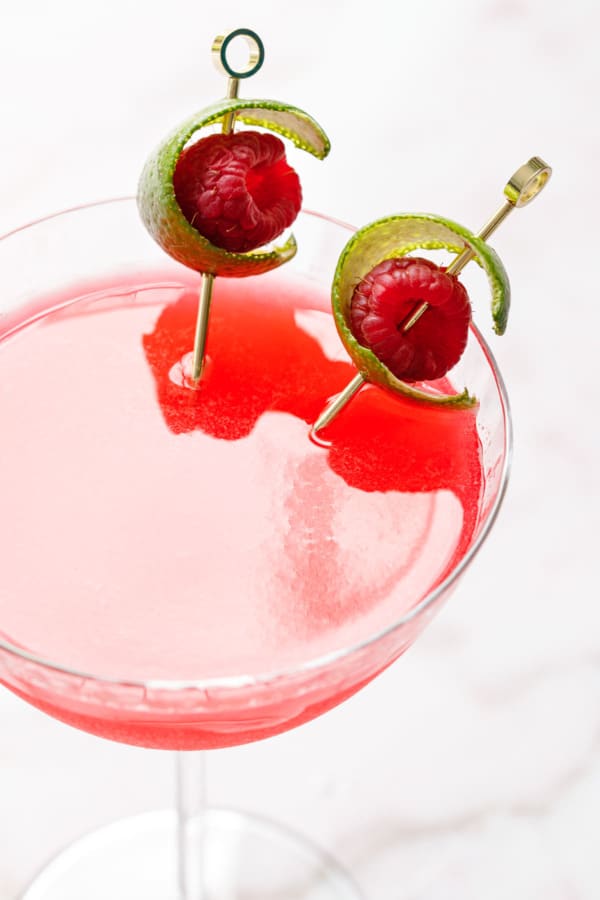 Raspberries can vary in terms of sweetness and color. If you find, after a sip or two, the drink is too tart or too bitter for your liking, just add more simple syrup. Taylor tends to prefer his cocktails on the tart side, and as written it is certainly that.
The color is shocking—and shockingly natural—the acidity of the lime juice serves to enhance the vibrant ruby color of the berries, to the point where it almost seems to emit its own light source. Day-glow, I believe it's called (and rightly so).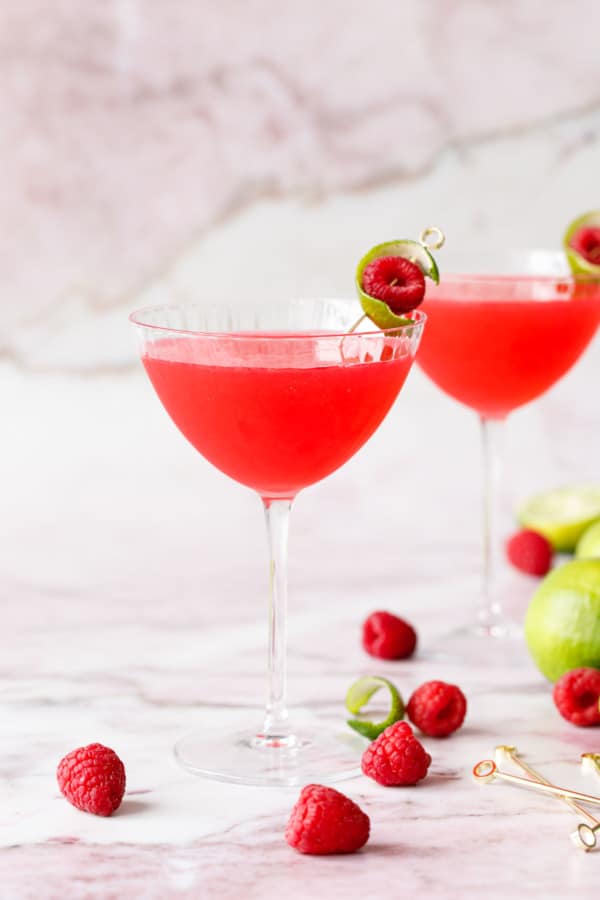 We also experimented with adding bitters to the final drink. There are myriad types of bitters these days, from the classic orange to chocolate, cardamom, and even magnolia bitters. We tried a few different types here and thought a dash of cardamom bitters (from this sampler set) added a unique, yet subtle, twist. If you have or can find lime or raspberry bitters, those would obviously both work as well. I've noted this as optional in the final recipe, and you can certainly leave them out if you prefer; the drink is lovely either way.
Lime juice-based cocktails are always best with freshly squeezed limes. Not bottled, not squeezed an hour before hand. Like squeeze the lime right into the cocktail shaker seconds before shaking it up fresh.
You can, and should, make the sugar syrup ahead of time though. If you've never made sugar syrup before, it's literally the easiest thing in the world (and you should never, ever buy it). Simply bring equal parts water and granulated sugar (for example 1 cup each) to a simmer, stirring until the sugar is completely dissolved. Seriously, that's it. Let cool, then transfer to a jar or airtight container and refrigerate for up to 1 month.
Luckily, these raspberry gin sours are a breeze to whip up, just muddle, shake, and strain. Assuming your cocktail shaker is big enough you can also make two drinks at once, just double the proportions of everything as written.
(Btw, these gorgeous glasses are the Felix Optic martini glasses from Crate & Barrel… just in case you were wondering 😉).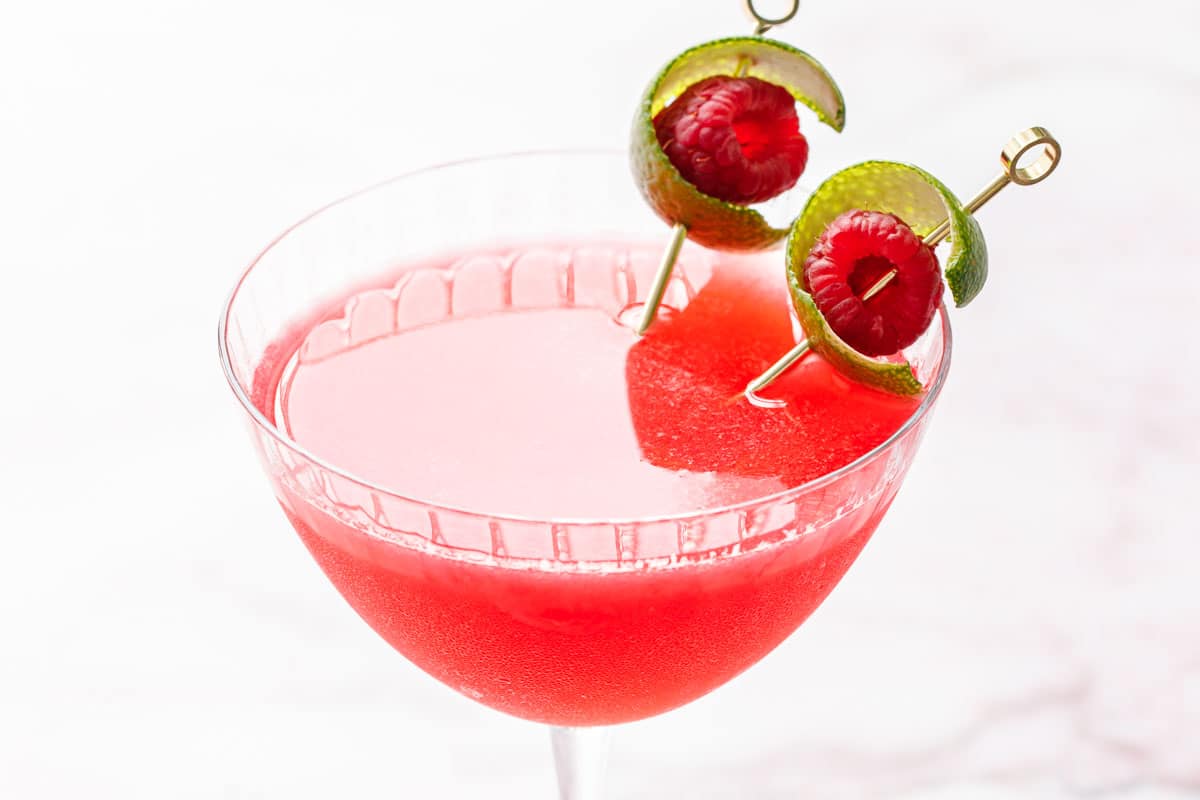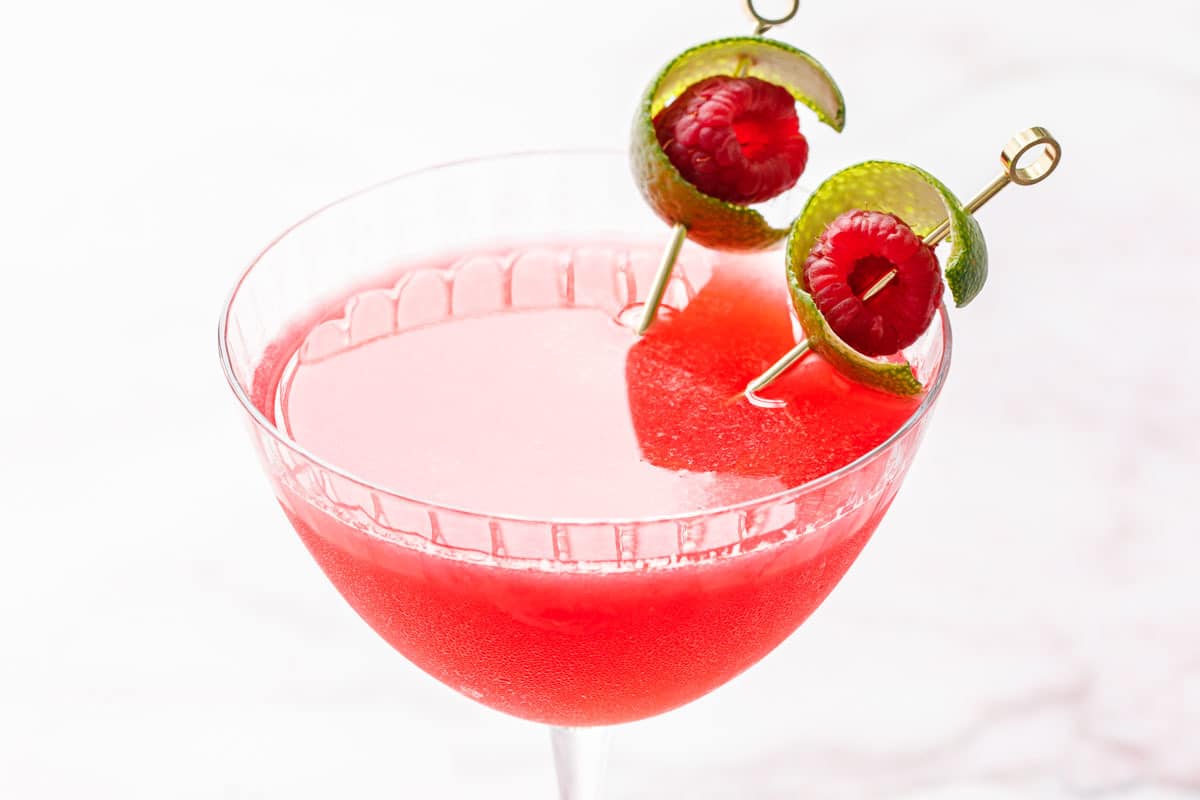 Raspberry Lime Gin Sour
This simple summer cocktail is bursting with a double dose of tart flavor from raspberries and freshly squeezed lime juice, mixed with gin, sugar syrup, and a dash of cardamom bitters.
Ingredients
2

fl. oz

/

60

mL

gin

¾

fl. oz

/

22

mL

lime juice

½

fl. oz

/

15

mL

simple syrup*

5

fresh raspberries

dash cardamom bitters

,

optional

ice
Instructions
Place all ingredients except ice in cocktail shaker; muddle well until raspberries are fully smashed. Add ice and shake well. Strain through a fine mesh sieve into a cocktail glass.
Notes
*Simple syrup is made by boiling equal parts sugar and water (1 cup sugar, 1 cup filtered water) until sugar is dissolved. Let cool, then store in an airtight container or jar for up to 1 month.
All images and text ©
for Love & Olive Oil.
Did you make this recipe?
Let us know what you think! Leave a Review below or share a photo and tag me on Instagram with the hashtag #loveandoliveoil.