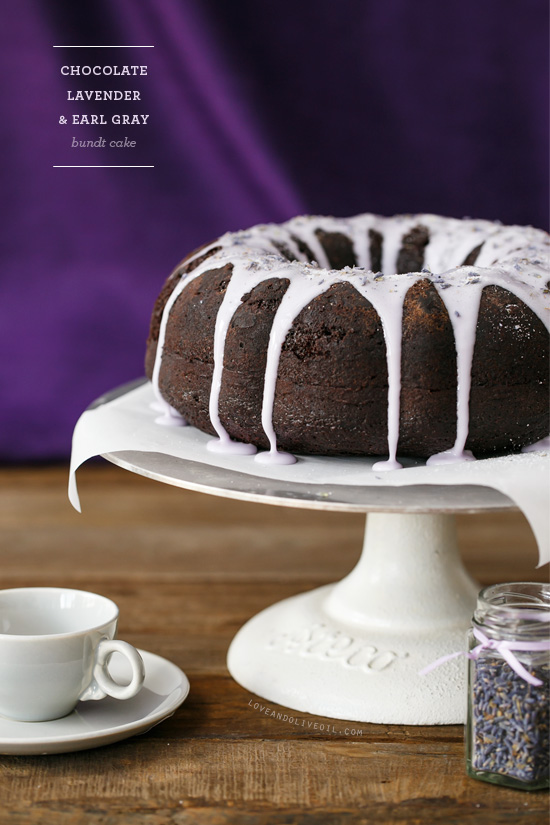 If Taylor's whiskey bundt cake was the manliest of bundt cakes (if one could ever call a bundt cake manly, that is), then this is definitely the girly version.
I guess purple flowers or whatever make lavender seem feminine. However, that doesn't mean that boys can't enjoy lavender-scented sweets sometimes too. Likewise for girls and whiskey. That whole girls and boys and sugar and spice nonsense is seriously outdated.
Just pretend there's Earl gray in that teacup, ok?
Because there's actual earl gray tea in this cake. Not imaginary tea like the empty teacup might indicate.
Why earl gray? I don't know. It just sounded fancy. And seemed like it'd be a good combination with the lavender. Basically, I thought that adding a whole cup of hot water to this cake was a waste of precious flavor space. So I used hot tea instead.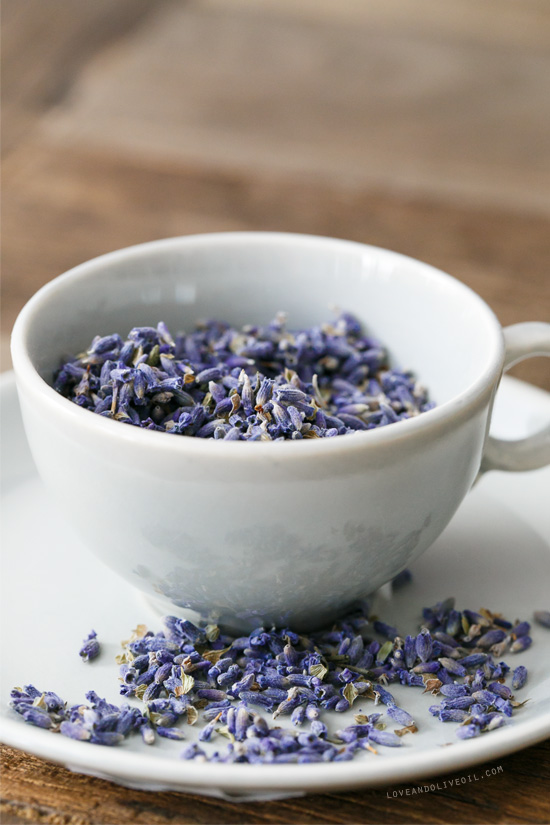 And ignore that price sticker still on the teacup (man, I just can't win with this one, can I?)
The cake recipe itself is almost identical to that of the whiskey bundt cake, just with a modified flavor profile and (obviously) no whiskey. It really is one of my favorite chocolate cakes. Moist and tender and deeply chocolate. It can also be made as a layer cake if you choose, like another one of Taylor's birthday cakes, the Blackberry Red Wine chocolate cake. Yep, same basic recipe.
If it 'aint broke, don't fix it, right?
Since the lavender in this cake is so subtle (intentionally so – the last thing I wanted was a cake that tasted like soap), I chose to sprinkle a little bit of lavender sugar on top. Lavender sugar is not nearly as fancy as it sounds. It's basically some lavender smushed together with sugar.
This is one of those surprising and sophisticated flavor combinations that just works. The lavender and tea bring out the complex, floral notes in the chocolate that you never knew were there. I'm actually surprised you don't see more lavender chocolate things around, seeing as how well they work together. The earl gray is a nice added touch too. On first bite you'll taste something different there, something beyond ordinary chocolate, but unless you've got an impeccable palate probably won't be able to pinpoint exactly what that something is. Of course, if you're observant, the dried lavender flowers on top are pretty much a dead giveaway, otherwise, you won't know until someone tells you what mysteries this cake holds.
It's way more than sugar and spice, that's for sure.
Chocolate Lavender & Earl Gray Bundt Cake
Ingredients:
For Cake:
1 cup hot water
1 earl gray tea bag
1 tablespoon culinary-grade dried lavender flowers
2 cups granulated sugar
2 cups all-purpose flour
3/4 cup dark or dutch-processed cocoa powder, sifted
2 teaspoons baking soda
1 teaspoon baking powder
1 teaspoon kosher salt
3/4 cup whole milk
1/4 cup sour cream
2 large eggs
1/2 cup vegetable oil
For Glaze:
1 1/2 cups powdered sugar
1-2 tablespoons milk, as needed
purple food coloring (optional)
lavender sugar*
Directions:
Preheat oven to 350ºF. Generously butter a standard (12-cup) bundt pan. Dust with 1 tablespoon each flour and cocoa powder, and tap and turn until pan is completely coated. Dump out excess.
Steep tea and lavender in hot water for 5 minutes, then strain and discard flowers and tea bag.
In a large mixing bowl, combine the sugar, flour, cocoa, baking soda, baking powder, and salt, whisking until thoroughly combined. Add eggs, milk, sour cream, and oil and mix with an electric mixer on medium-low speed until dry ingredients are almost incorporated, scraping down the sides of the bowl as needed. Add lavender tea mixture and stir until just combined and no dry ingredients remain (do not overmix). Pour into prepared pan.
Bake for 50 to 55 minutes or until a toothpick inserted in the deepest part of the pan comes out clean. Remove from oven and place on a wire rack until cool enough to handle, then gently invert onto a wire rack. Allow to cool completely.
To prepare glaze, place sugar in a bowl. Add 1 tablespoon of milk and whisk until smooth. Add food coloring (if desired). Continue adding milk, 1 teaspoon at a time, until glaze flows off the whisk in thick ribbons, and melts back into itself in 5 seconds. If the glaze is too thin, you can add additional powdered sugar as needed.
Pour glaze over the top of cake, letting it drip down the edges and pool at the base. Sprinkle with lavendar sugar. Slice and serve and drizzle with additional glaze as desired. Cake will keep, stored in an airtight container, for up to 3 days.
*To make lavendar sugar, crush 1 teaspoon of lavender flowers with a mortar and pestle. Mix with 1/4 cup granulated sugar, using your fingers to smash and rub the flowers with the sugar granules.
Did you make this recipe?
Let us know what you think!
Leave a Comment below or share a photo and tag me on Instagram with the hashtag #loveandoliveoil.