Chill out with these boozy ice pops based on your favorite tiki cocktail: the mai tai! With a unique slushy consistency (thanks to the ample amounts of rum), they're exactly what you need to beat the summer heat!
Whether you call them ice pops, otter pops, freezies, or Zooper Doopers (hello friends from down under!) one thing is for sure: these refreshing summer treats are sure to make you smile. Especially when booze is involved (these aren't your childhood ice pops, that's for sure!)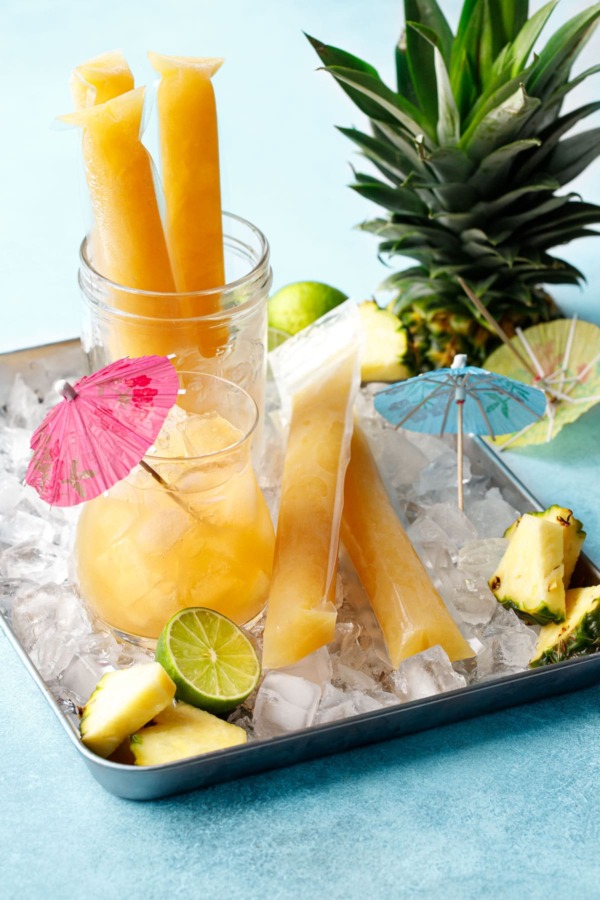 Folks, it's hot.
Like, really, really hot.
There are a few other recipes I've been working on, but they all seem to require the oven, which is the last thing I want to do in this unbearable heat. So you may have to wait a bit for those perfect M&M cookies and that unreal blueberry cream cheese coffee cake (but they're coming, I promise!)
In this kind of heat what I really want to do is stick my head in the freezer. But since that's not exactly energy efficient, these slush pops are the next best thing.
With a unique slushy consistency (thanks to the ample amounts of rum), these cocktail-inspired treats are a grown up version of the classic ice pops from your childhood. They're made with pineapple, orange, and lime juice, plus a healthy dose of rum, and some orgeat (a fragrant almond syrup), all frozen together in one deliciously refreshing treat.
Mai Tais are one of my favorite summer cocktails.
A classic mai tai features a blend of rums, orange liqueur, lime juice and orgeat (a fragrant almond syrup). It's bright and fruity and oh-so-refreshing, which made me think it'd be a perfect candidate to be pop-ified.
Since you can't exactly freeze something that's more than 50% alcohol, I had to do a bit of adjusting, replacing the orange liqueur with orange juice and some of the rum with pineapple juice. So no, these ice pops are not exactly legit mai tais, but they still impart the general flavor and feel of a mai tai.
The rum in the recipe prevents the pops from freezing fully, resulting in a delightfully slushy consistency, hence the name slush pops or slushy pops instead of the more typical ice pops.
Rum Forrest, Rum!
Most mai tai recipes call for a blend of rums, typically aged, amber/golden or dark rums, which have more vanilla and molasses flavors than white rum.
I used a mix of two different rums in my pops: a Venezuelan rum with a smooth, fruit-and-vanilla flavor, and what's called a Rhum Agricole from Martinque, made with sugarcane juice instead of molasses for a grassier finish. If you're unsure which rums to choose, ask your local liquor store for recommendations on what would work best for a mai tai.
This recipe as written is about 20% rum, which will result in a slushy-like texture. It cannot be made in a traditional popsicle mold for this reason (the stick would come right out leaving the 'pop' behind). If you want it to freeze solid enough to be able to remove it from a hard popsicle mold, you'll want to cut the rum by at least half, or use a non-alcoholic rum substitute for a fully solid freeze.
For a zero-proof variation, use a non-alcoholic rum instead (I'm a fan of this one, the other brand I tried tasted too much like apple juice). You can also substitute apple juice or white grape juice instead, though the flavor profile will be notably different. Keep in mind that if you make this recipe without alcohol it will freeze solid instead of taking on a slushy texture.
Ice, Ice Baby
I'm sure you remember the ice pops of your childhood: plastic tubes filled with overly sweet liquid with tons of fake coloring and only a smidgen of actual fruit (if that). I never thought to try to make a homemade version of these nostalgic treats until recently, and sure enough, you can buy resealable zip-top ice pop bags and fill them with whatever you like!
Ice pop bags are easy to find online and pretty reasonably priced, and a lot easier to deal with and less messy than traditional popsicle molds. No sticks, no struggling to pull the pops out of the hard plastic mold. The ice pop bags also allow us to embrace the slushy texture of this booze-based treat (since any significant amount of alcohol will prevent it from freezing completely solid).
The ice pop bags I purchased have a capacity of just under 100mL each, which makes the math easy. If your bag doesn't come with a printed fill line, just be sure you give them about 3/4-inch leeway at the top of the bag to allow for expansion as it freezes.
(I will note it is very hard to capture the slushy texture of these pops… trust me, I took a whole bunch of shots and this was the best of the lot. Not great, but hopefully it at least gives you the general idea.)


Fill 'Er Up!
I found that the easiest way to fill the ice pop bags is using a funnel; but if you have a measuring cup or beaker with a nice, precise pour spout and steady hands, you should be able to manage without a funnel.
If your freezer has the space, freezing your ice pops vertically will give them the best shape, without air bubbles on the sides. I found 4 pops fit perfectly standing up in a wide-mouth mason jar.
To prevent separation, be sure to stir your base mixture well before filling each pop. I also found that giving the pops a good jostle after they've frozen for 30 minutes to an hour, when they are still only partially frozen, will help to re-distribute any ingredients that may have settled out. Set a timer to remind yourself!
What is Orgeat?
One of the ingredients in a classic mai tai cocktail is orgeat, a milky almond syrup, typically scented with orange blossom or rose water.
I'll admit I still don't quite know how to pronounce it (supposedly is or-zja or something along those lines, not or-geet like you've probably been saying in your head for this entire post).
Orgeat is a fairly common ingredient in tiki cocktails, so you can often find it in upscale liquor stores or online. It has a really lovely, unique flavor and worth tracking down.
That said, if you can't find orgeat, an almond syrup like those used in flavored coffees would work, with a teaspoon of orange blossom water if you have it. Alternatively, you can use 1/4 cup plain sugar syrup mixed with 1/2 teaspoon almond extract and 1 teaspoon orange blossom water (go easy on the OBW, it's easy to overdo).
Mai Tai Slushy Pops
This recipe makes six 100mL ice pops, but feel free to double or triple as needed for larger batches.
Ingredients
⅔

cup

/

150 

ml

pineapple juice

⅔

cup

/

150mL 

fresh squeezed lime juice

, from

6-7

limes

½

cup

/

125

ml

orange juice

½

cup

/

125

ml

aged or golden rum

,

or a blend of two rums

¼

cup

/

60

ml

orgeat*

dash or two orange bitters
Instructions
Combine all ingredients in a large glass measuring cup or bowl with a spout.

Using a funnel, pour mixture into

ice pop bags

, filling them to printed fill line or within 3/4-inches of the top zip to allow room for expansion. Be sure to stir the mixture well before filling each bag to ensure even distribution.

Seal and place filled bags in a wide-mouth jar or glass so they can freeze standing up if possible. While you can lay them down to freeze you will end up with an air bubble on the side.

To prevent further separation, after 30 to 45 minutes of freezing gently jostle the bags, inverting them once or twice to ensure everything is mixed.

Freeze overnight until very firm (the pops will still have a slightly slushy consistency because of the alcohol, and won't be quite solid even after an overnight freeze.
Notes
Orgeat is an almond-based syrup flavored with orange blossom or rose water. It has a really lovely, unique flavor and worth tracking down. If you can't find it, an almond syrup like those used in flavored coffees would work, with a teaspoon of orange blossom water if you have it. Alternatively, you can use 1/4 cup sugar syrup mixed with 1/4 teaspoon almond extract and 1 teaspoon orange blossom water.
All images and text ©
for Love & Olive Oil.
Did you make this recipe?
Let us know what you think! Leave a Review below or share a photo and tag me on Instagram with the hashtag #loveandoliveoil.