When the heat of summer finally hits, I know it's cordial time. Specifically, lime cordial, a tart and refreshing mixer that's perfect for summertime sipping. Rose's is the most well known brand of lime cordial, but this homemade version is even better, with a punchy lime flavor and a perfectly balanced sweetness.
This no-cook recipe is ridiculously easy, all you need is sugar, limes, and a little bit of time and patience and you'll have the makings for one excellent cocktail: just add gin (or pisco, or rum, or club soda).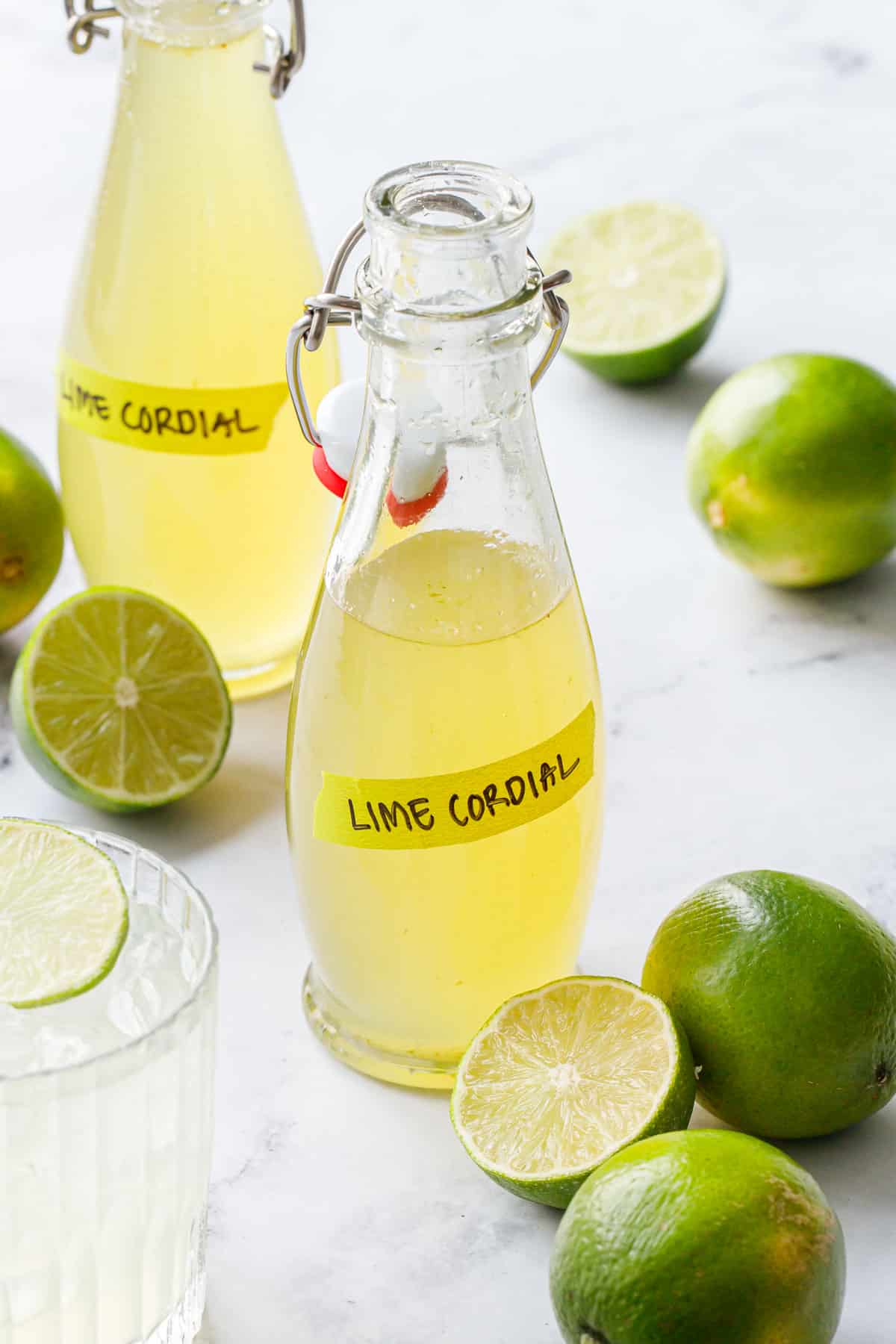 I first attempted making my own lime cordial because I wanted to make the perfect gin Gimlet.
There are lots of variations on the Gimlet floating around, some calling for fresh lime juice and simple syrup, which is a great combination, but should really be called a sour rather than a gimlet. Don't get me wrong, I love sours (like this raspberry lime sour) but to make a proper gimlet, you really need lime cordial.
Most Gimlet recipes call for Rose's Lime Cordial, a commercially available lime cordial that has artificial sweeteners and colors and a more processed lime flavor that I don't love, so I figured, why not try to make my own?
I'll tell you, once I tried my homemade lime cordial in a gimlet, I will never again buy the bottled stuff, especially considering just how easy it turned out to be to make myself.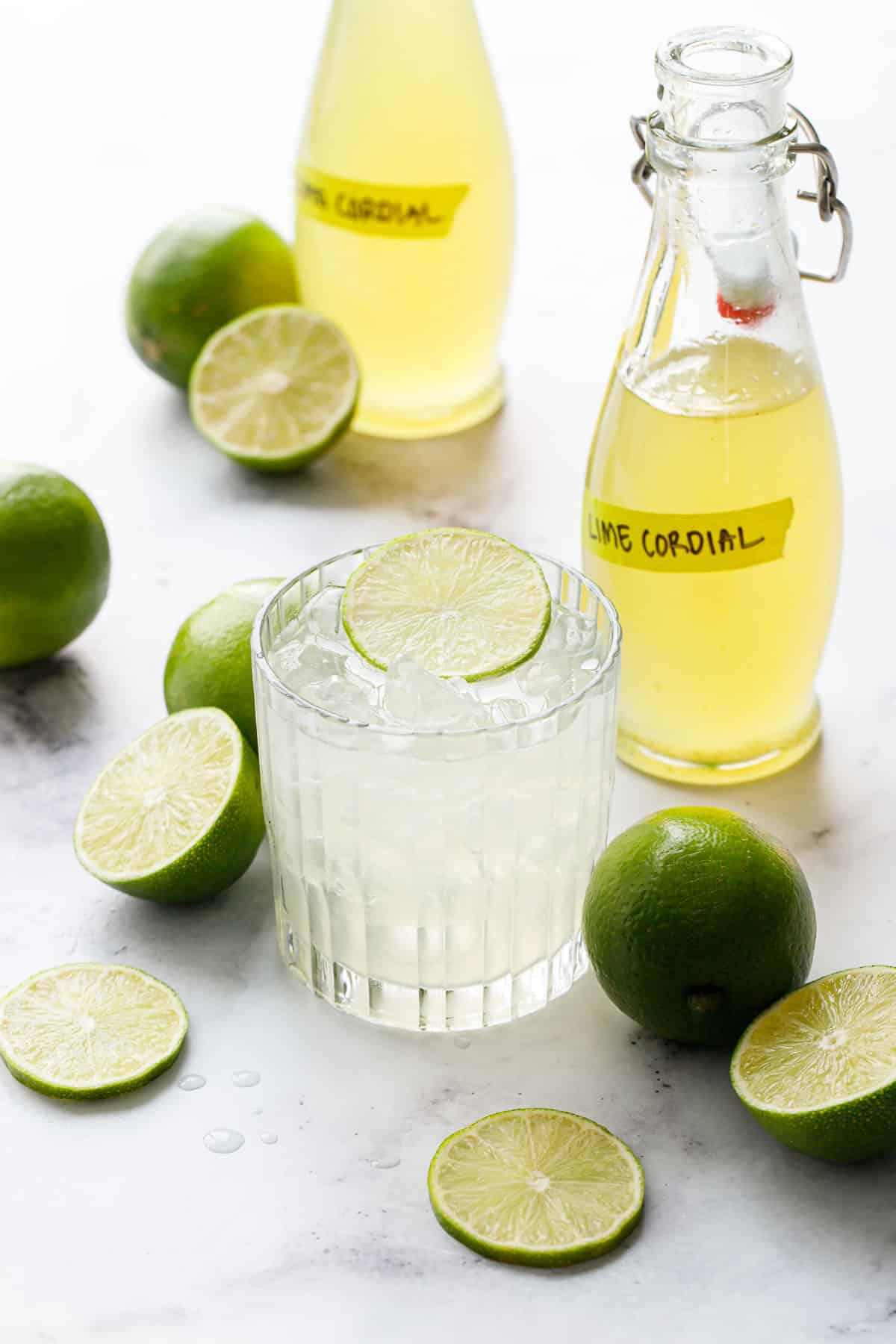 This raw lime cordial is bursting with intense, tart lime flavor. Sweeter than straight lime juice, but more tart and sour than a lime syrup, it mixes perfectly with gin, rum, pisco or vodka, or even club soda instead of a spirit for a zero-proof mocktail that's as refreshing and satisfying as any alcoholic drink.
Since the cordial itself is sweetened and packed with flavor already, it makes for a super quick and easy cocktail or mocktail: simply mix with your base spirit or soda of choice and some ice, no fancy ingredients or fussy processes needed.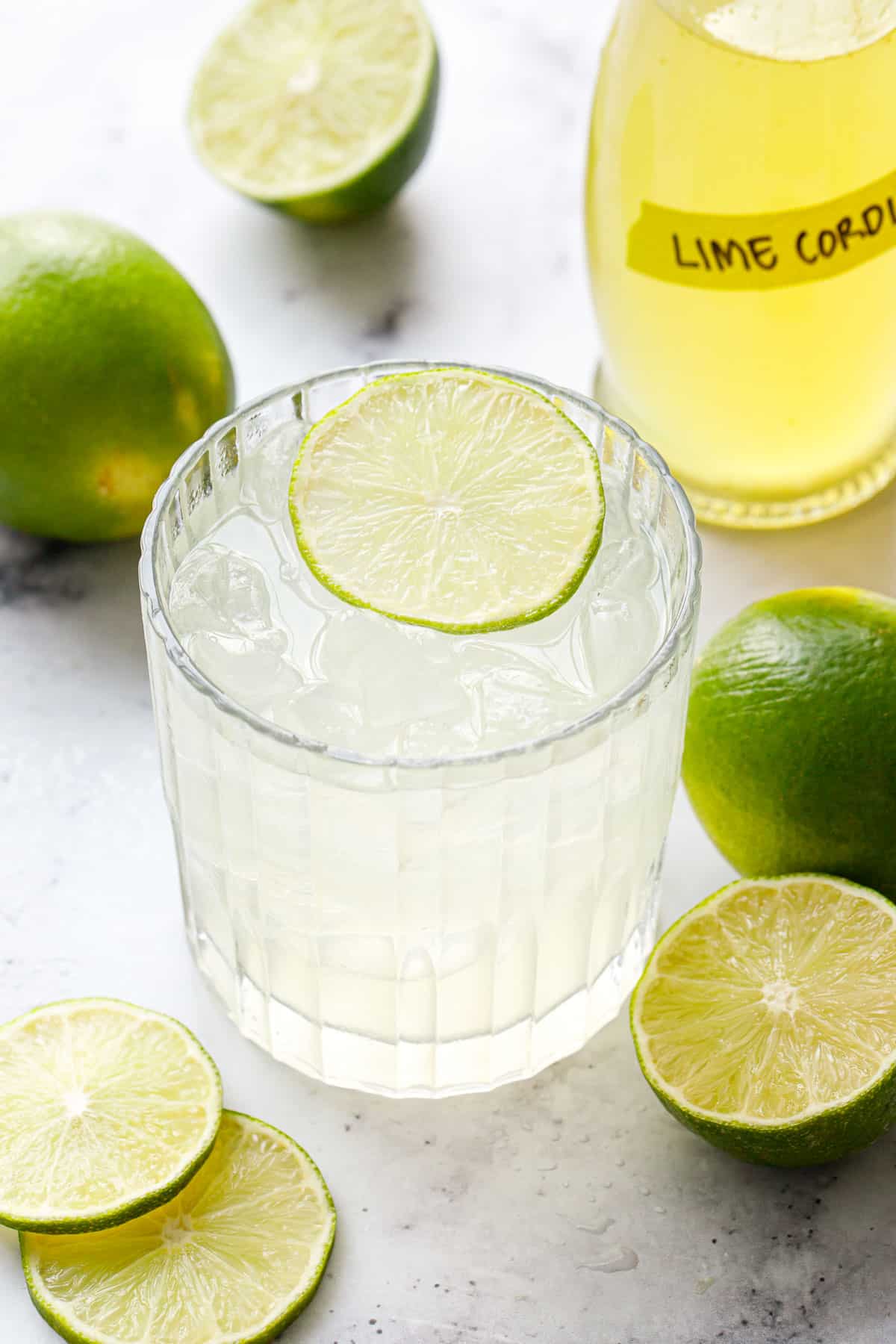 What is Cordial?
The word "cordial" has multiple meanings, often used interchangeably with "liqueur" when talking about a highly flavored, sweet, syrupy liqueur.
However, the word cordial can also be used to describe a sweet, concentrated fruit juice or syrup used as a mixer for both alcoholic and non-alcoholic drinks (this definition is the most common in the UK). In this context is also sometimes called a squash.
Today we're making a non-alcoholic cordial, which requires just two ingredients (limes and sugar) and time. The result is an incredibly tart lime-flavored mixer that can be used in a wide variety of cocktails and drinks.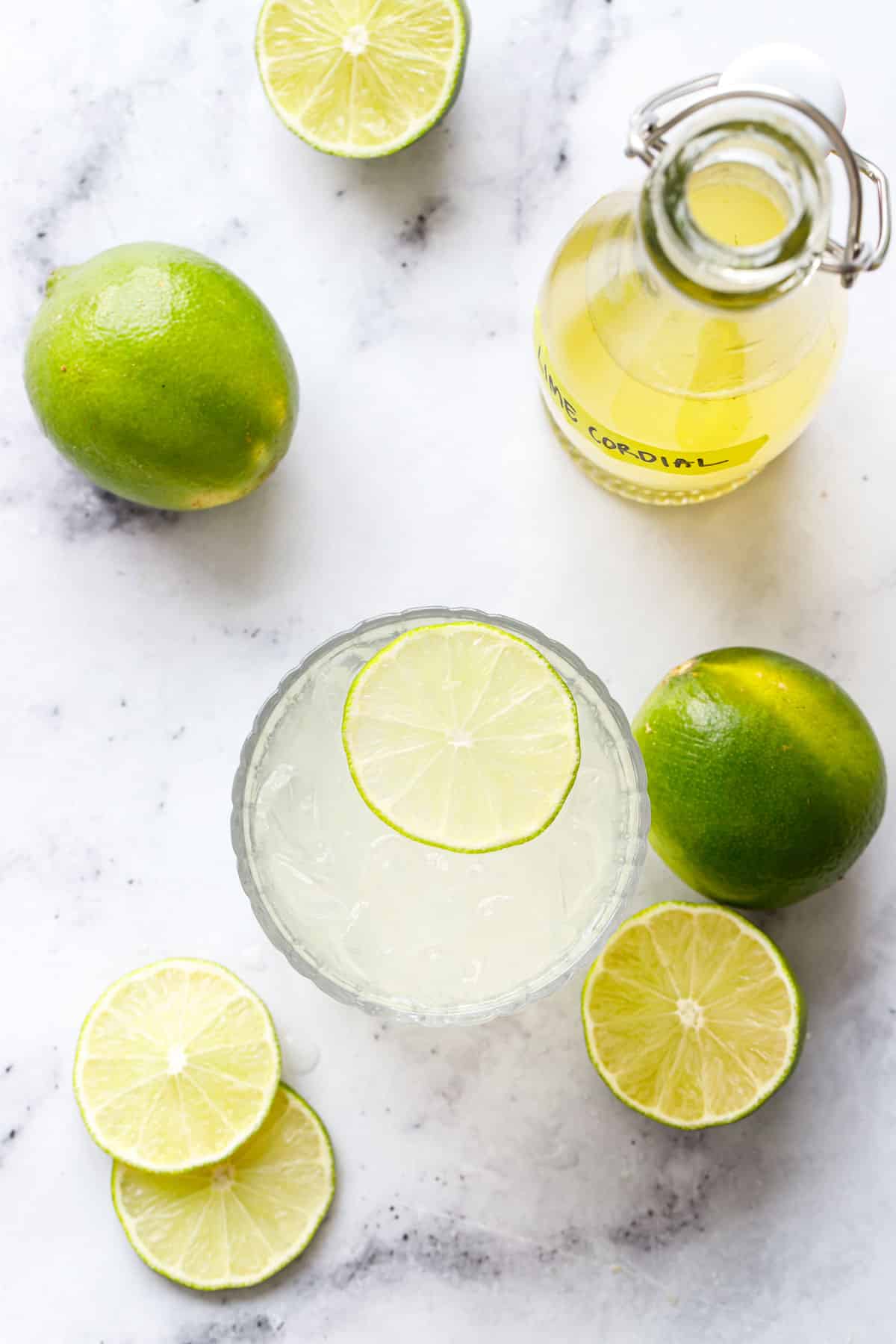 A Lime a Day Keeps the Scurvy Away
The origins of lime cordial can be traced back to sailors in the British navy, who were required to consume daily rations of lime juice to ward off scurvy (arrrrgh). The sailors often added gin to the lime juice to make it more palatable. The prevalence of lime + gin based cocktails is no coincidence!
But the problem was, fresh lime juice doesn't keep very long, which posed a problem on long voyages. Adding sugar and preservatives to the lime juice helped it last longer without going bad. In 1867 a Scottish businessman named Lauchlin Rose patented this process and Rose's Lime Cordial was born, quickly becoming a popular drink mixer for sailors and non-sailors alike.
A lime cordial like this one is essentially a sweetened and concentrated blend of lime (both the zest and the juice) and sugar. The lime zest is key, as it infuses extra flavorful oils into the sweetened juice. Otherwise it would just be sweetened lime juice or a lime simple syrup, and not nearly as flavorful.
The only other "ingredient" here is time, a 24 hour rest before straining and chilling. I've tried making lime cordial without this rest period, and I much prefer the character and depth of flavor of the cordial that is allowed to age. I'm not sure if it is oxidation, or some other chemical process, but the tangy, fresh lime flavor mellows and matures, resulting in a much more complex depth of flavor in the final product.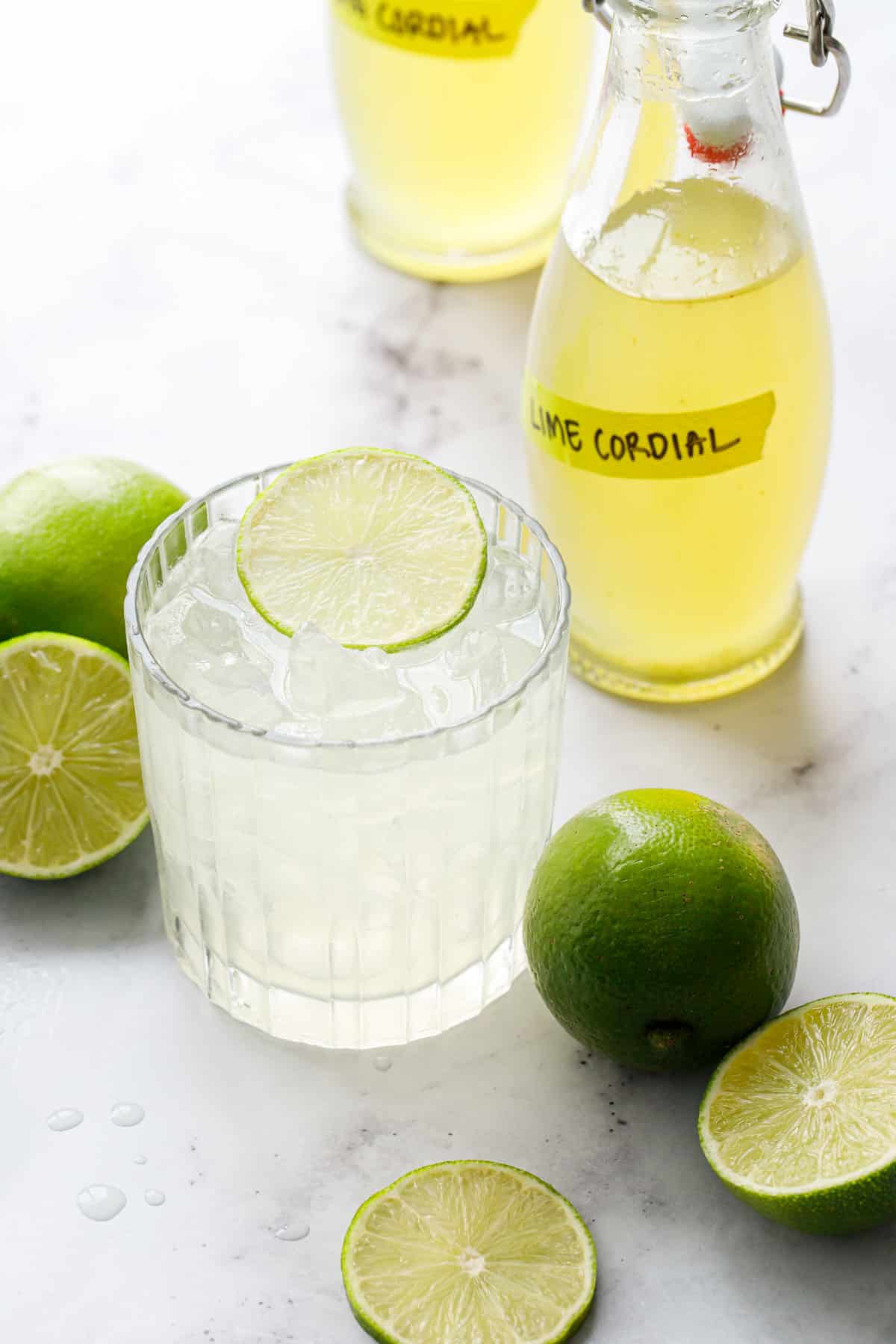 This recipe is a raw lime cordial based off of Toby Cecchini's recipe from the original Death and Co. cocktail book. The main change I've made to the recipe was reducing the sugar just a little bit and describing the process in more detail. The recipe itself is adaptable, and the ratio of lime juice to sugar can be adjusted to fit your personal tastes.
While the base cordial recipe is stupidly simple (it's barely a recipe, really!) the options for variations and adaptations are limitless. You can experiment with different kinds of citrus (I've made a grapefruit version that was particularly good), or try adding herbs or aromatics like ginger, elderflower, or hibiscus, or spices like cinnamon, vanilla, or cloves to give it some more complexity.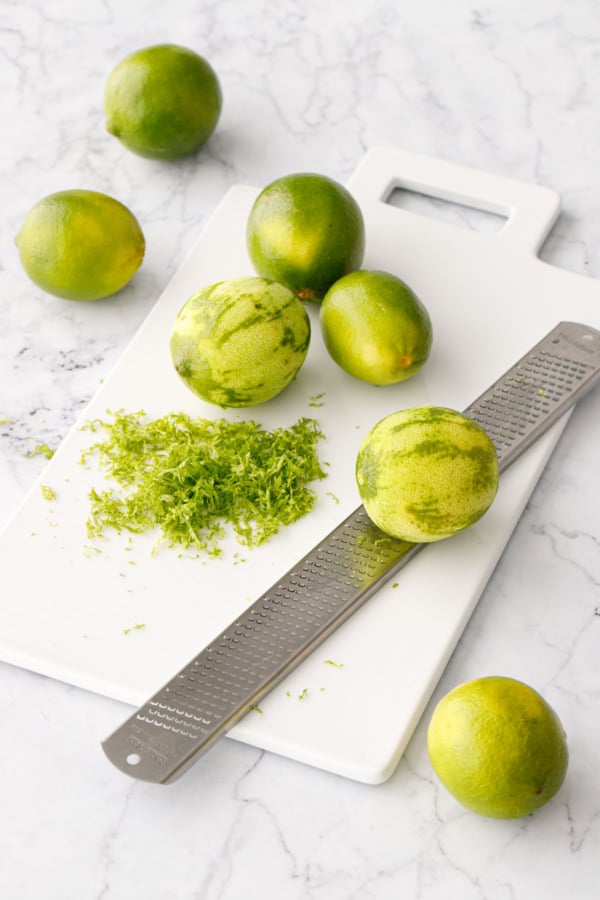 How to make Raw Lime Cordial
Start with 10 to 15 organic limes. Since we are using the zest, it's really important to use organic limes. But you should still wash and scrub your citrus to remove any all coatings or waxes.
Zest all of the limes with a microplane grater, then juice all of the limes (you should have about 1 1/2 cups of juice).
Weigh out an equivalent amount of sugar and stir sugar into the lime juice. For example, for 100g of lime juice, you'll need 100g of sugar. The sugar to lime juice ratio can be adjusted to taste, adding more sugar for a sweeter cordial, or less for a more tart cordial. I've found about 85% is just right for my tastes, or 85g per 100g of juice.
Stir until the sugar is mostly dissolved, then mix in the lime zest.
Cover and let sit at room temperature for 24 hours.
Strain the lime mixture through a fine mesh sieve to remove bits of zest, then transfer to an airtight container or bottles (I used these swingtop bottles) and refrigerate, where it will keep for up to a month. You can also freeze lime cordial for up to 6 months.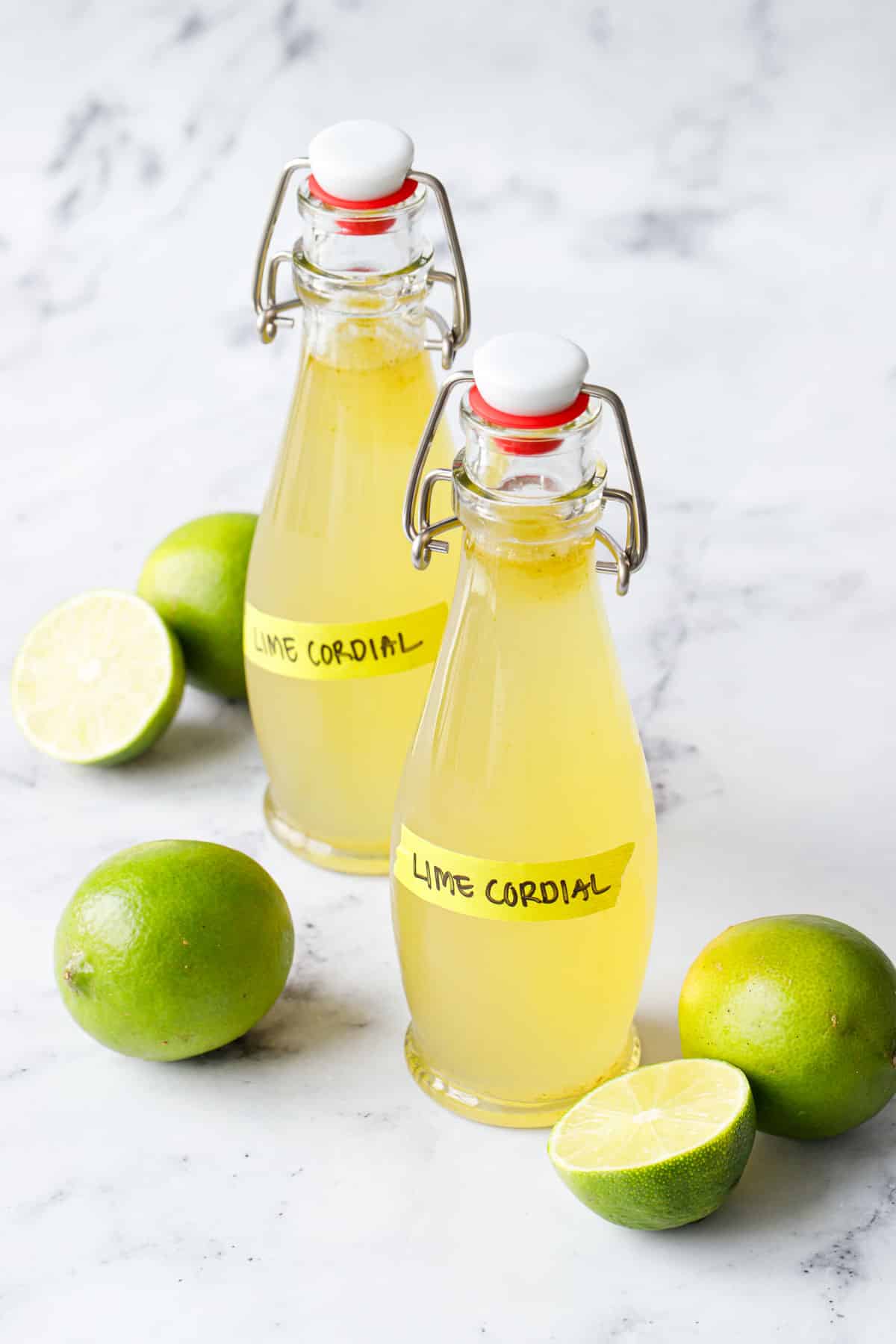 Give me a Gimlet.
Now that you've made your own lime cordial… what should you do with it?
One of the best parts of having lime cordial on hand is that you can whip up a cocktail in mere minutes, since all you need is a base spirit or club soda and some ice. I like to keep a stock of lime cordial on hand all summer long for this reason.
My favorite drinks to make with the lime cordial are the aforementioned Gimlet (which is gin based), as well as a Pisco Gimlet which uses Quebranta pisco in place of gin.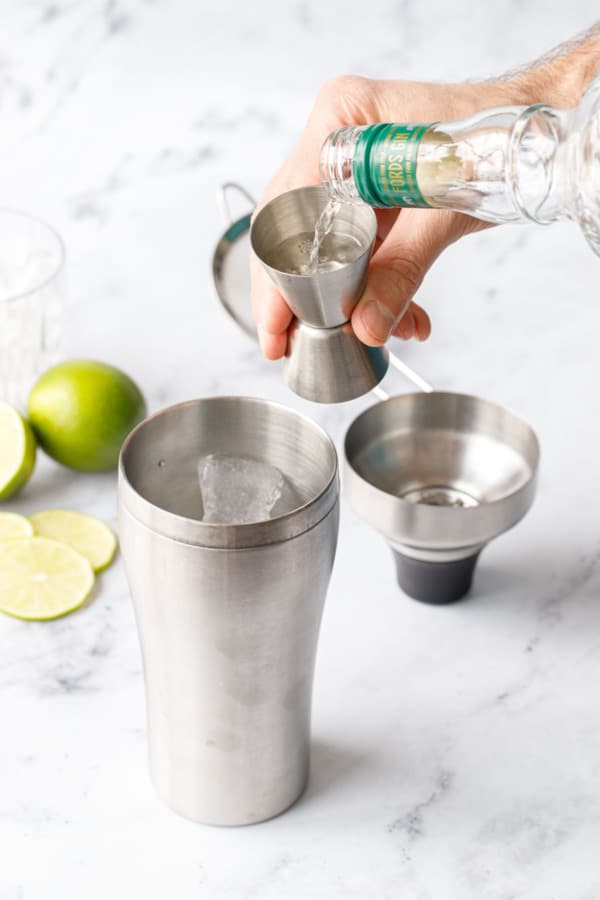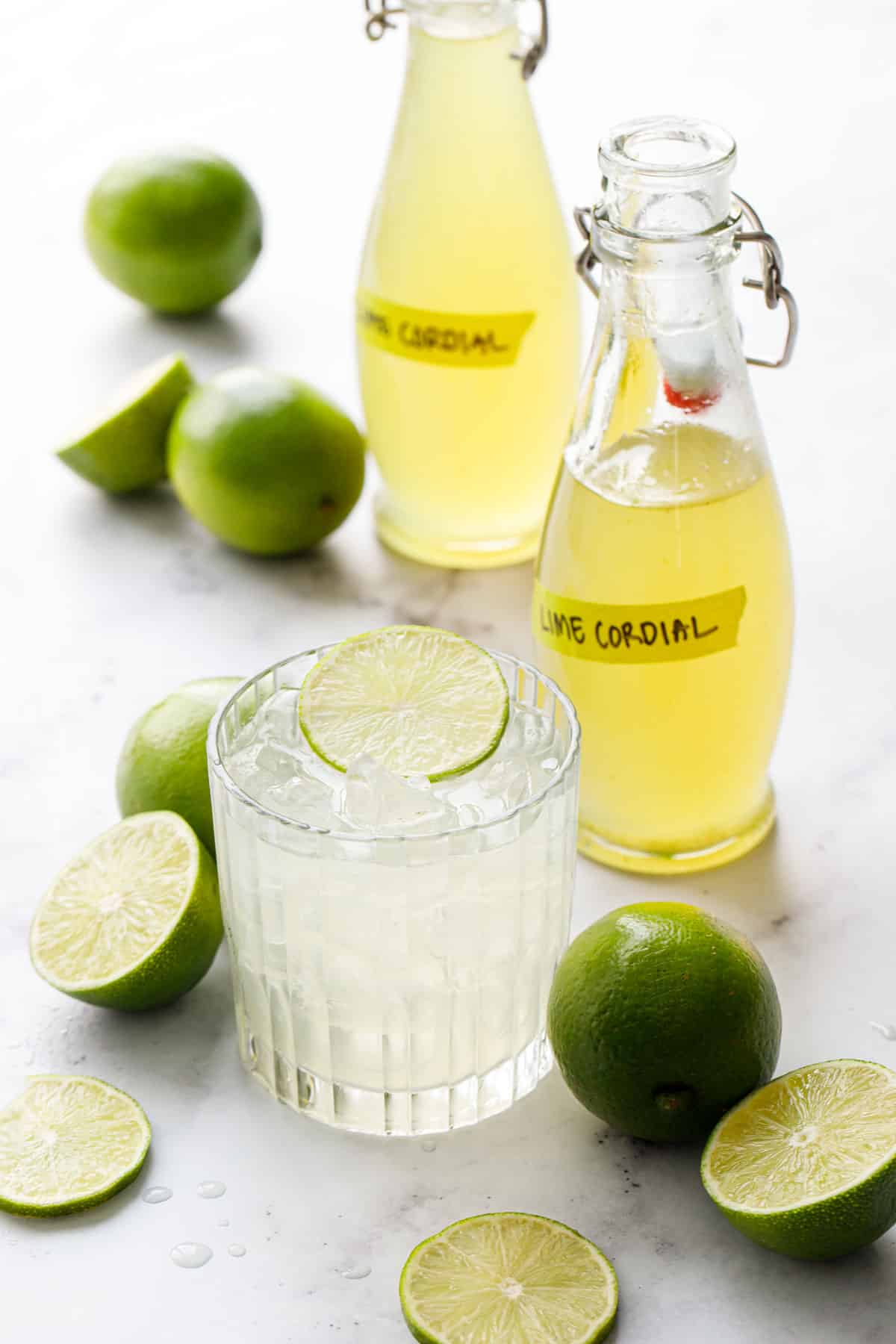 For both the gimlet and the pisco gimlet, add 2 ounces of London dry gin or Quebranta pisco, and 1 ounces raw lime cordial to a cocktail shaker full of ice. Shake vigorously until well chilled. Strain into a rocks glass filled with cracked ice. Garnish with a lime wheel.
Some gimlets are shaken with ice, and then strained into a coupe glass. Others are shaken with ice and then strained over fresh ice in a rocks glass. When using a fresh homemade lime cordial, I prefer the later method. The cordial is intense enough in flavor that it can handle the additional dilution that happens with drinks that are served over ice. I don't think there is a right or wrong answer here. It comes down to taste and personal preference.
For a non-alcoholic lime soda, add 1 ounce raw lime cordial to a rocks glass filled with ice. Top with 3 ounces of club soda or ginger beer and stir gently. Garnish with a lime wheel.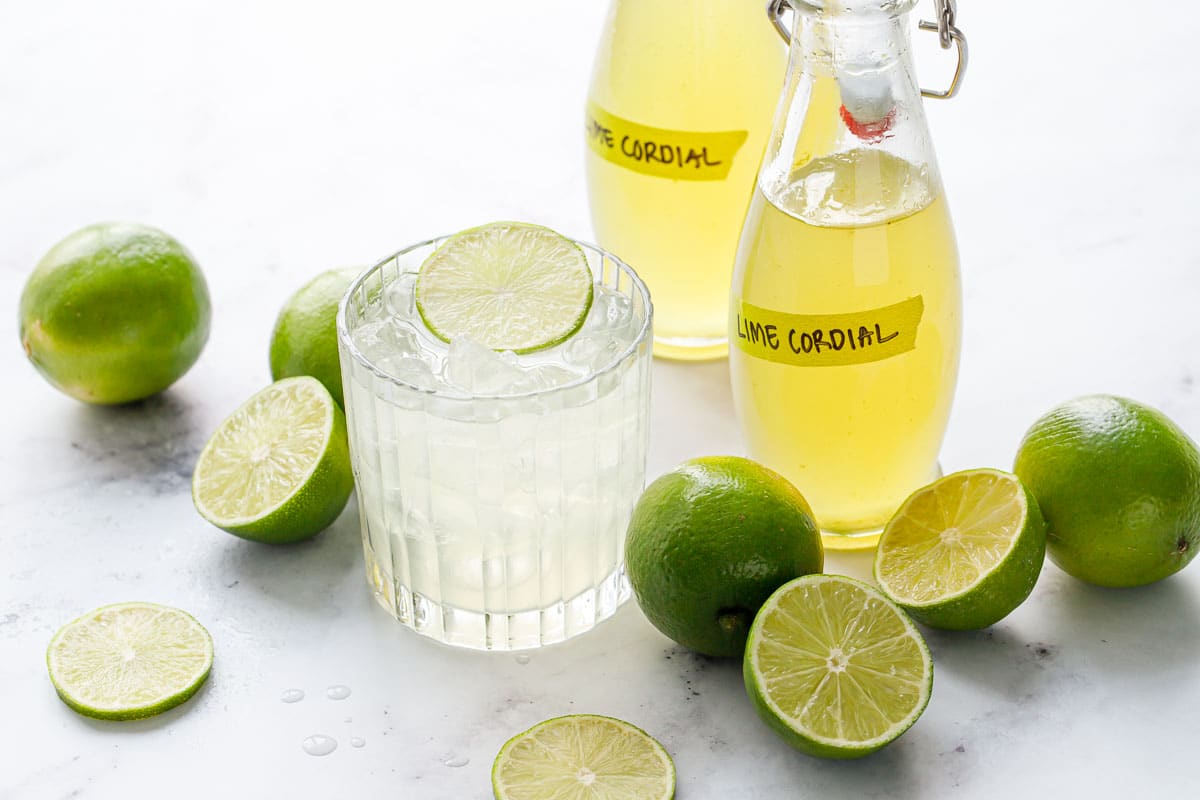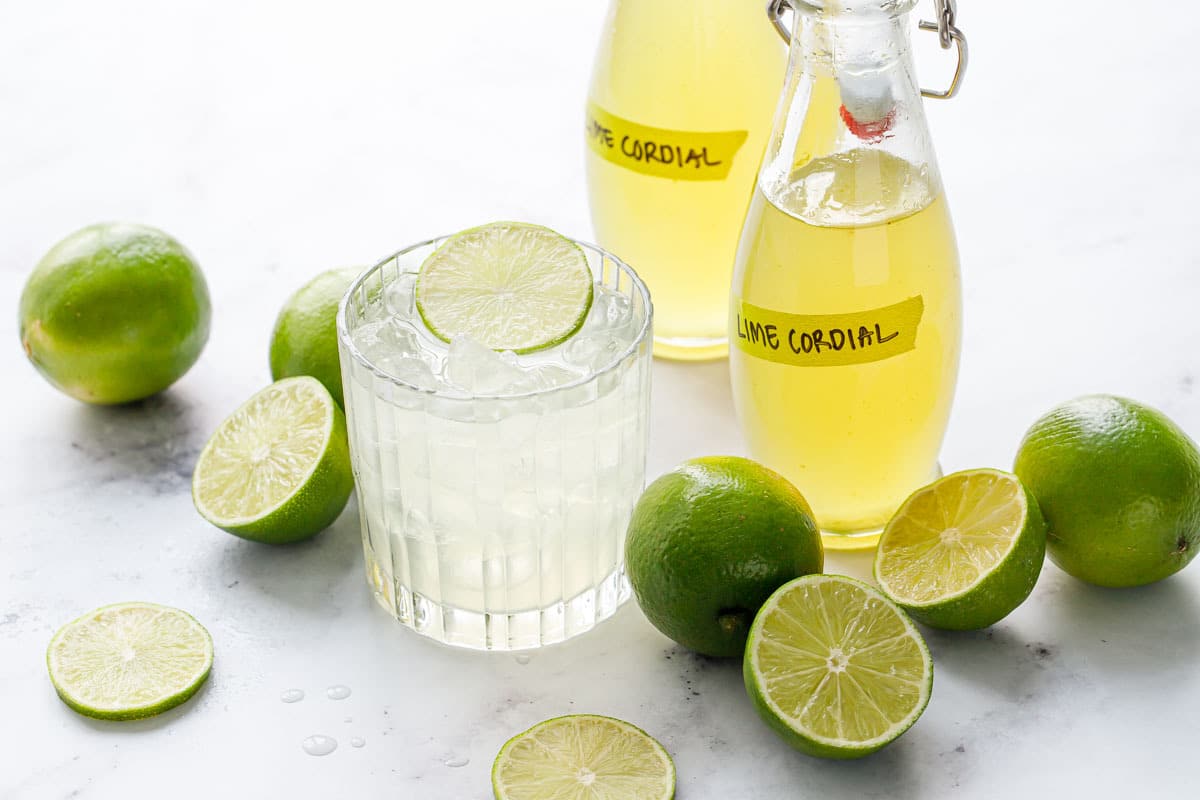 Homemade Lime Cordial
Homemade lime cordial is a tart and refreshing mixer that's perfect for summertime sipping; a no-cook recipe that is ridiculously easy, all you need is sugar, limes, and a little bit of time and patience.
Ingredients
lime zest

,

from 10-15 organic limes

1 ½

cups

/

360

g

lime juice

,

from 10-15 organic limes

1 ½

cups

/

300

g

sugar

,

more or less to taste
Instructions
Zest all of the limes with a microplane and set zest aside.

Juice all of the limes and weigh the juice.

Weigh out an equivalent amount of sugar and stir sugar into the lime juice. Continue to stir until the sugar is mostly dissolved.

Place the mixture in an airtight container and let sit at room temperature for 24 hours.

Strain lime mixture through a fine mesh sieve, bottle and refrigerate. It should be good for two weeks.
All images and text © for Love & Olive Oil.
Did you make this recipe?
Let us know what you think! Leave a Review below or share a photo and tag me on Instagram with the hashtag #loveandoliveoil.